Hey! It's the Limbo Christmas Party and Launch for Come On Gang! and Kid Canaveral's new split 7" Single. Not only that but it's also a special Saturday night Limbo! Triple-yuletide-woop! Fo' real...

Saturday 13th December is the last Limbo this year and a VERY SPECIAL ONE-OFF Saturday night Limbo for all you pussies who can never make it out on a Thursday night and everyone else who can but wants to party on Saturday too. It's also Come On Gang! and Kid Canaveral's Split 7" Single LAUNCH PARTY and we've finally managed to get the also-quite-uncategorisable prog freakout that is Super Adventure Club to return as support, after they cancelled in Spring. Expect a BUZZING night of bitter-sweet indie-pop (KID CANAVERAL), pop-punk (COME ON GANG!) and twisted shapes (SUPER ADVENTURE CLUB), plus DJing from Tallah Brash (Fresh Air), the Black Spring DJs and special guest DJ Vic Galloway (Radio 1).

If you're on Facebook, join the throng who say they're coming along here.

ALSO, please note there will be an exclusive, acoustic in-store performance by Kid Canaveral and Come On Gang! at Oddities on Victoria Street from 6.30pm on Saturday night. Complementary alcoholic refreshments will be served and entrance is completely FREE! You know what to do. Don't dawdle! Spread the word....

Great review about Limbo's first year here:

Listen to the Fresh Air feature on Limbo's first year over on the Limbo MySpace. Thanks to Tallah Brash and HP Neilson. Check out their great show here

Check out all of our photography here

REHEARSAL ROOMS: The Black Spring Rooms are still running and available for hire for only £9 / hour from 5pm until late. Get in touch now for more info: rooms@black-spring.com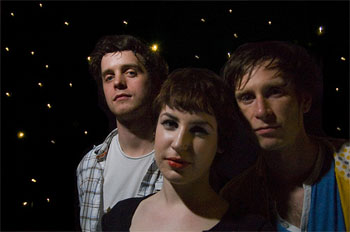 COME ON GANG! are destined for great things. A guitarist (Mikey) from Galashiels, a bassist (Trev) from Dublin and a singer/drummer (Sarah) from Brighton, Come On Gang! are guaranteed to get everyone jumping to their high-octane, punky, indie-pop. Another T Break finalist earlier this year, they launched debut single 'Wheels' at Limbo in July. A little bit Belle And Sebastian, a little bit Yeah Yeah Yeahs and a little bit of something else that's quite simply their own thing, if you're not feeling these tunes, you've either had your soul possessed or you need to see a shrink. Melodic, heartfelt and firing on all cylinders, Come On Gang! are a proverbial rocket-ship shooting for the moon.

'When the drums and the angular guitar hooks of Coming Home ignites the audience, they hold their own. Singer/drummer Sarah Tanat-Jones has a voice like an angel. The oft-used 'ones to watch' seems entirely apt here.' (The Skinny, February, 2008)

'The Rolling Stones, The Beatles, Roxy Music and Franz Ferdinand...to that list, add Come On Gang!' (Edinburgh Evening News, October 2007)

Check out the two videos of Come On Gang! at Limbo and read the review of that last appearance here

myspace.com/comeongangmusic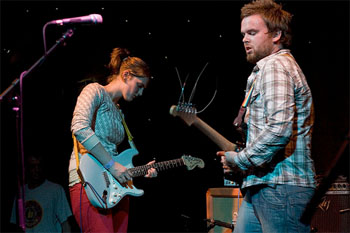 Edinburgh Smash Hits KID CANAVERAL first played Limbo to a rapturous reception in April (review here), following the release of new single Couldn't Dance and came back and wowed us again in July - see here. Kid Canaveral make indie-pop music you can sing along to. 'Debut single, Smash Hits (rel. March 2007) contained everything you'd ever want in a pop song - two storytelling verses (replete with mild swear-words) a "He said/She said" chorus, a hand-clapping middle-eight and a po-going guitar solo that is so jauntily infectious, you'll break your neck after the third listen. Magic. Upon hearing the song BBC Scotland saw fit to make a music video for BBC 2's The Music Show - which was broadcast on 19th November 2006. The video plays out the song's story: Boy meets girl, girl likes boy, boy likes girl but not her taste in music, girl gets pissed off ...'

'Juicy, chewy pop-kids to savour, proving that life still twitches in this indie guitar-pop business.' (Paul Whitelaw, The Scotsman)

myspace.com/kidcanaveral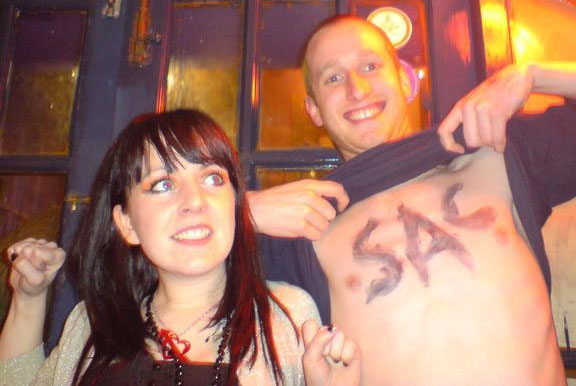 'By day we are Bruce, Mandy and Neil. By night we are the deadly spazz-jazz ninjas known as Super Adventure Club!' Like nothing else in Edinburgh, with very few peers anywhere else either. And what a lot of fun live...

'Edinburgh's radgest new band... know it's no fun playing serious music if you have to take it seriously ... inventive brilliance'

Chalk Horror: "****" (The Skinny)

'Super Adventure Club were quite simply one of the most exciting and intriguing Scottish bands I've seen in age' (The Herald)

myspace.com/superadventuremusic



Limbo went FOLK! Like in every way, right down to those quieter Neil Young, Juana Molina, Caribou and Beatles moments (among other weird and wondrous tunes) from the Black Spring DJs between the bands. Eagleowl came and did their 'torturously slow' (thanks, Toad) but quietly engaging thing, and gave out cute origami owls in the bar afterwards, Sparrow And The Workshop brought a whole new set of visuals and played another great live show and then Pumajaw came on and offered us one of the most psychedelic experiences we've had all year - actually, no, it was without a shadow of a doubt THE most psychedelic experience we've had at a gig this year - and then we all retired to the bar, where we learned that gigs in London are crap just now and Limbo is where it's at, but you knew that already didn't you?


Eagleowl are a band who demand your undivided attention, so delicate is their style and potent their impact. They're not too precious about it, either. There's a wonderful sense of humour and playfulness about this band, as evinced by the origami owls and the catchphase on their myspace ('can harm a man but kill a dog'). Killer, yes, but in the politest, most charming way possible, metaphorically opening the door for you (stealthily, mind, like ninjas) and then offering to remove your coat before they assault you with their double bass played with a bow like a cello, harmonium, electric guitar and singer Bart's quiet, but deeep, baritone. When this Eagleowl comes swooping, you've no idea of the damage it's done until it's made off with your heart and soul. And, with the unmitigated hush that pervades the room when they're on stage and the reception they get when they come off, it's clear that quite a few people in the room feel that way about this band. My only regret is that there is no sign of Malcolm tonight, without whom the wonderful Moherf*cker is not possible. Apparently there's a chance he's moving back up next year. Let's hope so. They make up for this with a magical old Russian animation, which Bart has slowed right down to match the pace of their music (and so it loops three times in tandem with their thirty minute set), not to mention its pastoral narrative style: it features owls, among other feral animals, in glorious autumnal hues.

| | |
| --- | --- |
| | |
| | |
| --- | --- |
| | |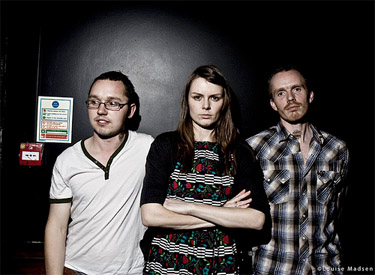 We've waxed quite extensive lyrical already on the subject of Sparrow And The Workshop so no need to gush on again. You know we like them and we know you do too, since so many tonight are quite plainly there to see them. They play a couple of favourites from the last show (Gun and Swam Like Sharks) but the myspace and live favourite just now seems to be The Devil Song, which a number of people are calling out for half way through the set and gets a resounding cheer when they finally play it towards the end. Reminiscent of a Sergio Leone film score and, with Gregor striking that saw on his drum kit, plus Jill's voice and Nick's guitar work, this really is an atmospheric wonder.

myspace.com/sparrowandtheworkshop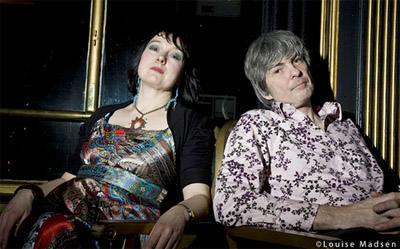 Pumajaw are something of a revelation, their psychedelic style essentially like something from another era, except for the modern twist. It centres around singer Pinkie's aetheral voice and John's work on the mandolin, alongside his collection of sequencers and pedals. I admit during the sound check that they remind me a bit of Steve Hillage and Miquette Giraudy, John confesses that he once saw Hawkwind but that's about as far as it goes. Actually, this kind of hippy connotation doesn't do them any favours at all, their music is much better and, if anything, they're more like Pentangle. After the show the band admit they're getting a bit sick of all the folk chat. Pinkie has commented earlier on how much she likes David Byrne & Brian Eno's Mea Culpa track (from the amazing, visionary My Life In The Bush Of Ghosts album) that gets played before they go on and John later asks about Dakar & Grinser's awesome cover of The Stooges' I Wanna Be Your Dog, having heard it for the first time this evening (it's a DC staple so you're likely to hear it at just about every Limbo if you turn up early enough), so you could possibly expect a small change of direction on the next record. But, for now, they are tripping the light fantastic - all glisteningly reverberating mandolin and vox - in a universe quite unique to them. Shame i couldn't find my copy of Led Zeppelin's II before i left the flat. That would have been a good DJing reference point, too. Maybe next time....

| | |
| --- | --- |
| | |
| | |
| --- | --- |
| | |
myspace.com/pumajaw

Pumajaw, Sparrow and The Workshop and Eagleowl pictures by Louise Madsen.


---

There is no Limbo next week or the week after. In fact, we won't be back until Thursday 8th January. 2009 promises to be a new year for Limbo in more ways than one, though, as we consolidate everything we've achieved this year and take it to the next level, introducing you to a whole raft of exciting new live acts and continuing to present them in exciting new ways.

Until then, thanks for all your support of the night this year, have a great Christmas and Hogmanay and see you in 2009!
MAILING LIST
FACEBOOK/MYSPACE
Come and hang out on Facebook here or say hi to us over here at MySpace
CHEAP DRINKS!

Don't forget you can take advantage of £2 bottles from any of the Voodoo Rooms' three bars by showing your Limbo wrist-band to the bartender.
REHEARSAL SPACE?

The Black Spring Rooms: competitive prices, friendly service, easy access and no fuss for as little as £7 / hour; free parking on site + six bus routes to service it in Leith. More info here
VENUE INFO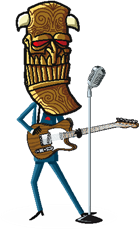 Limbo takes place at The Voodoo Rooms, West Register Street, Edinburgh.

Times: 8.30pm - 1am *
First band 9.00, second band 9.45, third band 10.30

Entrance: £5/£4 *

Ph: 0131 556 7060 (venue) / 0131 477 6916 (promoter)

* except where otherwise advertised
Sponsored Links