This week's Limbo is a rare triple bill. We'll be doing a few more of these over the rest of the summer but this is the first for a while and it's particularly special because it includes a massively promising band from Dundee called GRACE EMILYS, an original outfit from Glasgow called PUNCH AND THE APOSTLES, and a brand new act called REFORMATION. The first two have been exciting a lot of people of late and are booked to play loads more good shows, festivals etc this summer, while the latter cut their teeth rehearsing at the Black Spring Rooms and are making their live debut at Limbo. The last debut we hosted was from Dollskabeat, who played Limbo in January and was recently booked for Rob Da Bank's Bestival on the Isle Of Wight.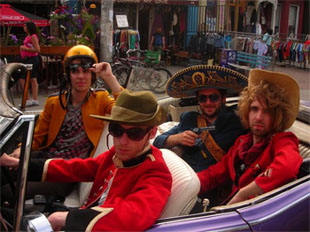 Grace Emilys write songs crackling with energy, charm and wit. Following the self-release of a couple of EPs and then a 7" single through new Scots label Euphonios, this Dundonian indie-pop quartet have got bookings coming out of their ears, playing a string of tour dates across the land, culminating in a show in London in September. Listening to recent single Falling Down The Stairs, it's no surprse either, so infectious are its scattershot drums, catchy melodies and rousing chants. Then you check the rest of their tunes and realise this band are much more than just another fleeting indie-pop assault on the dance floor. They actually know how to write a good song and are just as adept at slow numbers (check Air off The Outlaws & The Tzar EP for proof positive of a future lighters-in the-AIR moment) as twirl-your-partner-around-the-floor, fast-paced numbers. Oh yes, we think they might just go all the way.



Bored to the grave of nu-rave? Tired of anaemic indie-pop? Worry no more, for Grace Emilys have arrived! Boasting of their barbershop influences, it's clear that this Dundonian quartet have more on their minds than the latest trend. Quirky, off-beat pop...the clue is in their song title: Be Bold Be Brave.' (The Fly)



...simply stunning.....pure poetry...' (Jim Gellatly, Xfm)



... a unique brand of skewed pop, reminiscent of The Futureheads when they wrote tunes...' (Is This Music?)

myspace.com/graceemilys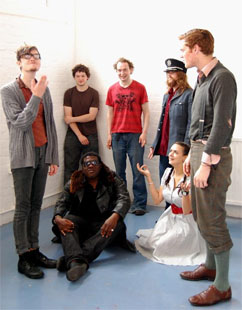 Inventive Glaswegian septet taking a little bit of a Sergio Leone soundtrack and a lot of that Balkan gypsy thing - brass, fiddle, squeeze-box and all - and ramming it to the gills with all the energy of a pack of wolves on speed but howling in a more harmonious fashion.



A cast of characters largely from Scotland, Punch and the Apostles are a riotous seven-piece, with accordions and horns to the fore, led by the wild creativity of Paul Napier. Using traditional styles of music and exhibiting their luminescent, deathless forms through a cross-pollination with jazz, blues and punk, their songs are brilliantly rousing, gloriously anarchic and totally absorbing. Having already blasted a niche for themselves with outstanding live performances, (a vaudeville inspired delivery of waltzes, tarantellas, polkas and klezmer music, peppered with poetry and perfectly orchestrated chaos) this band are highly accomplished, genuinely exciting and truly provocative.' (Band's biog)



...a smacked up version of Dexy's Midnight Runners and some fearsome spivs playing bal-musette while gathered around the gates of hell in a noirish Fifties Montmartre and then some.' (Bluesbunny)



A band making waves right now' Vic Galloway (Radio 1)



Quality stuff,… I absolutely love it' Jim Gellatly (XFM Scotland)



The most exciting and provocative band in Scotland' Rick Fulton (Daily Record)



Someone sign them up now' (Is This Music ?)

myspace.com/punchandtheapostles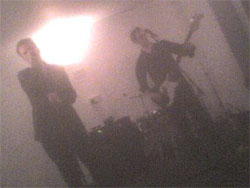 While their style and content are inspired by Cold War political intrigue and spying, Reformation's sound is basically post-punk, similar to the likes of Bristol legends Mark Stewart & The Maffia, The Pop Group et al. The post-punk era/sound (late Seventies/early Eighties) has received much re-appraisal over the last few years, with many acts attempting to convey the raw simplicity and brutal honesty of the music of that time, much of which was released by the Rough Trade label, not to mention groundbreaking Scots labels such as Fast Product and Postcard, all of whom were popularised by the tireless championing of the late great John Peel. Reformation has quite an unusual approach, though, and we think they will bring something refreshing to the stage, plus no one's ever seen them before so anything could happen.

reformationcity.co.uk



Check out our forthcoming bands here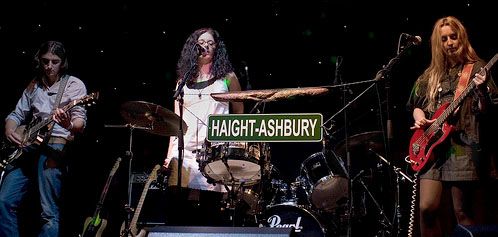 Last week's Limbo was pretty spectacular, as we welcomed Glasgow's psyche popstrels Haight Ashbury for one of their very first Edinburgh shows and launched the debut single by Edinburgh punk popstrels Come On Gang!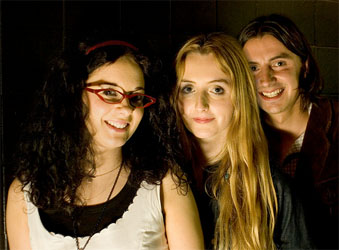 First, we discover Haight Ashbury's Jen and Kirsty have already been in a band which was signed by labels in London and Japan, supported acts such as the Sugarbabes in massive arenas when they were just seventeen. Then, they go on stage and - unsurprisingly - enchant everyone with their close harmonies and simple percussion, while Kirsty's brother Scot lays down honeydew melodies on guitar. As suggested last week, we wouldn't be at all surprised if major labels come waving their cheque books at this band very soon.

myspace.com/haightashburyuk




The band that most people are clamouring to see, though, is Come On Gang! And the crowd reaction alone suggests that they've got what it takes.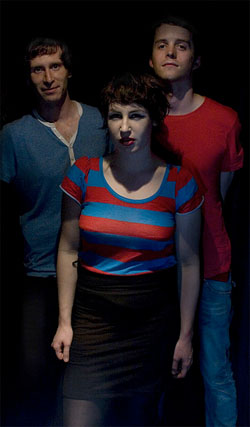 This is not a one-off either, so rapturous is the response they receive at every gig and so loyal their fanbase here. But, this is also unsurprising, when you consider what a unique formula they deliver: a simple three-piece with a pair of lean-looking guys on lead guitar (Mikey) and bass (Trev) and then a glamourous girl (Sarah) on drums AND lead vocals. Yes, that's right, she sings all the songs and never misses a beat. And they're good songs, too, immediately remarkable for their honesty, simplicity and the way Sarah's light, dainty voice contrasts with her devilish drumming plus Mikey and Trev's testosterone-fuelled guitar work.

We're not being hype merchants when we say that Come On Gang! are one of the most exciting bands in Scotland right now and far and away one of the best outfits in Edinburgh. So, if you missed them last week, you're a mof, but don't worry, we'll be sure to have them back again very soon. Did we already mention that they've just released their debut single? It's called Wheels (Euphonios). You can get it in HMV and everything. Watch the videos of Wheels (and interview with) Come On Gang! above and below.

myspace.com/comeongangmusic

Haight Ashbury and Come On Gang! pictures by Sarah-Jane Duncan

---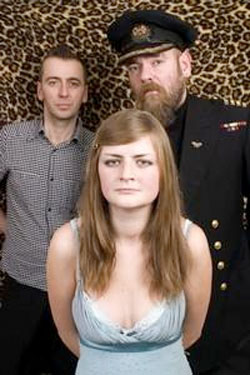 A blues-rock three-piece who have been electrifying the Edinburgh swamp for some time, with unlikely front-woman Sara Sidewinder unleashing the devil in her (guitar/vox), backed by Andy Anaconda (lead guitar) and Mike Mamba (drums). It's all about their glorious live shows, as any one of their many fans will tell you.



...an unfettered piece of bone rattling voodoo swamp trash come to life. ****" (Neil Cooper, The List)



In her library girl specs and party frock, Sara Forshaw's butter-wouldn't-melt demeanour gives way to a voice bigger than PJ Harvey and twice as dirty in a three-piece distillation of raw, off-kilter and utterly beguiling 21st century blues. Greatness beckons." (The List, Hot 100, Dec '07)

myspace.com/saraandthesnakes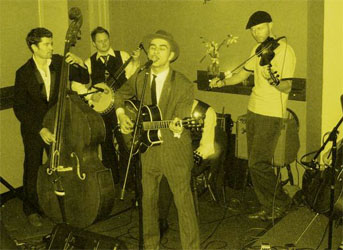 Authentic roots blues for 21st Century hobos: The Black Diamond Express is, at full compliment, a nine-piece soaked in poetry, myth and bourbon. Led by the enigmatic Jack Of Diamonds, its combination of slide, electric and acoustic guitars over string bass, cello and fiddle, blues harp, banjo, drums and percussion, beguiles with the look, the sound and - what really sets them apart - the energy of railroad blues bona fides. Nevertheless, a contemporary alternative band that combines original material with traditional standards and a fully realised pre-war blues fixation (the name tipping a wink to the Black Diamond Express Train To Hell of roots blues mythology) with an acceptance of the new, the BDE somehow stay true to both Robert Johnson and The Sex Pistols.' (Mark Edmundson, The List)

myspace.com/theblackdiamondexpress
MAILING LIST
ALSO COMING UP
Also coming up at Limbo: Sarah & The Snakes, Black Diamond Express, The King Hats, Night Noise Team plus loads of other buzzing brand new acts.

Check out all our forthcoming bands here
CHEAP DRINKS!

Don't forget you can take advantage of £2 bottles from any of the Voodoo Rooms' three bars by showing your Limbo wrist-band to the bartender.
REHEARSAL SPACE?

The Black Spring Rooms: competitive prices, friendly service, easy access and no fuss for as little as £7 / hour; free parking on site + six bus routes to service it in Leith. More info here
VENUE INFO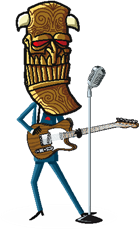 Limbo takes place at The Voodoo Rooms, West Register Street, Edinburgh.

Times: 8.45pm - 1am *
First band 9.30, second band 10.30

Entrance: £5/£4 *

Ph: 0131 556 7060 (venue) / 0131 477 6916 (promoter)

* except where otherwise advertised
Sponsored Links