This week Limbo welcomes back EPIC 26 and ushers in THIEVES IN SUITS for the first time. And it's sure to be a lot of fun. Epic 26 know how to get everyone going and, while we've not seen Thieves In Suits yet, their demo shows promise.

We like to take risks at Limbo, booking new and touring bands you might not have heard of before as well as the more familiar names you already know are bona fide. Generally we try to stage at least one band you will know already but occasionally it's all new. We like to think there's a high level of quality control, though, and the bands we choose generally bring something relevant or fresh to the stage, be it a certain energy, a certain edge or just plain ol' fashioned great songs/tunes.

Epic 26 and the Thieves are definitely in the 'energy' bracket but manage to tick the good songs box too.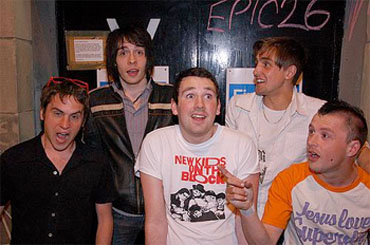 Epic 26 return to Limbo having stirred up a lot of passions when they debuted for us in May (read our review of that show in full here - scroll down half way for previous week's review). Epic 26 are one of only a handful of bands we've had on whose fans don't need to be asked to come forward towards the stage; they're all already right down the front, clamouring to get on stage with their heroes and dancing as if their whole existence depended on it. Sonically, the recordings on the band's myspace don't do them justice either. With the recent addition of a new band member on synths/keys, there's much more of a new wave edge to this group, who sizzle with kinetic energy and genuinely look like they're having the time of their lives when they perform. Infectious, heartfelt, melodious power-pop, with lyrics that put a smile on your face - exciting, inspiring stuff.

myspace.com/epic26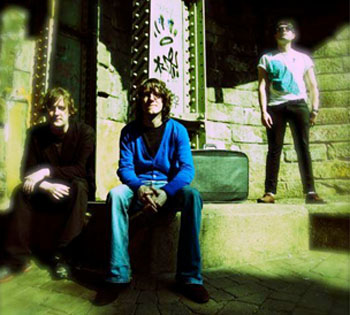 A brand new indie-rock trio (vox/guitars, bass, drums) featuring Jake Miller on drums, whose brother you may remember from The Magnicifents and who was the metronomic backbone to renegade pop punks The Very, who were themselves ready to set the whole world on fire two-three years ago, until singer Robin had other ideas and moved to Argentina... We've been liking the sound of their demo on 'the space' and are looking forward to watching the heat up on stage.

myspace.com/thievesinsuits



Check out our forthcoming bands here




Introspective Edinburgh newcomers Night Noise Team and riotous Glaswegians The King Hats both made their Limbo debut, before Kid Canaveral returned to woo everyone with their endearing indie-pop - a mixed-up bag and a bitter-sweet bill but boasting a large, juicy cherry on top.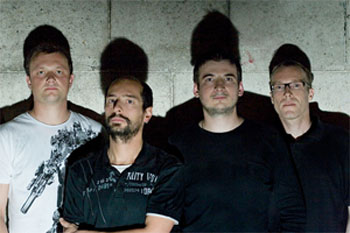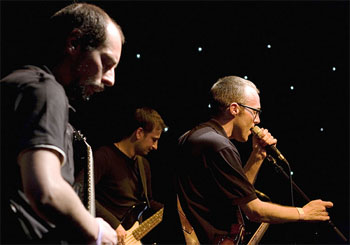 Edinburgh's Night Noise Team don't sound much like any other band around right now but combine a raft of early Eighties influences, with the most distinctive facets of their set being deadpan singer Sean's melancholy vocal delivery and pensive, some might say damaged (and totally heartfelt), lyrical style. Perhaps it's something to do with the pan-European identity of the band, with core songwriting partnership Sean and Fabien hailing from Belfast and Paris respectively, bassist Marco from Italy and drummer Mike from Fife, but Night Noise Team position themselves in immediate opposition to the current vogue for bands brandishing energy and style over substance. The depths these guys might plumb are only hinted at with this evening's thirty-minute performance but what's perhaps more telling is the large crowd that has gathered to witness it and the reactions some of the songs prompt.

myspace.com/nightnoiseteam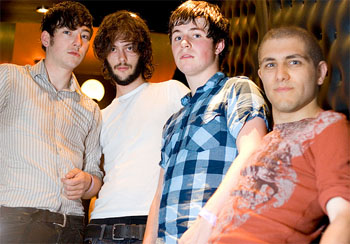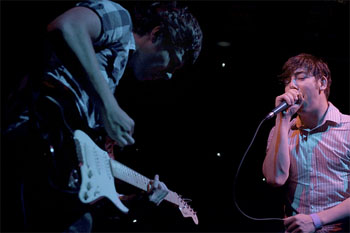 The King Hats arrive with little fanfare but then announce themselves in the most immediate way by turning the volume up on stage. Every one of the quartet from drummer Carlo to front-man Alan throws himself into his performance with infectious abandon, Alan quite literally chucking himself about the stage with his guitar and jumping on to his band-mate's mic at one point, giving Ben the sound man a run for his money (also quite literally!). This energetic demonstration instantly sets them apart from the two other acts on the bill. Is it something in Auld Reekie's water supply that makes its musicians less inclined towards the tougher, rougher sound of their west coast cousins, a sound demonstrably exhibited by The King Hats, who are both noisy and abrasive? Yet, there are some moments of sweetness too, when they unveil the genuine tunes in their canon, and for a band who didn't even get a chance to sound check, they don't lack for a level of tightness. There's a certain roguish, square-cut charm about these four potential gems which endears them to a number of folk tonight and has a few properly cutting loose.

myspace.com/thekinghats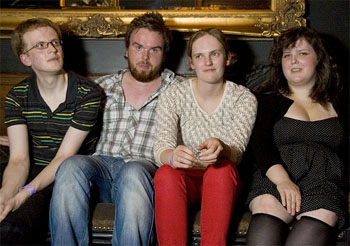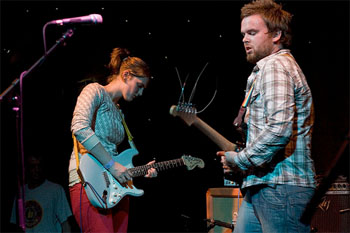 And so to the headliners, Kid Canaveral, who have already proved themselves a reliable force once before on the Voodoo Rooms stage. And tonight is no let-down either. In fact, Kid Canaveral have grown on us quite a lot in the intervening three months and it's safe to say that this evening's set is actually better than their first, solid-as-a-rock, appearance. Perhaps it's the stream of gigs they've done since then or the hallmark of a band with another great single (Couldn't Dance) to promote and the self-assurance inherent within that process. But, whatever it is, they're shining tonight and their bubblegum pop - all easy strumming, nifty drum beats, good-time melodies and catchy-as-a-virus choruses with that distinctive Scots accent - is the perfect way to crown the darker, more spiky experience preceding. Best of luck to Kid Canaveral whose tour schedule continues for a few months to come.

myspace.com/kidcanaveral

Kid Canaveral, The King Hats and Night Noise Team pictures by Sarah-Jane Duncan


---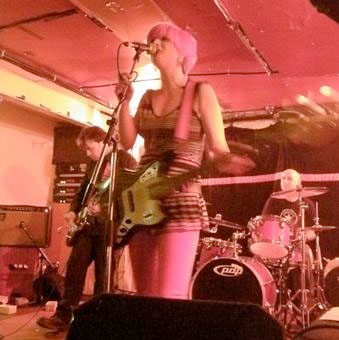 Glasgow-based trio (bass/vox, guitar/vox, drums) who remind us of Transvision Vamp with (much) less bubblegum polish (ok, that's a pretty wide-of-the-mark actually and unlikely to go down very well with singer Roz Davies) and much scuzzier undertones, which can only be a good thing, however we felt about Wendy James twenty years ago... The B52s also spring to mind, with their surf vibes, and then the vocal style of indie rock goddess Kim Deal (Pixies, Breeders). In fact, the Pixies is probably quite a good touchstone for this group's style. They also mention the Throwing Muses and Le Tigre on myspace, which figures. Anyway, they've supported acts such Bis, The Fall, and The Grates, and released their debut in 2006 with a split seven inch with FreezerBurn on Skribble Records.



Miss the Occupier are an indie-punk three-piece who take angular guitar riffs, fuzz them up until they're a suitably deafening din, and set them alongside the sardonic musings of singer Roz Davies. It's like being stomped in the face by The Fall's stroppy younger sister, and enjoying it just a little bit too much for your own good.' The Herald

myspace.com/misstheoccupier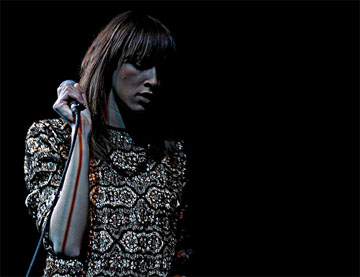 Baby Bones really blew us away when they made their Limbo debut in May (read our review of that show in full here). They bring laptop beats and electronics, rave samples, guitars, some pretty intense lyrics and a LOT of energy to the stage but, really, it's all about their front-woman, Margaret, who must be one of the most striking and charismatic young female performers in Scotland right now.

myspace.com/babybonesglasgow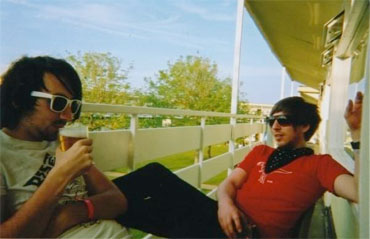 These guys are pretty out there and should provide the perfect foil to Baby Bones pounding dark rave heart, before Miss The Occupier closes the live programme in a more conventional manner. They name-check acts such as Crystal Castles, Xiu Xiu and Best Fwends on their space and there's definitely an experimental edge to their songs, all heavily distorted and generally demonstrating a pretty f*cked up sound.

myspace.com/deadboyrobotics


MAILING LIST
ALSO COMING UP
Also coming up at Limbo: Sparrow & The Workshop, Meursault, Baby Bones, The Red Well, Sarah & The Snakes, Black Diamond Express, Miss The Occupier, Dead Boy Robotics, Kartta, Tie For Jack, Thieves In Suits, Epic 26 plus loads of other buzzing brand new acts.

Check out all our forthcoming bands here
CHEAP DRINKS!

Don't forget you can take advantage of £2 bottles from any of the Voodoo Rooms' three bars by showing your Limbo wrist-band to the bartender.
REHEARSAL SPACE?

The Black Spring Rooms: competitive prices, friendly service, easy access and no fuss for as little as £7 / hour; free parking on site + six bus routes to service it in Leith. More info here
VENUE INFO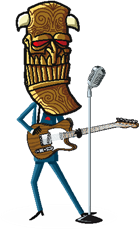 Limbo takes place at The Voodoo Rooms, West Register Street, Edinburgh.

Times: 8.45pm - 1am *
First band 9.30, second band 10.30

Entrance: £5/£4 *

Ph: 0131 556 7060 (venue) / 0131 477 6916 (promoter)

* except where otherwise advertised
Sponsored Links