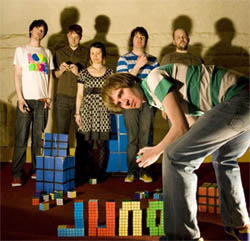 We're launching the dance floor at the stars, with the edinburgh debut of Juno! who are bursting with the energy needed to get the party going. Juno! include among their ranks Manda Rin (famed for her front-woman role in Bis, who were big in Japan, and Data Panik, who were big in Glasgow, for a bit) with support from Cancel The Astronauts. Juno! with added Manda Rin (Bis) Juno! have been doing fantastically well of late, supporting the likes of Operator Please, Glasvegas, Black Affair (ex Beta Band), Robots in Disguise, Kid Carpet (tour support), Matchsticks, Bis, Datapanik and My Latest Novel and getting their debut single produced by Steven from Bis, released by indie legends Shifty Disco records and consequently play-listed on just about every radio station any sane person with any taste in music might want to listen to. Oh yeah, they also ended up on a number of Top Ten Single Of The Year lists in 2007.

myspace.com/junovision
junovision.co.uk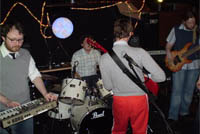 Cancel The Astronauts are just all over it right now, having recently supported Found (Wee Red Bar), The Velcro Quartet (King Tuts) and Frightened Rabbit (Cabaret Voltaire). They were also included on the new Breakout Scotland CD. They write jaunty, fun, gimmick-free indie-pop songs with crate-loads of energy, utilising that classic new wave line-up: guitar, synth, bass, drums. Cancel The Astronauts There's something immediately arresting and accessible about Cancel The Astronauts. Check out their mini-LP for proof that they've got what it takes to go all the way. If they don't make you want to jump and down like an idiot instantaneously, then you should probably consider becoming an extra in the next George A Romero movie (he's the dude who made ace zombie movies Night Of The Living Dead, Dawn Of The Dead, Day Of The Dead, Land Of The Dead and recent follow-up Diary Of The Dead).

myspace.com/canceltheastronauts

Check out our forthcoming bands here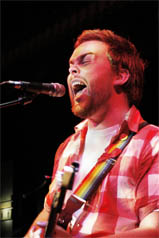 We went all indie-pop, with Kid Canaveral and The Asthmatic Scene both delivering extra slick, charismatic performances, once a few initial technical difficulties had been overwhelmed with one of the guitar amps. Kid Canaveral had a particularly tight set, which was as much about singer David MacGregor's amusing banter as the band's unwavering style, buoyed by a great reception to their performance at the Fence Records home-game in Anstruther the weekend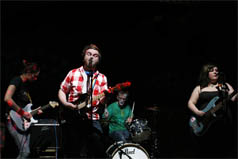 before as well as having just finished recording their new single, which now forms the climax of their stage show, alongside previous ace Smash Hits. The new release will be a double A side of Couldn't Dance and Teenage Fanclub Song and comes out in June on 7" vinyl (Straight to Video Records) and if Kid Canaveral aren't playing a pile of festivals this summer, we'll be very surprised.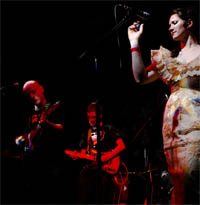 The Asthmatic Scene were equally bubbly, with singer Matt Quinn's self-deprecating asides offering the perfect complement to his band's delicate touch.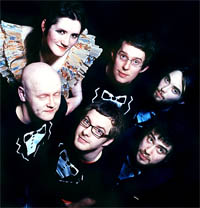 We were totally smitten and look forward to watching many others fall under their spell after they release their own debut single later this year.

Oh yeah, and as we write this, we note that Limbo favourites Isosceles are The Guardian's band of the day today "indie success is assured" they say, but those of you at Limbo two weeks ago knew that already!



Pictures by Jennifer Baker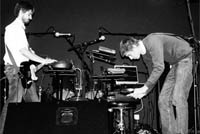 The energy salvos keep firing with Over The Wall and Flying With Penguins: Ben Hillman and Gav Prentice make wonky electronic pop that will make you dance but which belies a punk-rock spirit. The duo made the T Break finals at last year's TITP and in a glorious act of defiance took the pi$$ out of the sponsor's product in a video they then posted on youtube and myspace. Unsurprisingly, said sponsor issued the tiny band with a 'warning' unless the video was removed from the net so - quite hilariously (and magnificently) - they've posted an 'edited' version alongside it, in which they've dubbed over their own speech with a 'more positive' spin in favour of the sponsor's product. Over The Wall With the public now able to view both videos together, side by side, it's comedy gold and possibly one of the best examples of sticking it to The Man since Country Joe MacDonald got the Woodstock crowd to shout F-U-C-K before his ode to Uncle Sam in Vietnam, way back in 1970.... Bill Hicks would be proud! We love their sense of humour, we admire their spirit and we think their tunes are great, too.

'One of the most likeable live bands you can witness in Scotland at the moment, their touching lo-fi electronic nuances give us all a reason to look to the future with a glint in our eyes.' (The Herald)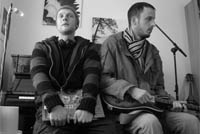 Flying With Penguins make sugar-coated, synth-led dance songs that take their cues from Bloc Party, Athelete and drum n bass maestro High Contrast and go pop pop POP! Alex Fenton and John Hammond use guitar, clarinet, electribe synth and laptop to augment their voices, combining electronic breaks, drum and bass, weaving synth lines, memorable intertwining guitar riffs and powerful vocals for an epic listening experience. The use of laptops to loop material in real-time gives an exciting edge to the live performance - a fusion of electronic influences and traditional instrumentation.

Influences range massively: The Cure and New Order to Mr Scruff, Athlete, Bloc Party, Bonobo and most drum 'n' bass. Tunes you can groove to, cry to, sing along to and move to.

myspace.com/overthewall | myspace.com/flyingwithpenguins
CHEAP DRINKS!

Don't forget you can take advantage of £2 bottles from any of the Voodoo Rooms' three bars by showing your Limbo wrist-band to the bartender.
THE CHAP AT LIMBO
May 1st sees international live sensation The Chap headline: a furiously

rocking live show, complete with dance routines and scary faces.

Check out all our forthcoming bands here
REHEARSAL SPACE?

The Black Spring Rooms: competitive prices, friendly service, easy access and no fuss for as little as £7 / hour; free parking on site + six bus routes to service it in Leith. More info here
VENUE INFO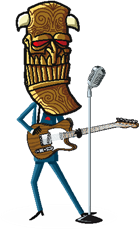 Limbo takes place at The Voodoo Rooms, West Register Street, Edinburgh.

Times: 8pm - 1am *
First band 9.15, second band 10.00

Entrance: £5/£4 *

Ph: 0131 556 7060 (venue) / 0131 477 6916 (promoter)

* except where otherwise advertised
Sponsored Links