Limbo goes FOLK, with another twist of Americana, as the soon-to-be-gargantuan SPARROW AND THE WORKSHOP return, supporting Perth's best-kept secret, PUMAJAW (recent discoveries for us but no novices to live music and performance by any stretch), alongside the wondrous EAGLEOWL - all very original, very special and very good. It's another incredible Limbo line-up and all in a beautifully harmonious folky/acoustic/lyrical vein.

If you're on Facebook, tell us that you're coming along here.

See what the News had to say about Limbo's first year here:

LISTEN TO THE FRESH AIR FEATURE ON LIMBO'S FIRST YEAR!



Thanks to Tallah Brash and HP Neilson. Check out their great show here

Check out our forthcoming bands here

Check out all of our photography here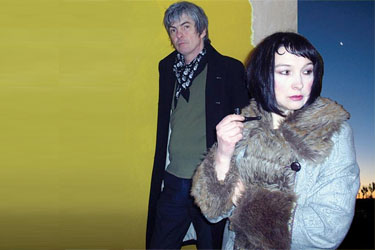 PUMAJAW's Pinkie Maclure and John Wills met in a recording studio in London in the late 90s. John was signed to Beggars Banquet in art noise outfit Loop and was also making a name as a producer. Beggars asked John to record and jointly produce their new signing Pinkie Maclure for her solo album, 'Favourite'. Having many musical ideas in common they became a songwriting team, producing five critically-acclaimed albums. 'Curiosity Box' is their second under the acronym 'Pumajaw'. Combining Pinkie's extraordinary voice with John's looped and treated guitar, samples, concertina and hypnotic rhythms they have a unique and seductive sound which stretches from psychedelic pop through sultry folk songs to impassioned, spiritual laments. New album 'Curiosity Box' came out (Fire Records) in September and features Alasdair Roberts (Drag City) and James Yorkston (Domino). Pumajaw are known for their fiery, mesmerising live presence.



Timeless, extraordinary......... the product of a potent musical chemistry.' (The Wire)



Forget the token folk suffix, this is mesmerising.' (The Skinny)



Deathless and spellbinding folk' (Uncut)



PUMAJAW transfixed the audience' (The Scotsman)

myspace.com/pumajaw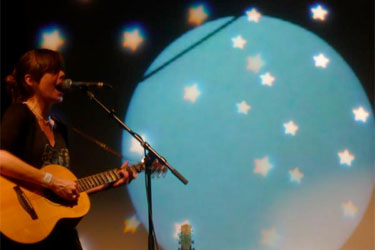 SPARROW AND THE WORKSHOP are three people and have been going since about January 2008. Singer Jill O'Sullivan is from somewhere in the midwest of America, drummer Gregor Donaldson from somewhere in the midwest of Scotland and Nicholas Packer (bass/guitar) from southwest Wales. They are a bit like a cross between Holly Golightly and Bonnie Prince Billy, what with the mid-western US accent of Jill, the very fetching, large moustache and accompanying hillbilly style of Gregor, plus Nick's occasional slide 'geetar'. What a captivating front-woman, though. Last time they played Limbo, Jill faced Nick rather than the crowd, addressing the latter between songs without turning to face the audience head on, instead hiding coyly behind her fringe with occasional sideways glances at the screen. And what great banter, too. The band turned up with amazing visuals that they'd rapidly put together, 'I hope y'all like the visuals,' she drawled. 'I can assure you the boys spent an awful lot of time making them.' Later, a ballerina pirouetted mid-frame and Jill claimed, 'I can dance like that too, you know, I just don't feel like doing so right now...' Everyone in the room fell under her spell and the band's songs and music were no less affecting.

In fact, the complete package is so impressive, it's no wonder Sparrow And The Workshop are currently being courted by some half dozen labels, managers, promoters etc all sending keen offers their way...

myspace.com/sparrowandtheworkshop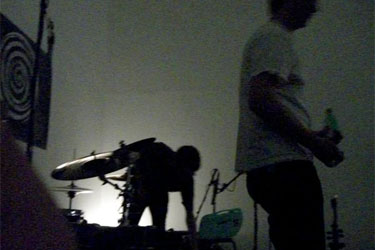 'EAGLEOWL are a lo-fi post folk ensemble from Edinburgh, Scotland. Eagleowl believe in doing things right, rather than doing things fast. A ragbag of influences and instruments (violin, ukulele, double bass, guitar, glockenspiel) — blending the traditional with the experimental — create a lush, emotional soundscape. They formed in 2005 and quickly became an integral part of the loose music collective 'Fife Kills:'. Previous live shows have garnered rave reviews from the List ('the room was wrapped in a spine tingling cocoon, helped along by sweet and understated vocals'), Is This Music ('music of simple, yet wonderous beauty') and the Skinny ('so delicate… almost hypnotising'), as well as earning them a place in the List's 'Your New Favorite Bands' article in Autumn 2006. The unusual sound has led to support slots with artists as varied as Chris Corsano, a Hawk and a Hacksaw, Field Music, James Blackshaw, the Low Lows, Adrian Crowley, Woodpigeon, Broken Records, De Rosa, Zoey Van Goey and the Twilight Sad — as well as playing Fence Records' Homegame two years in a row.

Eagleowl's debut 5-track EP 'For The Thoughts You Never Had' is out now on Fife Kills: Records and is available to order direct from the Eagleowl website. ' (band's biog)

myspace.com/eagleowlattack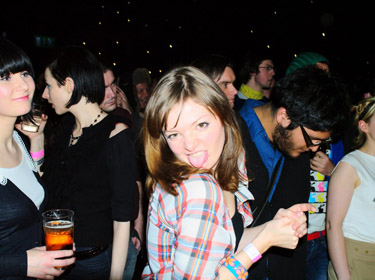 Thanks to everyone who made it down to Limbo's First Birthday Party last week. Was great to see so many new faces at the club as well as all the more familiar friends who managed to make it along. It's probably safe to say that just about everyone was bowled over by headline act Micachu And The Shapes (as we've since discovered her band are known), who drove up from London that day and made their Scottish live debut, playing a great set without any sound check. What a great trio of musicians and what a great sound, too. Support came (in two short sets, before and after the headliner) from Edinburgh duo Dead Boy Robotics (on first and then again, just before midnight, second last) and Edinburgh solo artist Ex Lion Tamer (on second and then, after midnight, last), plus Glasgow-based, Argentine-French duo A-lix, who played one, longer set just after Micachu. The acts were predominantly electronic to focus on Limbo's more dancefloor-oriented side and there was also DJ support from Oli (Hobo) and Chris (Fast), both of whom brought fresh sounds and their own style to the Limbo mix, with the decks also set up on stage for the first time. Both of these made nice features for a change and meant the night was all the more special. Jenny Baker pic by Terence Chan.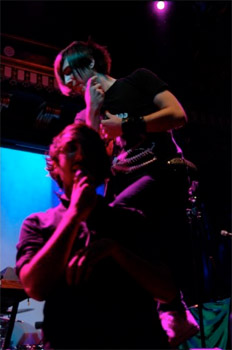 Dead Boy Robotics are on first and they are on characteristically quirky, charming form, welcoming the crowd to the Limbo birthday with their friendly banter and thanking everyone who has bothered to show up in time for their first set, before unravelling some of their customary laptop beats and tunes, distorted guitars and howling vocal laments. The short set works well in terms of setting an energetic mood and it's also clear that they've been working on their material since their last appearance. The performance is strong and the new backing tracks sound great. They tell the crowd they'll be back on later and then Fast punk club's Chris takes over with a couple of obscurities on the decks before Ex Lion Tamer begins about fifteen minutes later. Dead Boy Robotics come on again later, but their set is marred by some idiot in the crowd pulling the lead out of their mac. It brings their set to a very sudden end, which is a shame as their energy is infectious. When it becomes obvious that they won't be able to continue, one of the Black Spring DJs takes over.

| | |
| --- | --- |
| | |
| | |
| --- | --- |
| | |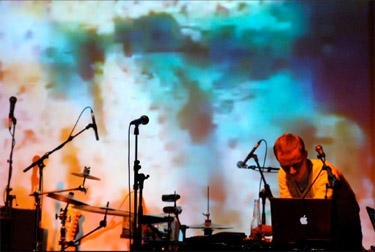 Ex Lion Tamer was originally scheduled to play at Limbo in Septemeber, and, combined with the time it took to schedule that performance, it feels like we've been waiting for an age to see him for ourselves. His electro-pop sounds on myspace immediately struck a chord with us at Limbo and his live show doesn't disappoint either. Hardly needing any equipment for the occasion, he's controlling all the sounds on his laptop with an external MIDI touch-pad. The slow material he introduces the audience to at this early part of the evening is all good and, while he's not the most imposing figure on stage, he's not so shy either and quickly commands the room. At one moment, he asks whether anyone is a fan of Galaxie 500 (it must be said, the response isn't raucous but the place is still filling up) before embarking on an homage to the Eighties US indie legends, using his electric guitar. This is the only time he picks up the guitar during the evening but it's a memorable moment and everyone seems to be talking about how great they think Ex Lion Tamer is until Micachu comes on about twenty minutes later (line-check-permitting). Ex Lion Tamer's return later on in the evening is more uptempo and gets a proper cheer from the room when it ends, in a wall of electronic feedback. (It also segues really nicely into The Chase by Giorgio Moroder and the final half hour of the night's DJ and dancefloor-led entertainment, but that's another tale).


| | |
| --- | --- |
| | |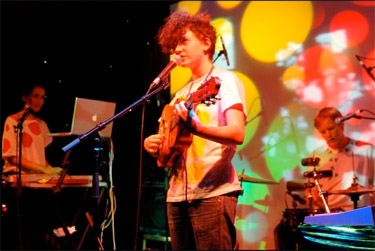 Micachu And The Shapes are signed to Matthew Herbert's Accidental label, which keener enthusiasts will tell you is a sign of an act that likes to experiment with (pop) music's often narrow parameters and generally f*ck with the formula. Micachu and her band certainly do this, they do it very well, and they do it from the off. Near the beginning, front-woman Mica Levi picks up what appears to be (part of?) a vacuum cleaner, which she then aims at the microphone for what then becomes the enchantingly naif melody and lyrics of Turn Me Weller. She's an unusual-looking girl, too, cutting an original, androgynous dash on stage with her scruffy, tomboy style and short brown hair, but she seems to possess character and charisma by the bucket-load, as the reaction of the crowd soon confirms. Her long, curly fringe hangs heavily over her eyes as she strums and picks at all manner of guitars (mainly small, toy ones), a curl in her lip and her vocals seeming to escape from the corner of her mouth with very little effort and an, equally lazy, Lahndahn accent. When she's using her more traditional acoustic guitar, she seems to be referencing old rockabilly motifs, but the way that she performs and sings, not to mention the content of her lyrics and the curious melee of beats and pieces that The Shapes add to the mix, make this much, much more than some dull retro pastiche. The Shapes are sporting white T-shirts covered in, yes, colourful shapes and Raisa (keys, percussion, laptop) and Marc (drums) do a fine job of adding to Mica's playful strumming and louche vox, particularly Marc, whose drumming skills are incredibly well-honed. The whole thing is so well-rehearsed, in fact, that it ends up being as tight as it is fluid, and, combined with the group's idiosyncratic, inventive nature, really is like nothing else we have seen this year at Limbo, or anywhere else. Micachu And the Shapes have a very colourful future ahead of them, and we look forward to welcoming them with open arms again. Best of luck with the debut album and tour.

| | |
| --- | --- |
| | |
| | |
| --- | --- |
| | |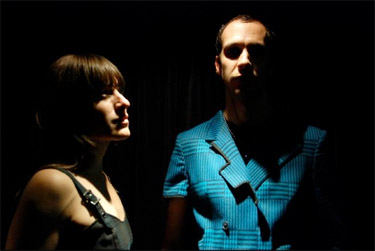 A-lix have the unenviable task of going on next, when a lot of people have disappeared for a fag or a drink and not returned in time to catch them. It's a challenge that they rise to as best they can, but Micachu and The Shapes have won many new fans tonight with their unique charm, and, having now set such a high standard as a precedent, they are an extremely tough act to follow. A-lix give it their best shot, though, and they do a fine job. Death disco never sounded this French and they bring their own, contemporary style to the stage, while referencing the aforementioned post-punk sound fairly heavily, not to mention that penchant for The Cure. With their French/Argentine roots, you'd possibly assume that they'd have been more predisposed to be doing tango than Robert Smith and co, but they throw themselves headlong into the performance and look great on stage. Set highlight Never Grow still sounds great, too, and they are met with a warm response.

| | |
| --- | --- |
| | |
| | |
| --- | --- |
| | |
myspace.com/alixland

Louise Madsen was sadly ill, so Micachu and The Shapes, A-lix, Dead Boy Robotics and Ex Lion Tamer pictures by Nic Rue. Thanks Nic!


---

Split 7" Single Launch and Limbo Xmas Party on Sat 13 December support from Super Adventure Club live, plus Tallah Brash (Fresh Air), the Black Spring DJs and a very special surprise guest TBC

Hey! It's the Limbo Christmas Party and Launch for Come On Gang! and Kid Canaveral's new split 7" Single. Not only that but it's also a special Saturday night Limbo! Triple-yuletide-woop! Fo' real...

Saturday 13th December is the last Limbo this year and a SPECIAL ONE-OFF Saturday night Limbo for all you pussies who can never make it out on a Thursday night and everyone else who can but wants to party on Saturday too. It's also Come On Gang! and Kid Canaveral's Split 7" Single LAUNCH PARTY and we've finally managed to get the also-quite-uncategorisable prog freakout that is Super Adventure Club to return, after they cancelled in Spring, as support. Expect a BUZZING night of bitter-sweet indie-pop (Kid Canaveral), pop-punk (Come On Gang!) and twisted shapes (Super Adventure Club).

If you're on Facebook, tell us that you're coming along here.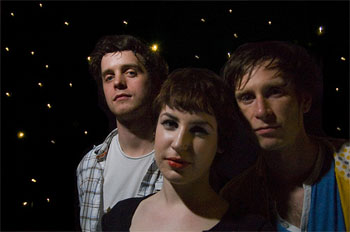 COME ON GANG! are destined for great things. A guitarist (Mikey) from Galashiels, a bassist (Trev) from Dublin and a singer/drummer (Sarah) from Brighton, Come On Gang! are guaranteed to get everyone jumping to their high-octane, punky, indie-pop. Another T Break finalist earlier this year, they launched debut single 'Wheels' at Limbo in July. A little bit Belle And Sebastian, a little bit Yeah Yeah Yeahs and a little bit of something else that's quite simply their own thing, if you're not feeling these tunes, you've either had your soul possessed or you need to see a shrink. Melodic, heartfelt and firing on all cylinders, Come On Gang! are a proverbial rocket-ship shooting for the moon.



When the drums and the angular guitar hooks of Coming Home ignites the audience, they hold their own. Singer/drummer Sarah Tanat-Jones has a voice like an angel. The oft-used 'ones to watch' seems entirely apt here.' (The Skinny, February, 2008)



The Rolling Stones, The Beatles, Roxy Music and Franz Ferdinand...to that list, add Come On Gang!' (Edinburgh Evening News, October 2007)

Check out the two videos of Come On Gang! at Limbo and read the review of that last appearance here

myspace.com/comeongangmusic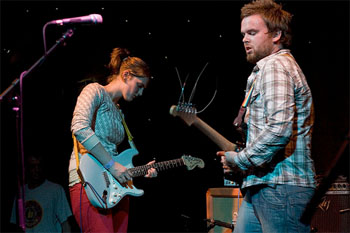 Edinburgh Smash Hits KID CANAVERAL first played Limbo to a rapturous reception in April (review here), following the release of new single Couldn't Dance and came back and wowed us again in July - see here. Kid Canaveral make indie-pop music you can sing along to. 'Debut single, Smash Hits (rel. March 2007) contained everything you'd ever want in a pop song - two storytelling verses (replete with mild swear-words) a "He said/She said" chorus, a hand-clapping middle-eight and a po-going guitar solo that is so jauntily infectious, you'll break your neck after the third listen. Magic. Upon hearing the song BBC Scotland saw fit to make a music video for BBC 2's The Music Show - which was broadcast on 19th November 2006. Second (Couldn't Dance) and third (Second Time Around) singles followed in 2008, each gathering more airplay than their predecessor, including in North America and Mainland Europe. The band have been featured on BBC 2's Music Show, Vic Galloway's BBC Scotland and Radio 1 Shows, Rob Da Bank and Steve Lamacq's BBC Radio 1 shows and Jim Gellatly's XFM and Radio Scotland Shows.



Juicy, chewy pop-kids to savour, proving that life still twitches in this indie guitar-pop business.' (Paul Whitelaw, The Scotsman)



Our new favourite Scottish band" (The Herald)



It's amazing how even their brand new pop-punk songs embed themselves in the brain, while single 'Smash Hits' could easily be just that." (The List)



the sort of super-infectious melodies The Magic Numbers would give their bushy beards for. Picking out the best songs is a bit like trying to pick your favourite child: impossible.' - (Daily Record)

myspace.com/kidcanaveral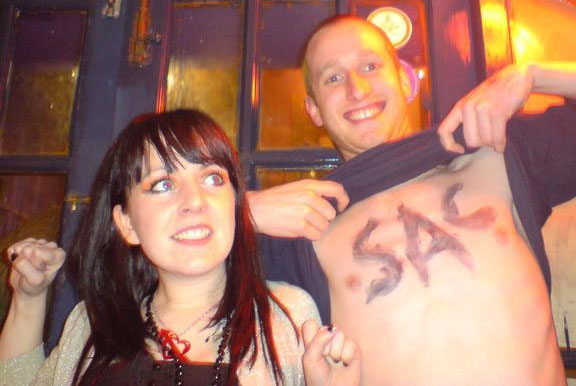 'By day we are Bruce, Mandy and Neil. By night we are the deadly spazz-jazz ninjas known as Super Adventure Club!' Like nothing else in Edinburgh, with very few peers anywhere else either. And what a lot of fun live...

'Edinburgh's radgest new band... know it's no fun playing serious music if you have to take it seriously ... inventive brilliance'

Chalk Horror: "****" (The Skinny)

'Super Adventure Club were quite simply one of the most exciting and intriguing Scottish bands I've seen in age' (The Herald)

myspace.com/superadventuremusic
MAILING LIST
FACEBOOK/MYSPACE
Limbo has active Facebook and Myspace pages. Join our Facebook group here or befriend us over here at MySpace
ALSO COMING UP
Also coming up at Limbo: Come on Gang!, Kid Canaveral, Super Adventure Club plus loads of other buzzing brand new acts.

Check out all our forthcoming bands here
CHEAP DRINKS!

Don't forget you can take advantage of £2 bottles from any of the Voodoo Rooms' three bars by showing your Limbo wrist-band to the bartender.
REHEARSAL SPACE?

The Black Spring Rooms: competitive prices, friendly service, easy access and no fuss for as little as £7 / hour; free parking on site + six bus routes to service it in Leith. More info here
VENUE INFO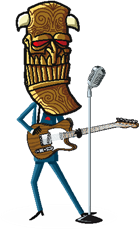 Limbo takes place at The Voodoo Rooms, West Register Street, Edinburgh.

Times: 8.30pm - 1am *
First band 9.00, second band 9.45, third band 10.30

Entrance: £5/£4 *

Ph: 0131 556 7060 (venue) / 0131 477 6916 (promoter)

* except where otherwise advertised
Sponsored Links