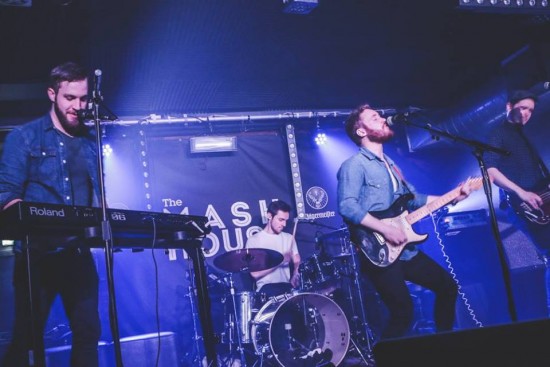 1) Who are you, who is in the band, who does what in the studio and on stage?
We are a brand new band called NOAH NOAH (formally Grampa). Fraser plays guitar and sings, Matt plays Keys and sings, Neil plays bass and sings and Rowan hits stuff and sings. In the studio we all do a bit of everything as we all play each others instruments and take a keen interest in production.
2) How would you describe what you do – in a nutshell – to someone who's never seen you before?
We play our own unique blend of electro /indie/pop/rock and use close vocal harmonies, pounding drums, soaring synths and jangly guitars.
3) How long have you been writing and performing in this way?  
We have been writing and developing the sound since mid 2015 however we only started gigging in Nov 2015. Fraser and Rowan worked together as school boys and Fraser and Matt have been gigging acoustically together for the past couple of years, but NOAH NOAH have only existed for five months.
4) How exactly do you work / write / record?  
Usually one of us will have the bones of a song (we all write), then after making a demo of the initial idea we teach the song to the rest of the band then we all start to develop together. It's a very collaborative process and we are all painful perfectionists! We are all sound engineers and play lots of instruments so we try to make sure that our recordings are to the highest standard we can achieve.
5) How do you feel your studio/recording style informs the way you perform your music live (or vice versa)?  
For us, the way the songs sound after production in the studio is integral to informing how we perform them live. The electronic element to our sound means that writing parts like the drums and synths on the laptop first is important to developing the feel of the song. Then we figure out how to make all the noises on stage!
6) What's been happening lately and what's new with you? 
We have had a very very busy time.  At the start of 2016 we hit the ground running recording our first batch of songs ('Lips' now available on soundcloud) and setting the gears in motion for our name change. As of Friday 26th Feb we became NOAH NAOH.
We have also been organising shows across the UK as at the end of March we go on tour in support of Kirsten Adamson. We are very very excited for this. You can find details on our website noah-noah.com
7) When was the last time you played Edinburgh (and where)?  What do you remember about that experience?  
The last Edinburgh show we played was in support of 'Colour of Spring' at Sneaky Pete's. They are a fantastic  band from Leeds and we had a really fun night hanging out with those guys. They came along to an acoustic show we were playing after and kept requesting the cheesiest pop songs they could think off. Top Lads.
8)  If you've played Limbo before, what did you like/rate about the experience?  If you've not played Limbo before, what have you heard about it?
Fraser, our front man used to play with Victorian Trout Conspiracy and has played a coupe of Limbo events. These events are always very well run, as artists you are well looked after and the fact that you get such high quality videos at the end is fantastic. The Limbo guys are lovely and we look forward to our next chance to get involved.
9) What's next, coming up after this gig, for you and what are you generally looking forward to right now…? 
After we return from our March tour (for which we are very very excited! Details at noah-noah.com) we are back in the studio to start recording our first release. We have a few summer festival announcements to make too, but we will save that until April. 😉
10)  If you have any other passions/opinions you'd like to share, if there's anything else you feel strongly about, pls feel free to tell us about it here…?
Just check out NOAH NOAH and get involved! Thanks Limbo!