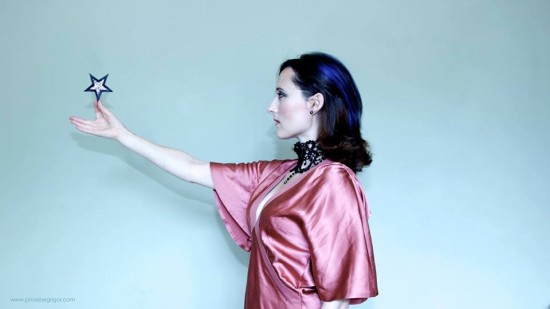 1) Who are you, who is in the band, who does what in the studio and on stage?
Diana, Anne, Andy, Jack. Diana does words and chords, packed lunches and handcrafted album covers although she may never do that again unless she wins the lottery as it takes an unimaginable amount of time. Andy puts the 'Andy' back into Candythief on accordion, guitar and lush backing vocals. Anne..have you even HEARD her play the cello…swoon….while singing….? Jack adds percussion power.
2) How would you describe what you do – in a nutshell – to someone who's never seen you before?
Somewhat retro European psychedelic chamber pop.
3) How long have you been writing and performing in this way?
Over ten years. Thanks Limbo, that makes me feel really old.
4) How exactly do you work / write / record?
Some things are jammed out for live performance or composition collaboratively. Some tunes are roughed out with words and chords by me (Diana) and then everyone else drops magic dust on it. Since starting up my own music school, I find I have less time to sit on a toadstool and await inspiration, and that writing to brief is actually possible and necessary.
5) How do you feel your studio/recording style informs the way you perform your music live (or vice versa)?  Does it make it easier or harder, better etc…?
So – two approaches to writing. Approach 1 = 'feel', coming up with a noodle, idea or tune and adding bits on until it feels finished. Studio really useful for this. If I didn't have an iphone with a record function (that counts as a studio, doesn't it…? I've got a tiny multitrack on there…) most of my ideas would die instantly as there is no possible way I would remember by tomorrow.6) What's been happening lately and what's new with you?
I have a free download up at candythief.bandcamp.com/album/the-starting-gun (enter £0 in name your price). We're writing album number four and have started recording it with one of my musical heroes, John Wills of Pumajaw. To say I'm excited by this is a massive understatement.
7) When was the last time you played Edinburgh (and where)?  What do you remember about that experience?
I did a wee lunch-time gig at the Sound of Muesli in January at Out of The Blue. I love those gigs because lots of toddlers bop around unselfconsciously and let you know if they like it.
8)  If you've played Limbo before, what did you like/rate about the experience?  If you've not played Limbo before, what have you heard about it?
Aaaaah Limbo. LOVE playing limbo. The sound is good, the bills are great. On my first Limbo gig I met the mighty Kirsten Adamson and we went on to play in loads of bands together, so it was totally formative in my experience of music in Edinburgh. Prior to playing at Limbo I had seen some great, badass performers like Law. Limbo is basically the archetype of a good music night.
9) What's next, coming up after this gig, for you and what are you generally looking forward to right now…?
I'm doing a bit of transatlantic collabo with a Kentucky Americana songstress called Brigid Kaelin whom I toured with last year, and some informal recordings will be appearing in due course. The main deal is the NEXT CANDYTHIEF ALBUM. Get the freebie, as above, here; agree with this person who's just reviewed it here, then you can support the upcoming crowd-fund for the fourth album. One of the perks is a tea mug with your name on it. Sod a thank you letter, that's an actual useful thing. Get orff my tea, etc.
10)  If you have any other passions/opinions you'd like to share, if there's anything else you feel strongly about, pls feel free to tell us about it here…?
I read that, and immediately thought about the weird video I saw on facebook where evangelical church leaders were having a big, creepy pray with Trump to get him in. 'Lord, guide Donald to the white house' etc. I could talk about that being the scariest thing ever, but I don't want to feed more attention into something that I can't directly influence. So instead, I'm going to show you this video of me doing a trapeze routine to one of my own songs, because to not oblige an unsuspecting room of people all to listen to my music would have been a big waste, right?
I saw one of old (new, Cumberbatch) Sherlock Holmes for my weekly allowance of telly, and the baddie gets into these improbable places 'But how did he get to this balcony near the gherkin and lock the door from the inside,' etc, using aerial skills, and I secretly thought 'Basically, I think we can all agree I'm about five aerial lessons away from being as ninja as a Sherlock Villain, which is almost as good as being as ninja as Sherlock, which is pretty much EVERYTHING MY 9 YEAR OLD SELF EVER WANTED! BEFORE I EVEN KNEW THE MINOR PENTATONIC SCALE EXISTED!'Nobody is obliged to remind me now or in the future that in actual fact I can only do four press-ups…