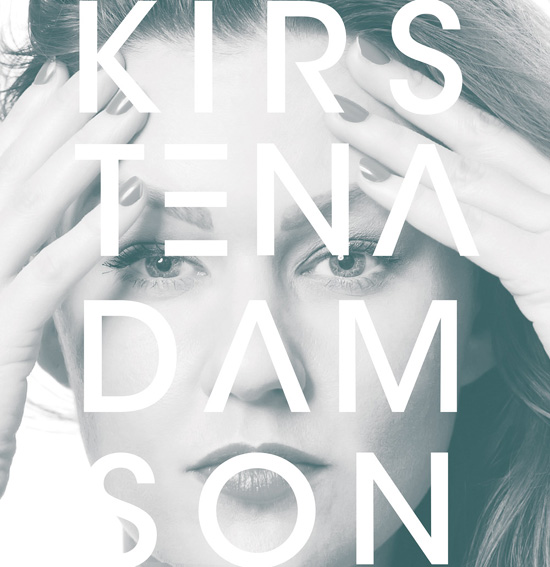 1) Who are you, who is in the band, who does what in the studio and on stage? 
I'm Kirsten Adamson – Lead singer, songwriter. I currently have a four piece band set up (smallest I've ever had) made up of Andrew Smith on lead guitar and synth, Steve Whitlock on bass and Ru Stewart on drums and samples. I had to think about making my live show tour-able, which meant having to streamline the line up, so we've done lots of rehearsing to keep the sound as big and bold as the album by doubling up on instruments and really pushing ourselves to cover all the little intricate parts.
2) How would you describe what you do – in a nutshell – to someone who's never seen you before? 
I have been described as the love child of Cyndi Lauper, Kate Bush and Dolly Parton, if you could begin to imagine…?
3) How long have you been writing and performing in this way?  
 I have been performing under my own name since early 2014 and released my debut album in November 2015.
4) How exactly do you work / write / record?  
I generally only write when I have something to say. Whether it be through heartache, seeing someone dealing with a situation or observing the world around me – I let it flow naturally. Generally my songs begin with either a few lines going round my mind or a cool melody and then i'll sit down with a guitar and write the song. If I'm out and can't get to a guitar I'll always make a little voice recording of the idea to work on later!
5) How do you feel your studio/recording style informs the way you perform your music live (or vice versa)?  
Most of the songs from "Kirsten Adamson" were gigged for around a year before we went in to the studio so we already had a good live sound and we just added to it with some keys and vocal over-dubs. It's not easy to re-treat all the parts that we added to it in a live scenario but we are definitely using ourselves to try!
6) What's been happening lately and what's new with you?
First off, you can grab a copy of my debut album from
kirstenadamson.com
or download it from iTunes and stream on Spotify. I have been planning a tour and booking gigs for 2016 since the launch of my album in November last year. I've also become a pretty good post lady with all the albums I have had to package and send on my own! Yes, I do it all!
7) When was the last time you played Edinburgh (and where)?  What do you remember about that experience?  
The last time we played Edinburgh was at my album launch in November 2015. We had a bit of a nightmare with the venue on the night of the event, which was pretty bloody stressful and totally not what we were expecting to have to deal with on the album launch at all!
When we showed up the club was a mess from the previous night's clubbers, booze and rubbish everywhere. The stage wasn't built, there was no one there who seemed to be in charge, the sound-man the venue had booked had never worked there before and didn't know the gear. Luckily we had our own sound engineer with us who had worked there before and had years of experience.
Once we had moved the furniture to set up our own stage we discovered that two of the floor monitors were goosed. Luckily we are a gigging band and had monitors that we could swap in but this meant travelling across town just half an hour before door time to pick them up and then race back! Hence we didn't really get any kind of sound-check at all.
We somehow managed to pull off a decent gig but because of the venue's lack in comms/care the doors opened late and the support bands didn't get to play their full sets! It was a good night in the end but if we had been an inexperienced band it would of been a disaster! (Just realised I had't vented about this at all and it's all come out here. Ha ha!)
8)  If you've played Limbo before, what did you like/rate about the experience?  If you've not played Limbo before, what have you heard about it?
I love Limbo. I met my now great friend, Diana (candythief front-woman) at our last Limbo event and since then we have formed a folk band (STEMS), recorded a record together and built what's sure to be a lifelong friendship! Yey for Limbo!
9) What's next, coming up after this gig, for you and what are you generally looking forward to right now…?  
Tour, tour, tour. Limbo is our single launch for 'New York Girl' and the kick off of our UK tour! Tickets from
kirstenadamson.com
10)  If you have any other passions/opinions you'd like to share, if there's anything else you feel strongly about, pls feel free to tell us about it here…?