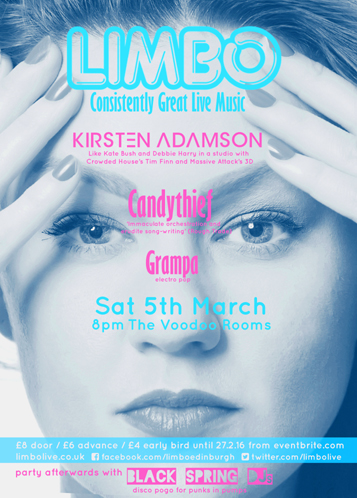 Rising star Kirsten Adamson returns to Limbo with an exciting new sound – like Kate Bush and Debbie Harry in a studio with Crowded House's Tim Finn and Massive Attack's 3D – with support from Limbo favourite candythief and newcomer Grampa (the new project from Fraser Fulton of Victorian Trout Conspiracy and friends).
Having launched her debut album in November 2015, Kirsten Adamson now embarks on full UK tour kicking off at Limbo! The eponymously titled first album was self released and funded by a campaign through Kickstarter and has been wonderfully received by fans and critics alike.
Kirsten Adamson comes from an historical musical background in Scotland. Growing up, her two main influences were Kate Bush and her father's band, Big Country. In 1998 her father relocated to Nashville, Tennessee, where she would spend her summers and it was here where she first picked up a guitar. Classically trained in voice from a young age, Kirsten has grown to become a wonderfully diverse singer songwriter and her forthcoming album encompasses her eccentricities with class and originality. She is an undiscovered artist that must be heard!
Tickets
: £4 (ltd. ed. 'til 27th Feb) / £6 (adv) / £8 (door)