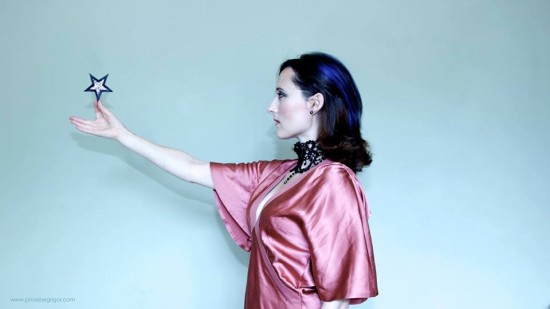 BBC introducing artist Candythief, aka anglo-euro songwriter Diana de Cabarrus, first emerged in association with Fence records. Drawing on alternative, acoustic, psych pop, indie influences with a touch of chanson, the songs are melody-driven, occasionally theatrical, hopping between styles, and coloured by unusual song-structures. She grew up bumping along pot-holed tracks in Europe's only geographically-accurate desert, listening to a random and specific sub-set of psychadelia, Mozart & Americana, and some odd things in between.
Edited highlights so far include live sessions/featuring as download of the day on BBC6 music, radio play from previous releases on BBC radio 1,BBC radio 2, BBC Scotland, a bunch of internet radios; having tunes on film soundtracks, one of which won a prize at Cannes.
On record and live, Candythief is refreshingly distinctive and unusual, supplying an invigoratingly vital alternative version of the female singer songwriter.  Solo performances can include cello, guitar, bodhran and loops as well as vocals.  She will be touring the current release around the UK and recording a fourth studio album in 2014.
PREVIOUS CRITICAL PRAISE:
Technicolour Wilderness, 2009
'Lovely…haunting stuff' Mark Radcliffe, BBC Radio 2
'Technicolour Wilderness is a superb piece of work, eleven songs full of verve, imagination and beauty that really hit home. Wonderful and beguiling, gorgeous and terrifying, full of twists and turns but always enchanting and engaging. 'Is This Music? *****)
'This is an outstanding album and if you ever get a chance to see them live then take it.' (folkradio.co.uk)
like/unlike, 2006
'Immaculate orchestration and incredibly erudite song-writing make for an extremely rewarding experience.' (Rough Trade)
'Another swoonsome and lovely record from Fence records, Candythief have created a melodic tour-de-force with like/unlike' (Is This Music? ****)
'Diana with the very delightful voice… swirly pop that is mercifully unwinsome and neat lyrics, factor in those weird chord changes and you have a Syd Barrett untainted by mandrax.' (Is This Music? Gig review)
OTHER INFO:
Diana has also recorded a collaboration with Domino's finest, Adem, co-written and guested on a selection of albums from lush ambient electronica (Neotropic), grinding post punk (Huw Stephens-tipped band Paul Hawkins & Thee Awkward Silences) to post primal scream Scottish indie (Viva Stereo) and has been invited to play live with everyone from Malcolm Middleton, Richard James, James Yorkston, Adrian Crowley, Pete Molinari and King Creosote to The Mystery Jets, Razorlight and The Subways.
Candythief was voted 2nd (after Bjork and before PJ Harvey and Amy Winehouse) in the Is This Music? end of year poll '07 in the category of best female fronted act and was the only unsigned act to be shortlisted.