LIMBO presents a real KILLER double bill, with the glorious BROKEN RECORDS (Exclusive Acoustic Set) supported by Y'ALL IS FANTASY ISLAND (Album Launch Party).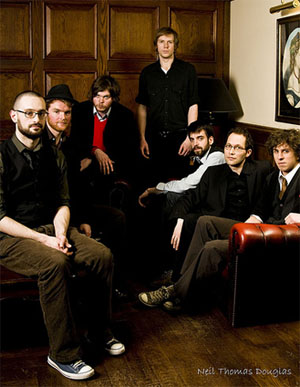 B roken Records are widely viewed as 'Scotland's answer to the Arcade Fire' and gaining rapid momentum following their debut single and an A&R frenzy around a recent Drowned In Sound date in London. The band prefer to think in terms of acts such as Beirut, Yann Tiersen (Amelie soundtrack producer), Nick Cave and The Dirty Three, among others. Using a range of instruments including guitars, bass, violin, cello, accordion, mandolin, piano, trumpet, glockenspiel and drums, they create a sound combining traditional European folk with modern Scottish alternative music. Broken Records at Limbo Actually, what with the fiddles and gypsy/polka influences, we're compelled to compare them to 80s folk rockers such as Dexy's Midnight Runners, The Pogues and The Waterboys. But, whichever way you look at it, Broken Records could only have happened in the Noughties. 2007 saw them voted Best of the T Break Stage at T in the Park and headlining a sold-out show at The Liquid Rooms, Edinburgh. They have supported Editors, Idlewild, Sons and Daughters, The Twilight Sad and Emma Pollock. With so much excitement and anticipation around the band just now and their diary boasting shows across the land, this really is a unique opportunity to catch them in a small venue on home turf while you still can.

This is magical, engrossing and wholly enveloping, genuinely and excitingly bursting with commercial potential. From beginning to end, this self-titled EP delights and amazes, 9/10.' (Drowned in Sound on last year's self-released EP)

Check out a full feature on and live interview with Broken Records on the excellent Song By Toad blog.

Buy Broken Records tickets through Ticketweb here:



myspace.com/brokenrecordsedinburgh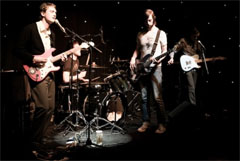 Y 'all Is Fantasy Island are a Falkirk quartet ploughing a similar (but different) folk/rock/indie furrow to Frightened Rabbit. Y'all is Fantasy Island's debut album, In Faceless Towns Forever, was recorded in a nineteen-hour session in an abandoned house late in August, 2005 and announced the band as an exciting new prospect on the cultural landscape. Y'all Is Fantasy Island - Album Launch Second album Rescue Weekend is out next week and has been picking up even more rapturous acclaim. This set should also feature songs from third album No Ceremony, while Adam Stafford and former YIFI drummer Jon McCall also have a side project, Size Of Kansas, and a debut album, Digital Is Dead From The Beginning (ultra limited edition CDR with hand-crafted sleeve). Prolific ain't the word! These guys are talents through and through...

Y'All Is Fantasy Island's second album confirms Stafford as one of Scotland's best young songwriters.' Four Stars (The Skinny)

myspace.com/yifimusic

Check out our forthcoming bands here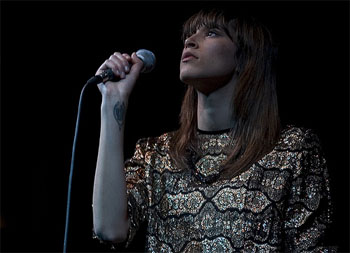 B aby Bones were everything we expected them to be and then some! How refreshing to see another completely new band so full of youthful exuberance and rocking such a unique sound. Their live show relies heavily on a backing track provided by a laptop and that always comes with is own pitfalls but Baby Bones' backing track, all techno beats and rave samples, is one of the most exciting we've heard all year and, augmented by the energetic vocal performance of their very striking front-woman, Margaret, it rises to an altogether different level. She reminds us a lot of Siouxisie Sioux, although she's clearly more in thrall to the devastating likes of MIA. Watch this space for more from Baby Bones in the not too distant.

myspace.com/babybonesglasgow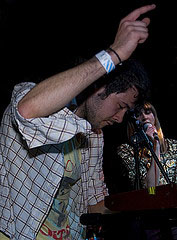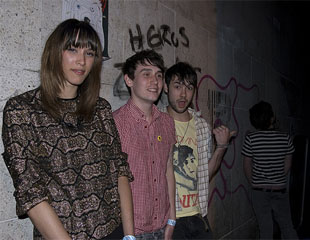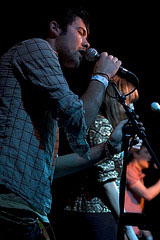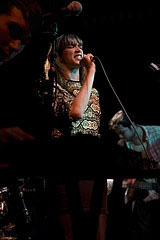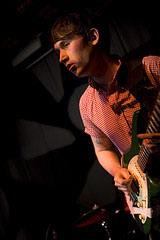 Baby Bones pictures by Kerri Aniello. See the rest here

M y Tiny Robots have clearly got a sizable Edinburgh following, drawing one of the largest crowds we've had at Limbo in a while on a night when we were competing with a free gig across town featuring ex-Limbo favourites, a trendy DJ from the west coast and a high profile touring outfit on the same bill. Boo. And they rose admirably to this challenge, letting it all hang out in the coolest, most unhassled way. Singer Dylan Childs seems comfortable holding court centre-stage and his cheeky wit makes for entertaining inter-song banter.

myspace.com/mytinyrobots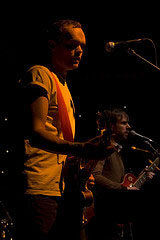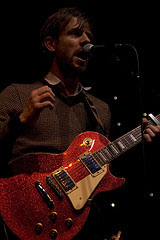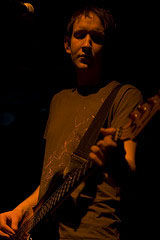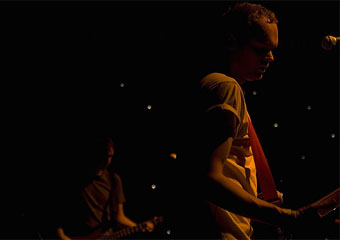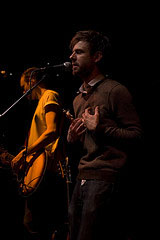 My Tiny Robots pictures by Kerri Aniello. See the rest here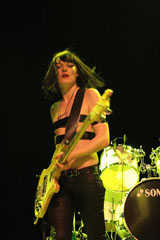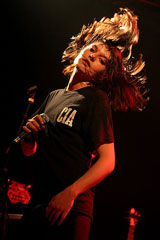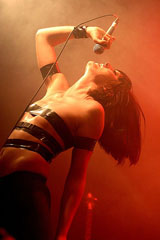 Buy Pravda tickets through Ticketweb here: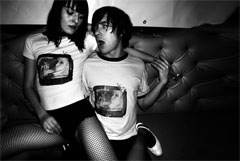 P RAVDA are France's sexiest export after fine lingerie. Their music combines the strength of metal and the twirls of supersonic electro.

It's easy to see why PRAVDA are France's hottest band of the moment, with a huge native following for their electrifying, no-nonsense mix of electro and punk. Pravda visit Limbo from Paris They've headlined most French indie nights and supported some of the biggest bands out there: The New York Dolls, Placebo (Brian Moloko likes them so much, he personally asked them to tour with his band), The Go! Team, The Kills, The Bravery, CSS, Air, Indochine, Metric and many more, touring Germany and Russia last year.

They are also highly acclaimed in the fashion world with top snapper JB Mondino getting them to pose for his book Guitar Eros and designer Jean-Charles de Castelbajac asking them to perform at his show. Having originally started out playing electro covers of punk legends the Buzzcocks, Pravda decided to write their own music to encourage 'head banging'. After a lot of touring, first album A L'Ouest, produced by Jean Francois Coen and Dimitri Tikovoi (Placebo / Goldfrapp / Kill the young), was released in February 2007.

These Parisian electro-punks will totally KICK OUT THE JAMS on this, their debut, UK tour. This gig is totally unmissable. Check out the video for Body Addict.

We need PRAVDA now like punks needed Devo in 1977' (Rock'n'Folk)

PRAVDA have managed to impose themselves as the sexiest Parisian rock band (...) a must have in terms of Electro-Punk' (OUI FM - Paris radio station)

A radical electro-rock far from the surrounding orthodoxy (...) the innovating 'truth' comes out of PRAVDA' (VOGUE)

Remember her face, you'll soon know her voice' (ELLE)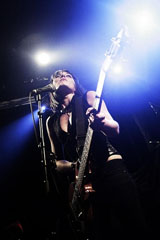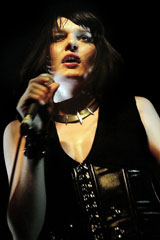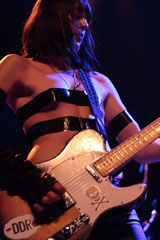 myspace.com/pr4vd4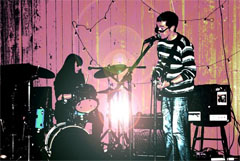 T hese fiery post-punks are promoting a new release on the glorious, world-renown Fence label (home of King Creosote, James Yorkston, and Come In Tokyo ex-Beta Band member Lone Pigeon, among others) having swept the critical board supporting The Aliens on tour last year.

Come in Tokyo are a straight-up rock and roll two piece...battering out punky, catchy little roosty, bluesy numbers short on time, big on impact.' BBC Radio Ulster)

Edinburgh's Come in Tokyo made an endearingly sardonic racket when recently touring with…The Aliens. 'Only Valentines' could be a Mark E Smith love note… 'Wake Me Up' merits positive comparison to 1970s solo Iggy, while 'I Won't Want You' is as good as Sons & Daughters on top form.' (Treblezine.com)

myspace.com/c0meint0ky0
MAILING LIST
PRAVDA AT LIMBO
June 5th sees Pravda visit Limbo all the way from Paris. The Parisian

electro-punks kick out the jams on their debut UK tour. A must see show!

Check out all our forthcoming bands here
ALSO COMING UP
Also coming up at Limbo: XVECTORS, Salon Boris, Come In Tokyo, Luxury Car,Swimmer One, Action Group and The Penny Blacks plus loads of other buzzing brand new acts.

Check out all our forthcoming bands here
CHEAP DRINKS!

Don't forget you can take advantage of £2 bottles from any of the Voodoo Rooms' three bars by showing your Limbo wrist-band to the bartender.
REHEARSAL SPACE?

The Black Spring Rooms: competitive prices, friendly service, easy access and no fuss for as little as £7 / hour; free parking on site + six bus routes to service it in Leith. More info here
VENUE INFO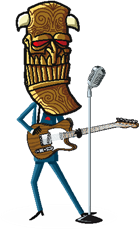 Limbo takes place at The Voodoo Rooms, West Register Street, Edinburgh.

Times: 8pm - 1am *
First band 9.15, second band 10.00

Entrance: £5/£4 *

Ph: 0131 556 7060 (venue) / 0131 477 6916 (promoter)

* except where otherwise advertised
Sponsored Links