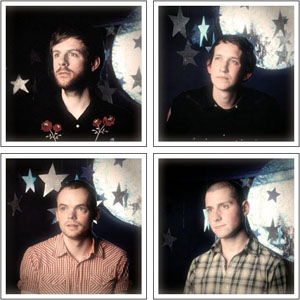 A t last, MY TINY ROBOTS headline Limbo after myriad requests for them to appear. Playing their first gigs in months, they re-unveil their own, fine take on the new wave form. My Tiny Robots Singer Dylan Childs is sounding more like Elvis Costello than Morrissey just now but the legacy of The Smiths isn't far behind, albeit with a much happier heart than ever issued forth from the Manc misery. Ever the proactive publicists, MTR's unique posters - currently in wide circulation across the capital - boast a giant squid, like some glorious throwback to a Fifties B-movie. Bank on a live show that's just as exciting: not shy of rehearsing, My Tiny Robots don't disappoint.

myspace.com/mytinyrobots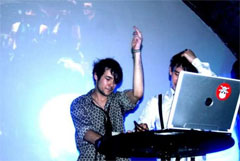 S upport comes from BABYBONES, a fresh-faced trio making their Edinburgh debut with an electro-punk sound combining demented beats, horror-show vocals and the group's crazy, crazy dance energy. Babybones A dark heart beats at Babybones' core but it beats fast and is guaranteed to make you break a sweat!

myspace.com/babybonesglasgow

Check out our forthcoming bands here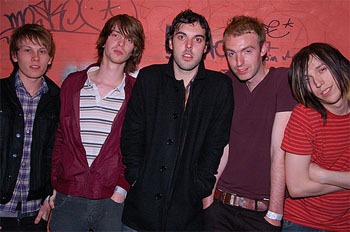 N acional were tight, letting rip their own spin on Leeds indie legends The Wedding Present with no lack of verve. Singer Rob Armstrong, who actually hails from Leeds, has taken a lyrical leaf out of his heroes' song-book, while the outfit's fast, jangly chords and sinuous bass lines also bear striking similarities to the northern wonders. But, after that it's all about their own vigourous edge, with Rob giving it his all on stage and stand-out songs Yorkshire, Telephone and First Killing all going down well. We expect the band's upcoming gig on the Late N Live stage at Glastonbury to be equally well received. Look out for debut single, the double A side Telephone/Yorkshire - out July 7th on Leeds' finest label, Art Goes Pop.

myspace.com/wearenacional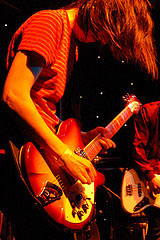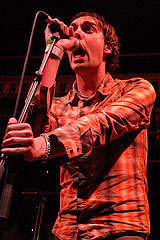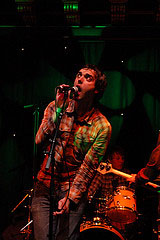 Nacional Pictures by Kerri Aniello. See the rest here


H eadliners Epic 26 pulled more than a few surprises out of the bag on the night. They now include a keyboard player in their ranks, whose pair of Korg synths lend a distinctive edge to the band's style; despite playing a gig down the road the week before, they still managed to rustle up a sizable crowd all of whom mobbed the front of the room as soon as the band hit the stage - a level of loyalty and passion we've probably only seen once before at Limbo (when Frightened Rabbit played last year). And last, but by no means least, said crowd promptly began jumping up and down with a level of energy that would put Zebedee in the shade. Naturally, this struck a chord with us and put a smile on everyone's face. The enthusiasm these lads inject into their stage show is utterly infectious and we're certain you're going to be seeing/hearing a lot more of Epic 26 in the future.

myspace.com/epic26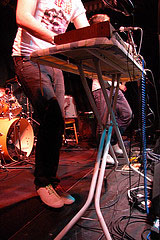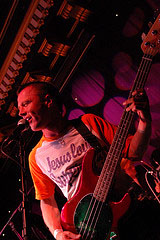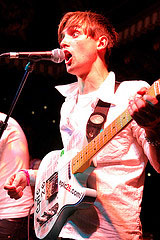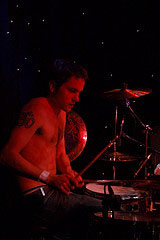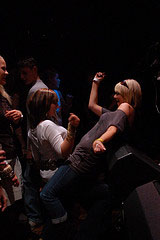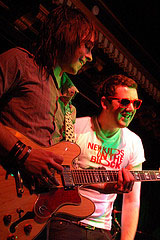 Epic26. Pictures by Kerri Aniello. See the rest here




IS a real KILLER double bill, with the glorious BROKEN RECORDS (Exclusive Acoustic Set) supported by Y'ALL IS FANTASY ISLAND (Album Launch Party).

Buy tickets through Ticketweb here: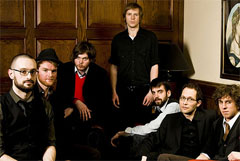 B roken Records are widely viewed as Scotland's answer to the Arcade Fire, gaining rapid momentum following their debut single and an A&R frenzy around a recent Drowned In Sound date in London. The band prefer to think in terms of acts such as Beirut, Yann Tiersen (Amelie soundtrack producer), Nick Cave and The Dirty Three, among others. Using a range of instruments including guitars, bass, violin, cello, accordion, mandolin, piano, trumpet, glockenspiel and drums, they create a sound combining traditional European folk with modern Scottish alternative music. Broken Records

Actually, what with the fiddles and gypsy/polka influences, we're compelled to compare them to 80s folk rockers such as Dexy's Midnight Runners, The Pogues and The Waterboys. But, whichever way you look at it, Broken Records could only have happened in the Noughties. 2007 saw them voted Best of the T Break Stage at T in the Park and headlining a sold-out show at The Liquid Rooms, Edinburgh (750 capacity). They have supported Editors, Idlewild, Sons and Daughters, The Twilight Sad, Emma Pollock, and Peggy Sue and the Pirates.

With so much excitement and anticipation around the band just now and their diary boasting shows across the land, this really is a unique opportunity to catch them in a small venue on home turf while you still can.

'This is magical, engrossing and wholly enveloping, genuinely and excitingly bursting with commercial potential. From beginning to end, this self-titled EP delights and amazes, 9/10.' (Drowned in Sound on last year's self-released EP)

myspace.com/brokenrecordsedinburgh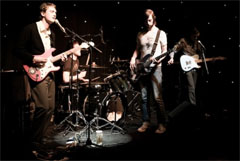 Y 'All Is Fantasy Island are a Falkirk quartet ploughing a similar (but different) folk/rock/indie furrow to Frightened Rabbit. Y'all is Fantasy Island's debut album, In Faceless Towns Forever, was recorded in a nineteen-hour session in an abandoned house late in August, 2005 and announced the band as an exciting new prospect on the cultural landscape. Y'All Is Fantasy Island Second album Rescue Weekend is out next week and has been picking up even more rapturous acclaim. This set should also feature songs from third album No Ceremony, while Adam Stafford and former YIFI drummer Jon McCall also have a side project, Size Of Kansas, and a debut album, Digital Is Dead From The Beginning (ultra limited edition CDR with hand-crafted sleeve). Prolific ain't the word! These guys are talents through and through...

'Y'All Is Fantasy Island's second album confirms Stafford as one of Scotland's best young songwriters.' Four Stars (The Skinny)

myspace.com/yifimusic
MAILING LIST
PRAVDA AT LIMBO
June 5th sees Pravda visit Limbo all the way from Paris. The Parisian

electro-punks kick out the jams on their debut UK tour. A must see show!

Check out all our forthcoming bands here
BROKEN RECORDS
Widely viewed as Scotland's answer to the Arcade Fire and gaining rapid momentum following

the release of their debut single and an A&R frenzy in London, Broken Records headline on Thurs 29th May.

Check out all our forthcoming bands here
POP CAMERA ACTION
We're going to start filming all Limbo gigs and we need help to track down the next generation of music film-makers in Scotland. Can you help us?

You'll need basic video skills and lots of enthusiasm for music. Like the Limbo photographers, you'll get good access to the music industry and great promotion for your work. Give us a shout using djs@black-spring.com or pass the address on to your friends. Thanks!
ALSO COMING UP
Also coming up at Limbo: The Mannequins, The Kays Lavelle, Epic 26, Nacional, My Tiny Robots, Baby Bones, Broken Records, Y'all Is Fantasy Island, XVECTORS, Salon Boris, Come In Tokyo, Super Adventure Club,Swimmer One, Action Group and The Penny Blacks plus loads of other buzzing brand new acts.

Check out all our forthcoming bands here
CHEAP DRINKS!

Don't forget you can take advantage of £2 bottles from any of the Voodoo Rooms' three bars by showing your Limbo wrist-band to the bartender.
REHEARSAL SPACE?

The Black Spring Rooms: competitive prices, friendly service, easy access and no fuss for as little as £7 / hour; free parking on site + six bus routes to service it in Leith. More info here
VENUE INFO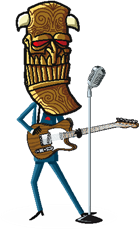 Limbo takes place at The Voodoo Rooms, West Register Street, Edinburgh.

Times: 8pm - 1am *
First band 9.15, second band 10.00

Entrance: £5/£4 *

Ph: 0131 556 7060 (venue) / 0131 477 6916 (promoter)

* except where otherwise advertised
Sponsored Links