It's another triple bill at Limbo this week. Edinburgh indie-pop favourites KID CANAVERAL return after impressing everyone at Limbo in April and following the recent release of their second single. Following their rapturous reception at T Break, Glasgow newcomers THE KING HATS make their Edinburgh debut and we're expecting to find out why everyone in Glasgow is talking about them just now - more spiky, youthful energy from the West Coast with short, sharp, entertaining songs to boot. And Edinburgh newcomers NIGHT NOISE TEAM make their Limbo debut where they promote debut album Ronde De Nuit (Perm Whale) - recently positively reviewed by the NME. Another trio of quality live acts, then, and all supported by the Black Spring DJs!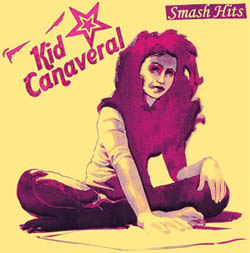 It's the return of Edinburgh Smash Hits Kid Canaveral, who played Limbo to a rapturous reception in April (review here), following the release of new single Couldn't Dance. Kid Canaveral make indie-pop music you can sing along to. 'Debut single, Smash Hits (rel. March 2007) contained everything you'd ever want in a pop song - two storytelling verses (replete with mild swear-words) a "He said/She said" chorus, a hand-clapping middle-eight and a po-going guitar solo that is so jauntily infectious, you'll break your neck after the third listen. Magic. Upon hearing the song BBC Scotland saw fit to make a music video for BBC 2's The Music Show - which was broadcast on 19th November 2006. The video plays out the song's story: Boy meets girl, girl likes boy, boy likes girl but not her taste in music, girl gets pissed off ...'



Juicy, chewy pop-kids to savour, proving that life still twitches in this indie guitar-pop business." Paul Whitelaw, The Scotsman

myspace.com/kidcanaveral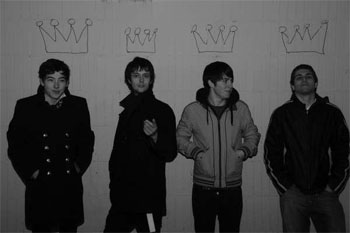 More spiky, youthful energy from Glasgow and some short, sharp, entertaining songs to boot.



We have always been linked in some sense. The king hats were formed in Glasgow sometime in the last year (2007). I can't be anymore specific than it was still light in the evenings. Myself, Bert and Russell were up to all sorts at one of gregs now infamous house partys when we got chatty and started making plans of booking a rehearsal room and making some serious noise. we needed some bang bang into the plan so we ended up with Carlo, I jest of course. I've known Carlo since I can remember and he's always been pretty handy on the drums and so it was. We started writing songs with the only intention being that we loved playing them.'

myspace.com/thekinghats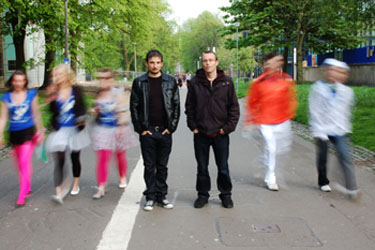 Veterans of the Black Spring Rehearsal Rooms, first discovered by DC on a web-trawl of Edinburgh bands some 18 months ago, at which point, inspired by an early version of fan favourite Menolick on their space, a meeting was set up (in the pub, obviously), a number of drinks were consumed and various vague plans hatched. We've been supporting the band one way or another since then and this debut appearance at Limbo has been in the offing since the night began. Having just released debut album Ronde De Nuit (Perm Whale), song-writing duo Fabien Pinardon (originally from France) and Sean Ormsby (originally from Ireland) have just put a fresh band together. They've grown enormously in confidence following the wide-spread critical reception for their CD (including that holy grail for young bands on-the-make, a review in the NME) and are currently playing the best shows of their careers thus far

myspace.com/nightnoiseteam



Check out our forthcoming bands here








Unusually, the Black Spring DJs were both away last week. Quite fortuitously, however, Dave Pollock reviewed headline act Sara And The Snakes for last Saturday's Life & Arts section of The Scotsman:



HAVING a trawl for this new(ish) blues trio from Edinburgh on the internet will probably lead you to one blogger's conclusion that they're "like PJ Harvey in a band with her dad and her uncle". Which is, admittedly, a spot-on comparison vocally, although it's a bit harsh on the other Snakes in question.

"Sara Sidewinder", as said singer has chosen for her serpentine alias, is the focus of the show, although guitarist "Andy Anaconda" and drummer "Mike Mamba" are important points in this rough-cut musical triangle.

While all three combine to create an effective kind of sun-bleached, dustbowl blues, it's Sidewinder - or Sara Forshaw - who gives her group the charm that sets them apart. Her style of dress, like a 19th century primary school teacher in a pretty, demure frock and academic spectacles, clashes beautifully with a sultry voice that sings teasing lines like "I let you ride and ride / but only sometimes".

Much like PJ Harvey (or, say, Patti Smith or Janis Joplin), Sara and her Snakes create music that is forthright and sexual (one number is entitled Class A Whore), while still remaining articulate and feminine.

Not all of the songs verge towards the lurid, with Sweet Li'l Angel a particularly bittersweet country ballad, and neither should the band be perceived as fogeyish because they play blues - the above-mentioned Only Sometimes is a menacingly circling blast of simple Detroit garage.

So yes, they're grubby and they're charming. But they show just enough restraint in each sense to create an excitingly balanced set.'

myspace.com/saraandthesnakes

Cheers for sending that over Dave, as we couldn't find it anywhere online. Also, many many thanks to Viki Sellotape for filling in on the decks and to Vicky Krivonos for stage managing the event at such short notice.

Apparently Black Diamond Express were rocking too but we only have some great pictures of them by current Limbo photographer Sarah-Jane Duncan: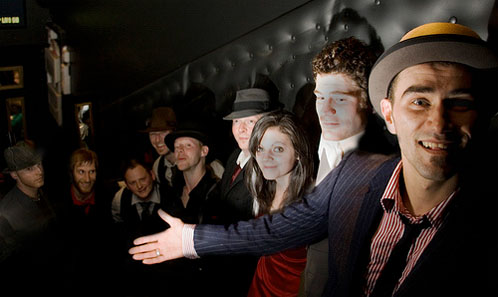 myspace.com/theblackdiamondexpress

Sara & The Snakes and Black Diamond Express pictures by Sarah-Jane Duncan


---



Very importantly, please note that due to festival commitments at the venue, Limbo is on WEDNESDAY next week!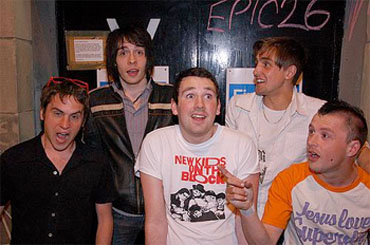 Return to Limbo having stirred up a lot of passions when they debuted for us in May (read our review of that show in full here). Epic 26 are one of a handful of bands we've had on whose fans don't need to be asked to come forward towards the stage; they're already all right down the front clamouring to get on stage with their heroes and dancing as if their lives depended on it. Sonically, the recordings on the band's myspace don't do them justice either. With the recent addition of a new band member on synths/keys, there's much of a new wave edge to this group, who sizzle with kinetic energy and look like they're having the time of their lives when they perform. Infectious, heartfelt, melodious power-pop, with lyrics that put a smile on your face while a Exciting, inspiring stuff.

myspace.com/epic26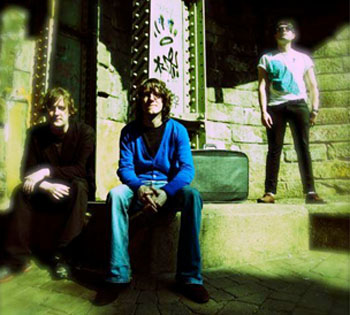 A brand new indie-rock trio (vox/guitars, bass, drums) featuring Jake Miller on drums, whose brother you may remember from The Magnicifents and who was the metronomic backbone to renegade pop punks The Very, who were themselves ready to set the whole world on fire two-three years ago, until singer Robin had other ideas and moved to Argentina... We've been liking the sound of their demo on 'the space' and are looking forward to watching the heat up on stage.

myspace.com/thievesinsuits
MAILING LIST
ALSO COMING UP
Also coming up at Limbo: Sparrow & The Workshop, Meursault, Baby Bones, The Red Well, Sarah & The Snakes, Black Diamond Express, Miss The Occupier, Dead Boy Robotics, Kartta, Tie For Jack, Thieves In Suits, Epic 26 plus loads of other buzzing brand new acts.

Check out all our forthcoming bands here
CHEAP DRINKS!

Don't forget you can take advantage of £2 bottles from any of the Voodoo Rooms' three bars by showing your Limbo wrist-band to the bartender.
REHEARSAL SPACE?

The Black Spring Rooms: competitive prices, friendly service, easy access and no fuss for as little as £7 / hour; free parking on site + six bus routes to service it in Leith. More info here
VENUE INFO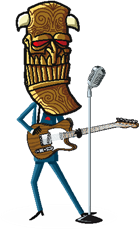 Limbo takes place at The Voodoo Rooms, West Register Street, Edinburgh.

Times: 8.45pm - 1am *
First band 9.30, second band 10.30

Entrance: £5/£4 *

Ph: 0131 556 7060 (venue) / 0131 477 6916 (promoter)

* except where otherwise advertised
Sponsored Links