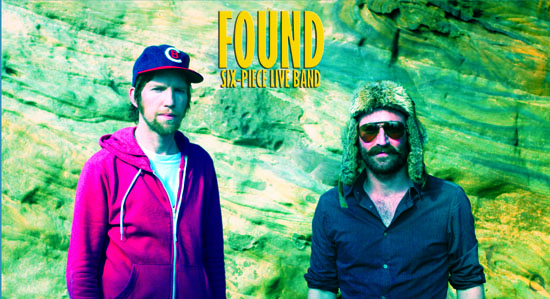 FOUND are a BAFTA award-winning band from Scotland.  They've touted their skewed pop all over China, India, Russia, the US and Europe.  They've just dropped their much-anticipated 4th long player. Titled Cloning, it is an imaginary soundtrack for a video nasty that doesn't exist.  Here's what the press think:
'It's an opposites-attract contrast which works consistently across the album so that by the time the closing Credits rolls, FOUND leave you wanting more' 4/5, The Scotsman
'a treat for lovers of analogue electro pop' 4/5, The List
'Burgeoning with vintage synths, toying with 80s sci-fi soundscapes and shot through with a filmic quality, Cloning is an album of growing depth and nuance'  4/5, The Skinny
'an uncanny soundtrack to an imaginary sci-fi film, whose songs and instrumentals invoke Tangerine Dream, library music, retro TV themes, Vangelis, obsession, kissing, brimstone, Carlisle and the apocalypse'  (The Herald)
'Cloning' is testament to one constant – their restless commitment to re-invention. Essential'  Is This Music?
'an engaging post-modern vision that sounds like it has torn a page or two from inside a Philip K Dick novel'  Scottish Fiction
Sometimes operating as a lissome duo – at other times a sprawling six piece synth ensemble, FOUND turn up armed with modular synths, tape delays, modified drum machines and custom
built electronics to create a brooding, post-cataclysmic world of pulsating pop tones and horror-hooks.
Support comes from Limbo favourite CALLUM EASTER and newcomers THE DOORMATS.
TICKETS: £4 (early bird until 16th Jan), £7 (advance), £9 (on the door)