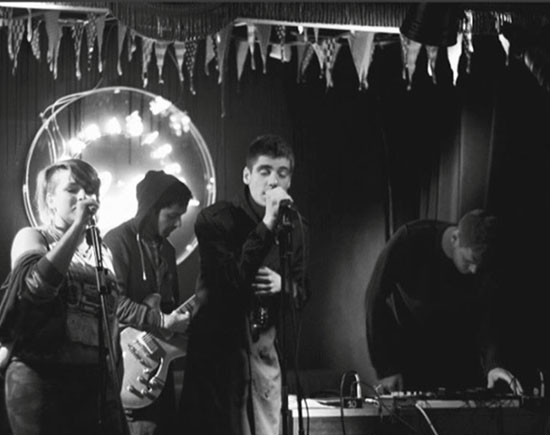 1) Who are you, who is in the band, who does what in the studio and on stage?
We are Delighted Peoples, an Edinburgh-based four-piece. Our band consists of Farhad (on Guitar and Bass), Ella (on Vocals), LGIC (on Drum Machine and Synths) and Th!nk (on Vocals). On stage we tend to keep to these roles, but in rehearsal, recording and writing we share in the responsibilities to create a more unified sound.
2) How long have you been writing and performing in this way?
As a four-piece we've been together for just under a year. Ella and Farhad had been performing as a two-piece previous to the full formation and at some point over the past 5 years we've all played with each other under various musical incarnations.
3) How exactly do you work / write / record?
There's no set method for the way we work, our aim is solely in making music we enjoy playing and attempting to do something different with each song we create…and there's a lot of chat unrelated to music which may or may not inform the process…and alcohol.
4) How do you feel your studio/recording style informs the way you perform your music live (or vice versa)?
Because we have mainly been writing song for live performance the recording aspect hasn't had a huge influence…yet. But the songs we have recorded do give us a better understanding of structuring them for live performances…and on a similar tip, knowing we will be recording certain songs means we work on structuring them in advance, which again helps with the live performance of them. Both have fed into each other quite well so far.
5) What's been happening lately and what's new with you?
Lately we've been playing a lot of gigs – our rule when we started out (of playing one gig a month) quickly got thrown out the window because of the variety of great slots we've been offered. Whether playing nights we have a lot of respect for (Rally and Broad, Born and Bred, Pass the Vibes, Too Much Fun Club); supporting international acts we love (Abdominal, Homeboy Sandman, Strangelove, Babar Luck); or performing at festivals (Kelburn Garden Party, Audio Soup) we've been really lucky in the gigs we've picked up so far. We also got nominated for Best Hip Hop Act at the Scottish Alternative Music Awards which was a huge surprise and nice personal achievement.
6) When was the last time you played Edinburgh (and where)?
Our last gig in Edinburgh was at La Belle Angele, supporting The Mouse Outfit – a band who we are all big fans of. We chatted to them before and after the show and they were top lads (which is always a nice thing to discover about artists you admire).
7) If you've played Limbo before, what did you like/rate about the experience?  If you've not played Limbo before, what have you heard about it?
This will be our first time playing Limbo. We're excited to be part of it though as it's been putting together bills of great acts for a long time now.
8) What's next, coming up after this gig, for you and what are you generally looking forward to right now…?
After this gig we'll be taking a short performance hiatus over the winter months to work on a couple of singles we want to release early next year. Both will be released to raise money for specific charities. The first will be for the charity Re-Act to hopefully raise funds to help with their amazing work with refugees across Europe.
9) If you have any other passions/opinions you'd like to share, if there's anything else you feel strongly about, pls feel free to tell us about it here…?
We have way too many passions and opinions to share and it'll only weigh down this questionnaire, so instead we'll just plug our music! You can look up our debut video on YouTube, under: Delighted Peoples – In Heaven.
10) How would you describe what you do – in a nutshell – to someone who's never seen you before?
Hopefully unlike anything you've heard before…in a good way.