Following the Edinburgh triple-bill last week, next week's Limbo is a glorious Glasgow triple-bill! Artistically speaking, this will be one of the best Limbos for a while, since we've bagged the talents of two of the best up-and-coming bands in Scotland right now, POPUP and ISOSCELES, plus one of the Scottish scene's most exciting newcomers, WOODENBOX WITH A FISTFUL OF FIVERS.
Check out our forthcoming bands here

Check out all of our photography here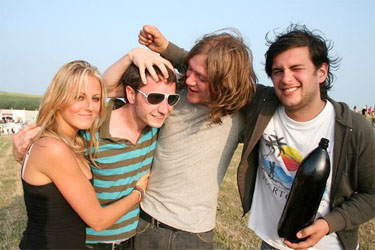 One of the finest bands on the Scottish circuit just now, Popup have been keeping a pretty low profile this year, having put the finishing touches to their debut album and then immediately started work on their sophomore output without pausing for breath. Bar a headline spot at the recent Dunstaffanage festival and a few foreign jaunts, it's been all (studio-bound) work work work with very few live outings.

With singer-songwriter Damian Gilhooly's distinctive west-coast accent it would be easy (but lazy!) to bracket them with current media darlings The Twilight Sad, Frightened Rabbit et al. However, Popup's irreverent sense of humour and witty lyricism sets them apart from angst-ridden Scots miserablists such as these, and listening to jaunty break-out early singles Lucy What You Trying To Say and Chinese Burn it's clear there's much funk in this group's swagger, as Damo's childhood passion for Prince (in addition to Deacon Blue, Nirvana and The Fall) quite clearly attests.

'Popup live like wolves on the outskirts of popular culture, protecting a territory it would not make sense for others to invade. They arrive, like foxes, without invitation at the gates of towns and cities, hoping to be fed without fuss. They sing at times as an owl will to his prey, at times as a panda will to her reluctant mate. They are the sound of birds migrating, of nature's irregular beat. They move like man's heart racing, as the blood drains to his feet.' (band's myspace)

Read the Limbo review of Popup's last appearance here:



This band are the real deal, trading in blunt confessionals instead of vast terrace chants. All we ever want from our pop music is a connection, someone who understands the pain or pleasure in our predicament, our hopes, our dreams, and perhaps most importantly, our failures. We want someone who can convey our hurt in a way that makes us not sound like a clown. Look no further.' (Mark Robertson, The List, on A Time And A Place)

myspace.com/popuptheband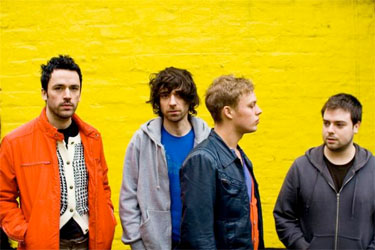 It's the return of those aces, Isosceles, who have impressed everyone twice before at Limbo, before their spot in the T Break tent at TITP saw them championed as one of the acts of the weekend. They're now hotly tipped for the top by industry insiders, recently inking a deal with the management company that represents Arctic Monkeys, Maximo Park, The Divine Comedy, Sigur Ros, Bloc Party, Kate Nash, Ian Brown, Radiohead, Portishead and Supergrass, among others. Style-wise, they talk about R & B, soul and rockabilly but we're reminded of classic UK bands such as Madness, if they were fronted by Edwyn Collins and had just been to see Beck. This is British pop at its most energetic and entertaining and, as they enter the studio to re-record their debut single and consequently take it out on tour, if Isosceles haven't made a national dent by next Spring, we'll eat our pork pie hats.

myspace.com/isoscelestheband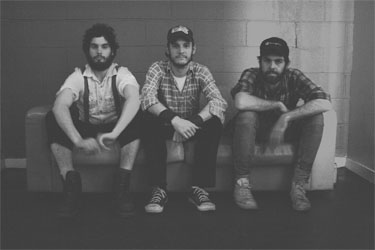 'Mixing up experimental folk songs with fast country rhythms and foot-stomping ho-downs, the result is unique, adding loop pedals and organs to make a tapestry of noise enhanced by perfectly timed howls and hollers! Woodenbox with a Fistful of Fivers formed in Glasgow in January 08. Since then they have had airplay on Radio 1, Radio 2 among many other local, national and international stations. The summer saw the band play at the Connect festival, Dunstaffnage festival and the best of Your Sound at the Edge Festival. Their debut single, Twisted Mile, was released in August and has helped them build a loyal following. The band are currently recording some new material and working on some new sounds to add to their set.' (band's biog)

myspace.com/awoodenbox



Myshkin cancelled after their bass player walked out on them at the last minute and so we welcomed just The Fusiliers and Autosafari to Limbo. It was the second time we'd had The Fusiliers on but the first appearance from Autosafari and both bands brought their own style to the occasion, with Autosafari proving to be quite the performers on the night and The Fusiliers exhibiting more of their anthemic indie-rock, with tightness one of their hallmarks, and a decent crowd in the house to check out both.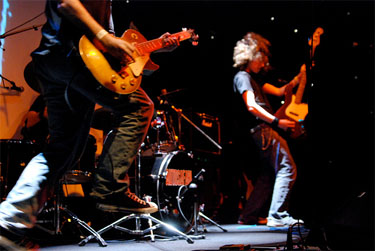 Autosafari are another trio. Not to say there are so many trios kicking around just now but three is the magic number after all and just about all the trios who have played Limbo have left a decent impression. Perhaps it's the beautiful simplicity of the number and the on-stage dynamic which that produces in a band, whose sound will inevitably always be fairly stripped down and also, if they get it right, boasting some beautiful simplicity. For the most part Autosafari do get it right, there's nothing remotely pretentious or inauthentic about them and they play really well together, really performing as a band, rather than just another bunch of guys standing around on stage with their instruments. Singer Dave is a particularly enthusiastic front-man, getting right into bass player Ewan's face and throwing himself about the stage as if his life depends on it. What remains to be seen is how much they can set themselves apart from other bands who have ploughed a similar, grunge/classic rock furrow. Their sound is hardly new but they do make it very well and they're quite clearly not trying to reinvent the wheel. With such a convincing stage show to boot, they win a whole raft of new fans with their performance tonight and are well received by the crowd.


| | |
| --- | --- |
| | |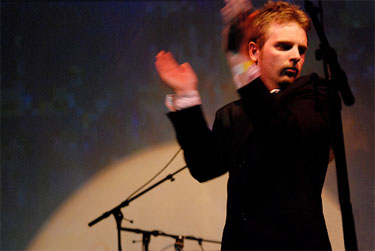 We've only seen The Fusiliers at Limbo once before but it's been a very productive year for them and they are already moving with a more confident swagger. Again, it's hard to fault a band who come across as such a tight unit and play so well and again The Fusiliers neither seem to be under any illusions about what they're trying to achieve as a band, nor do they appear too fussed about creating something no one has ever heard before. And herein surely lies a key to their potential success. This type of Everyman charm that has done favours for more famous Scots bands such as Snow Patrol or Idlewild before: no bullshit, just a bunch of songs you can hum along to and, more often than not, sing along to too. They look like a regular bunch of guys too, because, simply enough, that's who they are. Some people like something a bit more challenging or inventive from a live band but, at the end of the cliche, it's all a question of taste and with The Fusiliers there's a level of familiarity which seems guaranteed to ingratiate them to many more people than we can fit under our roof in the months and years to come.


| | |
| --- | --- |
| | |
myspace.com/wearethefusiliers



The Fusiliers and Autosafari pictures by Nic Rue


---



This Limbo will be buzzing with youthful energy as we welcome back one of Edinburgh's most exciting new outfits, CANCEL THE ASTRONAUTS, alongside Glasgow's BABYGOD and Edinburgh's CLINT, both playing Limbo for the first time. You may not have heard of any of these bands before but, trust us, they've all got something special going on and are well worth checking out.

If you're on Facebook, tell us that you're coming along here.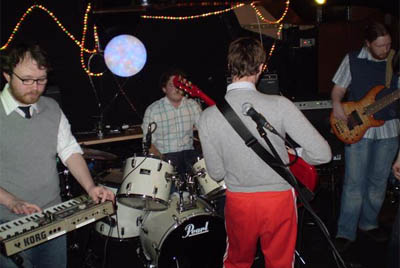 Edinburgh quintet Cancel the Astronauts have been beavering away recording their new single since we last welcomed them at Limbo. They write instantly affecting, bittersweet songs about love, death and disco dancing - you know, important things like that. It's jaunty, fun, gimmick-free indie-pop with crate-loads of energy, utilising that classic new wave line-up: drums, guitar, synth, bass. We think they've got talent by the bucket-load, are reliably informed that their singer is a bit of a dish and find their energy utterly infectious. They were also included on the recent Breakout Scotland CD. There's something immediately arresting and accessible about Cancel The Astronauts. Check out their mini-LP for proof that they've got what it takes to go all the way.

myspace.com/canceltheastronauts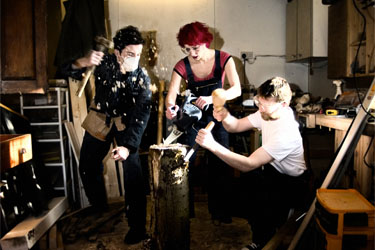 "Brothers Gerry and Brian Campbell of Babygod met when Gerry was very young and Brian couldn't have been much younger. Later, they met Ruth Mills at high school. She sang, she danced, she played violin. She could back-flip down the corridor. Anyone would want to make friends with a girl like that. She went off to London to study contemporary dance while Gerry went to Glasgow Uni to study French. These two strands are integral to the uniqueness of the group. It's not unusual for them to be heard covering Serge Gainsbourg (a big lyrical influence) or playing their own Machin Truc, a bizarre, out of character piece of Gallic quirk-punk. Ruth's aesthetic sense led her naturally into photography and film making. Often using non-dancers performing simple movements, she choreographs the film in the editing process. These then provide a stunning backdrop for Babygod live shows. Her work is most commonly shown in the kinds of cinemas where Penelope Cruz only ever speaks Spanish. The most recent piece is a pop video for forthcoming single 'Time'. Ruth press-ganged eight contemporary dancers into being drilled militarily for a day. The result is a sharp, angular visual treat.

Gerry's song writing takes on large themes in small doses. Home, Time, Hope, Ideals and Perfection all come into focus under his forensic lens. Their self-promoted Black Cat club nights are as likely to include films or performance poetry as much as old-fashioned rock'n'roll. They're always sold out. As the song says, 'There is no time, no time like now.'" (band's biog)



Time has the jerky quality of early Talking Heads before they discovered funk, while Home has the slow-burning quality of early Blue Nile... They'll do something great" Paul Lester, Band Of The Day, The Guardian



A band this great must not be ignored. Babygod are poise, elegance, subtlety, tunes and originality combined with timeless familiarity" Tim Riley, Wound Magazine



The songs are rigid in their beauty. A hunch says their sound could have filled one of the bigger stages at Hydro Connect and that everyone there would have been better off for it" Paul Dalgarno, The Sunday Herald



Their brittle pop sound is suitably idiosyncratic with Wire, Orange Juice and the Divine Comedy all being vague reference points." Mark Robertson, The List

myspace.com/babygod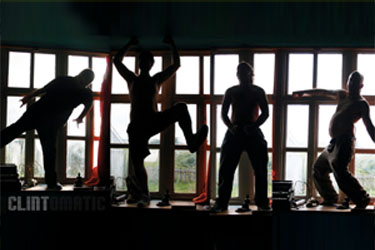 'I started the band because I love music, I had been in bands with Steve, Cal and Rod before but never all together. The band is constantly evolving, the last live gig being at Henry's Cellar Bar. The previous gig (first ever Clint gig) was also at Henry's Cellar Bar. We're looking to branch out... This is now our phase where we've got the demo, we've got the set and are right into gigging regularly. Our myspace is now getting a decent amount of hits a day, most folk either love the tunes or respect them or both. We're happy to be all things to all men. I think we're a band that non-musical folk like as much as musos like, we can't really be pinned down to a genre but without the tedious all-over-the-place aspect that that direction (or lack of) can often entail. We want to make you laugh, dance, smile and cry (in a good way). The most important thing, to me, is that I get someone coming up to me saying genuinely with a big smile on their face, 'I f***ing loved that'. That's all it's about for me.' (Kris, Clint)

myspace.com/clintomatic
MAILING LIST
FACEBOOK/MYSPACE
Limbo has active Facebook and Myspace pages. Join our Facebook group here or befriend us over here at MySpace
ALSO COMING UP
Also coming up at Limbo: Cancel The Astronauts, Babygod Clint, Punch & The Apostles, Haight Ashbury No Pasaran, Zoey Van Goey, Over The Wall, Callel, Pumajaw, Sparrow & The Workshop, Easglewowl, Come on Gang!, Kid Canaveral plus loads of other buzzing brand new acts.

Check out all our forthcoming bands here
CHEAP DRINKS!

Don't forget you can take advantage of £2 bottles from any of the Voodoo Rooms' three bars by showing your Limbo wrist-band to the bartender.
REHEARSAL SPACE?

The Black Spring Rooms: competitive prices, friendly service, easy access and no fuss for as little as £7 / hour; free parking on site + six bus routes to service it in Leith. More info here
VENUE INFO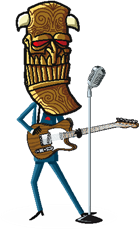 Limbo takes place at The Voodoo Rooms, West Register Street, Edinburgh.

Times: 8.30pm - 1am *
First band 9.00, second band 9.45, third band 10.30

Entrance: £5/£4 *

Ph: 0131 556 7060 (venue) / 0131 477 6916 (promoter)

* except where otherwise advertised
Sponsored Links