This week's Limbo is ANOTHER TRIPLE BILL! Oh, we're really spoiling you now, aren't we?! Headlining are Edinburgh's MEURSAULT, who last appeared at Limbo in March, when they performed an awe-inspiring acoustic set. They bring their all-singing, all-dancing laptop, ukulele, mandolin, accordion, autoharp, banjo and, the icing on the cake, Neil Pennycook's plaintive voice to the occasion. Imagine the Aphex Twin dueling with Radiohead's Thom Yorke and you're about half way there. We're expecting BIG TINGS for them. Oh yes! SPARROW AND THE WORKSHOP make their Limbo debut and we'll be seeing them for the first time ourselves - VERY exciting - and, if the music on their myspace is anything to go by (they write really great songs which remind us a bit of Janis Joplin and Neil Young, with some gorgeous slide guitar), it should be a winner. THE RED WELL are not far behind and equally anticipated, with endorsements from Fife's glorious Fence collective, among others. Ace!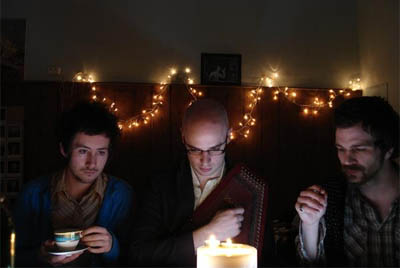 Far and away one of our favourite live acts to have emerged in Edinburgh in the last year, Meursault take their name from the work of French existentialist philosopher Albert Camus but the bleak images singer-songwriter Neil Pennycook conjures with his plaintive voice belie a much broader palette of emotions than Camus's eponymous monochrome protagonist ever exhibits in The Outsider. And with the genius addition of laptop electronica, accordion, banjo, autoharp, mandolin and ukelele, the wealth of colour, light and joy he and his band adds to his songs makes them each a thing of singular beauty. Imagine The Aphex Twin dueling with Thom Yorke (which actually ought to happen, given the debt owed to the former by the latter, post Ok Computer, but that's another yarn). The Drowned In Sound review of their Limbo debut in March was no less complimentary. Read it in full here. The Scotsman's Arts Editor, Andrew Eaton, is also a fan (and was at the same gig in March). See his nice piece here.

myspace.com/meursaulta701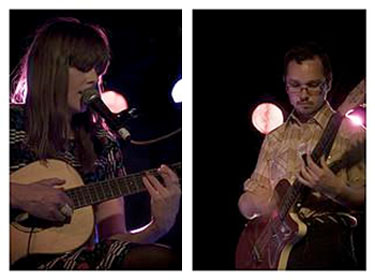 'Hi, we are Sparrow and the Workshop, and we've been going since about January 2008. We are three: Jill O'Sullivan from somewhere in the midwest of America, Gregor Donaldson from somewhere in the midwest of Scotland and Nicholas Packer from southwest Wales. Gregor once played drums to the Star Wars theme on the Blue Peter TV show! Blue Peter!!! Jill has also been on TV too. She was once interviewed by WGN Channel 9 on her sledding abilities. The hill was glorious and so was her sled. Nick has never had a TV, so he's unaware of any potential 10 seconds of fame.' (band's myspace)

myspace.com/sparrowandtheworkshop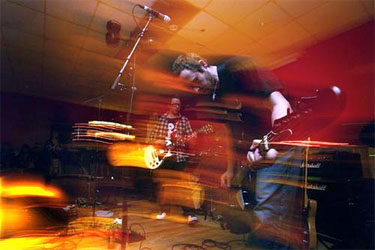 'The Red Well are a band that play songs by a man called The Red Well. The band are signed to a small record label called Fence Records. The Red Well have based themselves in Edinburgh, the capital of Scotland.' (band's myspace)



There's little scope to fault them in terms of rocking out. This band gives Edinburgh a good name." (The Bluesbunny-Independent Music Reviews)



The Red Well took tradition and ripped it to pieces with a dirty grungey set which built to a climax that would have put many 'proper' rock bands to shame." (Is This Music? Live Review)

myspace.com/theredwell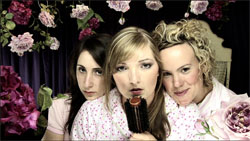 Also, how about something spamtastic to get the party going? Well, ringa ding-ding mediascot.org is bringing tasty visual treats to this week's Limbo as part of Art Late at the Edinburgh Art Festival.





Check out our forthcoming bands here




Last week at Limbo we had Glasgow's Popup, who are about to release their debut album and embark on a full-scale UK tour, plus Aberdeen's Kartta and Edinburgh newcomers Tie For Jack, both of whom have just completed UK tours of their own. They each brought something different to the show and all of them went down really well. We also had more musicians in the crowd than we can ever remember witnessing at any Limbo before, or maybe it's just that we know them all now because they've all played at Limbo! Either way, thanks to everyone who came along and made it such a great evening.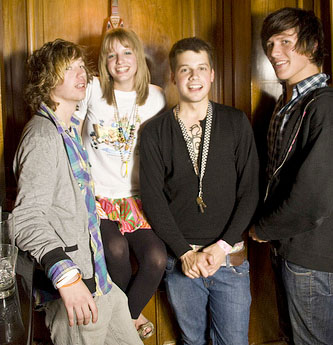 Tie For Jack are quite a big outfit (six band-members) and somewhat resemble well-known Cardiff indie postrels Los Campesinos! in that their sound is a mish-mash of many instruments and influences thrown together in a charmingly ramshackle way that somehow works, with plenty of youthful energy, enthusiasm and some boy-girl vocals to boot. They've recently recruited the lovely, young Ruth ('vocals, tambourine, dancing'), who forms an ideal counterpoint to the handsome and equally young Josh ('guitar, tonguing, vocals') upfront (you know, the way boy-girl vocal combinations do). They deliver their set in an err... charmingly ramshackle way and bring a smile to a number of faces. They also prompt loads of musicians in the audience to praise Tie For Jack to us, which lends further credence to the idea that they may go just as far as the afore-mentioned Welsh kids, and then some. Good luck to Tie For Jack with the release of debut EP Chapter One.

myspace.com/tieforjack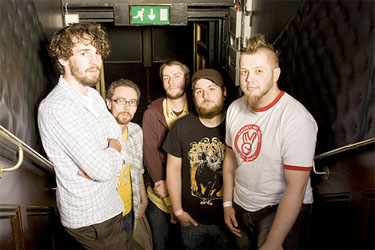 According to Wikipedia, Los Campesinos! supported Canadian indie stalwarts Broken Social Scene at a key moment in their development. Kartta are the next band on and they are big fans of the rather legendary Canadian super-group. Actually, quite curiously, they sound more like a grunge band tonight, but it is - as they say - ALL GOOD. They perform a very tight set, replete with heavy, heavy guitars and those lovely pop hooks which attracted us to them in first place. Check Henri Got Cancer on Kartta's myspace if you don't know what we mean. It's decent.

myspace.com/karttamusic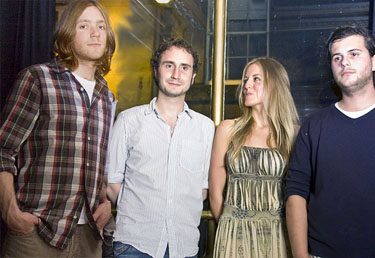 Popup need a few moments to re-align drummer Adrienne's kit before they can go on, so there's a slightly longer DJ intermission/warm-up than usual for the headliners. However, being a composite bunch of professionals, the band then get on with the task at hand: playing a great set. This includes new (double A-side) single Love Triangle/Pull The Fuse and the band's break-out cult hits Lucy What You Trying To Say and Chinese Burn, which draw healthy applause from everyone, before Damo closes the show on his own - with just his voice and guitar - on what he describes later as 'a very much under-construction song called Glasgow Glam.' It's a lovely moment and resonates for the rest of the evening. All the best to Popup on their forthcoming tour and we hope to see them back at Limbo again soon.

myspace.com/popuptheband

Tie For Jack, Kartta, and Popup pictures by Sarah-Jane Duncan.


---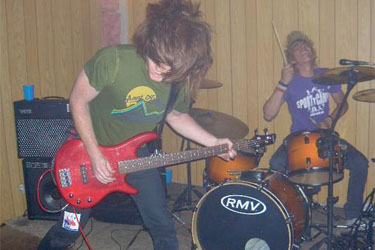 "The Fire and I are an energetic two-piece from Scotland. Formed in January 2007, Gordon and Hooligan have molded a very distinctive and powerful sound, often difficult to comprehend from their two members. Mostly performing in central Scotland, The Fire and I have also enjoyed a tour of Mexico City in March/April 2007. Now, with over 12 months of gigs under their belt, highlights include: Glasgow Barrowland, supporting Amy Macdonald; Selling out King Tuts with We are the Physics; Supporting The Dykeenies and The Young Knives. The Fire and I have received much acclaim for their high energy performances and need to be seen live." (band's MySpace)



This was rock n roll in its purest form! These two are going to be gods!' (Sharon Oakley, Radio Clyde 1)



They have massive energy and look fantastic. What a huge sound for just two guys! I kept looking around to see where the rest of the band was.' (John McLaughlin, X-Phonics Records)



Revenge to the Bloody Angel is my favourite unsigned track of 2007. It just blew me away' (Jim Gellatly, Xfm Scotland)

myspace.com/thefireandi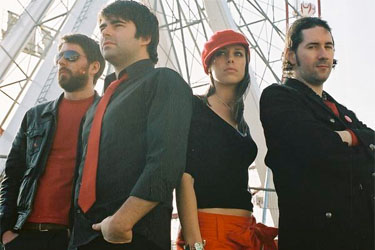 Raucous Edinburgh four-piece with influences ranging from Super Furry Animals and The Pixies to David Bowie, Blondie and Stevie Wonder. It's all about singer Kirsten Ross' smoky, bluesy voice and the band's primal rock sound - a devastating combination. Check out The Fall And Angel on their myspace for a demonstration of the band at their peak thus far.



Bass lines are fat and distorted, drums are hard and funky, and singer Kirsten Ross (think Catwoman meets Cristina Martinez from 90s garage rockers Boss Hog) can screech and croon with equally devastating effect' (The Daily Record)



A wall of no-frills rock n' roll that commands full attention immediately, with catchy seventies-styled guitar-licks' (The Skinny)

myspace.com/littledoses
MAILING LIST
ALSO COMING UP
Also coming up at Limbo: The Fire & I, Little Doses, Sellotape, Ex Lion Tamer, The Gussets, Baby Bones, Jesus H. Foxx, Fangs, James Pants Found plus loads of other buzzing brand new acts.

Check out all our forthcoming bands here
CHEAP DRINKS!

Don't forget you can take advantage of £2 bottles from any of the Voodoo Rooms' three bars by showing your Limbo wrist-band to the bartender.
REHEARSAL SPACE?

The Black Spring Rooms: competitive prices, friendly service, easy access and no fuss for as little as £7 / hour; free parking on site + six bus routes to service it in Leith. More info here
VENUE INFO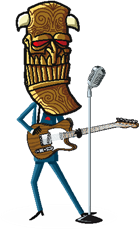 Limbo takes place at The Voodoo Rooms, West Register Street, Edinburgh.

Times: 8.30pm - 1am *
First band 9.00, second band 9.45, third band 10.30

Entrance: £5/£4 *

Ph: 0131 556 7060 (venue) / 0131 477 6916 (promoter)

* except where otherwise advertised
Sponsored Links