This week's Limbo is another triple bill. Woop woop! Headlining are Glasgow's MISS THE OCCUPIER, who have been on the list for a spot at Limbo since the night began in November. Also from Glasgow, BABY BONES return for their second appearance in a supporting role alongside Edinburgh newcomers DEAD BOY ROBOTICS. These guys are pretty out there and should provide the perfect foil to Baby Bones pounding dark rave heart, before Miss The Occupier closes the live entertainment for the evening in a more conventional manner.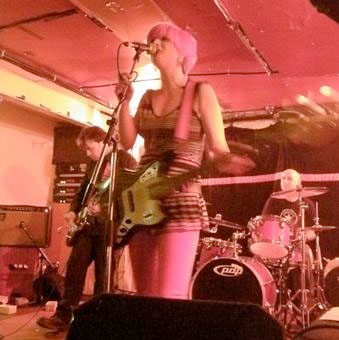 Glasgow-based trio (bass/vox, guitar/vox, drums) who remind us of Transvision Vamp with (much) less bubblegum polish (ok, that's a pretty wide-of-the-mark actually and unlikely to go down very well with singer Roz Davies) and much scuzzier undertones, which can only be a good thing, however we felt about Wendy James twenty years ago... The B52s also spring to mind, with their surf vibes, and then the vocal style of indie rock goddess Kim Deal (Pixies, Breeders). In fact, the Pixies is probably quite a good touchstone for this group's style. They also mention the Throwing Muses and Le Tigre on myspace, which figures. Anyway, they've supported acts such Bis, The Fall, and The Grates, and released their debut in 2006 with a split seven inch with FreezerBurn on Skribble Records.



Miss the Occupier are an indie-punk three-piece who take angular guitar riffs, fuzz them up until they're a suitably deafening din, and set them alongside the sardonic musings of singer Roz Davies. It's like being stomped in the face by The Fall's stroppy younger sister, and enjoying it just a little bit too much for your own good.' The Herald

myspace.com/misstheoccupier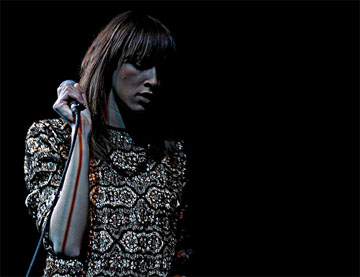 Baby Bones really blew us away when they made their Limbo debut in May (read our review of that show in full here). They bring laptop beats and electronics, rave samples, guitars, some pretty intense lyrics and a LOT of energy to the stage but, really, it's all about their front-woman, Margaret, who must be one of the most striking and charismatic young female performers in Scotland right now.

myspace.com/babybonesglasgow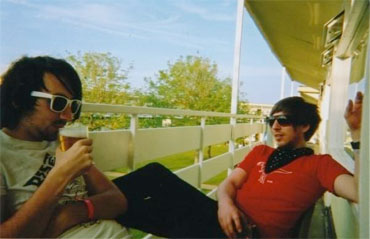 They name-check acts such as Crystal Castles, Xiu Xiu and Best Fwends on their space and there's definitely an experimental edge to their songs, all heavily distorted and generally demonstrating a pretty f*cked up sound.

myspace.com/deadboyrobotics

Check out our forthcoming bands here




Epic 26 returned to stir up a load of passions once again with support from newcomers Thieves In Suits.

Thieves In Suits open and fire up the proceedings well with a tight set. Drummer Jake seems to be re-living the memory of the Muppets' live-wire drummer, Animal, somewhat this evening, especially when he tosses his sticks into the crowd (to mock cries of pain from the sound booth). It's a memorable moment and sums up the carefree abandon of this energetic new outfit. Thieves In Suits aren't short in the lyrical department either, with a very current indie-rock sound and a future anthem or two in the making (check Proxemics on their space for starters). The already burgeoning tour dates on their space (Paris, Aberdeen, Glasgow...) bear testament to the popularity of that sound.

myspace.com/thievesinsuits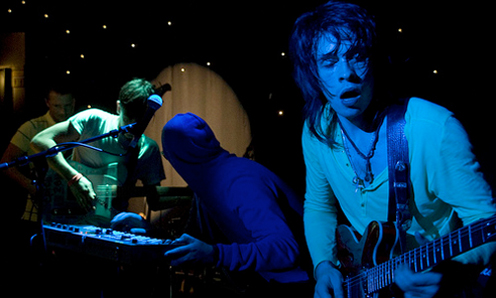 Epic 26 made their Limbo debut a few months ago, demonstrating a stack of catchy tunes, a suitable rabble to rouse with them and a riotous performance aesthetic to match. This evening's appearance proves just as impassioned and features an unexpected extended jam when guitarist Martin breaks a string and takes a while to find another (thanks to Thieves In Suits for supplying it). This is an opportunity for the band to really show off, with bassist Allan and drummer Dave getting properly stuck into the lengthy rhythm work-out that ensues, while singer Nick lays down some extra keyboard melodies alongside new recruit Kelvin on synths. Epic 26's fans stay with them every step of the way but it's the good-times vibes of favourites such as Summer City and Lovin' Lucy that really get them going.


myspace.com/epic26

Epic 26 and Thieves in Suits pictures by Sarah-Jane Duncan


---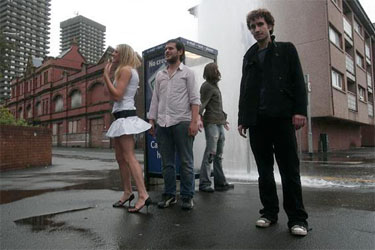 One of the finest bands on the Scottish circuit just now, Popup have been keeping a pretty low profile this year, having put the finishing touches to their debut album and then immediately started work on their sophomore output without pausing for breath. Bar a headline spot at the recent Dunstaffanage festival and a few foreign jaunts, it's been all (studio-bound) work work work with very few live outings.

We first came into contact with the band two years ago, when they invited Black Spring Recordings debutant Clean George IV to play a show at their (then-regular) night at Glasgow's Barfly. The admiration was mutual and the two bands struck up a friendship via myspace (but that's another tale). In any case, we've chasing them for a gig at Limbo since the night began last November, so we're all the more excited now to be able to stage them exclusively before they embark on a UK tour to promote their debut.

With singer-songwriter Damian Gilhooly's distinctive west-coast accent it would be easy (but lazy!) to bracket them with current media darlings The Twilight Sad, Frightened Rabbit et al. However, Popup's irreverent sense of humour and witty lyricism sets them apart from angst-ridden Scots miserablists such as these, and listening to jaunty, break-out early singles Lucy What You Trying To Say and Chinese Burn it's clear there's much funk in this group's swagger, as Damo's childhood passion for Prince (in addition to Deacon Blue, Nirvana and The Fall) quite clearly attests.



This scruffy Glaswegian quartet – three boys with guitars, one girl with drums – make some of the best melodic post-punk around in Scotland.' (Scotland On Sunday - read full article here)



Popup are probably the most exciting band in Glasgow at the moment, and it sounds like they're only getting better.' (Is This Music Review of Love Triangle)

myspace.com/popuptheband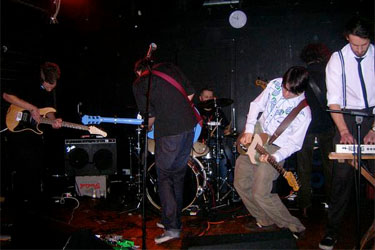 The Kartta tour stops in Edinburgh, as they threaten to break out of their native Aberdeen for good. There's an over-riding sense of American indie-rock about this quintet who currently have a deal with a Japanese label (Hiramika Records). They cite Broken Social Scene as an influence. They have an ear for a good melody and use unlikely instruments such as glockenspiel, jingle bells, melodica, miniature accordian and a Korg keyboard to create a sound that's quite different from the generic indie-rock morass. They also have quite a fine lyrical style. Something with some substance then.

myspace.com/karttamusic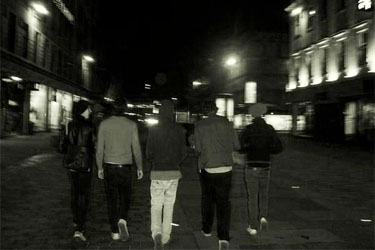 Tie For Jack are a young Edinburgh six-piece who play Limbo on their whistle-stop UK tour before releasing debut EP Chapter One in Autumn. They write energetic, rocking indie-pop.

myspace.com/tieforjack


MAILING LIST
ALSO COMING UP
Also coming up at Limbo: Popup, Sparrow & The Workshop, Meursault, Baby Bones, The Red Well, Sarah & The Snakes, Black Diamond Express, Kartta, Tie For Jack, Thieves In Suits, Epic 26 plus loads of other buzzing brand new acts.

Check out all our forthcoming bands here
CHEAP DRINKS!

Don't forget you can take advantage of £2 bottles from any of the Voodoo Rooms' three bars by showing your Limbo wrist-band to the bartender.
REHEARSAL SPACE?

The Black Spring Rooms: competitive prices, friendly service, easy access and no fuss for as little as £7 / hour; free parking on site + six bus routes to service it in Leith. More info here
VENUE INFO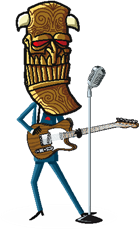 Limbo takes place at The Voodoo Rooms, West Register Street, Edinburgh.

Times: 8.30pm - 1am *
First band 9.00, second band 9.45, third band 10.30

Entrance: £5/£4 *

Ph: 0131 556 7060 (venue) / 0131 477 6916 (promoter)

* except where otherwise advertised
Sponsored Links