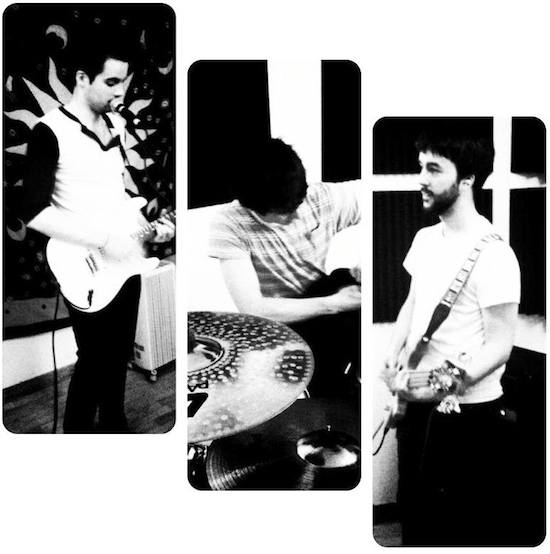 1) Who are you, who is in the band, who does what in the studio and on stage?
We're Star Rover, a three piece grunge pop band based in Edinburgh but originally from such far flung, exotic locales as Aberdeen, Fife and Belfast. Both live and in the studio, Davy King sings and plays guitar, Dave MacDonald plays bass and Mike Johnston plays the drums
2) How long have you been writing and performing in this way?
Davy has been writing, recording and releasing his own music as Star Rover since 2008. Dave and Mike joined in late 2012 and shortly afterwards we started performing live and recording as a three piece.
3) How exactly do you work / write / record?
Typically Davy comes up with an idea and structure for a song and brings it to Dave and Mike to begin developing and rehearsing – and from there we'll start playing it regularly until it begins to sound good and we're comfortable with it. Sometimes it's as little as a riff that we start jamming out, sometimes its an fully fledged song which has been developed into a demo.
Recently we've tried recording drums in the studio and then recording guitar, bass and vox over the top of it in our own time at home, which gives us the opportunity to produce and mix the material and take our time a bit more. At the same time we love going into the studio, working with someone else and getting their views and input into recording- it just depends on how familiar we are with the songs and what the release is for.
4) How do you feel your studio/recording style informs the way you perform your music live (or vice versa)?
Would say it's the other way round actually – we think our live/rehearsal style influences the way we record. We're quite energetic and immediate live, and the trick for us is getting that energy across on record in a coherent way!
5) What's been happening lately and what's new with you?
We've just finished recording and mixing our new EP 'Selfs'! Chris McCrory (Catholic Action, Casual Sex) produced and mixed four of our most recent tracks in Glasgow during October and we'll be releasing the EP in January, and hopefully doing a wee Scottish tour to launch it. We're still toying with format and artwork but we can't wait to get it out and start promoting it – up until now we've put out a number of singles online and it'll be the first physical release for quite some time.
6) When was the last time you played Edinburgh (and where)?
Last gig we played in Edinburgh was a couple of weeks back at The Mash House, supporting a band from Manchester called the Cupids. It's a great new venue right beside La Belle Angele in the Cowgate – awesome to see new venues like that opening up in Edinburgh and it's always a pleasure playing somewhere new!
7) If you've played Limbo before, what did you like/rate about the experience?  If you've not played Limbo before, what have you heard about it?
It's our first time playing Limbo and we're super excited about it! They've had such a consistently high calibre of line ups and a great reputation in Edinburgh, and we're big fans of both Tuff Love and Garden of Elks, so we can't wait to share a stage with them on Saturday night.
8) What's next, coming up after this gig, for you and what are you generally looking forward to right now…?
Next big thing for us is the release of our new EP 'Selfs' and some launch gigs we're in the process of finalising. It'll be self-released, we'll be putting out physical versions as well as downloadable on Bandcamp – and it'll be out during January!
9) If you have any other passions/opinions you'd like to share, if there's anything else you feel strongly about, pls feel free to tell us about it here…?
Edinburgh music scene – we love playing in this city but we need the music fans to come out and support live music and local acts. You can see the passion people in this city have for arts and music during the Fringe, and there's no reason why that can't be a year round thing. We put on our own gigs featuring local bands every now and again under the 'Master of my Craft' series in venues around the city, and we're looking at ways to extend that into a regular, members club night too – but we'd love to see a more organic, well supported scene in this city.
10) How would you describe what you do – in a nutshell – to someone who's never seen you before?
This is a tough one because we've all got different views on what we sound like! The Skinny reviewed us earlier this year – they gave us a really flattering review but compared us to a few bands we've never thought about! The one thing we all agree we sound like is the genre of 'grunge pop', but easiest way to find out for yourself is to come down on Saturday night! 🙂