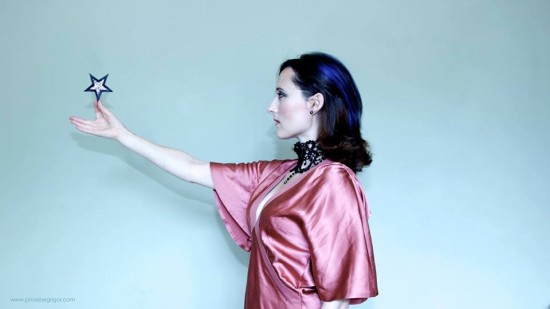 1) Who are you, who is in the band, who does what in the studio and on stage?
Candythief is me, Diana de Cabarrus on guitar/lead vocals, joined by Anne Aulmann on cello, Barry 'Earl Justice' Hughes on bass, Andy Philip on lead guitar/accordion, Cammy Sinclair on drums and they all sing. I write the songs and everyone else makes them sound good. I'm looking forward to recording a fourth album with this awesome line up.
2) How long have you been writing and performing in this way?
I started out playing lead guitar in post punk art rock bands, decided I wanted to write songs, stumbled into the Fence Collective, had happy times with them from 2005 and moved to Edinburgh where I gradually found these lovely collaborators.
3) How exactly do you work / write / record?
I write songs sometimes started by a phrase, sometimes by a small scrap of melody, sometimes by an idea that I want to convey. Sometimes it takes literally years before I feel like a song has definitely come to the boil and found its right form. I'm fascinated by songs that are half created, half uncovered. Sometimes you think you want them to do a certain thing and go a certain way and they refuse.
4) How do you feel your studio/recording style informs the way you perform your music live?
I always like to record live rhythm tracks. The songs often have changes in tempo or transitions to very different musical sections, so feel between band members when recording is really important. As I've moved countries and worked with different musicians on the material, I like keeping the songs breathing and allowing the arrangements to develop as new instruments get added to the mix. Sometimes it isn't possible to perform something how it's recorded, but I also like to have some live arrangements that are extended or developed from recordings, so that the audience gets something extra that they might not have been expecting. I love it when I see bands and they've gone the extra mile to give me something special on the night in terms of what they play and how they deliver the songs.
5) What's been happening lately and what's new with you?
Anne and I had an AMAZING time touring Ireland before Christmas. I loved it so much I kind of want to move there. We were touring a new release, The Starting Gun, available at candythief.bandcamp.com (as played on BBC Introducing, Woop!). It exceeded all expectations-so friendly, so into music, any excuse to stay in the pub singing songs, a really democratic approach to art. No sense of highbrow or lowbrow culture-everyone everywhere can get stuck in and deliver a poem and be heard, and it's appreciated. It was mind-blowingly beautiful. I even drove into someone's front yard and dinged their smart wooden bollard in the dusk, and when I sheepishly rang the bell to confess, the man was so jolly about it it was almost like he was apologising for the inconvenient place he'd put his bollard in. Wouldn't have had that response from a retired captain in Royal Tunbridge Wells, methinks! The most unlikely small venues ended up being the most raucous gigs; at one of them the publican started out somewhat abrupt, but ended the night apologising that there weren't enormous crowds and making us promise we'd return. Another highlight of last year was street performance during the festival. Playing to people who don't come to gigs (ie small children) and getting their honest reaction was fantastic, a real reminder of where the joy of live performance is.
I've just signed off a pilot episode to use one of the singles in the soundtrack, The Starting Gun, which is the third track I've had on a film of some kind, so I'm looking forward to seeing that & glad they chose it. The big Candythief plan for 2014 is to record a 4th album, so I need to find a bag of leprechaun gold somewhere to help with that. I'm also doing some dates in the south of the UK in the summer and hopefully some band dates round Scotland. Bookers everywhere, we are HOT right now.
6) When was the last time you played Edinburgh (and where)? What do you remember about that experience?
I really enjoy playing Lach's nights at Henry's. He created/curated the antifolk scene in New York for many years and now he's done a remarkable job of building a vibey scene at Henry's. I've met and heard loads of brilliant songwriters at the antihoot open mic and played some very enjoyable gigs. He's a legend and he's created a nice community of artists here.
7) If you've played Limbo before, what did you like/rate about the experience? If you've not played Limbo before, what have you heard about it?
I am delighted to be playing limbo, because the Limbo xmas party was a highlight of last year. I'm an obsessive devoted fan of Pumajaw and basically want to adopt them, so I came to see them and was really impressed with the rest of the bill.
9) How do you feel about Scottish independence and the whole 'Yes' campaign? Have you decided which way you're voting yet (and, if so, what's your decision)?
Independence! Ooo. Well, as a mongrel myself, I think Scotland should decide for itself. *ahem* *hides under bed*
10) What do you think about a struggling artist becoming the face of an advertising campaign for a bank, as Rachel Sermanni did recently for RBS?
It's very hard building your career in original music, and whilst we may love to hate that kind of thing, she probably got paid enough to make another album that lots of folk will enjoy. Fair enough. The only downside would be practical-it's possible it could hurt her career in the sense that some of her diehard from-the-beginning fans won't like it. On the other hand, lots of people who've never heard of her will see the ad and may thus discover her.
I'm thinking about starting a label of my own, because I'd like to release myself and there's a fabulous Fife based artist called Jo Foster whose work I really love, and it would be nice to release a few bits together with other bands I enjoy. Stay tuned for album number four, working title 'Tomorrow was lovely', and if you've ever wanted to learn to sing or play guitar, I love to show people!