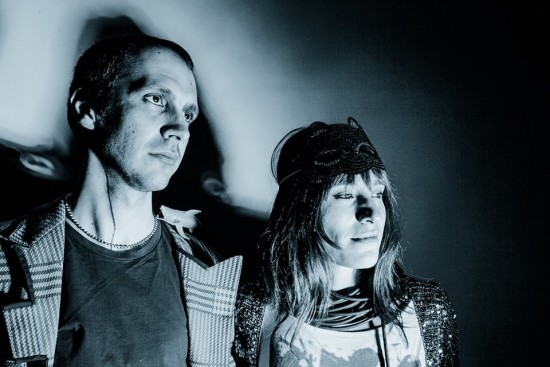 1) Who are you, who is in the band, who does what in the studio and on stage?
We're Lorena, an Argentine girl, multi-instrumentalist, plays the guitar and sings in A-LIX and Vincent, French guy, programming electronics like he was living in the 80's on analog drum machines, write the songs, sing them and play the guitar on them. We both live in Buenos Aires, Argentina after a few years in Barcelona and Glasgow.
2) How long have you been writing and performing in this way?
It's been 8 years since we exist as a duo, I (Vincent) started alone with drum machines but it's more fun to electro-rock with someone else. Lorena was up for it, what you would call a natural at having fun & be serious playing at the same time.
3) How exactly do you work / write / record?
The best and worst when you're a pocket format such as we are is that you can nearly rehearse all the time in a room at your place. So that's perfect for composing, no transportation BUT procrastination is always around the corner. This sudden urge to clean the bathroom or take a nap instead or practising the guitar…
So I (Vincent) write 80% of the song, then Lorena comes with a clean pair of ears, sometimes it hurts but she has criteria that matches mine. I rework the song then she adds her parts until I can't imagine playing the song alone again ever.
4) How do you feel your studio/recording style informs the way you perform your music live (or vice versa)?  Does it make it easier or harder, better etc…?
Richard Minier, our Paris-based producer render our songs more pop in a french electro way which is good for us. Live, we're different beast, very dynamic, free to make guitars scream, justifying the "front" word in "front woman" and "front man".
5) What's been happening lately and what's new with you?
Full of international news, a German techno producer called Denny Engler did a remix of our song Soul Recognition System in Dresden, Germany. That reached Bógota, Colombia-based label Progrezo Records' ears and they liked it. Since they had a business affair in Buenos Aires, we met, they listened to the EP we had, and took care of publishing it. It's released on Beatport since 13 July 2015.  It includes the remix and a cover of the song by Pulp called "Do You Remember The First Time?" These Progrezo records people have great techno releases by the way.
6) When was the last time you played Edinburgh (and where)?  What do you remember about that experience?
Last time we played in Edinburgh was the the 1st birthday of Limbo back in 2008. Before the gigs, all the bands and team had a drink at a secret bar located between the main bar and the venue. The owner was there. He explained to me that they refurbished the place at great cost so that it looks the same as the original. What captured my attention was that 25% of the total rework money was put in the sound system. A music fan, no doubt. And that night, Micachu played with a hoover as instrument.
7) If you've played Limbo before, what did you like/rate about the experience?  If you've not played Limbo before, what have you heard about it?
Limbo team is always making things more interesting, making sure there's a quality photograph there, that it's filmed and so on. Hobbes is a top DJ and it's an honour to have him and the Black Springs guys putting music on too.
8) What's next, coming up after this gig, for you and what are you generally looking forward to right now…?
We'll be coming from Barcelona the day before Limbo supporting a French band called Skip The Use. Those guys fill 10,000+ capacity venues in France so that will be a privilege to see them there. Then on Monday 9, we play in Glasgow, at The Spangled Cabaret, a multi-perfomer glamourous event, at the Glasgow School of Art. Then farther away, on 21 March, we play in the sweaty and soulful basement in Paris centre call called Popin. Then back to Buenos Aires and record all the other songs we currently play and publish the best.
9) If you have any other passions/opinions you'd like to share, if there's anything else you feel strongly about, pls feel free to tell us about it here…?
As foreigners, we were always suffering upon seeing Scottish girls walking barefoot, high heels shoes in one hand, in the middle of a cold February night, going to places on a Saturday. I always wondered if they got frosbites after that.
10) Feel free to make another Q up or tell us anything else here.  There used to be another question about Scottish independence…
Scotland's in our heart! We don´t really care about nations, patriotism and things like that but two years in Glasgow were just great, loads of different music and well-trained ears and it'll be an emotional return after some years.
Now, if anyone around here comes to Buenos Aires and Argentina, go to our webs and write to us, we'll do our best to guide you through the multiple cool places and parties going on here. Save your energy, people arrive at clubs around 3-4am until closure at 7-8am!