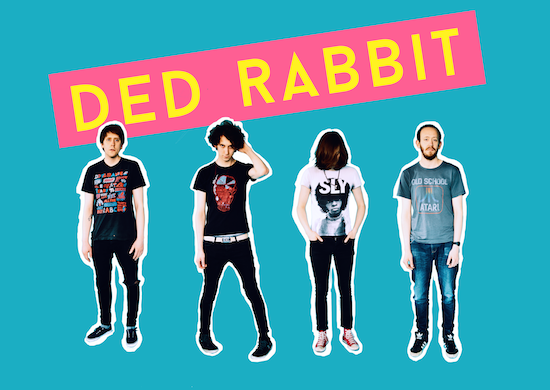 1) Who are you, who is in the band, who does what in the studio and on stage?
We are Ded Rabbit, we consist of four brothers: Eugene (Lead vocals and guitar), Donal (Bass and backing vocals), Fergus (Guitar and backing vocals) and Eoin (Drums).  We all play the same instruments in the studio as we do live but Eugene could do it all if he wanted.
2) How would you describe what you do – in a nutshell – to someone who's never seen you before?
Without blowing our own horn too much, we're an energetic tight indie-rock four-piece with elements of 70s garage and punk thrown in as well as having catchy songs that are upbeat and great to dance to. I'd say a bit like The Housemartins but a bit more edgy.
3) How long have you been writing and performing in this way?
We've been a band since we were kids and we've changed a lot over the years but we've only really been writing and performing in this way for the last 3 or 4 years.
4) How exactly do you work / write / record?
Usually one of us or a couple of us will have an idea for a tune and we come together and pitch it to each other in a rehearsal and we build on it from there. Sometimes one of us will have a near-complete song and we just need to arrange the drums or bass and it's done. We have to go through all our ideas for songs and just pick the best ones and put them together to make good tunes. With recording we like to go into the studio with maybe two or three hooks for a song or a song that's open to be arranged until it sounds great when recorded, it's quite a fun process.
5) How do you feel your studio/recording style informs the way you perform your music live (or vice versa)?
I think recording tightens up our live sound because if a song isn't quite there yet then taking it into the studio can tie up any loose ends and tighten up a song and give it a definite direction and make it sound great when played live.
6) What's been happening lately and what's new with you?
We've been touring across the UK for our newly released double A side "Only Dating/Never Gonna Learn" recently and just released the video for "Only Dating" today. We love touring so much because we just love showing people who have never seen us live before what we can do and getting great feedback from people and making new mates. A highlight of the tour so far was Stockton Calling as there was about 200 people who have never seen us before crammed into a sweaty wee venue and they all loved us.  It's just the kind of gig we love as we really get to throw into people's faces what we're about.
You can find our new releases and previous work on itunes, Soundcloud, Spotify and Youtube just search Ded Rabbit. Here is a our new video for "Only Dating":
7) When was the last time you played Edinburgh (and where)? What do you remember about that experience?
The last time we played Edinburgh was at Sneaky Pete's a few months ago for Independent venue week, it was a great gig because it was a great turnout and a superb atmosphere and we always enjoy playing Sneaky Pete's because of those reasons.
8) If you've played Limbo before, what did you like/rate about the experience? If you've not played Limbo before, what have you heard about it?
We've not played Limbo before but I've heard great things about them, they always seem to put on great bands and events and promote gigs well, we're looking forward to the gig immensely.
9) What's next, coming up after this gig, for you and what are you generally looking forward to right now…?
Edinburgh is our last date in the current tour then we will be looking forward to a summer tour and festival gigs including Leeds (Verve bar) on the 15th July and Kendal Calling festival on the 29th of July.