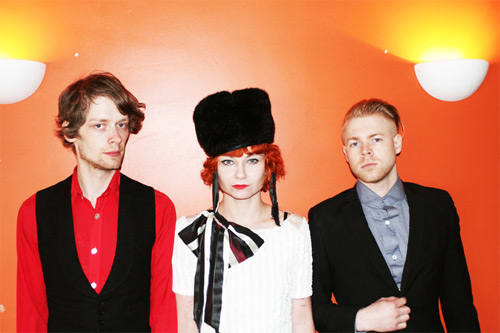 Limbo favourites Snide Rhythms and The Young Spooks return, supporting formidable aces Her Royal Highness, who make their (overdue) Limbo debut. It's another great bill.
Buy tickets here
HRH
Her Royal Highness have been known to tear the place to bits with their jaw-dropping live show: so simple – just guitar, synth, vox, drums and fx – and yet so devastatingly effective. They make their Limbo debut, delivering post-modern sleaze in their unique and very punky, electro-rockabilly-glam-ragga-pop style that sees as much energy explode on the floor as it does on the stage. Come feel the razor edges – sharp enough to ensure the thickest skins get spiked!
'Her Royal Highness, born in a back street somewhere between Tin Pan Alley and The Brill Building, a Frankenstein's mistress rebuilt from the fallout of what happened after Giorgio Moroder met Donna Summer, A Certain Ratio backed Grace Jones, Saint Etienne dug Kylie and Xenomania and The Pet Shop Boys sprinkled stardust onto Girls Aloud… She stayed out late with her two little boys Leon and The Modulator, fell in with the wrong crowd and got lost in an impeccable record collection that mixed up Suzi Quatro's Chinnichap era anthems with Suicide squelch by way of Dr Feelgood snarl.' (Neil Cooper, The List)
http://www.facebook.com/herroyalhighnessmusic

SNIDE RHYTHMS
Last seen at Limbo back in March 2009, Snide Rhythms have since released a debut single and we're very happy to have them back at Limbo once again. Read how the last show panned out.
After years of tinkering and bleeping with machines Colvin Cruickshank was asked to reform his first group Nonstopcamels to perform live for The Art School Dance film. All involved were blown away with the end result and a sell out gig followed later that year. Thriving on the buzz of this, Colvin was keen to pursue the project but it was not to be. However, when friend and work colleague Craig Coulthard went for a three month exchange to Dusseldorf, Colvin seized the opportunity to borrow his Randan Discotheque rhythm section (Doug and Ollie). Drafting in the multi-talented Hugo (ex-Minotaur Three) on guitar the new group was now ready to create… Snide Rhythms' sound has elements of surf guitar, glam rock, Iggy Pop and and little bit of The Monochrome Set!
THE YOUNG SPOOKS
The Young Spooks gained instant fans at Limbo when they made their club debut in October 2010 (and we're not the only ones with a couple of local labels already sniffing expressing interest). Here's how that gig went.
This band of night-dwelling reprobates are a stylish bunch of rock n rollers originating from the Edinburgh College Of Art, with an entourage to match and clearly something of a hard-on for classic Velvet Underground (among other creatures of the night), which is no bad thing in Limbo's book!