After another party-popping Limbo launching Over The Wall's debut album (read all about it below and check out all the photos and (now) video from the event on Limbo's Facebook page and new youtube channel), we're back with a bumper bill for our Christmas Party at Edinburgh's Voodoo Rooms this Saturday 4th December. Pretty much a who's who of stand-out acts who have graced the Limbo stage in 2010, or before, the Limbo Christmas Party sees headliners and Scottish favourites FOUND return alongside NIGHT NOISE TEAM, INSPECTOR TAPEHEAD, YUSUF AZAK, LES ENFANT BASTARD, plus Sara And The Snakes guitarist and Edinburgh legend ANDY BROWN presenting his downright unique Victorian Karaoke!

BUMPER BILL + SHORT & UNIQUE SETS = GOOD TIMES ALL NIGHT LONG!

With such a long bill and in the interests of simply giving everybody one of the best nights out this year, each act will play a shorter set than usual and Limbo has also invited all of the acts to collaborate with one another (should they feel comfortable doing so), to play any cover versions they might fancy playing and generally to bring something fresh and novel to the stage that people would not normally see/hear at any other gig they do.

As such, the Limbo Christmas Party 2010 will be very much a one-off, blink-and-you-miss-it affair, which is, quite clearly, NOT TO BE MISSED!

FANCY DRESS! The theme is the Prohibition Era/1920s, so Limbo is encouraging anyone who doesn't want to come dressed as Santa or one of his elves to pull out his/her most fetching gangster/moll attire!

You'll save money and also you'll be sure to get in if you buy your ticket in advance (Eventbrite or Ticketweb).

This week's Facebook is here. Let us know if you're coming!


FOUND

Everybody in Edinburgh should know who Found are by now and just about everybody in Edinburgh loves them, too.

"FOUND sound like a punch up between Paolo Nutini and Captain Beefheart." The News Of The World "their sound is so progressive, so completely unique, it's demeaning to tie it to the stale confines of a label. Instead, we should be celebrating the euphoria created by their extraordinary kaleidoscopic soundscapes. 9/10″ Drowned in Sound "Sampled sounds wrestle it out with jagged bursts of electronica across songs that lurch around like shouty drunks on a week-long bender." Q Magazine

foundtheband.com
myspace.com/foundtheband

NIGHT NOISE TEAM

'Gorgeous' **** (The List review of new single Burning)
'NNT make gorgeously dry Eighties-sounding rock. While Sean's arch lyrics and baritone vocals and the down-tempo beat are straight out of the Eighties decade, the guitars are often pure Radiohead creating an exciting hybrid sound.' (Rick Fulton, Daily Record)
'The sound of Belfast and Paris' (Tom Robinson - Radio BBC6)
'Interpol's atmospherics swirl around the medicated haze of Galaxie 500...dark Arab Strap-style spoken words...brr.'
(NME) 'Bridges a seemingly unassailable gap between Joy Division and Scissor Sisters, handled with an effortless pop nous that may induce apoplexy with the puritanical, dour indie crowd' (The Skinny)
'A cracking album.' (The List)
'Another band to add to the growing roster of great Edinburgh bands that are doing something truly exciting' (Is this music?)

myspace.com/nightnoiseteam
nightnoiseteam.bandcamp.com

INSPECTOR TAPEHEAD

Fusing older folk and blues guitar styles and melodies, with modern party rhythms, mucky synth licks and an uplifting pop sensibility, Inspector Tapehead is a recording project and stripped-back live experience, engineered to move hearts and hinds. The group brings together former Adam Beattie's Consultants Chris Croasdale (guitar) and Roy Shearer (drums/percussion) with Jonnie Common of Down the Tiny Steps (keyboards). The band released debut album Duress Code via Edinburgh-based indie Song, By Toad in August.

myspace.com/inspectortapehead
songbytoadrecords.com/inspector-tapehead

YUSUF AZAK

Yusuf Azak is a folk/acoustic musician originally from Aberdeen but now based in Glasgow. Having played in several bands Yusuf started writing solo material over the last two years and has performed across Scotland, citing influences such as Bob Dylan and Nick Drake. Yusuf's debut album, Turn On The Long Wire, was released by Edinburgh label Song, By Toad on November 15th.

'one to watch out for' (The List)
'A special set of songs that beg to be heard by a wider audience' (Is This Music?)
'beautiful harmonies and a spiritual-like rasp.... guitar strumming not too far off from the late great Nick Drake' (Kata Rokkar)
'Quite exciting indeed' (The Skinny)

songbytoadrecords.com/yusuf-azak


LES ENFANT BASTARD

ENFANT BASTARD is Cameron Watt, the authentic enfant terrible of the edinburgh music scene for the past three years. Alternately noisemonger, slacker-folk maverick, and more recently 8-bit circuit bending wizard, Enfant Bastard is a strange, many-headed beast. Cameron Watt's irrepressible creativity to date has resulted in numerous cdr albums and mini-albums, each hand designed and manufactured in his one-man studio, Pigsty Tapes, most often to be discovered posted through letterboxes in the dead of night or thrown into the crowd after shows.

A 21st century renaissance man and home recordist extraordinaire, Enfant Bastard's output is prolific, spanning genres from wonky indie-folk through DIY electronica and 8-bit chip music. Likewise his live appearances are notoriously unpredictable, he is as likely to be wielding acoustic guitar or gameboy and sampler alongside any number of his armoury of home-modified machines and synthesisers and his sets are often confounding and exhilarating in equal measure.

'Cameron Watt should be designated a national treasure. Even in a country so ludicrously teaming with musical talent, Watt's single-minded devotion to the DIY lo-fi aesthetic should earn him a knighthood' (The Skinny)
'snobby art school jazz pish' (NME)
'ultimate stream of consciousness music' (Songbytoad.com)

slrecords.net/enfantbastard
myspace.com/cammyjjnr

ANDY BROWN'S VICTORIAN KARAOKE

Far and away one of the most eccentric, distinctive and unique characters on the Edinburgh scene, Andy Brown's hulking frame and long beard are to Edinburgh nightlife what garlic is to French cuisine: quite synonymous and utterly indispensable! As lead guitarist with swamp-rocking garage/blues revivalists and Edinburgh-favourites Sara And The Snakes, Andy has been a regular feature on the Limbo stage since the night began. He's also been a regular face at all of the other nights Limbo has ever been involved in (not to mention just about every other Edinburgh club worth its salt) since they all started, too.

Andy Brown's Victorian Karaoke consists of the man himself, his electric (and maybe his acoustic) guitar, a suitably 'seasonal' set of songs, not forgetting his vintage gramophone. You can expect Andy to play some of his own songs (accompanied by CD of his own tracks), some of someone else's songs and then a few of his very old shellac records (hence the gramophone). If you're really lucky, he might even recite some poetry from his little book. It's about as simple a proposition as you can get for a live act but nonetheless quite enchanting and perfect for an event of this nature.

Oh yeah, the 'Victorian Karaoke' stage name has absolutely nothing to do with the content of Andy's set (bar some of his favourite poems, by Keats or Byron, if they do feature), it's just a catchy name for a unique talent that some friends of Andy's thought up for a gig he was doing some time ago and apparently it actually relates to Andy's singularly 19th Century look....

(Andy doesn't do myspace or any of that)

LAST TIME (12th November)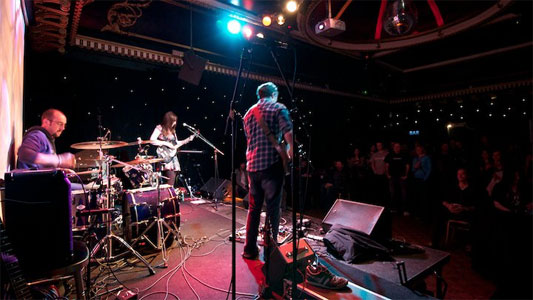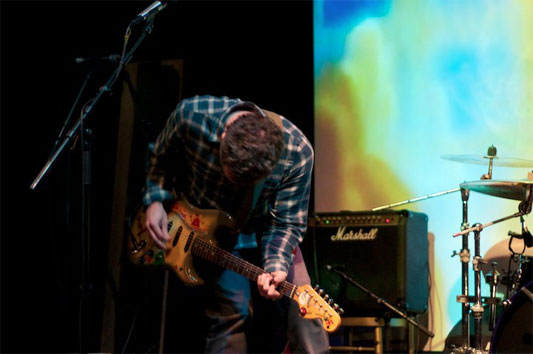 The last one saw an incendiary Limbo debut by The Oates Field, another Limbo debut by brassy, west-coast outfit How To Swim and, of course, headliners Over The Wall brandishing new album Treacherous to a very warm welcome indeed.

First on, The Oates Field's lead singer/guitarist and brains Alan Oates open with an acoustic cover of an Over The Wall song. It's a fitting tribute and neat doff of the cap to kick the gig off. It's also the quietest song he plays in his set and makes the next thirty minutes of energetic vitality stand out even more. Alan Oates was formerly part of a duo called Come In Tokyo. Very much a White Stripes-style band, it was just lead guitar and drums, with Alan's erstwhile partner-in-crime on drums. They played at three gigs at Limbo in total and went down a total storm every times, so it's a pleasure to see him return to the club with such a mighty outfit, again stripped back to the barest of bones, with just bass, guitar/vox and drums, but now rocking a less familiar on-stage dynamic and musical style. It has a bit more of an Eighties rock feel than the garage rocking blues howl of before, but The Oates Field are still completely raucous and still get everyone in the room going with. Limbo was so impressed, The Oates Field will be back headlining a bill of their own, with support from Eagleowl, at the first Limbo of 2011 on Friday 28th January!

Check out some great video from the Oates Field set here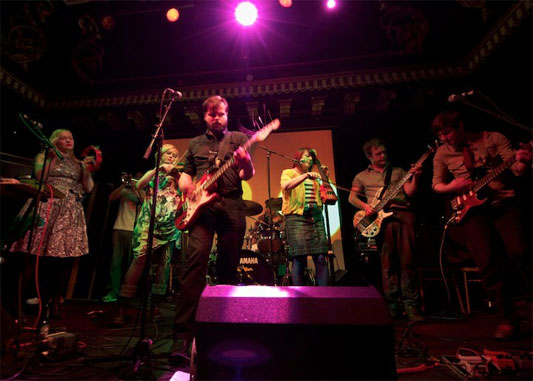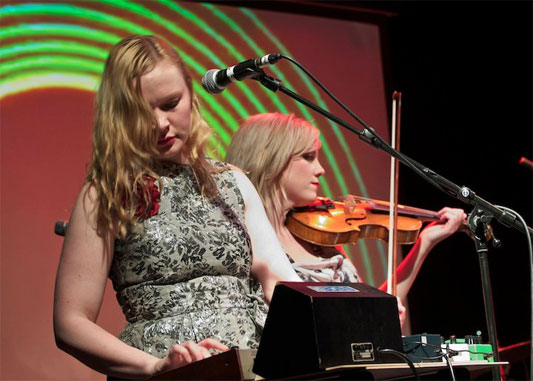 Second on, How To Swim deliver something of a lesson in tightness for such a large number of musicians on stage. They're a big band in every respect, rocking a brass section of two as well as cello, fiddle, keyboard/synths, guitars and drums - nine in total. They have something of a theatrical air, reminiscent of Glaswegian indie experimentalists The Low Miffs, with songs such as There's A Building There performed with an earnest attention to detail, before it transforms from a slow, sinewy ballad into a hulking monster of a tune. How To Swim can make one hell of noise on stage. Well-rehearsed isn't the word, abject professionalism seems more on the money.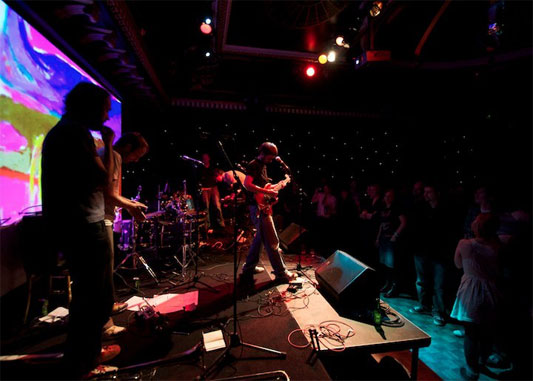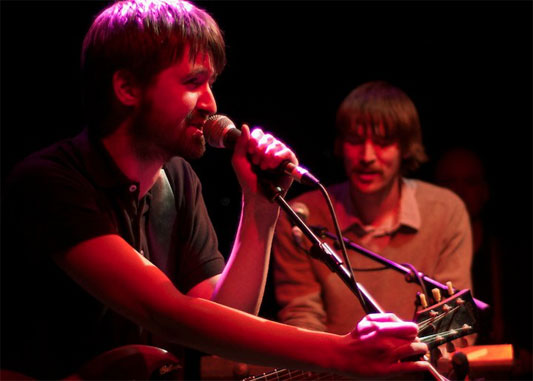 Last on and the stars of tonight's show in every respect, Over The Wall take it very much to the next level, though. With so many of Scott Carroll's video clips now available for you to view on the Limbo YouTube, there's little point in going on about it too much here, suffice to say the duo were bouncing with their customary enthusiasm from the off and the crowd were bouncing with them. Ben's northern charm and Gav's equally excellent humour would always ensure they got a very rapturous welcome, as they played all the songs from new album, Treacherous. But, with brass accompaniment from the How To Swim brass section plus OTW driver and friend Matt on bass, it's an even bigger sound than usual as well. So, when they play Thurso in the finale, Limbo is at fever pitch and it's a special moment, indeed, with Ben augmenting the song's brassy flourishes with a full electric guitar solo. Check out video of 'Thurso' and 'Don't Listen To Them Son' here.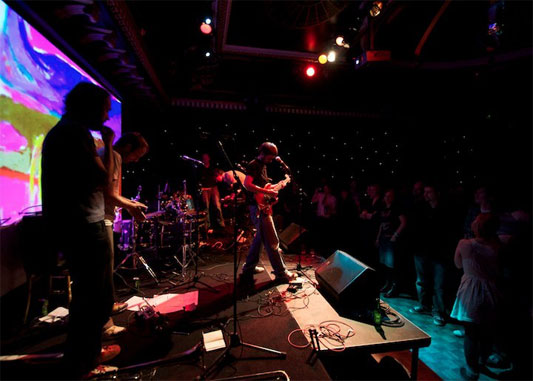 Pictures and video by Scott Carroll
MAILING LIST
FACEBOOK/MYSPACE
Come and hang out on Facebook here or say hi to us over here at MySpace
VENUE INFO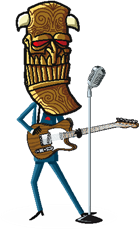 Limbo takes place at The Voodoo Rooms, West Register Street, Edinburgh.

Times: 8.00pm - 1am *
First band 8.30, second band 9.15, third band 10.00

Entrance: £5*

Ph: 0131 556 7060 (venue) / 0131 477 6916 (promoter)

* except where otherwise advertised
Sponsored Links
England flags
England car flags
Flag of England
Paintball blog