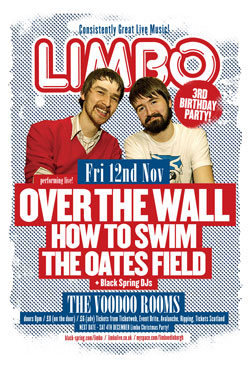 Limbo returns this FRIDAY 12th November with club favourites Over The Wall coming east from Glasgow to launch their debut album, Treacherous, with support from Glasgow's How To Swim and new Edinburgh band The Oates Field.

If you've never seen OVER THE WALL before, then, well, you've been missing out. Limbo vividly remembers the first time we saw these two cheeky chappies do their thing, at a T Break heat in Spring 2007. They were one of the most refreshing acts that night, if not in the whole competition - there was something very special about their quirky combination of new wave synths, electronic beats and guitars, passionate lyrics, witty banter and that very rousing trumpet solo by Ben Prentice at the end. Every single time Limbo has seen Over The Wall play (probably about eight times now, perhaps even more), they have had a resounding reaction from the crowd. It's hard NOT to like what they do. This date will be their sixth appearance at the club and doubles as Limbo's THIRD BIRTHDAY PARTY, so you can expect a veritable celebration of everything the club has achieved in the last three years, and then some, to accompany that of one of its favourite bands in Scotland.

With Over The Wall being a favourite among many other Edinburgh folk and Limbo regulars as well, this date has been something of a hot ticket since the very second we announced it. You'll save money and also you'll be sure to get in if you buy your ticket in advance (Eventbrite or Ticketweb), so grab 'em now to avoid disappointment! Tickets are also available from these offline outlets: Ripping Records (South Bridge) & Tickets Scotland (Rose St).

www.weareoverthewall.com <-- a must visit!
myspace.com/overthewall

This week's Facebook is here, so do let us know if you're coming!

After this Friday, Limbo is back again with its end of year Christmas Party on Saturday 4th December. The full line up is still TBC but we can confirm that it's shaping up very nicely indeed so far, so if you're in any doubt about what you're doing that night, reflect no further and get it in your diary now!


HOW TO SWIM

How to Swim are an orchestral pop-rock band from Glasgow, Scotland. Since 2001, they have released a variety of music to some acclaim. These include The Littlest Orgasm EP, released on Stow College's Electric Honey label, and the forthcoming Retina (or More Fun than a Vat of Love), to be released in September 2010. There are nine musicians in the band's current line-up; guitars, strings, brass and keyboards all make regular appearances in their energetic live show. How to Swim write songs about corpses in underground stations, the disadvantages of partial blindness, love, death, sword-swallowers, deliberate disfigurement, anxiety and happiness. They could be your favourite band, if you'd let them burrow into your heart and lay their little eggs.

myspace.com/howtoswim
howtoswim.bandcamp.com
youtube.com/howtoswimtheband

THE OATES FIELD

The Oates Field is Alan Oates (lead vocals, guitar and electronica), with Iona Marshall (backing vocals/bass) and Chris Lowrie (drums). Alan 'Oates - aka The Oates Field, Little Pebble and previously of Come In Tokyo - is a well known name on the Edinburgh music scene. He's also a regular on the line up at The Fence Collective shows. Iona's ethereal vocals (which caught the attention & admiration of Mike Scott of The Waterboys) compliment The Oates Field's raw energy. Chris Lowrie brings his hard-hitting-time-perfect talent to the sound.

myspace.com/theoatesfield
www.theoatesfield.com


LAST TIME (22nd October)
Local ECA-bred quartet The Young Spooks go on first and immediately conjure up a compelling on-stage dynamic and a gorgeously fuzzy, discordant sound with their very traditional indie set-up (guitar, drums, bass and vox). Stooping slightly in his very tall frame, front-man Calvin resembles a large bird of prey, albeit one that has been styled by someone with an eye on a vintage look. Calvin doesn't so much sing as shout in to the microphone, while various effects disguise his voice beyond all recognition and ensure no one has the faintest idea what he is singing about. It's much more sonic colouring than lead vocal, though, and certainly has the desired effect in those terms. He falls off the stage at one point (actually, the post-gig claim is that he was pushed but it's not clear whether this is really what happened or just more youthful tomfoolery) but manages to maintain his dignity in the pit at the front. Equally well turned out, drummer Blair holds the backbeat down with aplomb, while guitarist Alexi and bass player Grant move around each other throughout the set, constantly dodging and weaving across the middle of the stage, rarely standing still for more than a minute and then only to get the optimum amount of feedback from their guitars and amps. So, The Young Spooks not only look the part but they sound like the Real McCoy, too, referencing classics such as The Mary Chain, The Velvets and The Bad Seeds (and thus also obviously not a million miles away from NME favourites such as The Horrors and former Limbo alumni S.C.U.M.), and yet all in a way that somehow manages to be fresh and exciting to Limbo. They're also a thoughtful, philosophical bunch, proclaiming some very earnest concepts on their myspace (apparently they are a 'socialist art collective' but, hey, give 'em a break, they're young and keen and studying fine art...), the likes of which all too often get forgotten when a band is trying to make an impact on an unsuspecting, apathetic public, emotionally neutered by X Factor's pitiful scourge. What a breath of fresh air! Little wonder that both indie dons Chemikal Underground AND another small label (who currently remain nameless) have been sniffing around, inviting the band to studio auditions and the odd live appearance in Glasgow. If they manage to keep it together (and Limbo suspects they can and will), The Young Spooks should be haunting a venue near you very soon.
Second on are Glasgow newcomers Milk, who already boast a rich seam of talent in the shape of Pablo from My Kappa Roots, plus (originally) Michael, the drummer from Findo Gask. The latter band were a particular favourite at Limbo and, it must be said, also went down a storm at sister night Devil Disco Club, and My Kappa Roots were cherished by a few to boot, so, while many were dismayed when both acts called it a day, the sparks of hope were certainly firing when the wind blew whispers of this new outfit Limbo's way. Michael has actually now left Milk, being replaced by David on drums, with Pablo on guitar and vox, plus newcomers Callum (guitar) and Sam (keys and synth) making up the quartet. They don't disappoint, either. Pablo looks very comfortable in the spotlight and his new band definitely have an unusual, original sound. Hard to say much more than that at this early stage, bar that they perform a tight set, get a great reaction from the Limbo audience and provide the perfect bridge between The Young Spooks' visceral sturm und drang and The Chap's more innovative shapes.
International live sensations The Chap last played Limbo in Spring 2008, about 50 people attended and every one of them seemed to know he/she was witnessing something special. Limbo naturally jumped at the chance to get the band back, with the release of new album Well Done Europe, and the resulting show was everything we'd anticipated. Performing as a trio on this tour (last time there were four), The Chap incorporate live drums, guitars, bass, cello, violin, viola, both a Moog and a Juno synth and then, the coup de grace, an ipod, to create an innovative sound that chews up a vast amount of what has passed for pop, rock and dance music over the last thirty odd years and regurgitates it in what the band themselves might well call a 'fun and interesting' fashion. From last album Mega Breakfast and featuring quite triumphantly during this set are songs such as Ethnic Instrument (their 'tribute' to world music), the aforementioned Fun And Interesting, the quite insane (but also insanely groovy) Carlos Walter Wendy Stanley and, of course, their poke at their more po-faced contemporaries, a bona fide cult hit if ever there was one and far and away the high point of the evening, Proper Rock. The rest of the hour comes from the new LP and goes down equally well, which is hardly surprising as they are immaculately well rehearsed and deliver a dynamite performance - perhaps most notably in the finale, when everyone in the band freezes stock still for at least a minute, before taking a bow and leaving the stage. The Chap should be back next year and Limbo will once again be lapping up their 'proper songs about girls and clubbing.'

Pictures by Scott Carroll
MAILING LIST
FACEBOOK/MYSPACE
Come and hang out on Facebook here or say hi to us over here at MySpace
VENUE INFO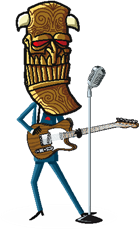 Limbo takes place at The Voodoo Rooms, West Register Street, Edinburgh.

Times: 8.00pm - 1am *
First band 8.30, second band 9.15, third band 10.00

Entrance: £5*

Ph: 0131 556 7060 (venue) / 0131 477 6916 (promoter)

* except where otherwise advertised
Sponsored Links
England flags
England car flags
Flag of England
Paintball blog