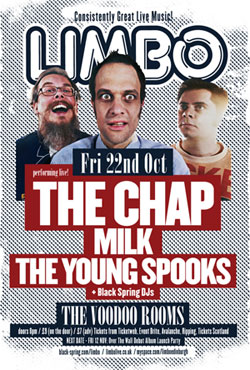 Limbo is back with a vengeance this Autumn, presenting one of our favourite bands, THE CHAP. A renegade hit at the club back in May 2008, this international group of miscreant-genius musicians are far and away one of the VERY BEST bands to have played Limbo in all of our 90 dates! The Chap return to give us another dose of their 'proper songs about girls and clubbing' alongside some equally riveting, genre-bending and irreverent new songs. If you missed them last time, you're in for a real treat.

It's actually quite hard to think of an act which encapsulates Limbo's dualistic experimental/alternative pop nature much better than The Chap and, as such, they are something of a beacon for all of Limbo's favourite Scottish bands right now. They really don't sound like anyone else but themselves, you see and, whether you're in a band which you think is pretty good, you know someone else in a band you like or you just like seeing good quality live music with originality, style and (good) humour, Limbo exhorts you wholeheartedly to check out The Chap.

In short, YOU NEED TO SEE THIS BAND IF YOU CARE AT ALL ABOUT MODERN MUSIC!

myspace.com/thechap

This week's Facebook is here, so do let us know if you're coming!


Support comes from Glasgow newcomers Milk and Edinburgh newcomers The Young Spooks, both of whom Limbo has yet to see perform live for itself but come with healthy recommendations via Limbo friends of Limbo (more info below).



The first 100 or so folk who makes it along on the night will also get a very sexy CHAP POSTER (see image left) for their astounding new album, Well Done Europe, which has hardly been off the Limbo stereo since it arrived last month. You can hear how it sounds right here: myspace.com/thechap

Be warned, this date is likely to be a busy one. You'll also save money if you buy your ticket in advance at Eventbrite or Ticketweb

Tickets are also available from these offline outlets: Ripping Records (South Bridge) & Tickets Scotland (Rose St).

[NB Avalanche has closed its shop on Cockburn St and moved to the Grassmarket, where it will apparently re-open about a month from now, so while they have sold tickets for Limbo of late, you can't buy tickets from Avalanche right now].

MILK

Brand new Glasgow band Milk are something of a mystery because they have no MySpace or Facebook and very people have actually seen them yet. However, great things are being said about them and since they feature players from My Kappa Roots and former Limbo favourites Findo Gask, we thought there was little point waiting any longer to book them. Check out the rave review from The Skinny and what our friend Toad has to say.

THE YOUNG SPOOKS

This band of night-dwelling reprobates are a stylish bunch of rock n rollers originating from the Edinburgh College Of Art, with an entourage to match and clearly something of a hard-on for classic Velvet Underground (among other creatures of the night), which is no bad thing in Limbo's book! Again, we've been hearing good things, not least from our friend Tim London, and have been wanting to get them on at Limbo for a wee while now.

myspace.com/the.young.spooks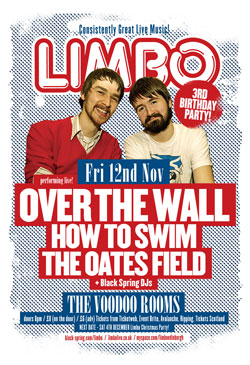 The next Limbo is our 3rd birthday and we're very pleased that OVER THE WALL will come east from Glasgow to launch their debut album, Treacherous, at Edinburgh's Voodoo Rooms on Friday 12th November, with support from Glasgow's How To Swim and new Edinburgh band The Oates Field.

More information on the Facebook event.
MAILING LIST
FACEBOOK/MYSPACE
Come and hang out on Facebook here or say hi to us over here at MySpace
VENUE INFO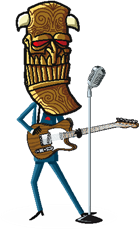 Limbo takes place at The Voodoo Rooms, West Register Street, Edinburgh.

Times: 8.00pm - 1am *
First band 8.30, second band 9.15, third band 10.00

Entrance: £5*

Ph: 0131 556 7060 (venue) / 0131 477 6916 (promoter)

* except where otherwise advertised
Sponsored Links
England flags
England car flags
Flag of England
Paintball blog