We've another raft of fantastic give-aways happening this week: five pairs of tickets to Limbo this Thursday (10th June) with Ian Rankin favourites A BAND CALLED QUINN, Zane Lowe favourites NORTH ATLANTIC OSCILLATION and new Edinburgh aces The Machine Room. All winners will also get copies of CDs from ABCQ and NAO and a copy of the Limbo Live CD!

All you have to do is re-subscribe to the new and improved Limbo mailing list in order to be entered into the draw. We won't be shutting this list down for a while but everyone on the new list will be double opted-in. The deadline for the draw is midday Wednesday.

We've also got an exclusive MP3 from headline act Quinn for you right here:

He's A Dog - A Band Called Quinn

This week's Facebook is here, so do let us know if you're coming!


Still bouncing from Knockengorroch, June's Limbo event sees Glasgow's much vaunted A BAND CALLED QUINN headline, playing Edinburgh in their own right for the first time in years to showcase tracks from their forthcoming album score for the highly acclaimed Vanishing Point Theatre production of John Gay's 18th Century masterpiece, THE BEGGAR'S OPERA. The album is due out later this summer but, bar a brief run at The Lyceum Theatre last year, this will be the first time audiences in Edinburgh will have been able to hear these tunes, which earned the band a devoted new fan in celebrated author IAN RANKIN (and there's a very good story about Rankin himself phoning in to daytime radio stations personally to harangue music programmers for not playing more music by Quinn!). QUINN have worked with JARVIS COCKER, THE PASTELS, ALEX KAPRANOS, KID LOCO and BILL WELLS, among others, and, with chanteuse Louise Quinn fronting the band, are the closest thing in Glasgow to a 21ST CENTURY BLONDIE.



I left the theatre stunned and wanting to experience it all again..... and then someone had the idea of capturing A Band Called Quinn's performance for posterity, which is why I'm writing this and you're reading it. In fact, stop reading and get listening. Close your eyes and you could almost be there... Meantime, I'll give it five stars' (Ian Rankin)



A pop-art treat' (Q)



One of the best albums to come out of Scotland in donkeys' (Daily Record)



...brilliant new album... packed with beautifully crafted alternative pop...' (News of the World)



...excellent electro stompers...' (Guardian Guide)

myspace.com/abandcalledquinn

SUPPORT includes Edinburgh's excellent NORTH ATLANTIC OSCILLATION who recently picked up their own high profile fan: BBC RADIO 1's ZANE LOWE made them BAND OF THE WEEK on his radio show on the release of their debut album in March.



A journey into the sublime' 8/10 (NME)



Intriguing oddness from Scotland' 4 stars (UNCUT)



An album of unquestionable originality and ambition' 4 stars (ARTROCKER)



This is a debut album reaching far beyond the toilet circuit. A captivating record' (CLASH)

kscope.com/nao
myspace.com/naoband

Also supporting are THE MACHINE ROOM are a brand new Edinburgh band assembled by John Bryden (ex-bass player in The Vivians) who sound nothing at all like his former outfit and exhibit enormous promise, if the music on their myspace and buzz around their Facebook page is any kind of an indicator...

myspace.com/themachineroommusic
facebook page

But wait, there's more, MUCH more. QUINN are also bringing the all-star cast from their CLUB TROMOLO nights in Glasgow through for the event, so, for the very first time, Limbo will also feature host FRANK PERCY OBE, burlesque artiste MISS LEGGY PEE, plus MALCOLM THE THESPIAN GORILLA, THE GOVAN SEER and DEADRIE THE USHERETTE.

It's an unprecedented Limbo and downright sure to be a truly excellent night of entertainment.

Save money and get your ticket now (£8) from the Limbo Eventbrite page. If not, it's £9 on the door.

LAST TIME

The last Limbo was actually the last two Limbos, since Limbo was at the Knockengorroch World Ceilidh down in Dumfries & Galloway with Found, Over The Wall, Meursault and Withered Hand on Saturday 29th May and before that hosted Paul Vickers & The Leg, Night Noise Team and The Little Kicks at The Voodoo Rooms on Saturday 22nd May. Knockengorroch was everything Limbo was expecting it to be and more, while Saturday 22nd was a groove and a gas in a completely different way.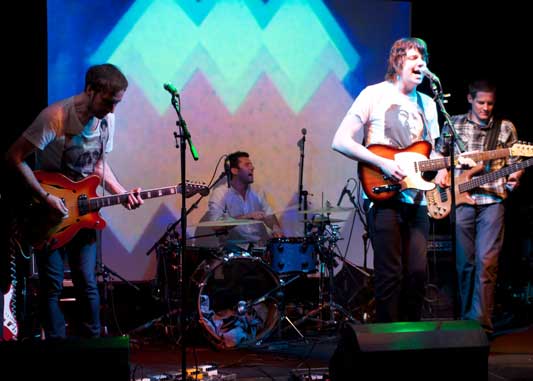 Saturday 22nd May begins with The Little Kicks, who boast an accomplished fusion of motifs from the classic indie songbook and now have a swelling fan-base outside their Aberdeen home-town, exemplified by the sizable number who show their support, dingying not only tonight's Champions League match and the first true hints outside of a gorgeous summer to come (?) but also a popular new festival down the road in Glasgow. Now that's real loyalty. Following the release of their debut album, Boxing Clever, and then the departure of their drummer last year, The Little Kicks have re-grouped around a slightly new sound, albeit one that's still identifiably their own, with singer-songwriter Steven Milne's lyrical and vocal style as much at the core of this group as it was previously. This 'new sound' is mainly down to the Nord Electro keyboard Steven has acquired and the incredibly diverse and accurate synthesised (but not always synthetic) sounds this extraordinary instrument brings. The Little Kicks play the most polished, tightly hewn set Limbo has witnessed from them to date, throwing in a clutch of older favourites alongside some of the new songs and coming across as ever with a strong penchant for Sheffield stalwarts Pulp - but with their own, fresh twist, of course. However, while it took years for Cocker and co to make a proper impression on the nation, these Aberdonian stars look primed to do so much faster. Little Kicks: big dents.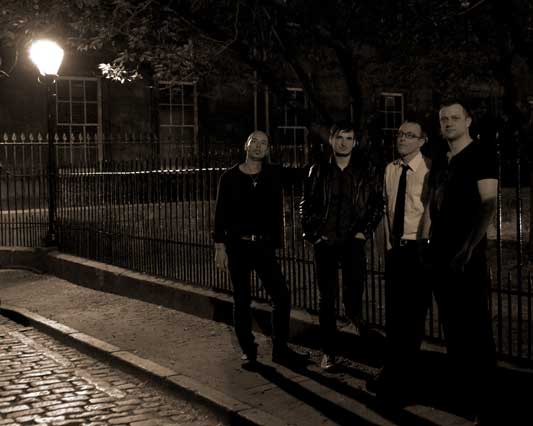 Edinburgh quartet Night Noise Team are on second, and they also bring a faithful crowd as well as their own take on some classic indie motifs. While tradtionally Limbo has been impressed by a distinctly Morrissey-esque vibe about singer Sean's style, tonight's performance owes a bigger debt to Suede's front-man, Brett Anderson. But, whichever way you look at this, it's really no bad thing. They're at a similar point in their trajectory to The Little Kicks: a couple of years on from the point when Belfast singer-songwriter Sean Ormsby met Parisian groove machine Fabien Pinardon, one album down and still establishing their own sound. They're something of an anomaly in Edinburgh's music scene, with Italian guitarist, Marco Morelli, and drummer Mike Walker the only Scotsman in the group, and he's originally from Fife. The Scottish capital is more ethnically colourful than ever before just now, but it's unlikely you'd get a more cosmopolitan mix in a band here. Night Noise Team also play a pretty polished set and, following wide-spread appraisal for their fabulous, new, dance-floor-grooving single, You Won, and they look as self-assured as they sound - more self-assured than ever before, in fact. It will be interesting to see how they now develop their style.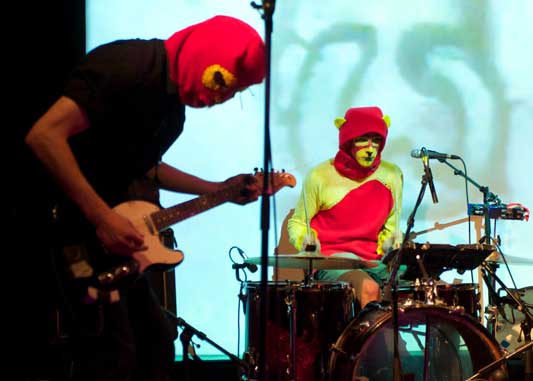 If you're looking for self-assurance AND a really unique act, though, look no further than tonight's headliner Paul Vickers And The Leg, who, with an absurdly long combined CV of professional musical accolades and experience, could probably sound like whomever they should want to really but defiantly choose to sound (and look) like no one else but themselves. Limbo doesn't know of any other band in the UK right now that would dare to perform an entire set dressed up as pandas. We're talking about a full make-up job as well, in the case of drummer Alun Thomas, while, with bright red and orange balaclavas pulled over their heads, guitarist Dan Mulch and cellist Pete Harvey actually look more like terrorists than cuddly bears. Paul Vickers himself only goes for the half-way mark in a panda-bear hat (that's actually reminiscent of Edinburgh's own Unicorn Kid with his lion-man head-gear - or is that the other way around? Limbo can't remember who did this first, but it was probably Paul). Either way, their oddball look matches their oddball, post-punk sound, with tonight's performance all due to the invention of Itchy Grumble, a 'rock opera' the band have penned (recently available as a full LP via SL Records), 'in which an immortal anti-hero is given the task of revolving a lighthouse on the Firth of Forth'. As such, every so often Paul gives the room a brief explanation as to at what point in the play's action we find ourselves and, while the intensity and uncompromising nature of the musical and lyrical style divides the Limbo audience in half (we do love a band that divides the crowd at Limbo), it comes across as triumph of the band's will as well as their musical virtuosity. The only comparisons that spring to mind are The Fall, or perhaps fellow John Peel favourites (and Nick Cave's former band), The Birthday Party. Much like both these outfits, expect everyone still to be talking about Paul Vickers and The Leg five years from now. They're a one-off.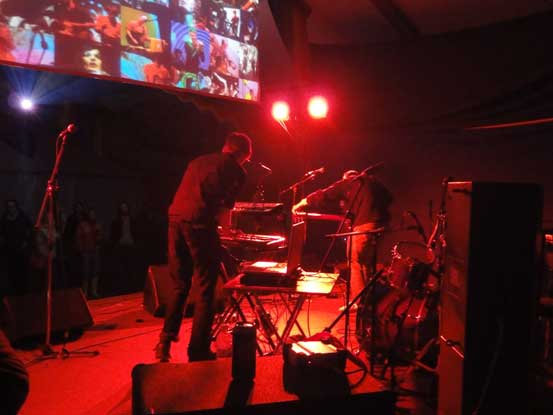 Saturday 29th May saw Limbo storm the Sheiling Tent at Knockengorroch, taking over the decks from Glasgow reggae dons Mungo's Hi Fi with the Limbo bands following some equally bass-soaked sounds on stage. It wasn't an easy feat to turn the hippies, crusties and spliffed-up reggae massive on to a bunch of artists touting a wholly different musical aesthetic, albeit four of the best up-and-coming bands in Glasgow and Edinburgh just now, but by all accounts it was a successful one and you can read all about it in the pictures and film taken by Dylan Matthews and Limbo. Suffice to say, all the bands did a great job and some people have since said the Limbo stage was the highlight of the weekend. And, if you're short of music just now, a recording of Hobbes's DJ set after the bands is now available to stream (and download) from here.

Pictures by Scott Carroll and DC (OTW).
The next Limbo will happen on Saturday 17th July. More details soon.
MAILING LIST
FACEBOOK/MYSPACE
Come and hang out on Facebook here or say hi to us over here at MySpace
VENUE INFO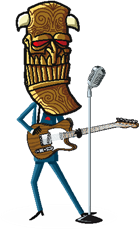 Limbo takes place at The Voodoo Rooms, West Register Street, Edinburgh.

Times: 8.00pm - 1am *
First band 8.30, second band 9.15, third band 10.00

Entrance: £5*

Ph: 0131 556 7060 (venue) / 0131 477 6916 (promoter)

* except where otherwise advertised
Sponsored Links
England flags
England car flags
Flag of England
Paintball blog