This week we've got a treat for you. We're giving away five pairs of tickets to Limbo this Saturday night (17th April) with headliners Zoey Van Goey (plus Chris Bradley, X-Lion Tamer and DJ Ed Jupp from 17 Seconds). Winners will also get copies of CDs from all the acts involved, more swag from the 17 Seconds label (including Aberfeldy and The Dirty Cuts) plus a copy of the Limbo Live CD.

All you have to do is re-subscribe to the new and improved Limbo mailing list in order to be entered into the draw. We won't be shutting this list down for a while but everyone on the new list will be double opted-in.

Zoey Van Goey haven't played Limbo in Edinburgh since November 2008, and, having released their debut album last May and then re-released it in October (via Chemikal Underground), they've progressed quite a bit. Expect more top quality 'indie folk' and catch them in an intimate space before they get too big!

Support comes from Chris Bradley and X-Lion Tamer, both signed to Edinburgh's 17 Seconds record label, the former bringing a soft, lilting Americana/folk edge and promoting second album At The Outpost, and the latter a sublime Eighties electro-pop aesthetic that will melt your heart and caress your soul as effectively as it gets you feet tapping.

17 Seconds label boss and blogger extraordinaire, Ed Jupp, supports on the decks, alongside residents the Black Spring DJs. It's another bumper package of consistently great live music at Limbo!
ZOEY VAN GOEY are a trio originally from Canada (Matt Brennan), Ireland (Michael John McCarthy) and England (Kim Moore). They met in Glasgow in 2006. Debut album The Cage Was Unlocked All Along conjures up a wide-eyed rites of passage, meshing the everyday with the fantastical; the optimism and adventure of youth with the anxieties and pressures of the modern world... We find bandits and buried treasure co-existing with tales of TEFL students teaching in Fukuyama; dark ruminations on the coming apocalypse alongside romantic kidnap ballads; a surreal journey that's as melodically whimsical as it is structurally complex. It's a work of charming ambition loaded with full-blooded sing-along choruses, understated keyboards, close harmonies and irresistible melodies - all underpinned by various musical ephemera, including vintage Super Mario sound effects.

'Irresistible pop thrills... definitely one of Scotland's finest at the moment' (Sunday Mail)
'Anthemic, insightful indie-folk with wonderful sparkles of humour' (Clash Magazine)
'ZvG have a pronounced sound of their own ... an excellent album' (The Skinny)
'An irresistible debut album' (Scotland On Sunday)
'Exquisite indie folk-pop' (Metro)
'Charming folk-pop' (NME)

myspace.com/zoeyvangoey

Following the success of his 2008 debut Voices, Edinburgh-based singer songwriter and Aberfeldy guitarist CHRIS BRADLEY releases his 2nd solo album. Competing against over 10,000 musicians nationally, Chris shone through at the Area Finals of UK's largest talent search, Live & Unsigned, making it through to the judges top five. He also reached the finals of the ISC competition out of 15,500 entries worldwide, for Best Music Video for 'Two My Ears'. New album At The Outpost (released 29th March on 17 Seconds Records) was written, produced and performed entirely by Chris except for a guitar solo from Aberfeldy frontman Riley Briggs on the song 'The Beatles'. As well as his own songs he has been successfully composing for TV and radio in Scotland.

See the video for 'To My Ears' and latest single 'Waltzing' (released in February accompanied by a brand new animation video by Dave Lemm) over here

'A big talent in the making' (Sunday Times)
'One of the strongest albums I've heard this year' (Is This Music)
'The construction of Bradley's songs is their chief selling point, all lightly-picked guitars and Byrdsian melodies, but he's also in possession of a fine James Taylor vocal that's just shy of a falsetto.' (The List)

chrisbradleymusic.com
myspace.com/chrisbradleymusic

Under the name of X-LION TAMER, Edinburgh-based artist Tony Taylor likes to create pop songs described as 'the ending credits of low budget teen movies played on your mates Amiga'. Like a John Hughes film, if Erasure and Junior Boys had been asked to do the music. Signed to 17 Seconds records, X-Lion Tamer's profile has risen considerably over the past few months, supporting artists such Unicorn Kid and labelmates Aberfeldy, and receiving national radio play from the likes of Rob Da Bank and Vic Galloway on Radio One. X-Lion Tamer's live shows give him the opportunity to play his trademark electro-pop while also twisting it in and out of shape, often improvising and occasionally dropping a huge guitar solo into the mix. His Neon Hearts E.P. has been recently released to critical acclaim and is available to buy from Rough Trade in London, or Avalanche in Edinburgh and Glasgow.

myspace.com/xliontamer

Behind the 17 Seconds blog and (now) record label, apart from being the brother of comedian Miles, ED JUPP is an all-round (pop) music enthusiast, connoisseur and now A&R of great bands from across the spectrum. Expect a sizzling cross-section of a selection on the decks from him.

17seconds.co.uk/blog

Here's the Facebook event.

Save money and get your ticket now (£8) from the Limbo Eventbrite page. If not, it's £9 on the door. Tickets also available at Avalanche (Cockburn St), Ripping (South Bridge) and Tickets Scotland (Rose St).

LAST TIME

Last month's Limbo was a total sell-out and the biggest date so far this year, as Edinburgh's Withered Hand played his first Edinburgh gig of the year, before embarking on an extensive European tour. Fence Collective star Pictish Trail sadly cancelled at the last-minute due to a sudden case of tonsilitis but, very happily for Limbo, Neil Meursault (already playing as part of Withered Hand) agreed to stand in and played a solo acoustic set, with Chris Bryant from Meursault (also now playing as part of Withered Hand) joining him for two songs. Further support was supplied by Newcastle's folkster John Egdell and Edinburgh's inimitable chip-tune aural terrorist Les Enfant Bastard. It was a great night.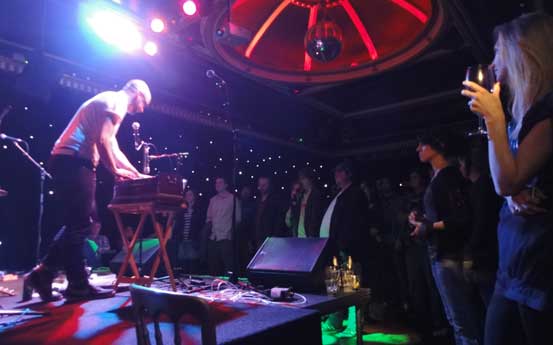 Les Enfant Bastard is on first, demonstrating why Nintendo's iconic hand-held computer game is the new Fender Stratocaster and chip-tune music is the new rock n roll, wowing the crowd with sounds from not one but TWO Game Boys (he's currently got about fourteen in his collection), *simultaneously*, and engaging them with his modest stage presence and hilarious chat about the mental trials involved with attempting to play more than two at a time. Playing this set out quite rarely, Les Enfant Bastard is still something of a cult act on Edinburgh's live music scene but his musical style is original enough for him to be touring the world over and his act of an equally high calibre. If there's any justice at all, Les Enfant Bastard will be playing Japan in 2012 and you'll be telling your friends how you saw him first at Limbo.

John Egdell follows and begins his set by telling the (now almost completely packed) room how much he likes his chip tunes and how brilliant he thinks Les Enfant Bastard's set was. What a gent. He then plays a short set of acoustic guitar and vox, straight up and with no effects to be heard anywhere. It's an immediately stark contrast to the music Limbo has just heard but goes down just as well with the crowd, the highlight Egdell's version of Bananarama's Love In The First Degree which instantly calls to mind Jose Gonzalez covering Kylie Minogue and is another triumph of Stock, Aitken and Waterman (sporting a cardigan and much longer hair!). Excellent stuff.

Meursault front-man Neil Pennycook takes the stage with a quip, announcing himself as Pictish Trail and getting some proper mileage out of this joke throughout his set. Limbo couldn't really have asked for a better act to replace Pictish Trail's solo performance and it's particularly fortuitous as Limbo had also been unable to pin Meursault down for a full return to the club before summer. So, Pictish Trail's loss is Limbo's gain. It's a treat also, because, stripped back to just acoustic guitar and voice, Neil's songs are really given the space to shine in their own right. Which they do. And Limbo gets a sneak preview of some of the new material due out on second album All Creatures Will Make Merry in June, courtesy of local label Song, By Toad. Since this Limbo appearance, Meursault's Neil and Chris have actually left a room full of music industry aficionados slack-jawed at another impromptu gig as an electronic duo (all laptop, fx and vox) at Electric Circus for Born To Be Wide's Wide Days finale and gone on two days later to play a completely sold-out album launch party at Cabaret Voltaire alongside the other four members of the band, so, from this vantage point in mid-April, the bonus Limbo date in March looks like the start of a very busy and exciting summer indeed for the band. All the best to them on what's sure to be a very intense leg of touring around half of Western Europe and we look forward to their appearance on the 'Limbo stage' at Knockengorroch next month.

Withered Hand arrive on stage just after ten pm having swelled significantly from the band who made their Limbo debut in February 2009. Tonight's line-up includes Benni Hemm Hemm on bass and Chris Bryant (Meursault) on harmonium, as well as regular Withered Hands Neil Pennycook (Meursault) on backing vox, guitar and banjo, Hannah Shepherd on cello, Alun Thomas on drums and Dan Willson on lead vox and guitar. And, with such a swelling fan-base and so much goodwill behind them right now (they're now on to their second pressing of debut album Good News), who could fault them for pushing the live show to the next level? So, Limbo is treated to a much richer sound but one which still hasn't lost the rawness of the early Withered Hand shows that made everyone fall in love with Dan Willson and his funny, little Religious Songs in the first place. That said, there's a more shambolic edge to this evening's performance than is usual (it's very much part of Dan's charm), with the lead singer looking up to the back of the room at one point to enquire, 'Hang on, aren't you recording this, though?!' - the reply prompting a groan, Dan's head in his hands. It's just one of a series of highly comical moments that (always) define the Withered Hand show and, alongside Willson's flair for penning such original, sardonic and yet truly heartfelt lyrics, makes him one of the most enjoyable acts in Scotland right now. Best of luck to Withered Hand on their extensive European tour and we look forward to our next encounter next month, with Withered Hand joining Meursault, Found and Over The Wall on the Limbo stage at the Knockengorroch World Ceilidh down in Dumfries & Galloway.

More pics over on Flickr by Arezoo Robinson.

It's an extra-special, mid-week date as a bonus on Thursday 6th May (an Election Night Special, if you will!), to launch the debut EP, Tale of the Winter Kids, from the capital's hotly tipped DEAD BOY ROBOTICS. Limbo favourites since they made their debut at the club in August 2008, the Edinburgh duo have been little short of a Scottish revelation in the ensuing period, making a sound like no one else on the local scene, with only a handful of international comparisons also applicable right now. The new EP has hardly left the Black Spring DJs' decks since the duo sent over the four finished tracks last month and there are now a swathe of dates on the band's myspace leading up to this gig but you can be sure this is the one that all of their fans will be attending. Thursday 6th May 2010 promises to be an historic date in more ways than one: do you really need a better excuse to get out and party?!

Support comes from Edinburgh newcomers VASQUEZ whose sound is almost as impossible to pin down as the innovative headliners - an Edinburgh based three piece making what they call 'action-packed rock'. Relatively new to the scene, the band have been turning heads since late 2009, with Mogwai's Stuart Braithwaite already a fan. Earning a reputation for their catchy, math tinged instrumental tunes they are currently working on their eagerly anticipated debut EP. Being shortlisted as one of Glasgow Podcarts 'Ones to Watch 2010' and having already played with the likes of Nitkowski and Castrovalva, VASQUEZ are a thundering live act that has to be seen in person.

Third, it's the Limbo return of former club favourite THE FOUNDLING WHEEL (first seen at Limbo in September 2008 and last appearing at the club exactly a year ago). 'The Foundling Wheel is an Edinburgh-based solo project,' says project brains Ted Koterwas, who is originally from California and plays bass and guitar, uses drum loops and samples, as well as live electronics and his voice (with some live drumming featuring last time as well). 'I used to be a drummer. I like noisy, broken-sounding things. I like things that are highly structured but fall apart and puzzles that don't fit together perfectly. I like small bits of pretty things in the middle of ugly things, and ugly things in the middle of pretty things.' Ted also references contemporary US punk/electronic/experimental outfits such as Xiu Xiu, Ex-models, Deerhoof, The Mae Shi, Q And Not U and Unwound, as well as perennial favourites Joy Division (and there's surely also a debt owed to New York post-punk stars Suicide), and his act is affiliated with Neil 'Meursault' Pennycook's Bear Scotland label. It's certainly electronica, Jim, but not as we know it, with a high level of punk-rock energy.
Here's the Facebook event and you can pre-purchase tickets at the Limbo Eventbrite page.

Limbo follows this date with another Saturday in May (22nd), a very special date at the internationally renowned KNOCKENGORROCH WORLD CEILIDH in Dumfries &apm; Galloway, with OVER THE WALL, FOUND, WITHERED HAND and MEURSAULT (Saturday 29th), and then another mid-week special on Thursday 10th June.

Knockengorroch Facebook
MAILING LIST
FACEBOOK/MYSPACE
Come and hang out on Facebook here or say hi to us over here at MySpace
VENUE INFO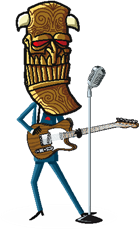 Limbo takes place at The Voodoo Rooms, West Register Street, Edinburgh.

Times: 8.00pm - 1am *
First band 8.30, second band 9.15, third band 10.00

Entrance: £5*

Ph: 0131 556 7060 (venue) / 0131 477 6916 (promoter)

* except where otherwise advertised
Sponsored Links
England flags
England car flags
Flag of England