Back with yet more devastating bombs in their arsenal, this Friday (12th Feb) sees the return to Limbo of club favourites and Edinburgh stars FOUND. If you live in Edinburgh and you've not seen Found yet, then you really need to sort this out.
BAFTA winning FOUND are amongst the finest that Scotland has to offer at the moment and they've just signed a publishing deal with the highly auspicious Domino Records. If you don't like them, Limbo will eat its headphones. Recently stripped back to a three-member line-up, this very special date also sees the original trio debut brand new material from their upcoming third full-length album.

foundtheband.com | myspace.com/foundtheband

It doesn't stop there, though, because the two support acts are also normally crowd pulling headliners in their own right.

Glasgow troubadour Ross Clark brings his new band, THREE BLIND WOLVES. Clark's song-writing craft is some of the best we've heard and we sincerely expect him to have a very successful career.

myspace.com/threeblindwolves

What can we say about Limbo favourites OVER THE WALL other than that they are one of the most entertaining bands you'll ever see gracing a stage: they are guaranteed to fill your soul with joy and make you glad to be alive!

myspace.com/overthewall

All in all it's an astonishingly strong line-up and really not-to-be-missed!

Here's the Facebook event.

SAVE A QUID! It's £8.00 on the door but you can pre-purchase here for £7.00.

LAST TIME

Last month's Limbo featured the mighty combination of Louise McVey & Cracks In The Concrete, Simon Doherty and North Atlantic Oscillation and was a special show. Paying homage to class acts such as Mercury Rev with a new twist of their own, North Atlantic Oscillation look every bit like the next Edinburgh breakthrough outfit right now. Louise's style is of the torch-song variety (think Billie Holiday, Peggy Lee, Marlene Dietrich and Sarah Vaughn at their most smoky/bluesy/sultry) and she's got a smouldering on-stage presence to match. Simon is heavily influenced by Elvis Costello and he and his band perform half an hour's worth of material with ease.

So, altogether, the night was as much about the high quality of the song-writing in a lyrical sense as a musical one and it was nigh on impossible to fault all three of the acts.

More pics over on Flickr by Robyn Gibson.

Renegade stars of the Edinburgh live scene in 2009, WITHERED HAND make their 2010 Edinburgh debut at Limbo, having first graced the club's stage last February when they were just beginning to generate a small buzz among those in the know. Singer-songwriter Dan had the whole club under his spell that night and has consequently drawn everyone else who has caught his live set into his rapidly swelling fanbase, with the local buzz now building to a national roar, as Withered Hand takes the rest of the UK and (soon) Europe by storm.

If you're a fan of Withered Hand, you know you don't want to miss this show and if you've not seen them yet, be sure to get a ticket as it will be a very hot one! Fife's glorious PICTISH TRAIL (Fence Records) comes south to make his Limbo debut with a solo show, in support, alongside LES ENFANT BASTARD and Newcastle folkster JOHN EGDELL. Yes, it's another amazing line-up of great live music at Limbo!
Here's the Facebook event and here's where you can pre-purchase tickets.

AND COMING UP IN APRIL:

Sparrow And The Workshop (Distiller), Chris Bradley (17 Seconds), X-Lion Tamer (17 Seconds) + DJ Ed Jupp (17 Seconds) & Black Springs DJs, 8pm

April's Limbo will see the utterly brilliant Sparrow And The Workshop finally return to Limbo, for the first time since they debuted at the club in December 2008 and enraptured everyone, before going on to become the talk of the live music community and then sign a record deal. Catch them in an intimate space before they get too big!

Support comes from Chris Bradley and X-Lion Tamer, both signed to Edinburgh's 17 Seconds record label, the former bringing a soft, lilting Americana/folk edge to complement Jill Sparrow's own and the latter a sublime Eighties electro-pop aesthetic that will melt your heart and caress your soul as effectively as it gets you feet tapping.

17 Seconds label boss and blogger extraordinaire, Ed Jupp, supports on the decks, alongside residents the Black Spring DJs. It's another bumper package of consistently great live music at Limbo!

MAILING LIST
FACEBOOK/MYSPACE
Come and hang out on Facebook here or say hi to us over here at MySpace
VENUE INFO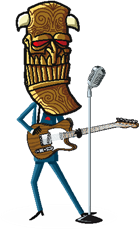 Limbo takes place at The Voodoo Rooms, West Register Street, Edinburgh.

Times: 8.00pm - 1am *
First band 8.30, second band 9.15, third band 10.00

Entrance: £5*

Ph: 0131 556 7060 (venue) / 0131 477 6916 (promoter)

* except where otherwise advertised
Sponsored Links
England world cup flag
England car flags
Flag of England