Back with a vengeance, Limbo launches into 2010 on a new monthly rotation with a view to bringing you consistently great live music!

This Friday (29th January) sees rapidly rising Edinburgh stars NORTH ATLANTIC OSCILLATION headline with Glaswegian newcomers SIMON DOHERTY and LOUISE MCVEY AND CRACKS IN THE CONCRETE supporting. It's quite a line-up, and the rest of the year promises to be equally riveting (see below)!

Here's the Facebook event and here's where you can buy or reserve tickets

NORTH ATLANTIC OSCILLATION look very much like the future Edinburgh stars right now, sound a bit like some of your favourite acts (Blur, The Flaming Lips, Mercury Rev...) and a lot like themselves, while exhibiting a right speedy, stellar trajectory. They've just signed a record deal, recently completed a national tour with Everything Everything (BBC 'Sound of 2010' favourites) and have some brilliant tunes to boot. They're focusing on Limbo in particular to air the music forthcoming on their great debut album.

myspace.com/naoband | www.kscope.com/nao

SIMON DOHERTY sounds like a young Elvis Costello and promises to be much talked-about this year. Simon is a twenty-three year old contemporary singer-songwriter from Glasgow whose ten years of writing has seen a thorough grounding in a traditional and classic sense of the art go hand in hand with an attention to a wealth of more eccentric artists and forms. What you hear is a command of musicality that harkens the ethereal, cerebral, irreverent and sincere, in pursuit of a song utopia. Backed by a supremely dynamic and entertaining band, who's recent live debut in session for Radio 1's BBC Introducing show is beginning to make massive waves, Simon Doherty aspires to be all he can on a stage near you.

'A seriously talented singer-songwriter' (Vic Galloway, BBC Radio Scotland)

'Simon Doherty may be better than Elvis Costello' (The Stool Pigeon)

myspace.com/simondohertymusic

LOUISE MCVEY AND CRACKS IN THE CONCRETE's eponymous debut EP comes out this month through Glasgow's esteemed Optimo Music label, exhibiting mysterious, dusky hues that will complement well an output designed for mavens of nocturnal activities. McVey and songwriting partner Graeme Miller share a passion for dark, unexplored musical territory, and alongside her band she creates the sound of a cigar-filled room: dusty pianos, feathery percussion, bow-stroking guitar and sonorous, sultry vocals altogether wooing and terrifying an audience probably too mesmerised to move.

Alluring and provocative, Louise McVey & Cracks in the Concrete are just the latest in Optimo Music's quest to find the perfect band for the next David Lynch movie. However, this one may just have too much mainstream appeal?

Louise McVey's voice is reminiscent of Billy Ray Martin, bringing a rare torch-song aesthetic to Limbo, early doors, so get down to Voodoo for 8!

myspace.com/louiseandcracks

All in all then, its going to be a fantastic evening in true Limbo style, but not on a school night. Get there for 8pm. First act on stage at 20.30, then 21.15 with the headliner at 22.00. £5.00 in.

n.b. Please note it's also a Limbo - Devil Disco Club double header this Friday, with Limbo dove-tailing neatly into Trouble's DDC at The Bongo (with Findo Gask live) and your Limbo wrist-band gaining you admittance to DDC for ONLY £3 all night!

Last month

The last Limbo was also the last Limbo of 2009 and, as such, the last Limbo for almost three months, since it happened back at the start of November! Edinburgh's mighty Sara And The Snakes were headlining, with support from Glasgow's equally promising Mitchell Museum and new Edinburgh band The Last Battle (Scott of Thieves In Suits rocking a whole new folk style). We'll get the full review out soon!

Lots more amazing pictures over on Flickr by Dòra Benkő.

Back with yet more devastating bombs in their arsenal, Friday 12th February sees the return to Limbo of club favourites and Edinburgh stars FOUND. If you live in this city and you've still not seen Found yet then you REALLY need to sort this out. Happily, we're giving you the chance to fix this lifestyle issue at Limbo.
BAFTA winning FOUND are amongst the finest that Scotland has to offer at the moment and they've just signed a publishing deal with the highly auspicious Domino Records. You are guaranteed to like them. Recently stripped back to a three-member line-up, this very special date also sees the original trio debut brand new material from their upcoming third full-length album.

foundtheband.com | myspace.com/foundtheband

It doesn't stop there, though, because the two support acts are also normally crowd pulling headliners in their own right.

Glasgow troubadour Ross Clark brings his new band, THREE BLIND WOLVES. Clark's song-writing craft is some of the best we've heard and we sincerely expect him to have a very successful career.

myspace.com/threeblindwolves

What can we say about Limbo favourites OVER THE WALL other than that they are one of the most entertaining bands you'll ever see gracing a stage: they are guaranteed to fill your soul with joy and make you glad to be alive!

myspace.com/overthewall

All in all it's an astonishingly strong line-up and really not-to-be-missed!

Here's the Facebook event.

SAVE A QUID! It's £8.00 on the door but you can pre-purchase here for £7.00.

As a bonus if you've read this far... you can go and check out the fact Limbo Live Volume 01 is now on Spotify. Check it out!
MAILING LIST
FACEBOOK/MYSPACE
Come and hang out on Facebook here or say hi to us over here at MySpace
VENUE INFO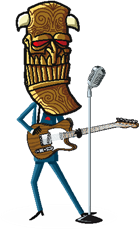 Limbo takes place at The Voodoo Rooms, West Register Street, Edinburgh.

Times: 8.00pm - 1am *
First band 8.30, second band 9.15, third band 10.00

Entrance: £5*

Ph: 0131 556 7060 (venue) / 0131 477 6916 (promoter)

* except where otherwise advertised
Sponsored Links