This week (Thursday 27th Aug) sees our first ever Limbo in London! So, if you're in London, get along to The Social at 5 Little Portland St (just off Great Portland st) for a special London Launch Extravaganza for the Limbo Live Volume 1 CD (a limited edition affair with fourteen exclusive tracks from fourteen outstanding Scottish bands - available now from 'all good record stores', including Pure Groove, Rough Trade, Sister Ray, Vinyl Junkies and Phonica in London).

The Limbo club night has been on the go in Edinburgh since November 2007, staging three acts a week every week until the end of June 2009 (when it broke for its summer vacation and tour: Glasgow, Aberdeen and now London). This will be Limbo's first ever date in the English capital. Most of the bands on Limbo Live Volume 1 have never performed outside Scotland before and some of them have hardly even released any music yet, bar on this CD, so Limbo is all about bringing you the best of the new/young team from Scotland before anyone else.

Limbo London features, no less than FIVE of the bands off the CD - namely Meursault, Over The Wall, Come On Gang!, Night Noise Team and Haight-Ashbury - ALL performing LIVE for your delectation, plus disk jockeying support from the Black Spring DJs, so there will be ample opportunity for dancin', romancin' AND catching a really great live act that you've probably never seen/heard before.

Limbo London also includes an art opening (early doors) with an exclusive preview of new work by Edinburgh artist Natalie McGowan (upstairs at 6pm - FREE ENTRY!): womanisdressed.com/ Facebook event

Limbo London takes place at The Social, bang in the centre of town (W1). Nearest tube is Oxford Circus - see map here

THE SOCIAL
5 Little Portland St (just off Great Portland st)
Nearest tube: Oxford Circus
TEL: 0207 636 4992
7pm-1am, £5


PLEASE NOTE: NO ADVANCE TICKETS, THE CAPACITY DOWNSTAIRS IS LIMITED TO 150 AND UPSTAIRS JUST 100 - ARRIVE EARLY TO AVOID DISAPPOINTMENT!!

Facebook event is here

More info about Limbo Live Volume at limbolive.co.uk

You can also check out the CD on iTunes here

+++ AFTER-PARTY AT PUNK SOHO!! +++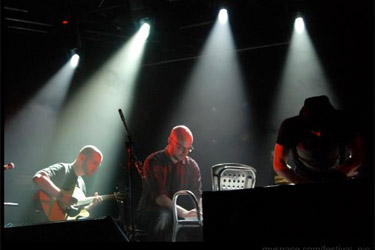 MEURSAULT take their name from the work of French existentialist philosopher Albert Camus but the bleak images singer-songwriter Neil Pennycook conjures with his plaintive voice belie a much broader palette of emotions than Camus's eponymous monochrome protagonist ever exhibits in The Outsider. And with the genius addition of laptop electronica, accordion, banjo, autoharp, mandolin and ukelele, the wealth of colour, light and joy he and his band adds to his songs makes them each a thing of singular beauty. Imagine The Aphex Twin dueling with Thom Yorke. Recently exposed as 2009 Ones To Watch by Scotland's own, young music pundits at The Skinny, we've every reason to believe that 2009 will be the year Meursault achieve much greater acclaim outside their own fair city. Meursault's debut album, Pissing On bonfires/Kissing With Tongue came out last year and a new EP, Nothing Broke, followed earlier this year.



4/5...Pennycook's urgent voice personifies the collision between the Reid brothers (Jesus Mary Chain) and Guy Garvey (Elbow)...the results are compelling' (MOJO)



5/5 ALBUM OF THE MONTH...one of the country's most promising new bands - one of Scotland's records of the year.... Make no mistake, after a spin of this sublime record only one word will pass your lips:magnificent' (THE SKINNY)



A gold medal to distorted pop cabal Meursault.... chock-a-block with rowdy aural confections and gilded treats' (PLAN B)



...strong on existential angst, Arab Strap rage and self loathing...equally capable of the lovelorn misery of King Creosote or James Yorkston... Meursault do it uncommonly well:completely absorbed and unselfconcious, they vitally don't use the noise as an excuse not to write any tunes' (WORD)



4/5 Meursault are the most exciting band to emerge from the capital since Found..they variously recall a lo-fi, rough edged Arcade Fire and Thom Yorke's solo album The Eraser...it'd be a crime if this fine band got overlooked... what mostly makes Meursault stand out from the crowd is the quality of Pennycook's songs, which are simultaneously romantic, intensely bleak and wryly funny' (THE SCOTSMAN)



Pissing On Bonfires/Kissing With Tongues is an unassuming triumph of glum-pussed Scottish charm...' (DROWNED IN SOUND)

myspace.com/meursaulta701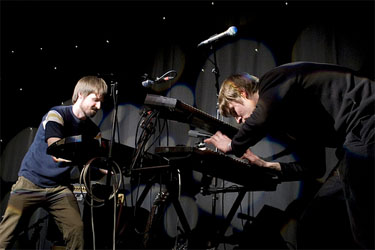 OVER THE WALL have come a massive distance since we first caught them at a T Break heat in August 2007 and thought they were one of the stand-out acts on the bill that night, having recently signed a publishing deal for their music and just been tipped by The Skinny as one of their bands to watch in 2009. Over The Wall have a fantastic attitude to making and playing music (and this seems to be borne out by the ebullient duo's attitude to life in general, as they are two of the nicest people we have met and worked with since starting Limbo) and both look and sound like they're having the time of their lives when they are up on stage, cracking a number of jokes at their own expense last time they played, getting everyone in the room smiling and then going on to wow the crowd and win unanimous approval at the end. Musically, they plough a rich new wave rock/pop seam, using guitars, synths, a laptop and trumpet, which pays homage to bands such as The Cure and New Order but doesn't really sound like either of them. No, no, these guys just sound like Over The Wall and that's another reason we like them so much. Trust us, you will be very impressed too! Over The Wall's debut EP, The Rise And Fall Of Over The Wall, is out now.



'Thrilling' (The Fly)



This is electro pop with reflective neutrality and bite – 9/10' (Rock Sound)



One of the most likeable live bands you can witness in Scotland at the moment, their touching lo-fi electronic nuances give us all a reason to look to the future with a glint in our eyes' (The Herald)



…There are rare occasions when something truly great stops you in your tracks. And Over The Wall have done just that… A superb mix of clashing styles… there's also an urgency and honesty to their music that's rare in a band so new' (The Line of Best Fit)

myspace.com/overthewall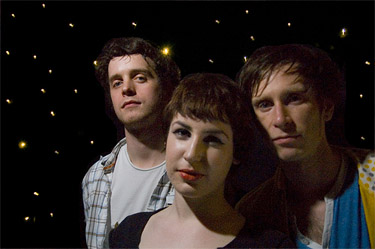 COME ON GANG! are destined for great things. A guitarist (Mikey) from Galashiels, a bassist (Rob) from Peebles and a singer/drummer (Sarah) from Brighton, they are guaranteed to get everyone jumping to their high-octane, punky, indie-pop. They launched their debut single, Wheels, at Limbo last July (check the newsletter from that week for the video interview we did back then) and were last seen at Limbo in March, having also launched their second, split 7", single with Kid Canaveral at the club in December. A little bit Belle And Sebastian, a little bit Yeah Yeah Yeahs and a little bit of something else that's quite simply Come On Gang!, if you're not feeling these tunes, you've either had your soul possessed or you need to see a shrink. Melodic, heartfelt and firing on all cylinders, Come On Gang! are a proverbial rocket-ship shooting for the moon. Come On Gang! have released two singles to date.



Debut single Wheels is catchier than the Spanish flu' (The Austin Chronicle March 2009)



Hipsters beware, these ebullient efforts won't allow you to stand still' (Is This Music, February 2009)



They are the hottest band in the world today! The band are truly awesome, their live show is an experience and a half' (SRA Approved Track of The Week - Start The Sound - December 2008)



Come On Gang! are just getting super good, super quickly. They swoop and soar and rattle and fizz and it's all so exciting and young and bastard brilliant it's like injecting sherbert and vodka into a vein in your eyeball' (www.showburner.com, November 2008)



Brittle, incandescent power pop to crash small cars to' (The List on Wheels - Songs of The Year, December 2008)



Get past the novelty that drummer Sarah Tanat Jones also sings lead vocals and witness the ample skills on show from this Edinburgh power pop trio and you'll concede this is no gimmick. We assume sublime singles Wheels and Start the Sound are only the start of it all' (The List Hot 100, December 2008)



ECA trio Come on Gang! boast quite the piece de resistance in drummer/vocalist Sarah Tanat Jones, whose sweetly rendered yet gymnastic turns add a genuine touch of ethereality to some admirably tight punk pop' (The Skinny, December 2008)

myspace.com/comeongangmusic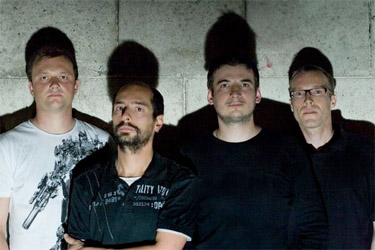 NIGHT NOISE TEAM is a Franco-Italian, Fife-Irish four-headed beat monster. In the studio, NNT draws on experimentation and lush arrangements informed by chanson, progressive disco, melodic rock, soundtracks and the absurdist spoken word. Live, the sound is a Route One, guitar-led rush of melody and urgency. Enigmatically described as 'bridging a seemingly unassailable gap between Joy Division and the Scissor Sisters' (The Skinny), NNT's first album 'Ronde de Nuit' has been well-received by NME, Is This Music? and The List among others.



NNT make gorgeously dry Eighties-sounding rock. While Sean's arch lyrics and baritone vocals and the down-tempo beat are straight out of the Eighties decade, the guitars are often pure Radiohead creating an exciting hybrid sound' (Rick Fulton - Scottish Daily Record)



The sound of Belfast and Paris' (Tom Robinson - Radio BBC6)



Moody and introspective...Stay up late and go and see them' (Leither Magazine)



Interpol's atmospherics swirl around the medicated haze of Galaxie 500...dark Arab Strap-style spoken words...brr' (NME)



Another band to add to the growing roster of great Edinburgh bands that are doing something truly exciting' (Is this music?)



bridges a seemingly unassailable gap between Joy Division and Scissor Sisters, handled with an effortless pop nous that may induce apoplexy with the puritanical, dour indie crowd' (Skinny)



A cracking album' (The List)



Like The Smiths a lifetime ago, it urges you to claim it as your own' (Idiomag)

myspace.com/nightnoiseteam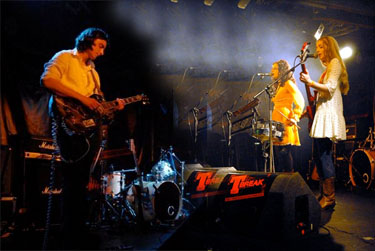 HAIGHT-ASHBURY's Jen and Kirsty were previously in a band signed by labels in London and Japan (supporting acts such as the Sugarbabes, no less, in massive arenas) when they were just seventeen. With their beautiful close harmonies and simple percussion, plus Kirsty's brother Scot laying down honeydew melodies on guitar, Haight Ashbury enchant everyone every time they play Limbo. It's a mesmeric take on classic West Coast American sounds, as you might imagine for a group who take their name from the San Francisco district which formed the original hub of the psychedelic revolution in the late Sixties. Haight-Ashbury have not released anything yet, bar the live recording on Limbo Live Volume 1.



The two female singers, backed by a talented male guitarist, are like a new and improved version of a psychedelic Abba. The lyrics are great, the vocals are haunting, the timing is impressive and they fill the stage like a bigger much fuller band' (Sunday Herald)



...and our old (although they are young) pals Haight-Ashbury whose blend of hippy rock just gets better and better... poptastic Americana with a twist' (Daily Record)



This Glasgow trio promise to deliver a great 2008. the three-piece hardly put a foot wrong in a captivating set of psychadelic-tinged folk. sublime effect' (Sunday Mail)



Evoking the summer of love with excellent close harmonies' (The Herald)

myspace.com/haightashburyuk



MAILING LIST
FACEBOOK/MYSPACE
Come and hang out on Facebook here or say hi to us over here at MySpace
CHEAP DRINKS!

Don't forget you can take advantage of £2 bottles from any of the Voodoo Rooms' three bars by showing your Limbo wrist-band to the bartender.
VENUE INFO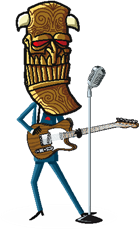 Limbo takes place at The Voodoo Rooms, West Register Street, Edinburgh.

Times: 8.00pm - 1am *
First band 8.30, second band 9.15, third band 10.00

Entrance: £4 *

Ph: 0131 556 7060 (venue) / 0131 477 6916 (promoter)

* except where otherwise advertised
Sponsored Links