Have you ever seen a digital accordion? Have you ever fought a deadly scorpion? Have you ever eaten beef bourguignon? Have you ever travelled time in Delorean? No? Well, The Lovely Eggs are pretty sure you're going to Hell!

Fortunately, however, you can redeem yourself somewhat by getting yourself down to Limbo this week for a very special line-up.

Firstly, we're extremely pleased to be welcoming the truly wonderful Lovely Eggs all the way from Lancaster. THE LOVELY EGGS have an idiosyncratic way with music and song, the likes of which rarely comes out of anywhere bar this fair isle but is perhaps not surprising for a band from the English north-west, where people often seem to have quite an unusual, peculiar sense of humour (Stockport fish fetishist and all-round cheery DJ scamp Mr Scruff also springs to mind, for example). So, The Lovely Eggs sing songs about quite different topics with a gloriously lo-fi production aesthetic... You should check out Have You Ever Heard A Digital Accordion (surely one of the most entertaining songs committed to record last year), and Tyrannosaurus Rex for Christmas, for starters.

Secondly, this week is going to be particularly special because Limbo is also staging Glasgow's amazing SECOND HAND MARCHING BAND in their full and glorious twenty-two-piece entirety. We're very excited about this, not least because of their incredible talent, but also because of the question of how to fit them all on the stage!

Thirdly, we're welcoming back fantastic Edinburgh art-rockers THE PINEAPPLE CHUNKS who wowed Limbo earlier this year with one of the most outrageous gigs we've seen.

It really is quite a triple bill this week so don't miss it. As always, first band is on at 8.30 so don't be late!

If you're on Facebook, tell us that you're coming along here.

Have you picked up your copy of Limbo Live Volume 01 yet?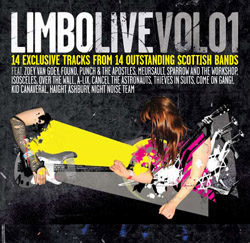 What a brilliant snapshot of Scotland's hottest new musical acts. Limbo have excelled themselves ... this is triumph." The Daily Record



A bastion of near brilliance." The Skinny

Head over to limbolive.co.uk where you can now hear snippets of all the exclusive tracks on the CD.

Also, click below to see the accompanying booklet from the CD (press the esc key to return).


Check out all of our photography here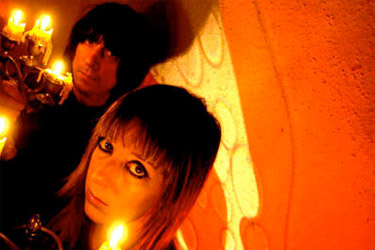 Lancaster duo The Lovely Eggs played their first ever gig in New York in 2006 and since then they have attracted quite a following! DJs Huw Stephens, Marc Riley, Rob Da Bank, Steve Lamacq, Tom Robinson and Jon Kennedy are all fans of The Lovely Eggs' quirky lo-fi, DIY sound which has been described as 'Fitting snugly between kooky kitsch and borderline avant-garde'.

The Lovely Eggs have played all over the world from Amsterdam squats and Los Angeles scrap yards to steam trains in Ripley! David travels around with a unique drum-cycle with handlebars on the front so he can drum and bike at the same time. He also plays the bicycle bell and squeaky horn and things like the glockenspiel, ukulele and slightly wonky recorders. Holly sings and plays the guitar. And sometimes she hits a drum with a wooden stick with wool tied around the end.

The band also has a wide internet fan base and was voted 'Best Band of 2008' by blog-site The Devil Has The Best Tuna. Their first single and international radio hit 'I Like Birds But I Like Other Animals Too' was voted 'Best track of 2008' and the title track of their latest EP 'Have You Ever Heard A Digital Accordion?' was ranked #11 by listeners of the popular internet radio station Dandelion Radio in their 2008 Peel-inspired Festive 50 chart.

Holly used to be in the all-girl indiepop band Angelica, who received widespread critical acclaim and extensive airplay on Radio 1 with songs like 'Why Did You Let My Kitten Die?' and 'Bring Back Her Head', which is featured in the film Malice in Wonderland, to be released later this year.

If You Were Fruit showcases all the magic of The Lovely Eggs' unique, funny, sad, moving, bewildering, beautiful sound and every one of its 14 tracks is an absolute gem. It features 12 brand new tracks as well as the band's two smash hits to date, 'Have You Ever Heard A Digital Accordion' and 'I Like Birds (But I Like Other Animals Too)'. It is due for release on Monday June 1st and will be available to buy from all good record shops (distributed by Cargo), on iTunes, and from the Cherryade website (see below). The band also plan to release the album on American label Happy Happy Birthday To Me later in the year and to promote it with a US tour with label-mates Cars Can Be Blue.

Limbo has also been assured that The Lovely Eggs live experience is a truly unforgettable one.



You won't hear another band like this anywhere between now and the end of the millennium. The Lovely Eggs are just brilliant!' (Huw Stephens, Radio One)



I love them so much' (Unpeeled)



Utterly gorgeous – great things await' (The Sunday Experience)

myspace.com/thelovelyeggs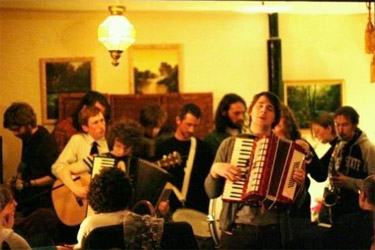 The Second Hand Marching Band are a phenomenon, to say the very least. A band of 22+ people, so just getting everyone together for a gig is a task in itself! They play untraditional folk music with a mixture of dance, pop and post-rock influences. The band came together in the autumn of 2007. Pete moved to Fife at the end of 2006 and, with lack of access to a car or pals, spent time writing some songs and buying old instruments. By the end of summer there was a set of songs, which he passed round, then put on the web. Those that got back to him became the Second Hand Marching Band. Their sound is folky, featuring accordions, ukeleles, mandolins, brass, saxophones, clarinets, flutes and glockenspiels amongst other instruments. It has been compared to Beirut, Sufjan Stevens and other ensemble folk bands. The music is often influenced more by Glasgow's post-rock crew, such as Mogwai, with the songs building up in layers, albeit with acoustic instruments and not distorted guitars. All the songs can be played anywhere, using acoustic instruments and marching drums.

The band's first record, an EP called "A Dance to Half Death", is out now on the Chaffinch Records label. Chaffinch is a small but perfectly formed label from Wishaw, which has previously sported releases from King Creosote, Anthony Reynolds, Sancho and Lucky Luke. It is available through myspace.com and from Avalanche and Monorail records in Glasgow.

The SHMB started performing in December 2007 and have in the last year been up and down Scotland playing venues, tea houses, parks, festivals and fields. They have an EP coming out on Chaffinch Records called 'A dance to half death'. Band-members also play variously in other outfits, most notably including Eagleowl, Q without U, Dananananaykroyd, Lula Maes and How to Swim. Due to their size, the SHMB are often spotted practising in car parks, outside pubs or in fields. You have been warned.



A communal, swaying magnificence caught somewhere between the roughshod Balkan folk of Beirut and the mass instrumental oomph of Arcade Fire... a mighty strength and depth of emotional punch indeed....live they're blossoming into something big and beautiful' (The List)



Slotting nicely into Scotland's blossoming alt-folk scene, they won't outnumber their audience for long' (The Skinny)



Dance To Half Death is a tune that Vashti or James Yorkston would be proud of. Similarly, We Walk In The Room with its boy-girl vocals could be enough to reunite Richard and Linda Thompson, a song they'd be proud to have written. This lot could be going places - and I'm not just talking Glastonbury or Cambridge' (Is This Music?)

myspace.com/thesecondhandmarchingband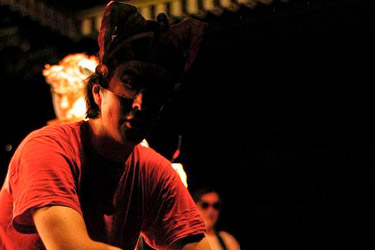 The Pineapple Chunks were something of a revelation at Limbo back in January and, in a good way, one of the weirdest bands we've had on at Limbo. They were really loose (it was only their fourth gig or something but the looseness was definitely part of their charm), pretty psychedelic and had a fantastically odd sense of humour, the climax of which came when drummer Owen performed an hilariously bizarre performance-art piece while wearing a mask and then kept the mask on throughout their finale. They cite The Fall, Huey Lewis And The News, Stephen Malkmus, Deerhoof and The Beta Band as influences. Interesting mix. They forget to mention Syd Barrett, and both The Doors and, actually, Pulp sprang to mind watching their Limbo debut. Lyrically at the very least, there seems to be something of a debt owed to Barret, though (subconsciously perhaps), with their stream-of-consciousness, surrealist flow. They're not that far away from early Floyd musically either. Anyway, it's an interesting sound and not without humour, as the hilariously miserable and quite epic I Left My Mojo In London Town exhibits on the chorus: 'Oh, and i lost my soul, I spent nine f****** years in that stinking hole.' Sure to strike a chord with a number of Limbo regulars, not to mention a lot of other folk who have little time for the Big Smoke, the Pineapple Chunks sound very British and refreshingly different from the mass.

myspace.com/thepineapplechunks





Last week's Limbo saw the arrival of the incredible Colourmusic, touring the UK all the way from the States, and newish Edinburgh band White Heath. It was a great night.


White Heath go on first. White Heath's sound has already moved on a bit since the last time Limbo saw them (live at the GRV earlier this year) but what's immediately striking about them once again is the interesting range of instruments they're using, from the very un-hippy, but bongo-like, upturned kick drum, to trombone, fiddle, piano and then singer Sean's unusual voice. There's really quite a lot going on on stage! But they're also doing something quite different and original, which sounds genuinely fresh and fairly accomplished too from a musical perspective, albeit clearly still at a very early, developmental stage. That said, White Heath is developing fast and in an interesting direction, with each gig throwing up something new. Expect to see and hear much more of them, as they roll out across Scotland and beyond this year.

myspace.com/whiteheath


There's a very short break, before Colourmusic take the stage, with singer Ryan announcing 'hello Edinburgh, we're all REALLY VERY HAPPY to be here!' The entire band is rocking a white boiler suit look and quite a lot of facial hair, which is fantastically oddball-hippy look and suits their slightly strange, drily comical image. Colourmusic are a funny bunch indeed. Much of their PR spiel on the web and the visuals they've brought along for the show subtly pokes fun at the Church of Scientology. They're an original bunch, too, this quartet, with three of them from Oklahoma and guitarist Nick from Whitby (north Yorkshire) and all four of them exhibiting a keen intelligence, while taking enormous pride, with a very genuine integrity, in what they do. During sound-check, Ryan tells Limbo that Colin (bass) is actually the best guitarist in the band and then explains that the group runs in a very democratic way. This speaks volumes about how good they are as musicians but it's when they actually start performing that it's obvious that they can walk the walk as well. Colourmusic may well be taking the piss with their PR and image, but once they're actually on stage they don't screw around at all. They REALLY know what they're doing and proceed to blow the Limbo crowd away, quite literally, like a runaway train, with one of the best shows yet to have happened at the club. Watching Colourmusic for the first time is a very memorable experience and, hazarding a guess, probably somewhat akin to the experience of witnessing a classic rock band such as Led Zeppelin or Nirvana playing one of their early, breakthrough shows back in the day. Their recorded music, great as it is, actually sounds quite pastoral but when they are on stage, they rock out one hundred per cent, they do it in a way which somehow sounds completely fresh, and they are so tight, it's impossible to fault a moment in their set. They play about six songs and then it's all over, in less than half an hour, thanking the crowd and leaving the stage, with Limbo left to wonder at the marvels that have just been imparted to it and buzzing with the excitement of having just witnessed something so bright, intense and new.

A very healthy buzz had reached Limbo from Colourmusic's set at the Great Escape festival in Brighton, so there was quite a bit of anticipation for this show. It didn't disappoint at all. Don't be at all surprised to see Colourmusic picked up by one of the more savvy and hip British indie labels very soon and then a Limbo return on their next European tour.

myspace.com/colourmusic

Colourmusic, Yusuf Azak and White Heath pictures by Adam Trussell


---

Next week's Limbo sees the return of formidable Glasgow outfit Punch And The Apostles, plus Edinburgh folk types The Stormy Seas. There will be a third band too but still tbc. Punch And The Apostles are one of the most exciting bands in Scotland right now, slaying fans wherever they play with their uniquely unhinged brand of gypsy punk. The Stormy Seas bring their own take on folk motifs to the table, offering a perfect complement to the fierce spike in the Punch.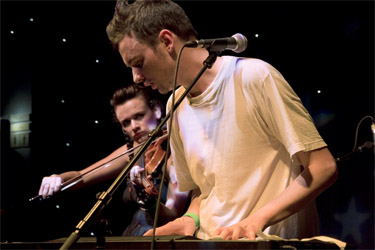 Brilliantly rousing and gloriously anarchic, Punch And The Apostles are a hectic, eclectic seven piece, with accordions and horns to the fore, led by a spindle-framed chaos merchant. A band which typifies the pointless inconsequence of blunt categorisation, their mighty, meaty songs and genre-busting approach has already garnered much in the way of plaudits and accolade, receiving notable air time on Radio 1, Radio Scotland, Radio 6 and XFM. Aptly named, their music whacks you in the face but then gently strokes your hair. Punk, jazz, blues, rock and a big dollop of chaos are perfectly orchestrated to merge seamlessly with gentle waltzes and eastern European folk tunes. The result is a jaw dropper.

Together just over a year, they have already scraped, scooped, gouged and gashed a niche for themselves, performing around 70 gigs, putting out six singles in various formats: two vinyls on Lucky Number 9, two downloads on Ten Tracks and two on CD compilations featuring the best new Scottish bands, compiled by Art Goes Pop, and Limbo Live. They have also played a Radio 1 live session, a bunch of Scottish festivals and a week of gigs across London.

At present their phenomenal debut album (Punch and the Apostles) recorded with producer Mark Freegard (Manic Street Preachers, The Breeders) is ready and waiting for release, while a second is gestating at turbo speed. Their reputation as a provocative, dynamic and riotous live band has seen them build up a loyal and excited following in a matter of months. Having just recorded a 45 minute piece of music (set to visuals) they are now back playing gigs, so we urge you to have a listen and take a look because, with such a passionately uncompromising approach to making music, this band are creating some of the most innovative and original songs and sounds that you will ever hear.



.....the most exciting and provocative band in Scotland" ..... Rick Fulton/Daily Record



.... one of the best live bands in the world right now" Jim Gellatly/Radio Scotland



.... a band making waves" Vic Galloway/Radio Scotland



.....wowing the masses " The List

myspace.com/punchandtheapostles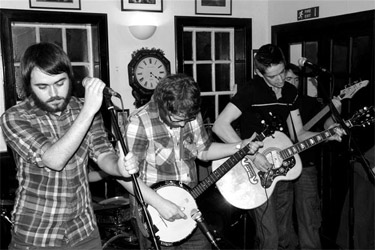 The Stormy Seas are a new Edinburgh six-piece, featuring guitar, bass drums, banjo, melodica, squeezebox and fiddle. There's a strong Scottish folk tradition at work in their music, with old sea shanties rubbing shoulders with more modern styles. It's clear that they're very respectful of tradition but also keen to usurp it and create something completely new with a bit of that punk spirit.

'The Stormy Seas play pretty aggressive traditional Scottish folk music. And they play it really well. ... a thoroughly rousing and enjoyable start to the night. And the interplay of the vocals – I've just been raving about My Latest Novel and how they do it – well the 2 vocals are an essential ingredient to this bands set up. Definitely ones to watch this year' (The Steinberg Principle)

myspace.com/thestormyseasmusic



MAILING LIST
FACEBOOK/MYSPACE
Come and hang out on Facebook here or say hi to us over here at MySpace
CHEAP DRINKS!

Don't forget you can take advantage of £2 bottles from any of the Voodoo Rooms' three bars by showing your Limbo wrist-band to the bartender.
FOR SALE:
BACKLINE AND PA
1 Peavey TK0115 bass amp
1 Vox Valvetronics AD5OVT
1 Peavey Bandit 112
1 Peavey KB100 amp
1 Trucker Custom Sound Amp
1 Sun SR8300P mixer for PA
1 Carlsboro bass amp
2 150 watt Fender speakers
2 Legacy speaker stands
1 Pearl drum kit (includes 1 tom, 1 snare, 1 kick, 2 cymbal stands, 1 hi hat stand, 1 stool)

Email us for details.
VENUE INFO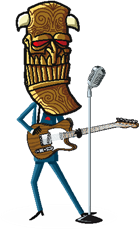 Limbo takes place at The Voodoo Rooms, West Register Street, Edinburgh.

Times: 8.00pm - 1am *
First band 8.30, second band 9.15, third band 10.00

Entrance: £4 *

Ph: 0131 556 7060 (venue) / 0131 477 6916 (promoter)

* except where otherwise advertised
Sponsored Links