We've got another very special Limbo for you this week. You probably haven't heard of any of the bands, but rest assured, this is going to be good.

COLOURMUSIC are over from the US and as the supporting act for British Sea Power's Do You Like Rock Music? tour, they won them accolades across the board. Their sets are always wildly theatrical and their experimentation with colour on stage is renowned.

We've got two amazing support acts too. Astonishing new Aberdonian talent (now based in Glasgow), YUSUF AZAK is currently creating a stir across Scotland with his very original ethereal sound and not to be missed. Finally, Edinburgh's WHITE HEATH are also making a name for themselves with their innovative multi-instrumental live shows.

Come along and see for yourself. Guaranteed entertainment!

Get down for 8.30 sharp to see White Heath. Limbo will be 6 quid during May.

Have you picked up your copy of Limbo Live Volume 01 yet?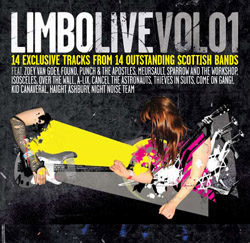 What a brilliant snapshot of Scotland's hottest new musical acts. Limbo have excelled themselves ... this is triumph." The Daily Record



A bastion of near brilliance." The Skinny

Head over to limbolive.co.uk where you can now hear snippets of all the exclusive tracks on the CD.

Also, click below to see the accompanying booklet from the CD (press the esc key to return).


If you're on Facebook, tell us that you're coming along here.

Check out all of our photography here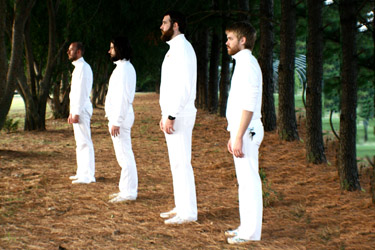 Only three things in life are certain: births, deaths and marriages. What also seems quite certain at this moment, however, is that Colourmusic promise to be one of the wackiest and most wonderful live acts to have graced the Limbo stage so far this year.

The band started as a duo: British Nick Turner (then an exchange student) and Okie Ryan Hendrix, who met each other at Oklahoma State University in 1998. Basing their work on Newton's color theories, they called themselves Colourmusic, using the British spelling to make Nick feel better about living in Oklahoma. The remaining three members, Nicholas Ley, Colin Fleishacker and Cry Suter, all Okies, eventually joined, but Colourmusic didn't fully coalesce until 2002, when they wrote Yes!, a rollicking, energetic song that oscillates between driving 4/4 beats and tribal-influenced rhythms. Ryan calls it 'the best workout song ever' and it struck some label interest, but it's much more than that, showcasing the quintet's messily refined indie rock, their ability to write from a group perspective and their innovative, yet catchy, melodies that work their way into your head without you even knowing it.

This is all on display at Colourmusic's wildly inventive shows, which also demonstrate the band's, errr, vivid personalities in full. In the past, they've been known to have their hair and clothes cut off, allow themselves to be painted, employ a motivational speaker, theatrically kill off and then resuscitate British Nick, and, backwards Okies that most of them are, try to hypnotize their audiences into sleeping with them. There was even a year, the Roy Period, in which all five members of Colourmusic pretended to be the same person, a Mr. Roy Biv, wearing similar clothes, growing similar beards, even trying to date the same girl, a venture which, to say the least, didn't end well...

Most recently, as the supporting act for British Sea Power's Do You Like Rock Music? tour, Colourmusic painted their equipment and dressed themselves in white, the only colour on-stage coming in the form of huge wheels. The set won them accolades across the board, including from a Village Voice critic who proclaimed the crowd at their 2008 SXSW show more into their music – which their manager Scott Booker sees as a cross between Os Mutantes, the Who and Queen – 'than [with] any band I had seen…in Austin, including Lou Reed.'

Having been all over US college radio and the MTV Network, featured on on the SXSW segment of The Tonight Show in 2007 (guest-hosted by The Flaming Lips' Wayne Coyne, no less) and were also declared one of the festival's top 10 bands by TeenVogue, they've also shared stages with Silversun Pickups, Nada Surf, and the Postmarks, among others.

Colourmusic are now ready to conquer the world with their full-length debut, f, monday, orange, february, venus, lunatic, 1 or 13.

myspace.com/colourmusic




Yusuf Azak is a folk/acoustic musician originally from Aberdeen but now based in Glasgow. Having played in several bands Yusuf started writing solo material over the last two years and has performed across Scotland, citing influences such as Bob Dylan and Nick Drake. Last year seen the release of two EPs, 'Gazelle' and 'Light Procession', which were well received and both received airplay on BBC Radio 1 and BBC Radio Scotland. After a successful string of summer shows last year, he also made his first festival appearance at Belladrum. Yusuf will be playing throughout the UK in 2009 and is currently recording his debut album.

Thanks to Toad for pushing this one. Great review of his live show here



earnest, frenetic, percussion-heavy acoustica and an insistency that announces him as one to watch out for' (The List)



gorgeously intricate picked guitar and breathless vocals and sweet harmonies...A special set of songs that beg to be heard by a wider audience' (Is This Music?)



combines beautiful harmonies and a spiritual-like rasp, as well as guitar strumming not too far off from the late great Nick Drake' (Kata Rokkar)



Quite exciting indeed' (The Skinny)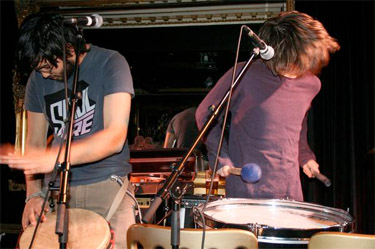 White Heath's myspace only tells half the story and their live show is something else so you really need to get down early to see them as well.

White Heath is a band of five friends formed in early 2008 and based in Edinburgh, united by a common love of Twin Peaks and all night games of Risk. We write songs using piano, guitar, violin, trombone, percussion and vocals, and our aim is to write music with imagination and honesty, taking our cues from the songs of The Band, the compositions of Mahler and Bartók and the innovative attitudes of bands such as Mogwai, Talking Heads and Tool. We enjoy performing in any setting, from intimate venues like the GRV and Henry's Cellar Bar to large-scale collaborations with the Scottish School of Contemporary Dance and the Edinburgh Charity Fashion Show. This summer we are making our festival debut at the Kelburn Garden Party, with fresh recordings planned.



There was something mysterious about their blend of space-rock and tribal noise... this band have all the dimensions to establish themselves as one of the best 'alternative' acts in Scotland' (Bluesbunny Independent Music Reviews)



Make one hell of a beautiful noise. Too complex to sum up in one track' (Pivo Pivo)



Mind blowing in every sens' **** (The Journal)



Beautiful cabaret cacophony' (The List)

myspace.com/whiteheath





Last week's Limbo was a bit of a one-off, featuring enthralling, original US outfit Pit Er Pat (Thrill Jockey), supported by beguiling Panda Su, who came down from St Andrew's to make her Edinburgh debut at Limbo, and Molly Wagger, who were performing without singer or drummer and so playing a predominantly instrumental set. There was a proper variety of really great music.


Molly Wagger are on first and they're using laptop, synth, guitars (electric, bass and acoustic) and (some) vox. The band have recently done a deal with London's Tirk label and, with their love of a good groove and highly accomplished productions and song craft, it's clear why label boss Sav Remzi liked them so much. During the sound check James (laptop, synth, guitar) explains that the band, who have been performing together for over two years now but only played a handful of gigs in this time, entered Virgin talent-spotting competition Road To V and Sav was one of the judges on the panel. They didn't make it to the finals, but Sav liked them so much he stayed in touch, culminating in the recent deal. Result. Tirk is a tiny label but Remzi's been canny enough to sign New Young Pony Club and Fujiya & Miyagi, both of whom have been picked up by the majors following Tirk's ground-work breaking these acts. But, while Molly Wagger do experiment with synths/electronics and beats, it must be stressed that they sound quite different from these Tirk other alumni. With their singer currently living the life of riley, holed up in a squat in Barcelona, their Limbo set is very laid-back affair, with David (guitar) taking centre stage and chatting amiably with the crowd, which at this stage in the night's proceedings is largley made up of Molly Wagger's pals, so it's a cosy atmosphere. They play for about half an hour, treating Limbo mainly to their more abstract, instrumental material and get a great response. Expect to see them again soon.

myspace.com/onionandcheese


Panda Su goes on second. She's using acoustic guitar and singing and her percussionist, Jaxadam, is using a shaker, tambourine, melodica and children's xylophone. They make a very pretty sound, not least because Su's got one of the most beautiful voices Limbo's heard this year. She's a compelling performer too and this is really brought home when she performs a song which involves her reeling off the letters of the alphabet while strumming her guitar. Jaxadam embellishes Su's voice and guitar-playing well with the percussion but it's when he starts on the children's xylophone that the room falls so quiet that you could really hear the sound of a penny dropping. They have the whole room transfixed: everyone seems to fall in love with Panda Su. She's been working in the studio with Steve Mason (aka Black Affair, ex-King Biscuit Time, Beta Band) and the fruits of their combined labours are sounding fantastic, too. Expect to see and hear a lot more of Panda Su this year.

myspace.com/thepandasu


When headliners Pit Er Pat go on the room has emptied out a bit with the usual rush to the bar, cigarette break etc, but it's only a very short matter of time before it fills up again. The American duo have got a very different set-up, with Rob playing a small stand-up drum kit, using electronic pads as well as traditional kick and snare, and Fay playing electric guitar and singing and the sound they make is also very different, so unsurprising that they're playing this date en route to All Tomorrow's Parties in Minehead, Somerset. Before the gig, the band tell Limbo they've actually been together for about eight years and the current tour is to promote their fifth album, High Time, but tonight's show will largely be made up of new material they've written since they started the tour. Limbo is completely new to Pit Er Pat but definitely a fan. It's a spooky sound and so very intriguing, between the weird time signatures, the minimal guitar riffs and then Fay's other-worldly voice delivering her lyrics like a mantra. Listening to them play and watching what they're doing, it looks and sounds incredibly difficult, so intricate are some of the rhythms and drum patterns. Occasionally, the duo lose track of each other, but they just laugh it off and carry on, unperturbed. It's very endearing. They're equally easy-going and at peace with themselves off-stage and certainly some of the nicest people Limbo has worked with from outside Scotland. They are due to headline at ATP the following night (apparently one of the Breeders, who are curating this year's festival, is a fan) and, on tonight's evidence are bound to go down a storm. Good luck to them with the rest of the tour and the album.

myspace.com/piterpat

Pit Er Pat, Panda Su and Molly Wagger pictures by Adam Trussell


---

Next week it's the arrival of the, truly wonderful, Lovely Eggs all the way from Lancaster! We were first tipped off about The Lovely Eggs by big, bad, brilliant Andy Brown, who heard them on Dandelion Radio's Festive 50 on his internet wireless device. The Lovely Eggs have an idiosyncratic way with music and song, the likes of which rarely comes out of anywhere but this fair isle and is perhaps most untypical of a band from from the north-west, where everyone seems to have quite an unusual sense of humour (Stockport fish fetishist and all-round cheery DJ scamp Mr Scruff springs to mind immediately, for example). So, The Lovely Eggs sing songs about quite different topics with a gloriously lo-fi production aesthetic... Check out Have You Ever Heard A Digital Accordion, which was surely one of the most charming and entertaining songs committed to record last year, and Tyrannosaurus Rex for Christmas, for starters. Bonkers.

The Lovely Eggs promoting debut album If You Were Fruit (Cheeryade) with support from Edinburgh aces The Second Hand Marching Band, making their Limbo debut, and The Pineapple Chunks, who you might have caught when they wowed Limbo back in January.

If you're on Facebook, tell us that you're coming along here.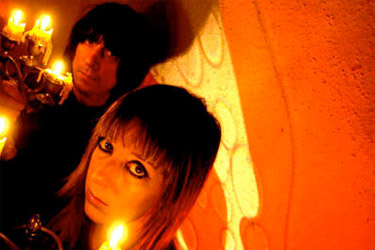 Lancaster duo The Lovely Eggs played their first ever gig in New York in 2006 and since then they have attracted quite a following! DJs Huw Stephens, Marc Riley, Rob Da Bank, Steve Lamacq, Tom Robinson and Jon Kennedy are all fans of The Lovely Eggs' quirky lo-fi, DIY sound which has been described as 'Fitting snugly between kooky kitsch and borderline avant-garde'.

The Lovely Eggs have played all over the world from Amsterdam squats and Los Angeles scrap yards to steam trains in Ripley! David travels around with a unique drum-cycle with handlebars on the front so he can drum and bike at the same time. He also plays the bicycle bell and squeaky horn and things like the glockenspiel, ukulele and slightly wonky recorders. Holly sings and plays the guitar. And sometimes she hits a drum with a wooden stick with wool tied around the end.

The band also has a wide internet fan base and was voted 'Best Band of 2008' by blog-site The Devil Has The Best Tuna. Their first single and international radio hit 'I Like Birds But I Like Other Animals Too' was voted 'Best track of 2008' and the title track of their latest EP 'Have You Ever Heard A Digital Accordion?' was ranked #11 by listeners of the popular internet radio station Dandelion Radio in their 2008 Peel-inspired Festive 50 chart.

Holly used to be in the all-girl indiepop band Angelica, who received widespread critical acclaim and extensive airplay on Radio 1 with songs like 'Why Did You Let My Kitten Die?' and 'Bring Back Her Head', which is featured in the film Malice in Wonderland, to be released later this year.

If You Were Fruit showcases all the magic of The Lovely Eggs' unique, funny, sad, moving, bewildering, beautiful sound and every one of its 14 tracks is an absolute gem. It features 12 brand new tracks as well as the band's two smash hits to date, 'Have You Ever Heard A Digital Accordion' and 'I Like Birds (But I Like Other Animals Too)'. It is due for release on Monday June 1st and will be available to buy from all good record shops (distributed by Cargo), on iTunes, and from the Cherryade website (see below). The band also plan to release the album on American label Happy Happy Birthday To Me later in the year and to promote it with a US tour with label-mates Cars Can Be Blue.

Limbo has also been assured that The Lovely Eggs live experience is a truly unforgettable one.



You won't hear another band like this anywhere between now and the end of the millennium. The Lovely Eggs are just brilliant!' (Huw Stephens, Radio One)



I love them so much' (Unpeeled)



Utterly gorgeous – great things await' (The Sunday Experience)

myspace.com/thelovelyeggs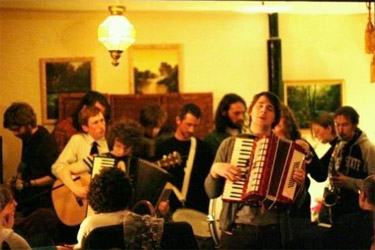 The Second Hand Marching Band are a phenomenon, to say the very least. A band of 22+ people, so just getting everyone together for a gig is a task in itself! They play untraditional folk music with a mixture of dance, pop and post-rock influences. The band came together in the autumn of 2007. Pete moved to Fife at the end of 2006 and, with lack of access to a car or pals, spent time writing some songs and buying old instruments. By the end of summer there was a set of songs, which he passed round, then put on the web. Those that got back to him became the Second Hand Marching Band. Their sound is folky, featuring accordions, ukeleles, mandolins, brass, saxophones, clarinets, flutes and glockenspiels amongst other instruments. It has been compared to Beirut, Sufjan Stevens and other ensemble folk bands. The music is often influenced more by Glasgow's post-rock crew, such as Mogwai, with the songs building up in layers, albeit with acoustic instruments and not distorted guitars. All the songs can be played anywhere, using acoustic instruments and marching drums.

The band's first record, an EP called "A Dance to Half Death", is out now on the Chaffinch Records label. Chaffinch is a small but perfectly formed label from Wishaw, which has previously sported releases from King Creosote, Anthony Reynolds, Sancho and Lucky Luke. It is available through myspace.com and from Avalanche and Monorail records in Glasgow.

The SHMB started performing in December 2007 and have in the last year been up and down Scotland playing venues, tea houses, parks, festivals and fields. They have an EP coming out on Chaffinch Records called 'A dance to half death'. Band-members also play variously in other outfits, most notably including Eagleowl, Q without U, Dananananaykroyd, Lula Maes and How to Swim. Due to their size, the SHMB are often spotted practising in car parks, outside pubs or in fields. You have been warned.



A communal, swaying magnificence caught somewhere between the roughshod Balkan folk of Beirut and the mass instrumental oomph of Arcade Fire... a mighty strength and depth of emotional punch indeed....live they're blossoming into something big and beautiful' (The List)



Slotting nicely into Scotland's blossoming alt-folk scene, they won't outnumber their audience for long' (The Skinny)



Dance To Half Death is a tune that Vashti or James Yorkston would be proud of. Similarly, We Walk In The Room with its boy-girl vocals could be enough to reunite Richard and Linda Thompson, a song they'd be proud to have written. This lot could be going places - and I'm not just talking Glastonbury or Cambridge' (Is This Music?)

myspace.com/thesecondhandmarchingband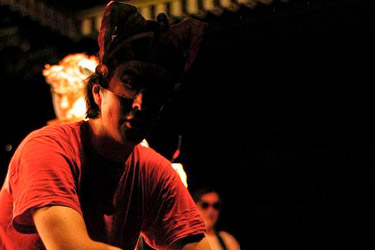 The Pineapple Chunks were something of a revelation at Limbo back in January and, in a good way, one of the weirdest bands we've had on at Limbo. They were really loose (it was only their fourth gig or something but the looseness was definitely part of their charm), pretty psychedelic and had a fantastically odd sense of humour, the climax of which came when drummer Owen performed an hilariously bizarre performance-art piece while wearing a mask and then kept the mask on throughout their finale. They cite The Fall, Huey Lewis And The News, Stephen Malkmus, Deerhoof and The Beta Band as influences. Interesting mix. They forget to mention Syd Barrett, and both The Doors and, actually, Pulp sprang to mind watching their Limbo debut. Lyrically at the very least, there seems to be something of a debt owed to Barret, though (subconsciously perhaps), with their stream-of-consciousness, surrealist flow. They're not that far away from early Floyd musically either. Anyway, it's an interesting sound and not without humour, as the hilariously miserable and quite epic I Left My Mojo In London Town exhibits on the chorus: 'Oh, and i lost my soul, I spent nine f****** years in that stinking hole.' Sure to strike a chord with a number of Limbo regulars, not to mention a lot of other folk who have little time for the Big Smoke, the Pineapple Chunks sound very British and refreshingly different from the mass.

myspace.com/thepineapplechunks
MAILING LIST
FACEBOOK/MYSPACE
Come and hang out on Facebook here or say hi to us over here at MySpace
CHEAP DRINKS!

Don't forget you can take advantage of £2 bottles from any of the Voodoo Rooms' three bars by showing your Limbo wrist-band to the bartender.
FOR SALE:
BACKLINE AND PA
1 Peavey TK0115 bass amp
1 Vox Valvetronics AD5OVT
1 Peavey Bandit 112
1 Peavey KB100 amp
1 Trucker Custom Sound Amp
1 Sun SR8300P mixer for PA
1 Carlsboro bass amp
2 150 watt Fender speakers
2 Legacy speaker stands
1 Pearl drum kit (includes 1 tom, 1 snare, 1 kick, 2 cymbal stands, 1 hi hat stand, 1 stool)

Email us for details.
VENUE INFO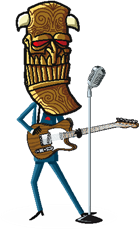 Limbo takes place at The Voodoo Rooms, West Register Street, Edinburgh.

Times: 8.00pm - 1am *
First band 8.30, second band 9.15, third band 10.00

Entrance: £4 *

Ph: 0131 556 7060 (venue) / 0131 477 6916 (promoter)

* except where otherwise advertised
Sponsored Links