Edinburgh-born-and-bred and now London-based, The Vivians return to Limbo for the first time since they all moved south last year for what's sure to be a very memorable performance. The Vivians are one of the most entertaining live music prospects the Scottish capital has thrown up in the last five years.

While their style will be familiar to anyone schooled in the classic rock n roll, glam and punk records of the mid to late Seventies, THE VIVIANS add their own comical twist, their larger-than-life onstage personae offering a caricature of the whole rock n roll form. They're riotously good fun, don't take themselves at all seriously and are quite obviously having a great time on stage. Check out their band logo for proof positive of this wry attitude (it's a hair-dryer!), while the group all strut their stuff suitably coiffed, attired and caked in enough make-up and lip-gloss to conjure up the spectres of Seventies Bowie, Bolan and The New York Dolls. And, oh yeah, they can play their instruments, too. You'd be hard pushed to find a more explicitly amusing prospect in these drab times.

Brighton's THISCITY are equally riotous and will provide the perfect energetic complement to The Vivians' neo-glam stomp.

Edinburgh's COME IN TOYKO are the wild card of the pack, providing an authentic, garage-rocking inferno that would give both The Yeah Yeah Yeahs and The White Stripes an intense blaze to recoil from, given half a chance. Karen O-not-for-much-longer....

NB. Limbo will cost £5 flat tonight and kicks off at 8.30 sharp so don't be late!

**********
If you've not done so already, make sure you head over to limbolive.co.uk where you can now hear snippets of all the tracks on LIMBO LIVE VOL 01
**********

If you're on Facebook, tell us that you're coming along here.

Check out all of our photography here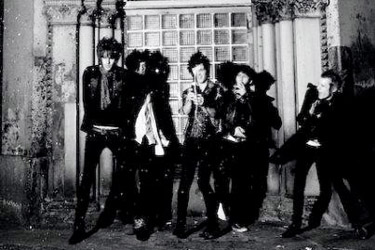 The sound of The Vivians is the result of frantic living, and the late nights and early mornings they've spent making their music between Edinburgh and London. Their music makes you want to forget who you are, and unlocks the possibilities of what you might want to be.

The Vivians are five close friends who assembled together in the basement of a café in Edinburgh, August 2006, to create the foundations of a rock 'n' roll band. The band quickly earned the respect and reputation from top music journalists and radio dj's to become one of the most exciting new bands, before moving base to London early 2008. Together Damon, Chris, Kit, Scott & Pete have built a solid and exhausting live performance.

July 2008 saw the release of their debut single 'A Human Angle'. The track has seen the band break into the indie charts and pick up rave reviews. Additionally, The Vivians received extensive radio support and airplay including Single Of The Week from Zane Lowe on BBC Radio 1 and Vic Galloway BBC Radio 1 Scotland.



The Vivians sound like a rocky Killers thrashing around in an acid bath' ...Steve Lamacq



The Vivians are the future... Divided We Stand is an anthem for us all' ...Daily Record



one of the best frontmen of the minute, with one of the best bands around... 10/10' ...Club NME



a must see' ...The Sun



one of the most exciting new bands' ...Jim Gellatly, BBC Radio 1 Scotland



a fine, fine band' ... Alan McGee



Punk Rockin' Genius' ...Vic Galloway Radio 1 Scotland



Scotland's answer to New York Dolls'...NME

myspace.com/theviviansdivided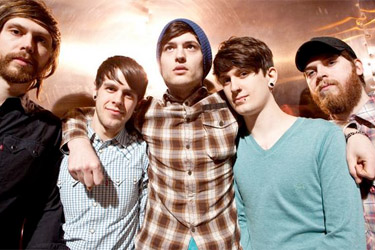 ThisCity have been already been described in review as "like The Travelling Wilburys if it was made of members of Bloc Party and At The Drive In". Maybe if you throw in the eyeball-popping nuances of Blood Brothers, the same turn-on-a-sixpence disco-jerk rhythms of the more danceable end of punk (think Les Savy Fav or !Forward Russia!), the impassioned cacophony of mid 80s Dischord Records-led emotional hardcore, the pop sensibility of tykes such as The Automatic and subtract the reference to Tom Petty and co, we might just be inclined to agree…



ThisCity's boisterous, sharply executed, poppy post-hardcore is breathless and catchy". Rival Schools support review, Kerrang! Magazine



Raw, relentlessly energetic and with one of the most distinctive vocalists in the UK, ThisCity splice indie, pop, hardcore and dance punk into an irresistible package". Huw Stephens (The Lake Stage presents BBC Introducing)



Never has mainstream indie in the UK sounded so utterly bleak and pretentious. Which is why a band like This City are so vital to the lifeblood of our music scene. Their Myspace page describes them as "indie/hardcore/pop" and this is scarily accurate. Raw like early-days Biffy Clyro on former Club Fandango-released single 'Romantic', Bloc Party with a more aggro side on 'With Loaded Guns', not to mention the balls-to-the-wall angular rock of current single 'Kids With Fireworks'. Forget all the drab Pigeon Detective/The Enemy/One Night Only bollocks that our towns are spewing forth; ThisCity are one of the bands we need gracing the covers of our magazines and taking over the airwaves". www.new-noise.net



ThisCity 'Kids With Fireworks' : This record does what it says on the tin – the relentlessly energetic ThisCity sound exactly like kids with fireworks. And the Brighton quintet may be shouty but there's an underlying anthemic quality to their music that makes them an indie/hardcore crossover act (At The Drive In meets The Automatic) to recommend". Johnny K, The Fly Magazine



Suburban lives crammed into three and half minutes of sharp, disco-punk, this is a track that promises great things from the Brighton five-piece. A combination of At The Drive-In's fire, Les Savvy Fav's angular attack and The Automatic's knack for an action-packed tune, 2008 could be their year". Tom Bryant (Kerrang!), ThisCity: Kids With Fireworks single Review for Music Week

ThisCity sound a bit like Bloc Party if they lightened up... Scratch deeper and you'll find a battle for their soul between Talking Heads and At The Drive-In" Dan Martin , NME



This City can't fail" Paul Lester, The Guardian



Their Indie guitars and disco-pop choruses swim along happily, only broken by stormy yelps or jagged riffs reminiscent of welsh rockers The Automatic". Rock Sound Magazine



We like it very much indeed!/ a brilliant band" Huw Stephens, Radio 1, October 2006/February 2007



ThisCity will blow you away!" Rock Sound Magazine

myspace.com/scum1968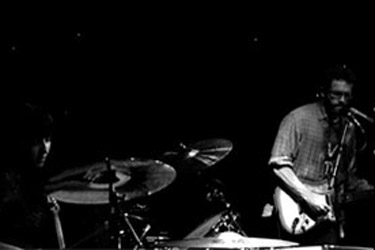 Come In Tokyo have played Limbo twice before. They are one of the most exciting outfits to have emerged in Edinburgh in the last twelve months, a male/female duo with more than just a shadow of similarity to The White Stripes (she plays drums; he plays guitar; they both sing raw, raucous rock n roll songs). They will offer the perfect warm-up act for ThisCity and The Vivians.

Come in Tokyo are a straight-up rock and roll two piece...battering out punky, catchy little roosty, bluesy numbers short on time, big on impact." BBC Radio Ulster

...great support band Come in Tokyo - a White Stripes-esque duo from Edinburgh with a collection of meaty instrumentals & catchy indie pop tracks." eGigs.co.uk

The noise emanating from the stage sounded like it was created by way more than two people...Come in Tokyo produce fantastically poppy indie pogo rock...Hopefully the next time these guys visit our shores they will be the headline act!" NoClarity.co.uk

Edinburgh's Come in Tokyo made an endearingly sardonic racket when recently touring with…The Aliens. 'Only Valentines' could be a Mark E Smith love note… 'Wake Me Up' merits positive comparison to 1970s solo Iggy, while 'I Won't Want You' is as good as Sons & Daughters on top form." Treblezine.com

Read the band's biog, where they interview each other, here:

www.comeintokyo.co.uk/index.htm

myspace.com/c0meint0ky0





It was a proper Limbo style event, with the return of Edinburgh's XVECTORS, rocking a brand new set, the Edinburgh debut of London's S.C.U.M. and another Limbo return by Californian noisenik The Foundling Wheel.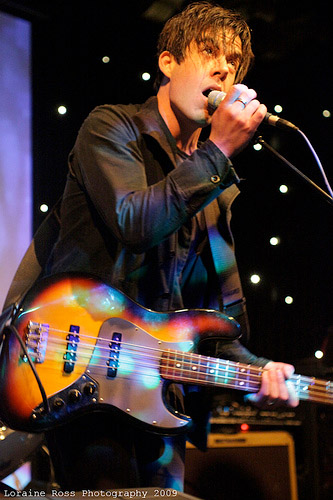 The Foundling Wheel is first on stage. Californian native Ted Kotwerwas seems to have expanded his studio as well as his repertoire since his last appearance at Limbo, having played some notable gigs in the interim. It's a simple but still sophisticated set-up: guitar, bass, kaos pad, drum loops and effects, plus Ted's voice, which is as close to the angst-ridden strains of Suicide's singer Alan Vega as you'll find in Scotland right now and he's as noisy and searingly close to the bone as ever. The Foundling Wheel makes a hellish racket which then breaks down to sweet patches of calm in the midst of the storm but what's really impressive about tonight's show is his use of a new drum machine, which he plays with a set of drum sticks, showing off some tight drumming skills. The Foundling Wheel really is a one-man band and getting better all the time. Catch him live if you can.

myspace.com/thefoundlingwheel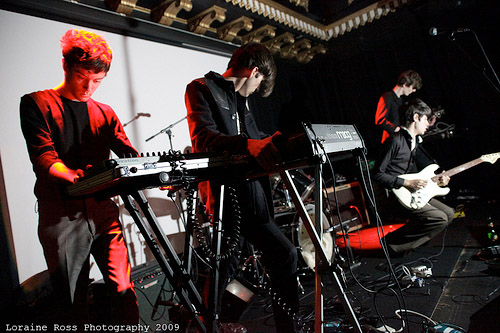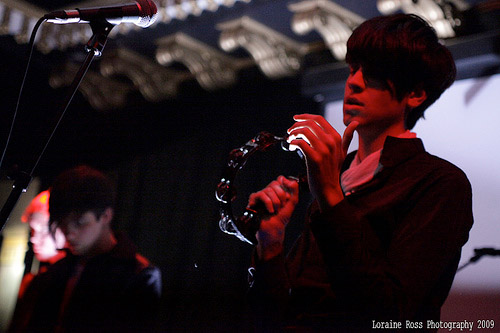 Next up, S.C.U.M have demanded the stage lights are all down bar a couple of red spots and the rest of the ballroom equally be cast in pitch black darkness to prepare everyone for the gloom to come. Five shadowy figures then take to the stage, a loud drone introducing them, via a load of reverb on singer Tom's microphone, and some intense drum beats from Melissa, the band's own stroboscope also creating suitably dramatic interludes of bright white light. They make a good noise, S.C.U.M., with Bradley and Samuel on synth and keyboard duties, stage right, and Huw on bass, stage left, leaving Tom to get all physical and lord-of-the-darkness in front of Melissa, centre-stage. It's reminiscent of Eighties goth, albeit with a psychedelic twist, and they look the part too, with Tom sporting a closely cropped haircut and everyone dressed in black. The whole thing is very arresting really and gets tongues wagging later on.

myspace.com/scum1968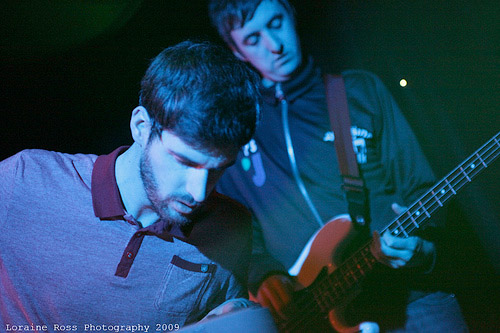 This leaves XVECTORS to take everyone completely by surprise by bringing out a completely new set, which is a major departure from their old material, predominantly very colourful and celebratory compared to the leaner, monochrome style of their early work. There's a much fluffier, more disco-led feel to contrast with the previously very heavy atmospheres and, in terms of the new atmosphere (and without wanting to sound too grandiose), it feels a bit like seeing the first live appearance by New Order after Ian Curtis's death, except this band has exactly the same line-up as the old XVECTORS. Ok, that's a very bold statement. Still, it's refreshing to hear some brand new material from the band. They have a bit of a false start as Dave deals with some laptop issues and then begin properly with an instrumental skit, which singer Rory describes to the crowd as 'a kind of getting to know you' piece. They then play two or three new songs of varying tempos, all of which stand up well in this live arena (and some of which are now up on the myspace), drawing a good response from the crowd, which is predominantly made up of older fans of the band. It's a short set and they finish with another instrumental - a longer jam, which sees drummer Jon break out from behind the kit and all over the live drum machine he's also using. It's got that classic Eighties e-drum vibe, which is pretty trendy just now but sounds great. And then, suddenly, it's all over, the band as always leaving the crowd wanting more.

myspace.com/xvectors

The Foundling Wheel, S.C.U.M. and XVECTORS pictures by Loraine Ross


---

Signed to respected US indie label Thrill Jockey and touring the UK to promote new album High Time, Pit Er Pat stop in Edinburgh the night before they play the UK's world-renown All Tomorrow's Parties festival in Minehead, bringing their definitively original sound of their own to Limbo. There's an equally scintillating rearguard action from new Edinburgh band Molly Wagger, who have just recently inked a deal with the Tirk label (who launched the careers of exciting acts such as New Young Pony Club and Fujiya And Miyagi), and Glasgow's My Kappa Roots, who bring their own branch of folk mixed with electronics to the table and are affiliated with the great Fife Kills label/collective.

All in all, it's another top spec Limbo, right up there with some of our best nights and most exciting guests so far, so not something you can even consider missing, if you've got your wits about you: all three bands have something special going on.

If you're on Facebook, tell us that you're coming along here.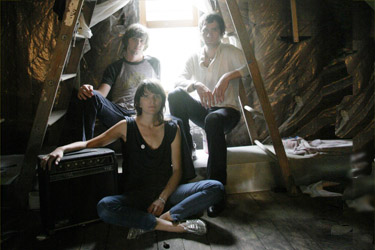 'Pit Er Pat is Fay Davis-Jeffers (vocals, piano, guitar, kalimba), Rob Doran (bass, vocals, guitar, electronics) and Butchy Fuego (drums, vocals, percussion, electronics/ programming). High Time was recorded at the band's own studio, Top Cat, by Butchy Fuego, who has also recently recorded Soft Circle and Matteah Baim.

From Shakey to Pyramids, from 3D Message to Feel No Pain, Pit Er Pat's recorded output has no easily definable style. It instead represents their evolution as modern musicians, who's affinity for pop and melody is filtered though their desire to have a truly singular voice. Modern Music if you will. The band are clearly comfortable with the fact that this music acknowledges several, yet exists outside of any one, genres. There is a consistency in all of the recordings in that they are all unmistakably Pit Er Pat. Their musical focus remains firmly grounded in rhythm, while incorporating a strong sense of melody and harmony to dance above the complex rhythms and to stretch the layers to lofty heights. A significant difference on High Time was that because it was recorded in the band's own studio, they could spend the natural amount of time that the songs needed to become fully realized. The additional time allowed the band to work a horn section into several songs. Pit Er Pat also employed a variety of new instruments including electric kalimba, bobo balaphone, Burmese temple gongs, agogo bells, anandolohori, cuica, timbale, conga, bongos, vibraslap, various shakers, bells, chimes, claps, and melodica to name a few. Many of these instruments are used in traditional and spiritual music. That connection with music made for escape appealed to the band who personally explore elements of spirituality, be they mystical or merely the more introspective exploration of the terrible joy of existence.

It is important to note that whilst layered with many delicate details the record was not assembled like a collage. Pit Er Pat instead wanted to be sure to capture the energy of the performances, so little or no editing was done on the basic tracking. The powerful focused energy in the music is consistent throughout. Even the more laid back grooves on songs such as "My Darkers" have this undeniable bounce to them. High Time is a perfect elixir for your Indian Summer. Its gentle and driving grooves are irresistible and its delicate layers reveal with every listen.'

myspace.com/piterpat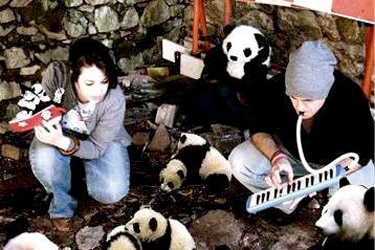 New Fife talent Panda Su has been collaborating with Steve Mason (Black Affair, The Beta Band) to develop her mix of acoustic-led folk-songs, using quirky instruments and electronics to embellish the sound, and has a distinctive voice to boot. Limbo thinks you're going to really like what she does live, too.

'Panda Su hails from the sunny shores of St Andrews, Fife. A bit of a loner and with no one to turn to founding member Suzanne Isabel Ferreira had no choice but to learn how to play every instrument under the sun by herself. This makes her debut 'Sticks and Bricks' EP (produced and mixed by Black Affair/King Biscuit Time/ex-Beta Band extraordinaire Steve Mason) a joy to listen to but almost an impossibility to play live.

On stage Su is joined by South African born JaxAdam - a percussionist who specialises in the playing of toy accordions, children's glockenspiels and an array of other hand-held instruments. Together they play "gentle, melodic, colourful songs which curl up in your head" - an acclaim which has earned them gigs alongside Frightened Rabbit, Withered Hand and a slot at the Fence Collective's Homegame festival in Anstruther and at Hinterland in Glasgow. Last year they embarked on a 22-date tour of the USA and Canada. Panda Su's track 'Moviegoer' was Track of The Month in the Scotsman newspaper for the month of April.

myspace.com/thepandasu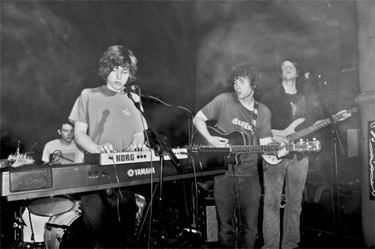 Molly Wagger is a very exciting new five-piece from Edinburgh, who have just signed a deal with London's excellent Tirk label. Singer Charlie is still away in Barcelona so they'll be performing an instrumental show for this Limbo date but we're convinced you're going to enjoy what they do.

'Edinburgh's best kept secret, eccentric six-piece Molly Wagger combine the musicality and sophistication of Arcade Fire, with the electronic verve and vocal vulnerability of The Postal Service. With bloggers and music fans eulogising them already, Molly Wagger are without doubt one of Scotland's most promising new bands' (the scottish enlightenment)

'While we're near Edinburgh, let's stop off and acknowledge Molly Wagger, an eight-piece who like compatriots Broken Records know their way round an explosively wide-screen sonic window and like other compatriots Meursault make a point of integrating electronic noise-scapes with traditional song-smithery. Of the songs currently up Bait is hypnotic, Weight woodily aerated and Molly builds itself up stealthily in a manner not too far from Beta Band territory, and there's comfortably enough about them all to justify keeping a close eye as after a little while labouring under 'best kept secrets' tags they could be about to leap the chasm into wider approval if they get their proper recordings just right' (Sweeping the Nation)

myspace.com/onionandcheese
MAILING LIST
FACEBOOK/MYSPACE
Come and hang out on Facebook here or say hi to us over here at MySpace
CHEAP DRINKS!

Don't forget you can take advantage of £2 bottles from any of the Voodoo Rooms' three bars by showing your Limbo wrist-band to the bartender.
FOR SALE:
BACKLINE AND PA
1 Peavey TK0115 bass amp
1 Vox Valvetronics AD5OVT
1 Peavey Bandit 112
1 Peavey KB100 amp
1 Trucker Custom Sound Amp
1 Sun SR8300P mixer for PA
1 Carlsboro bass amp
2 150 watt Fender speakers
2 Legacy speaker stands
1 Pearl drum kit (includes 1 tom, 1 snare, 1 kick, 2 cymbal stands, 1 hi hat stand, 1 stool)

Email us for details.
VENUE INFO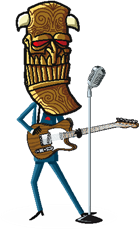 Limbo takes place at The Voodoo Rooms, West Register Street, Edinburgh.

Times: 8.00pm - 1am *
First band 8.30, second band 9.15, third band 10.00

Entrance: £4 *

Ph: 0131 556 7060 (venue) / 0131 477 6916 (promoter)

* except where otherwise advertised
Sponsored Links