Well, we got through the amazing nine band extravaganza of the Limbo Live Volume 01 launch party in one piece and the very large crowd who came down seemed to have fun. We also managed to shift the 100 copies of the CD that we had on sale and the good news is that they're also selling fast online.

The Skinny says:



Limbo Live Volume One is a who's who of their more regular stars, and the opening half is a bastion of near brilliance. The charming harmonies of Zoey Van Goey, a wonderfully acoustic Meursault, and two epic hits in the form of a bleepy Over The Wall and the aforementioned FOUND deliver the highlights. An internal commentary of between song chatter is an amusing touch, and the gig-like energy never falters".

If you want your 30% discount on this great CD, you need to hurry over to limbolive.co.uk before May 1st.

You can now hear snippets of all the tracks over there too.

This week we're back with another killer night for you. We're very pleased to be welcoming dark-hearted no wavers and NME darlings du jour, S.C.U.M., from London who will be supporting Edinburgh post-punk / new wave mavericks XVECTORS, alongside Edinburgh-based Californian no waver THE FOUNDLING WHEEL.

On the eve of their debut album's release (Blast First), XVECTORS return for another of their white hot performances, demonstrating why they're widely considered brilliant enough to share stages with Klaxons (on the band's last European tour) and Peaches (at a massive music fesitval in Berlin).

This night will particularly special. All the bands mine a forbidding musical seam and will complement each other extremely well. (An Experiment On A Bird In The Airpump have cancelled, sadly).

Ted from The Foundling Wheel will be on at 8.30 sharp so don't be late!

If you're on Facebook, tell us that you're coming along here.

Check out all of our photography here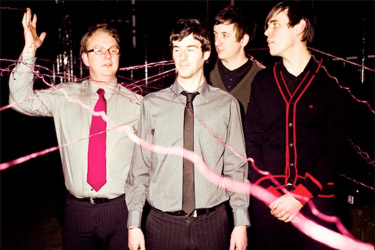 XVECTORS have played two Limbo shows before and never failed to blow everyone away, setting the room ablaze with their powerful presence. Lead singer Rory has recently leant his anguished vocals to some new material by Jon Kahuna (of northern dance heroes FC Kahuna), due for release this summer via US label Network, and they promise to get everyone worked up into another frenzy as headliners for this awesome Limbo date next week.

XVECTORS are renown for their incendiary live shows. They played at one of Franz Ferdinand's legendary Chateau happenings back in the day, supported the Klaxons on their European tour, played a massive festival in Berlin alongside Peaches and the inaugural Connect Festival. Debut single Movies is an undisputed killer, while their cover of Jamie Principle & Frankie Knuckles' Chicago house classic Your Love (also a UK chart smash in the late Eighties for The Source featuring Candi Staton) was a cult hit - re-released in late 2006 via the Now Is The Winter Of Our Discotheque EP on Twitch and Wilkes equally cult Optimo label, OSCARR, and both The Guardian's record of the week and one of Mixmag's Top 100 Releases Of The Year. Due to release debut album this year with the legendary Blast First (petite) label (a sub-division of the even more legendary Mute Records), the band join the awe-inspiring ranks of Sonic Youth, Depeche Mode, Moby, Goldfrapp, Nick Cave, Yazoo, Dinosaur Jnr, Plastikman/Richie Hawtin, Buzzcocks, Cabaret Voltaire, Maps, Suicide, The Slits, Liars and Pan Sonic, among many others.



A bitchin n moanin belter helping set club-land's new agenda" (The Guardian Guide, Pick Of The Week)

myspace.com/xvectors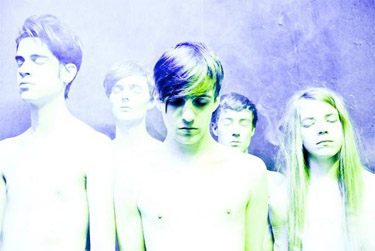 Limbo is very excited that S.C.U.M. are coming north from London for their first Scottish tour. Recently feted by the NME, who have posited them as the inheritors of a dark no wave noise heritage going back to the likes of Nick Cave when he was in The Birthday Party, they are without equal out there right now and promise to offer Limbo something entirely fresh when they ignite the room with their noir, stroboscopic show. Perfect support for XVECTORS.

S.C.U.M are converting the lost across Europe, their intense, cathartic performances are cutting a dark swathe through the mediocre quagmire of the current scene. The pure antithesis of all, a purging force destroying convention, physically turning music inside out. S.C.U.M In a few short months they have hammered a wedge into the cracking facade of the UK music scene, splitting it into factions of the old and the new. A string of dates across the continent have also sown the seeds of what is to come.



SCUM are intent on overloading your synapses with their doomy musical heft' (NME, Feb 09)



They're ones to watch' (Farris Rotter, The Horrors, June '08)



Top 10 New Bands To See' (NME, June '08)

myspace.com/scum1968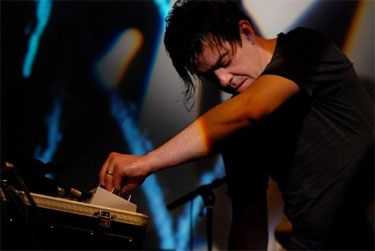 'The Foundling Wheel is an Edinburgh-based solo project,' says project brains Ted Koterwas, who plays bass, guitar and uses drum loops and samples, as well as live electronics and his voice. 'I used to be a drummer. I like noisy, broken-sounding things. I like things that are highly structured but fall apart, and puzzles that don't fit together perfectly. I like small bits of pretty things in the middle of ugly things, and ugly things in the middle of pretty things.' Ted likes contemporary US punk/electronic/experimental outfits such as Xiu Xiu, Ex-models, Deerhoof, The Mae Shi, Q And Not U and Unwound, as well as perennial favourites Joy Division, and his act is affiliated with Neil 'Meursault' Pennycook's Bear Scotland label. It's certainly electronica, Jim, but not as we know it, with a high level of punk rock energy. Perfect support for SCUM and XVECTORS.



braiding chromatic sheets of singeing electro-bending between frayed laces of gleaming melody' (Billy Hamilton, The Skinny)

myspace.com/thefoundlingwheel





Last week saw the launch of Limbo Live Volume 1 with an awesome cast of musicians assembled from Glasgow, Edinburgh and Fife, including Kid Canaveral, Isosceles, A-lix, Meursault/Artfag, Cancel The Astronauts, Haight-Ashbury, Over The Wall, Sparrow And The Worskhop and Thieves In Suits. Nine bands in total! Everyone rose to the occasion and did something different and loads of you turned up to watch them, so big thanks to YOU.

Glasgow duo Over The Wall is up first, with Ben capturing the essence of the evening perfectly when he announces to the audience, 'welcome to Limbo Live Volume 1 LIVE!'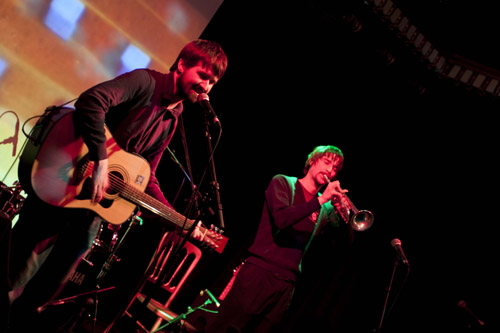 Ben and Gav go on to perform two of their songs acoustically, demonstrating what great song-writers they are, and it's a flying start to the night.

Edinburgh's Cancel The Astronauts follow with a similar - but different - twist of their own, as the band's core duo, Matthew and Michael, perform an equally stripped-down set but still with Michael's synth and Matthew's electric guitar in the mix.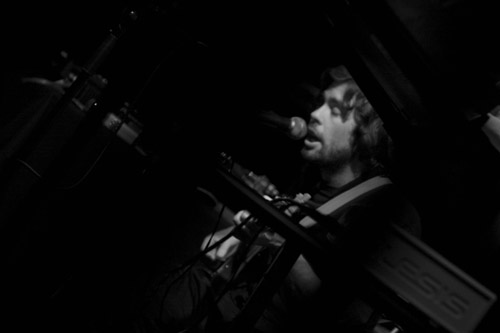 As always, there's some entertaining banter and they sound great in their cut down form.

From here it's an equally fluid jump to the noisier new wave of Glasgow's international pair, A-lix, who pull few punches and give their set a unique atmosphere by addressing the audience entirely in their native tongues (French and Spanish - they're from Argentina and Paris, you see).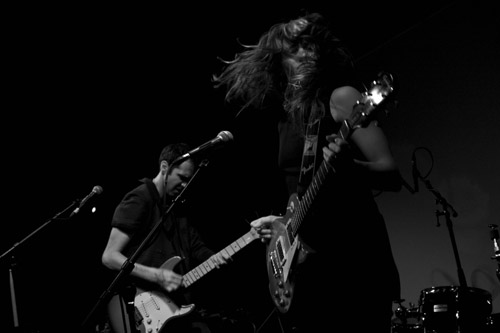 A-lix's music is always good fun and Vincent and Lorena are on top form tonight. They perform two songs including Never Grow, a version of which is on the CD, with customary panache.

Having previously anticipated a fairly quiet set from Neil (and originally Chris, who sadly couldn't make it tonight) of Edinburgh's Meursault, performing a pure acoustic take on their material, Neil's instruction (on arrival) that 'no, i'm gonna be really loud tonight' means he jumps forward in the running order and goes on next, solo.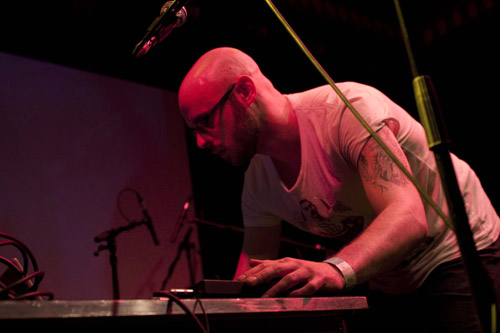 He plays four songs. At one point, he announces, 'this next one is an Artfag song', heralding some brand new material and prompting the catcall 'what's the difference between Artfag and Meursault' from his friend, Toad, in the crowd. Neil is caught short momentarily, looking down, before he cracks a wry smile and continues, consequently rendering everyone else in the room equally speechless. Unsurprisingly, this set is one of the evening's highlights and will be lodged in the memory for some time.

Glasgow quartet Isosceles is next on stage, with all members of the band turning up to perform their party piece.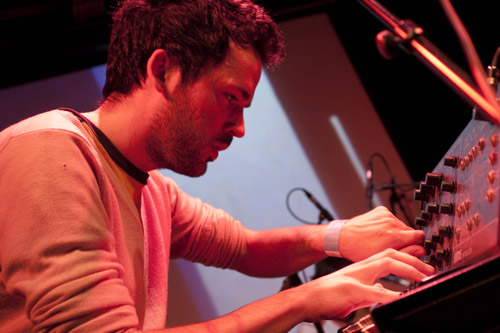 This includes front-man Jack Valentine then dragging The Black Spring DJs up on to the stage for some ritual humiliation - actually pretty funny, since remembering the words to Chic's disco classic Good Times at 60 seconds notice presents something of a challenge. Valentine is a knave indeed but a very natural performer with a cheeky glint in his eye. It's very much in the spirit of the evening and everyone has a good laugh.

All three members of Glaswegian alt country wonders Sparrow And The Workshop follow, opening with Jill performing an affecting cover of Tiffany's Eighties pop hit, I Think We're Alone Now... so fulfilling a childhood dream!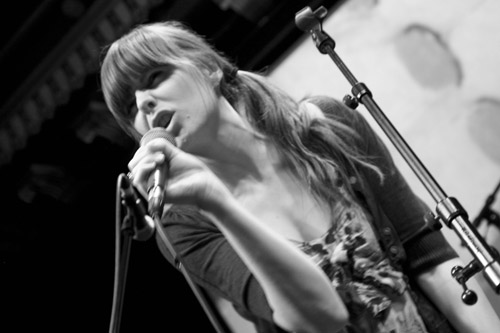 Gregor demonstrated his very capable vocal talents with a cover of Roy Orbison's 'In Dreams' to rapturous applause.

This all dovetails neatly into Fife/Glasgow/Edinburgh indie pop quintet (currently a quartet) Kid Canaveral, who are all present but at first only take to the stage with half their number. Minus a drummer, David has brought along a drum machine for the occasion, which lends their sound a completely new twist.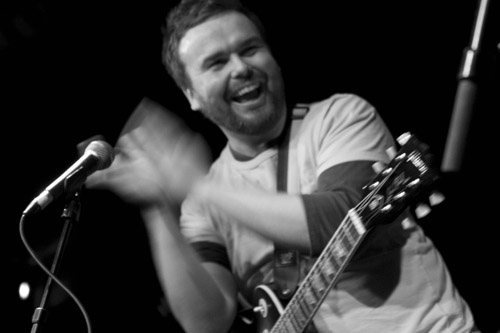 He's also keen to get The Black Spring DJs up on to the stage for some backing vocals on Second Time Around (the Kid Canaveral song which features on Limbo Live Volume 1), but they've learned their lesson now and only one half of the pair is game.

Edinburgh indie rock trio Thieves In Suits is the penultimate act, having decided to play a couple of very quiet versions of their songs, including a 'very different version of Clockwork to the one on the CD'.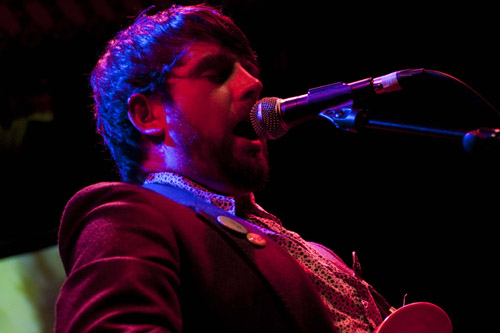 Again, this lends the band a completely fresh edge and showcases their skill for song-writing well, with drummer Jake momentarily relinquishing the spirit of Keith Moon in favour of something a lot more jazz….

Just like Phil Collins in Live Aid, Glaswegian trio Haight-Ashbury have made it through in spite of having already played another gig in the west this evening, such is their enthusiasm for Limbo.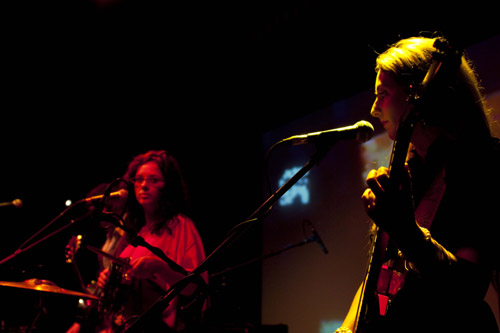 Just as well, since they are the perfect act to close the evening's live programme, with their original combination of Sixties folk and rock influences, all driven by Jen's resounding foot-stomp.

All in all then, a very entertaining and successful night. We also sold out of all the CDs we had on sale which was great. Rush over to limbolive.co.uk to buy a copy of Limbo Live Volume 1 if you've not done so already!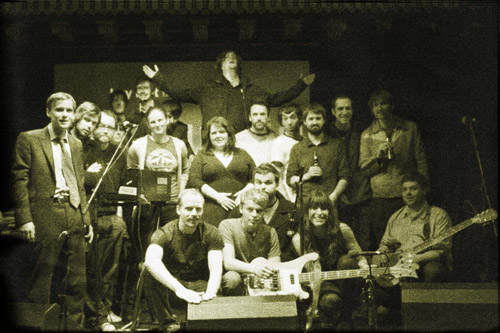 Limbo Live, live pictures by Adam Trussell


---

Edinburgh-born-and-bred and now London-based, The Vivians return to Limbo for the first time since they all moved south last year for what's sure to be a very memorable performance. The Vivians are one of the most entertaining live music prospects The Scottish capital has thrown up in the last five years.

While their style will be familiar to anyone schooled in the classic rock n roll, glam and punk records of the mid to late Seventies, The Vivians add their own comical twist, their larger-than-life onstage personae offering a caricature of the whole rock n roll form. They're riotously good fun, don't take themselves at all seriously and are quite obviously having a great time on stage. Check out their band logo for proof positive of this wry attitude (it's a hair-dryer!), while the group all strut their stuff suitably coiffed, attired and caked in enough make-up and lip-gloss to conjure up the spectres of Seventies Bowie, Bolan and The New York Dolls. And, oh yeah, they can play their instruments, too. You'd be hard pushed to find a more explicitly amusing prospect in these drab times.

If you're on Facebook, tell us that you're coming along here.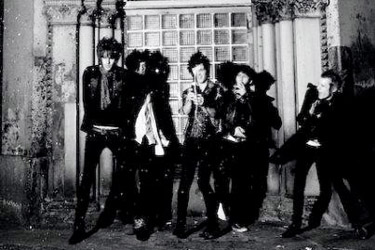 The sound of The Vivians is the result of frantic living, and the late nights and early mornings they've spent making their music between Edinburgh and London. Their music makes you want to forget who you are, and unlocks the possibilities of what you might want to be.

The Vivians are five close friends who assembled together in the basement of a café in Edinburgh, August 2006, to create the foundations of a rock 'n' roll band. The band quickly earned the respect and reputation from top music journalists and radio dj's to become one of the most exciting new bands, before moving base to London early 2008. Together Damon, Chris, Kit, Scott & Pete have built a solid and exhausting live performance.

July 2008 saw the release of their debut single 'A Human Angle'. The track has seen the band break into the indie charts and pick up rave reviews. Additionally, The Vivians received extensive radio support and airplay including Single Of The Week from Zane Lowe on BBC Radio 1 and Vic Galloway BBC Radio 1 Scotland.



The Vivians sound like a rocky Killers thrashing around in an acid bath' ...Steve Lamacq



The Vivians are the future... Divided We Stand is an anthem for us all' ...Daily Record



one of the best frontmen of the minute, with one of the best bands around... 10/10' ...Club NME



a must see' ...The Sun



one of the most exciting new bands' ...Jim Gellatly, BBC Radio 1 Scotland



a fine, fine band' ... Alan McGee



Punk Rockin' Genius' ...Vic Galloway Radio 1 Scotland



Scotland's answer to New York Dolls'...NME

myspace.com/theviviansdivided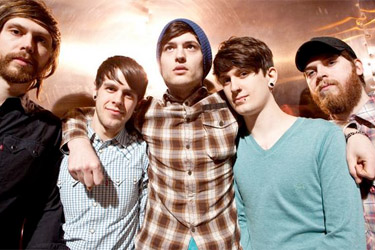 ThisCity have been already been described in review as "like The Travelling Wilburys if it was made of members of Bloc Party and At The Drive In". Maybe if you throw in the eyeball-popping nuances of Blood Brothers, the same turn-on-a-sixpence disco-jerk rhythms of the more danceable end of punk (think Les Savy Fav or !Forward Russia!), the impassioned cacophony of mid 80s Dischord Records-led emotional hardcore, the pop sensibility of tykes such as The Automatic and subtract the reference to Tom Petty and co, we might just be inclined to agree…



ThisCity's boisterous, sharply executed, poppy post-hardcore is breathless and catchy". Rival Schools support review, Kerrang! Magazine



Raw, relentlessly energetic and with one of the most distinctive vocalists in the UK, ThisCity splice indie, pop, hardcore and dance punk into an irresistible package". Huw Stephens (The Lake Stage presents BBC Introducing)



Never has mainstream indie in the UK sounded so utterly bleak and pretentious. Which is why a band like This City are so vital to the lifeblood of our music scene. Their Myspace page describes them as "indie/hardcore/pop" and this is scarily accurate. Raw like early-days Biffy Clyro on former Club Fandango-released single 'Romantic', Bloc Party with a more aggro side on 'With Loaded Guns', not to mention the balls-to-the-wall angular rock of current single 'Kids With Fireworks'. Forget all the drab Pigeon Detective/The Enemy/One Night Only bollocks that our towns are spewing forth; ThisCity are one of the bands we need gracing the covers of our magazines and taking over the airwaves". www.new-noise.net



ThisCity 'Kids With Fireworks' : This record does what it says on the tin – the relentlessly energetic ThisCity sound exactly like kids with fireworks. And the Brighton quintet may be shouty but there's an underlying anthemic quality to their music that makes them an indie/hardcore crossover act (At The Drive In meets The Automatic) to recommend". Johnny K, The Fly Magazine



Suburban lives crammed into three and half minutes of sharp, disco-punk, this is a track that promises great things from the Brighton five-piece. A combination of At The Drive-In's fire, Les Savvy Fav's angular attack and The Automatic's knack for an action-packed tune, 2008 could be their year". Tom Bryant (Kerrang!), ThisCity: Kids With Fireworks single Review for Music Week

ThisCity sound a bit like Bloc Party if they lightened up... Scratch deeper and you'll find a battle for their soul between Talking Heads and At The Drive-In" Dan Martin , NME



This City can't fail" Paul Lester, The Guardian



Their Indie guitars and disco-pop choruses swim along happily, only broken by stormy yelps or jagged riffs reminiscent of welsh rockers The Automatic". Rock Sound Magazine



We like it very much indeed!/ a brilliant band" Huw Stephens, Radio 1, October 2006/February 2007



ThisCity will blow you away!" Rock Sound Magazine

myspace.com/scum1968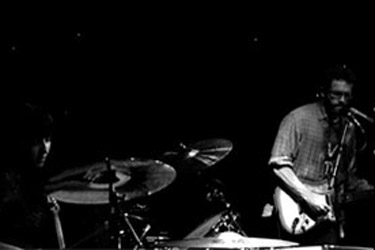 Come In Tokyo have played Limbo twice before. They are one of the most exciting outfits to have emerged in Edinburgh in the last twelve months, a male/female duo with more than just a shadow of similarity to The White Stripes (she plays drums; he plays guitar; they both sing raw, raucous rock n roll songs). They will offer the perfect warm-up act for ThisCity and The Vivians.

Come in Tokyo are a straight-up rock and roll two piece...battering out punky, catchy little roosty, bluesy numbers short on time, big on impact." BBC Radio Ulster

...great support band Come in Tokyo - a White Stripes-esque duo from Edinburgh with a collection of meaty instrumentals & catchy indie pop tracks." eGigs.co.uk

The noise emanating from the stage sounded like it was created by way more than two people...Come in Tokyo produce fantastically poppy indie pogo rock...Hopefully the next time these guys visit our shores they will be the headline act!" NoClarity.co.uk

Edinburgh's Come in Tokyo made an endearingly sardonic racket when recently touring with…The Aliens. 'Only Valentines' could be a Mark E Smith love note… 'Wake Me Up' merits positive comparison to 1970s solo Iggy, while 'I Won't Want You' is as good as Sons & Daughters on top form." Treblezine.com

Read the band's biog, where they interview each other, here:

www.comeintokyo.co.uk/index.htm

myspace.com/c0meint0ky0
MAILING LIST
FACEBOOK/MYSPACE
Come and hang out on Facebook here or say hi to us over here at MySpace
CHEAP DRINKS!

Don't forget you can take advantage of £2 bottles from any of the Voodoo Rooms' three bars by showing your Limbo wrist-band to the bartender.
FOR SALE:
BACKLINE AND PA
1 Peavey TK0115 bass amp
1 Vox Valvetronics AD5OVT
1 Peavey Bandit 112
1 Peavey KB100 amp
1 Trucker Custom Sound Amp
1 Sun SR8300P mixer for PA
1 Carlsboro bass amp
2 150 watt Fender speakers
2 Legacy speaker stands
1 Pearl drum kit (includes 1 tom, 1 snare, 1 kick, 2 cymbal stands, 1 hi hat stand, 1 stool)

Email us for details.
VENUE INFO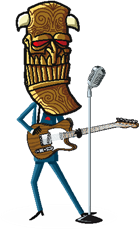 Limbo takes place at The Voodoo Rooms, West Register Street, Edinburgh.

Times: 8.00pm - 1am *
First band 8.30, second band 9.15, third band 10.00

Entrance: £4 *

Ph: 0131 556 7060 (venue) / 0131 477 6916 (promoter)

* except where otherwise advertised
Sponsored Links