So, your Limbo mailer is late this week. But hey, I'm sitting on the side of a Welsh hill surrounded by sheep watching the evening sun go down. There are red kites overhead too, so do I really care? Not really!

Anyway, you can be sure I'll be back up North for tomorrow evening to witness pop star-in-the-ascendant Marina Diamond make her Edinburgh debut for you at Limbo.

You may already have heard of MARINA AND THE DIAMONDS via the double-page spread on her in the Metro last month or the equally large feature in the Guardian last year, not to mention all the airplay she's been getting on the radio of late. She's certainly causing a bit of buzz so why not come down and decide for yourself.

Did you miss MY COUSIN I BID YOU FAREWELL when they played Limbo in January? Well, the performance was strong-as-you-like and the buzz is really picking up for them too. You'll be hearing a lot more about them in due course as they ignite the world of pop with their incendiary songs.

CANCEL THE ASTRONAUTS stepped in at the last moment for this one and we're grateful for that. Not only because they helped us out but because they're a really dazzling new band. They're one of Limbo's favourites and definitely one of the best outfits Edinburgh has to offer right now. If you've not see them before, you should really check them out this time.

Tickets are available now from Ticketweb and Ripping Records (£5 + BF adv, £6 door) and remember that the THE FIRST BAND IS ON AT 8.30 !

If you're on Facebook, tell us that you're coming along here.

Check out all of our photography here

LIMBO LIVE VOLUME 01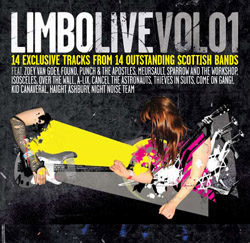 Just one week to go before the first CD in the Limbo Live series launches on April 23rd at Limbo. The first volume, recorded live at Limbo in the last six months of 2008 features tracks from Zoey Van Goey, Found, Punch & The Apostles, Meursault, Over The Wall, Come On Gang!, Kid Canaveral, Night Noise Team, Haight Ashbury, Thieves In Suits, Sparrow and The Workshop, Cancel The Astronauts, A-lix and Isosceles.

You'll be able to get hold of this fantastic CD at the launch party at Limbo on April 23rd (next Thursday) where at least NINE of these the bands will performing in wondrous and unusual ways for your delectation. More info below but it's going to be very special.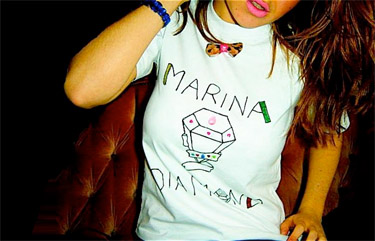 In combining a love of ancient Greece, Hello Kitty and Kate Bush it's unlikely you'll fail to be charmed by the quixotic world of Marina and The Diamonds. Marina herself is a pocket-sized star, a fiery combination of Greek and Welsh who spends her time between song-writing hand creating merchandise and selling vintage clothing. Described affectionately by The Guardian as a "seriously warped mind in the body of a fox", Marina's sound is all encompassing, taking on gentle piano ballads, synth heavy tracks, brass, bird calls, chanting and ooohs and ahhs in varying vocal styles. Wonderfully varied yet utterly distinctive. Marina is currently working towards her debut album with Pascal Gabriel (New Order, Kylie) whilst the debut single will be release early 2009 on Neon Gold Records, founded by Derek Davis of Good Weather For Airstrikes and will follow up the label's debut release from Passion Pit. She is Marina, we are her diamonds.



because she generally escaped the deluge of ones-to-watch lists for 2009, she's probably the one to watch right now...



I feel fortunate for having avoided those lists,' she insists. 'It's great exposure if you are ready for it, but I was absolutely not, and the glitzy hype clogs up the air around an artist. As a result, I've had a lot of freedom in the creative process and can just be myself. I'm finally on my way.' She certainly is'' (Ben East, Metro). Check out the double-page spread on Marina in Metro last month.



We're not sure how you'd market such a maverick, but there's something here worth bottling, some zeitgeist-y female essence' (Paul Lester, The Guardian, New Band Of The Day). See all The Guardian's praise of her in their New Band Of The Day column.

myspace.com/marinaandthediamonds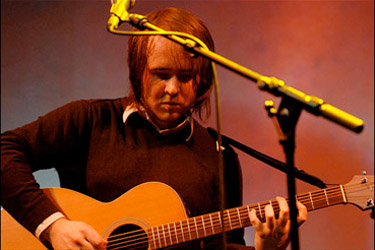 My Cousin I Bid You Farewell also impressed Limbo in January. They are from Glasgow and the invention of 24 year old Jonathan Sellar. Their debut live performance was at the BBC on the 5th of November 2008. Their second was a sold out show at Nice N Sleazy on November the 14th to launch their first single, Neverland. Their third appearance live was on the Big Stage in Glasgow's George Square as part of the Christmas Winterfest entertainment on Thursday the 11th of December. The band are currently recording in order to further the interest of various labels and they plan to start work on their debut LP sometime in 2009.

Debut single Neverland has some of the most infectious guitar riffs this side of Britpop and an anthemic feel courtesy of Sellar's distinctive vocals and skill for penning a neat set of lyrics. The anthemic feel is leant further weight by some rather huge, sweeping piano parts on B-side The Contented Hearts and it all ads up to an incredibly rousing whole, with a pop/rock sound that's completely untypical of bands from Glasgow. The other two tracks on their space are equally strong, leaving us feeling like we've just stumbled across an incredibly promising young talent.



My Cousin I Bid You Farewell have a strange, magnetic charm that makes us extremely excited indeed. Singer Jonathan Sellar has a voice that is unmistakably and uniquely his own, while his band's music sounds like a restrained Arcade Fire with some satisfying use of piano' (The Pop Cop)

myspace.com/mcibyf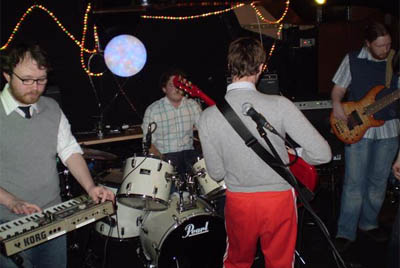 Edinburgh quintet Cancel the Astronauts are preparing for the imminent release of their EP, which is guaranteed to put them on the indie-popping map nationwide when it comes out. They write instantly affecting, bittersweet songs about love, death and disco dancing - you know, important things like that. It's jaunty, fun, gimmick-free and utilises that classic new wave line-up (drums, guitar, synth, bass) and, oozing crate-loads of positive energy through its major keys and sweet, upbeat melodies, offers the perfect antidote to these sour times. While their hilariously self-deprecating singer Matthew is a bit of a hit with the ladies, the bands' collective charms will win your heart for sure, talent dripping from all their pores like infectious beads of sweat. Yes, there's something immediately arresting and accessible about Cancel The Astronauts. Check out their EP on myspace for positive proof that they've got what it takes to go all the way.

myspace.com/canceltheastronauts



Last week the incredible Paul Vickers And The Leg astonished Limbo with their unique rock opera, Itchy Grumble, like some bastard offspring of The Fall and Tom Waits, with Shane McGowan as the midwife. Vibrant support came from the equally fantastic and original Electronicat, who had flown all the way from Berlin for this UK tour and followed the Limbo date with a show at Optimo in Glasgow on Sunday. And first on were Dead Boy Robotics who made it far and away their best show at Limbo thus far.


Dead Boy Robotics duo Mike and Gregor have played Limbo four times since their first appearance last August, which makes them something of a resident band and, while they have been writing new songs and developing their material throughout this time, for this date they have brought along a pair of floor toms to embellish their performance. DBR are an act who split the audience down the middle but, however you feel about their abrasive sound, one of the main attributes that has always set them apart from other acts of this nature is their great sense of humour. This principally manifests itself in Mike and Gregor dropping one-liners between songs, usually at their own expense - a self-deprecating style which pervades the music as well, as they apply yelps, screams and moans to their melodic synth lines and guitar play, cheerfully reinventing new wave electronica with punk spirit. This set delivered at least two new songs both of which demonstrate that they've taken their sound to the next level in terms of production. However, the new set really comes to life when Mike and Gregor attack their floor toms in unison whilst singing in harmony. This song takes the music beyond the realms of pre-sequenced structure and gives it a vital, organic quality. An exciting direction for Dead Boy Robotics.

myspace.com/deadboyrobotics


French Berliner Fred Bigot takes the stage as Electronicat, using just a sampler, multi-effects machine, guitar, microphone and mixer, looking every bit the confident star in the spot-light. There's quite a long pause as he checks all his levels are ok, since he's borrowed the mixer off Dead Boy Robotics, who have themselves just been using it on stage. Then he begins. Heavy on distortion and weird effects (especially one which reconfigures his voice to make it sound like he is speaking in tongues), Electronicat's sound follows DBRs' quite naturally, particularly as his first track is a glam rock stomp. From here Limbo gets vintage rock n roll motifs, heavy beats and even heavier bass, all of which comes across crystal clear on the Voodoo Rooms PA and half an hour zips by. Then, partially lit by low level spots, suddenly Electronicat is standing on top of his table throwing rock star poses. It's enough to get the Limbo crowd cheering for more, but with so little time left, he can only fit on one more song. But with such an original, incendiary style, you can be sure he'll coming back to play more before too long.

myspace.com/electronicat


Paul Vickers And The Leg have only played Limbo once before, but they stood out by a country mile on the bill that night and it was obvious they needed to be asked back at the earliest opportunity. The most obvious touchstone for their raucous, unhinged approach is The Fall and, with Vickers himself also hailing from the north of England, they bear this similarity in more ways than one. But, essentially they have their own style, which would be very hard to confuse with any other band, especially since they all come on stage in full panda bear regalia (with drummer Alun taking the costume to its most logical conclusion, fully made-up, and cellist Pete and guitarist Dan wearing what look more like Mexican wrestling masks than standard panda outfits) and currently includes the sound of banjo, guitar, drums and cello, plus Vickers' inimitable vocals. They don't pull any punches, either, going very much for the uncompromising, artistic jugular and ending their set with their apocalyptic cover of Cher's If I Could Turn Back Time, a genius climactic manoeuvre if ever there was one. Altogether, this may well be an acquired taste for some but guarantees a rapturous response from their swelling fan-base. If you do one thing you've never done before this year, go and see a show by Paul Vickers And The Leg. However you may feel about the music they make, they're re-defining the concept of a rock show for the twenty-first century.

myspace.com/paulvickersandtheleg

Paul Vickers and The Leg, Electronicat and Dead Boy Robotics pictures by Adam Trussell


---

So, you read this mailer every week, but you've still not made it down to Limbo. Well, now Limbo is going to come to you! April 23rd sees the Limbo Live Volume 1 Launch Party Extravaganza, which is the launch of our LIMBO LIVE series and you're going to love it. The first volume, recorded live at Limbo in the last six months of 2008 features tracks from Zoey Van Goey, Found, Punch and The Apostles, Meursault, Over The Wall, Come On Gang!, Kid Canaveral, Night Noise Team, Haight-Ashbury, Thieves In Suits, Sparrow and The Workshop, Cancel The Astronauts, A-lix and Isosceles and the launch party will feature at least NINE of these fantastic acts performing LIVE for your delectation.

Next week we're doing something special. We've got at least nine of the bands performing for you including Meursault/Artfag, Over The Wall, Kid Canaveral, Haight-Ashbury, Thieves In Suits, Sparrow and The Workshop, Cancel The Astronauts, A-lix and Isosceles.

It will be very different from a regular Limbo night, with the bands performing short, mixed up sets, some acoustically and often with slightly different line-ups than you're used to seeing from them. The bands have all been encouraged to mess with the formula as much as they like or as much as they dare.

The Black Spring DJs will also be performing from up on stage instead of the sound booth at the back of the room where they're usually tucked away, so the result you can expect will be a totally unique experience. This extravaganza will be a celebration of Limbo's achievement over the last eighteen months, consistently bringing you the most exciting new acts from all over Scotland and beyond, as well as the inaugural live CD.

If you're on Facebook, tell us that you're coming along here.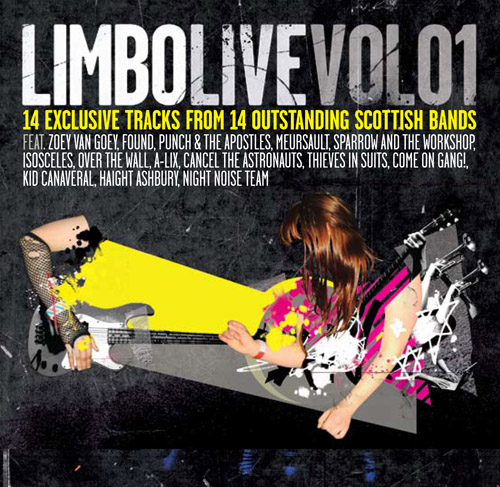 MAILING LIST
FACEBOOK/MYSPACE
Come and hang out on Facebook here or say hi to us over here at MySpace
CHEAP DRINKS!

Don't forget you can take advantage of £2 bottles from any of the Voodoo Rooms' three bars by showing your Limbo wrist-band to the bartender.
FOR SALE:
BACKLINE AND PA
1 Peavey TK0115 bass amp
1 Vox Valvetronics AD5OVT
1 Peavey Bandit 112
1 Peavey KB100 amp
1 Trucker Custom Sound Amp
1 Sun SR8300P mixer for PA
1 Carlsboro bass amp
2 150 watt Fender speakers
2 Legacy speaker stands
1 Pearl drum kit (includes 1 tom, 1 snare, 1 kick, 2 cymbal stands, 1 hi hat stand, 1 stool)

Email us for details.
VENUE INFO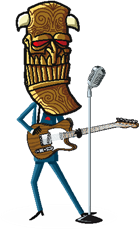 Limbo takes place at The Voodoo Rooms, West Register Street, Edinburgh.

Times: 8.00pm - 1am *
First band 8.30, second band 9.15, third band 10.00

Entrance: £4 *

Ph: 0131 556 7060 (venue) / 0131 477 6916 (promoter)

* except where otherwise advertised
Sponsored Links