If you missed evergreen idiosyncratics and critics' favourite PAUL VICKERS AND THE LEG at their recent support slot for the immense Joe Gideon And The Shark at Cab Vol, you're going to be very pleased with their headline spot at Limbo this week. They've been working hard on their mighty (rock) opera Itchy Grumble and you can watch it in full on Thursday.

Have you heard Electronicat's remix for Depeche Mode's The Dead Of The Night? Probably his most famous release, it was an influence on later work by the likes of Alison Goldfrapp. French Berliner Fred Bigot, aka ELECTRONICAT, will combine rock n roll with electronics in a wonderful way to bring you glittery electro stomp pop.

If you've had the pleasure of seeing DEAD BOY ROBOTICS at Limbo before, you'll already know that they are cheerfully reinventing no wave / punk and managing to deliver it to you joyfully with a large dose of very un-self-conscious wit.

It's gonna be an Easter riot!

Door remains at £4 and remember that the THE FIRST BAND IS ON AT 8.30 !

If you're on Facebook, tell us that you're coming along here.

Check out all of our photography here

LIMBO LIVE VOLUME 01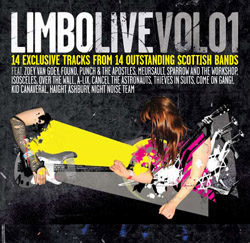 So, you read this mailer every week, but you've still not made it down to Limbo. Well, now Limbo is going to come to you! April 23rd sees the launch of our LIMBO LIVE series and you're going to love it. The first volume, recorded live at Limbo in the last six months of 2008 features tracks from Zoey Van Goey, Found, Punch & The Apostles, Meursault, Over The Wall, Come On Gang!, Kid Canaveral, Night Noise Team, Haight Ashbury, Thieves In Suits, Sparrow and The Workshop, Cancel The Astronauts, A-lix and Isosceles.

You'll be able to get hold of this fantastic CD at the launch party at Limbo on April 23rd where at least NINE of these the bands will performing LIVE for your delectation. More news about this great night in next week's mailer.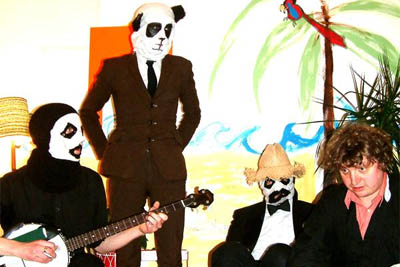 Paul Vickers And The Leg are the front-man from John Peel favourites Dawn Of The Replicants - that's Paul Vickers - and ex-Khaya/Desc firebrand Dan Mutch and his band, aka The Leg, who has worked with Steve Albini (Nirvana, The Pixies, P.J Harvey).

Everyone in the band is an immensely talented musician boasting an awe-inspiring CV (far too lengthy to detail here) and has worked with numerous other immensely talented people the world over, including Clinic, Spiritualized, Arab Strap, Can lyricist Damo Suzuki, Jonathan Mills (Pete worked on a rewrite of his opera The Eternity Man for a film version directed by Julian Temple), Thomas Truax, ballboy, Desc and Saint Judes Infirmary.

Paul Vickers recorded five Peel sessions for legendary Radio One DJ John Peel. Live credits include Glastonbury, Reading, T In The Park and South by South West in Austin Texas not to mention myriad other TV and radio appearances. Other fans of the band include Huw Stephens, Rob Da Bank, Vic Galloway, Marc Riley, Tom Robinson, Gideon Coe, Sky and MTV, with (all their) previous bands supported by the likes of Steve Lamacq, Jo Whiley, Mark Radcliffe, NME, Melody Maker, The Times, MTV and Mark Lamarr, Q Magazine and The Scotsman.

The band's recent double A side single (from new album Tropical Favourites) featured live favourite Seven Floors of Pleasure and to quote The List 'a quite sublimely Incorrect' cover of Cher's 1989 comeback smash 'If I Could Turn Back Time'.

One of Edinburgh's more eccentric musical offerings, they recently recorded a rock opera and released a new album, The Impossible (SL Records). Their live show, which involves all of the band dressing up in Panda Bear outfits (some of which more closely resemble bizarre wrestling masks), scares and inspires in equal measure. It's utterly unique, sounding and looking like nothing else out there right now. They're true veterans and always deliver the goods.



All the madness of King George garnished with trashy, boisterous guitars' (Mojo)



A triumph a free spirited gallivant ...Vickers magic powers are still intact' (Uncut)



Vickers sings like McGowan and Waits ... The Leg play hard to resist jugband blues' (The List)

myspace.com/paulvickersandtheleg / slrecords.net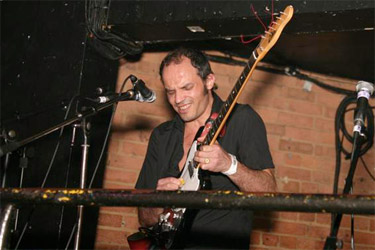 We've been wanting to get French Berliner Fred Bigot, aka ELECTRONICAT, on at Limbo since the night began. He is certainly no newcomer, with releases out on cool European labels such as Munich's Disko B and Glasgow's OSCarr (Optimo's label). His debut album came out (Disko B) some five years ago but still sounds refreshingly original, combining rock n roll/rockabilly, electronics and drone sounds. Following a very memorable performance by his some-time professional and long-time personal partner, Miss le bomb, at Limbo last Easter, it will be a treat indeed to have Electronicat play Limbo this Easter Thursday. The title of his 2005 album was Voodoo Man (Disko B), so we now welcome the Voodoo Man to the Voodoo Rooms for you. Expect to be wowed.

'The man behind Electronicat, Fred Bigot is responsible for some seven albums (three for Munich's Disko B) and this latest finds him making further connections between fizzy, quasi-industrial rock music and hipster electropop. The opening 'Du Vent' has its roots in Suicide with its abrasive primal electronic punk rhythms, but could easily sit alongside the recent outpourings of Black Strobe. Next up is the title track, a serving of beatbox guitar pop with shimmering, effects heavy vocals that cruises along nonchalantly enough until about halfway through the track ups its weirdness stakes with a bit of plug-in madness that results in a sound akin to Jesus and Mary Chain getting caught up in a dogfight between a TIE fighter and an X-wing. 'Pancake Lady' is at first somewhere between Throbbing Gristle and the primordial buzz of Pan Sonic, but gradually the track evolves to incorporate loosened-up, even funky rock motifs. 'She's A Queen' draws the album to a close, sharing its glittery electro stomp with Goldfrapp's 'Ooh La La'.' Boomkat.com on Chez Toi LP (Disko B), 2007

myspace.com/electronicat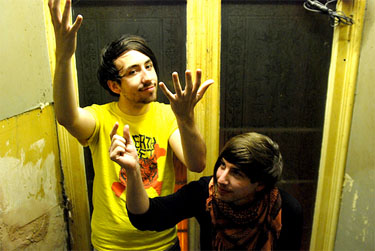 DEAD BOY ROBOTICS are one of the most exciting acts to have emerged in Edinburgh in the last eighteen months. Undoubtedly bound for a bright, sparkly future, they mix the electronic/dance style of acts such as Nathan Fake and James Holden (Border Community) with the avant-punk aesthetic of Liars and sound like no one else in Scotland, let alone the UK, right now. They've got energy by the bucket-load, heavily disotorted vocals all adding up to edgy sounds that are searingly close to the bone. They also form part of Meursault's Bear Scotland (label) collective, with Meursault main man Neil Pennycook providing production duties on recent recordings by the band.



Kind of like The Mae Shi and Crystal Castles mixed in to a dirty electro mess.' (An Emergency – band's blog)



Their oh-so-ironic yelping and synth-prodding wankery is head-splitting to say the least' (The Skinny)



call-and-response broken-beat synth-punk at splintering decibels' (press release for recent Versus gig at the Wee Red Bar)

myspace.com/deadboyrobotics



Last week featured the Limbo debut of Glasgow's St Deluxe and French Wives plus Edinburgh's own Team Turnip. All three bands brought some brilliant music to the stage and Team Turnip and French Wives proved real revelations.


Team Turnip, the local outfit, go on first and what a great handle they have on the nuances of good pop music. Singer Russell sounds a bit like Paul Macartney (when he was recording with Wings) on some songs. There's a similarity in his lyrical style as well as the timbre of his vocals. And then there's his softer material, on which he sounds more like Jose Gonzalez. The rest of the band do a great job of keeping up on banjo, recorder, violin, drums, keys/synth and percussion and altogether it's a very full package, with just the right amount of musical ingredients to sound refreshingly different and decent, in spite of the fact that one of the band-members, Russell's sister, is missing tonight. Team Turnip have a light, airy quality and some very striking songs. Expect a Limbo return soon.

myspace.com/teamturnip


French Wives come on next and take the show to the next level with a more confident performance and a generally heavier beat. This is the first time the band have played outside their native Glasgow but, with such a sizeable crowd in attendance for the debut, it's clear they're not short of friends and fans outside their home-town as well. A number of said crowd have turned up with instruments in tow as well (something that's become much more common at Limbo of late), suggesting French Wives are viewed in high esteem by their peers, too. And rightly so. They've got that whole gypsy rock style (Arcade Fire, Broken Records et al) nailed right down and they do it with such panache and originality, they really stand out on their own merits. Singer Stuart is an extremely tall man and cuts a commanding dash on stage in a blue jacket. They tear through their set without so much as a hiccup and leave their piece de resistance, Me Vs Me, until last. It's a great song and is alone sufficient to generate a lot more hype around this band. But, taken in relation to the rest of their set, it makes them a killer proposition indeed.

myspace.com/thefrenchwives


St Deluxe are a quartet from Bellshill on the east side of Glasvegas and in thrall to the mid-Eighties sound of indie pop bands such as My Bloody Valentine, Jesus And Mary Chain, Teenage Fanclub, Dinosaur Jnr and Pavement. They have already managed to stir up a significant media storm thanks to their ability to recapture that sound. Basically, they've got some great songs, so if you like any of the aforementioned outfits, chances are you'd love these guys too, as, obviously incredibly well rehearsed, they have no trouble at all igniting on stage. This scuzzy pop style is totally ripe for re-appraisal and, as the hysteria around the recent live shows of MBV proved, there are no shortage of die-hard fans who will more than likely have the tunes playing at their funerals. Expect to see and hear more of St Deluxe this year.

myspace.com/stdeluxe

St Deluxe, The French Wives and Team Turnip pictures by Adam Trussell


---

Pop star-in-the-ascendant Marina Diamond makes her Edinburgh debut for you next week at Limbo. You may already have heard of Marina via the double-page spread on her in the Metro last month or the equally large feature in the Guardian last year, not to mention all the airplay she's been getting on the radio of late.

Mitchell Museum were booked to support but had to cancel for unavoidable reasons. You'll be pleased that Cancel The Astronauts have stepped in to fill the slot. A really dazzling new band, they're one of Limbo's favourites and definitely one of the best outfits Edinburgh has to offer right now, with their new wave pop style. If you've not see them before, you really should check them out.

If you missed My Cousin I Bid You Farewell play Limbo back in early January then you really must make an effort not to miss them again! It was a spectacular show and you'll be hearing a lot more about these guys this year as they ignite the world of pop with their incendiary songs.

Tickets are available now from Ticketweb and Ripping Records (£5 + BF adv, £6 door)

If you're on Facebook, tell us that you're coming along here.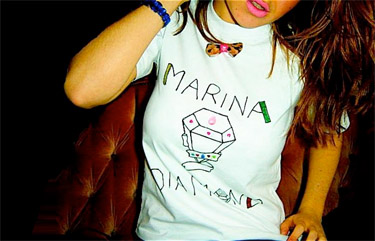 In combining a love of ancient Greece, Hello Kitty and Kate Bush it's unlikely you'll fail to be charmed by the quixotic world of Marina and The Diamonds. Marina herself is a pocket-sized star, a fiery combination of Greek and Welsh who spends her time between song-writing hand creating merchandise and selling vintage clothing. Described affectionately by The Guardian as a "seriously warped mind in the body of a fox", Marina's sound is all encompassing, taking on gentle piano ballads, synth heavy tracks, brass, bird calls, chanting and ooohs and ahhs in varying vocal styles. Wonderfully varied yet utterly distinctive. Marina is currently working towards her debut album with Pascal Gabriel (New Order, Kylie) whilst the debut single will be release early 2009 on Neon Gold Records, founded by Derek Davis of Good Weather For Airstrikes and will follow up the label's debut release from Passion Pit. She is Marina, we are her diamonds.



because she generally escaped the deluge of ones-to-watch lists for 2009, she's probably the one to watch right now...



I feel fortunate for having avoided those lists,' she insists. 'It's great exposure if you are ready for it, but I was absolutely not, and the glitzy hype clogs up the air around an artist. As a result, I've had a lot of freedom in the creative process and can just be myself. I'm finally on my way.' She certainly is'' (Ben East, Metro). Check out the double-page spread on Marina in Metro last month.



We're not sure how you'd market such a maverick, but there's something here worth bottling, some zeitgeist-y female essence' (Paul Lester, The Guardian, New Band Of The Day). See all The Guardian's praise of her in their New Band Of The Day column.

myspace.com/marinaandthediamonds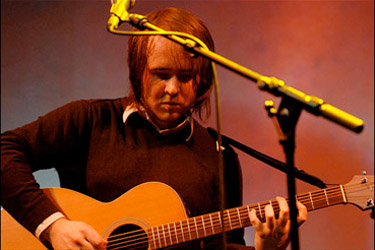 My Cousin I Bid You Farewell also impressed Limbo in January. They are from Glasgow and the invention of 24 year old Jonathan Sellar. Their debut live performance was at the BBC on the 5th of November 2008. Their second was a sold out show at Nice N Sleazy on November the 14th to launch their first single, Neverland. Their third appearance live was on the Big Stage in Glasgow's George Square as part of the Christmas Winterfest entertainment on Thursday the 11th of December. The band are currently recording in order to further the interest of various labels and they plan to start work on their debut LP sometime in 2009.

Debut single Neverland has some of the most infectious guitar riffs this side of Britpop and an anthemic feel courtesy of Sellar's distinctive vocals and skill for penning a neat set of lyrics. The anthemic feel is leant further weight by some rather huge, sweeping piano parts on B-side The Contented Hearts and it all ads up to an incredibly rousing whole, with a pop/rock sound that's completely untypical of bands from Glasgow. The other two tracks on their space are equally strong, leaving us feeling like we've just stumbled across an incredibly promising young talent.



My Cousin I Bid You Farewell have a strange, magnetic charm that makes us extremely excited indeed. Singer Jonathan Sellar has a voice that is unmistakably and uniquely his own, while his band's music sounds like a restrained Arcade Fire with some satisfying use of piano' (The Pop Cop)

myspace.com/mcibyf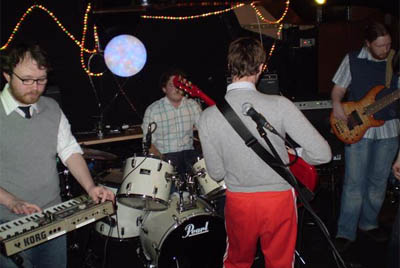 Edinburgh quintet Cancel the Astronauts are preparing for the imminent release of their EP, which is guaranteed to put them on the indie-popping map nationwide when it comes out. They write instantly affecting, bittersweet songs about love, death and disco dancing - you know, important things like that. It's jaunty, fun, gimmick-free and utilises that classic new wave line-up (drums, guitar, synth, bass) and, oozing crate-loads of positive energy through its major keys and sweet, upbeat melodies, offers the perfect antidote to these sour times. While their hilariously self-deprecating singer Matthew is a bit of a hit with the ladies, the bands' collective charms will win your heart for sure, talent dripping from all their pores like infectious beads of sweat. Yes, there's something immediately arresting and accessible about Cancel The Astronauts. Check out their EP on myspace for positive proof that they've got what it takes to go all the way.

myspace.com/canceltheastronauts
MAILING LIST
MARINA & THE DIAMONDS

One for the diary. Check her MySpace here
FACEBOOK/MYSPACE
Come and hang out on Facebook here or say hi to us over here at MySpace
CHEAP DRINKS!

Don't forget you can take advantage of £2 bottles from any of the Voodoo Rooms' three bars by showing your Limbo wrist-band to the bartender.
FOR SALE:
BACKLINE AND PA
1 Peavey TK0115 bass amp
1 Vox Valvetronics AD5OVT
1 Peavey Bandit 112
1 Peavey KB100 amp
1 Trucker Custom Sound Amp
1 Sun SR8300P mixer for PA
1 Carlsboro bass amp
2 150 watt Fender speakers
2 Legacy speaker stands
1 Pearl drum kit (includes 1 tom, 1 snare, 1 kick, 2 cymbal stands, 1 hi hat stand, 1 stool)

Email us for details.
VENUE INFO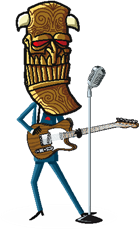 Limbo takes place at The Voodoo Rooms, West Register Street, Edinburgh.

Times: 8.00pm - 1am *
First band 8.30, second band 9.15, third band 10.00

Entrance: £4 *

Ph: 0131 556 7060 (venue) / 0131 477 6916 (promoter)

* except where otherwise advertised
Sponsored Links