It's Come On Gang!'s homecoming show, fresh back from showcase gigs at industry hoe-down South By Southwest in Austin, right in the heart of the ol' US of A. With word now starting to spread properly about this terrific trio, we're confident 2009 will be a very special year indeed for them and expect them to come off the plane buzzing like the live-wires they all are from the thrill of their Texan adventure. Support comes from Aberdeen's Little Kicks, who we've been trying to get on at Limbo since the night began and Endor who equally come trailing a notable rep in their wake.

Back down to £4 admission for this week. Also don't forget selected bottles of beer are only £2 with your Limbo wristband.

If you're on Facebook, tell us that you're coming along here.

Check out all of our photography here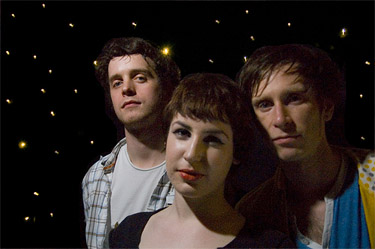 COME ON GANG! are destined for great things. A guitarist (Mikey) from Galashiels, a bassist (Trev) from Dublin and a singer/drummer (Sarah) from Brighton, they are guaranteed to get everyone jumping to their high-octane, punky, indie-pop. They launched their debut single, Wheels, at Limbo last July (check the newsletter from that week for the video interview we did back then) and were last seen at Limbo in December, when they launched their second, split 7", single with Kid Canaveral. A little bit Belle And Sebastian, a little bit Yeah Yeah Yeahs and a little bit of something else that's quite simply Come On Gang!, if you're not feeling these tunes, you've either had your soul possessed or you need to see a shrink. Melodic, heartfelt and firing on all cylinders, Come On Gang! are a proverbial rocket-ship shooting for the moon and sure to be on particularly fine form for this, their homecoming show.



Come On Gang! are just getting super good, super quickly. They swoop and soar and rattle and fizz and it's all so exciting and young and bastard brilliant it's like injecting sherbert and vodka into a vein in your eyeball' (www.showburner.com, November 2008)



ECA trio Come on Gang! boast quite the piece de resistance in drummer/vocalist Sarah Tanat Jones, whose sweetly rendered yet gymnastic turns add a genuine touch of ethereality to some admirably tight punk pop' (The Skinny, December 2008)



Get past the novelty that drummer Sarah Tanat Jones also sings lead vocals and witness the ample skills on show from this Edinburgh power pop trio and you'll concede this is no gimmick. We assume sublime singles Wheels and Start the Sound are only the start of it all' (The List Hot 100, December 2008)



Brittle, incandescent power pop to crash small cars to' (The List on Wheels - Songs of The Year, December 2008)



They are the hottest band in the world today! The band are truly awesome, their live show is an experience and a half' (SRA Approved Track of The Week - Start The Sound - December 2008)



Hipsters beware, these ebullient efforts won't allow you to stand still' (Is This Music, February 2009)



Debut single Wheels is catchier than the Spanish flu' (The Austin Chronicle March 2009)

myspace.com/comeongangmusic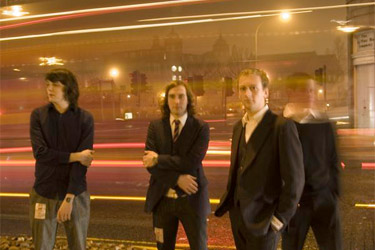 There are shades of Pulp, The Smiths, Radiohead and a slew of other fine bands in THE LITTLE KICKS' sound and with previous support slots for Foals, Maximo Park, Editors, The Kooks, The Mystery Jets, The Sunshine Underground, Brakes, Maccabees, Errors, Ed Harcourt, Electric Soft Parade, The Rakes, Lightspeed Champion and Jamie T, clearly we're not the only ones who think they're one of the best outfits in the Granite City.

As well as playing live, the band DJ at and run 'The Dirty Hearts Club', a weekly Thursday night, which has received rave reviews and staged acts such as The View, The Rumble Strips, Frightened Rabbit and MSTRKRFT.



Armed with a set of memorable tunes, frontman Steven Milne and co have become real local favourites… it won't be long before Little Kicks are getting big licks from the music industry headhunters.' (News Of The World, Feb 2009)



Their set is another winner; the jangly guitars and pounding rhythms, reminiscent at times of a less electronic New Order, the vocals perhaps what Chris Martin would sound like if he wasn't so wimpy and had a more rocking band behind him. If there is any justice then The Little Kicks shall be massive.' (The Fly, October 2008)

myspace.com/thelittlekicks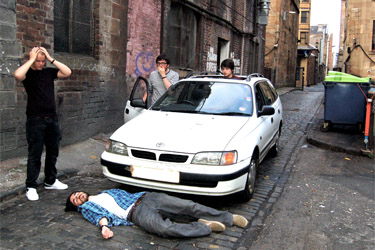 We've been hearing good things about Endor for some time now, so we're looking forward to this, their Limbo debut.

Mark Church, Richard Ferguson, Calum Johnston & David McGinty sing and play drums, guitars, glockenspiel, harmonica, melodica, organ, rhodes, portasound , sticks and stones. They like science, books and the flashing of cameras. Founded on the coming together of two sets of childhood friends and their love of goat punishment, endor have made considerable headway through their live performances in Scotland and around the UK. In recent years the band have released two singles on Glasgow's Indie label Say Dirty Records, played a number of small tours and festivals around the UK, fallen in love, beat We Were Promised Jetpacks at five a sides, fell out of love, half of them have starred in Taggart as 'Student number 9' and 'Man in Bookies' plus lead singer David McGinty even contributed guest vocals to Snow Patrol's 'Eyes Open'. WOW! Endor have filmed an appearance on the new series of BBC Scotland's Rapal, recorded live radio sessions for Vic Galloway (Radio 1) and BBC Northern Ireland's ATL as well as racking up Radio 1, BBC 6, and XFM air-time along with taking part in both the T on the Fringe Festival and Hydro-Connect... proving that they are not dead.



Following on from the release of two sterling early-days singles, the band have this year seen an already buxom fanbase swell through support slots with kindred spirits Lightspeed Champion and Semifinalists.' (Drowned in Sound)

myspace.com/endor



Last week saw the launch of Limbo's new IRREGULAR collaboration with Canongate Books and highly irregular it was too, but that didn't stop loads of folk from turning up and taking advantage of a free copy of Barack Obama's Dreams From My Father, bountiful libations, live literary talents Joe Dunthorne, Tim Turnbull and Dan Rhodes, DJs, visual treats and rock n rolling eight-piece The Black Diamond Express.


It's auspicious for any debut when people are filling the bar early to check it out, and that's exactly what happened for IRREGULAR's blisteringly good launch. Each act had two short sets, so if you missed one the first time around, you were guaranteed to fall under their influence later on. Though, within all that stage-shifting one or two secret goldmines lay buried – a brand-new Nick Cave video and complementary tequila, anyone?


Tim Turnbull, a poet and writer in residence at HMP Edinburgh and many other institutions, played host. His standout piece was an ode to Lux Interior, where every rhyme and pause got people laughing in disbelief. How long can he keep it going?! Tim's sharp suit and deep, intriguing voice cast a spell of mischief that was perfect for the other performances to come . . .

www.timturnbull.co.uk


Namely, Joe Dunthorne, author of the novel Submarine (we at Canongate wanted to publish it, weren't chosen, but pathetically we remain unconditional Dunthorne fans). Here's a young man with the delivery of David Sedaris and literary sparkle of Salinger, who already knows how to get an audience to gasp and belly-laugh at his command. His deadpan recitations about bullies, the future of speed-dating and the rules of poetry are hilarious for their honesty. Hats off, Joe.

www.joedunthorne.com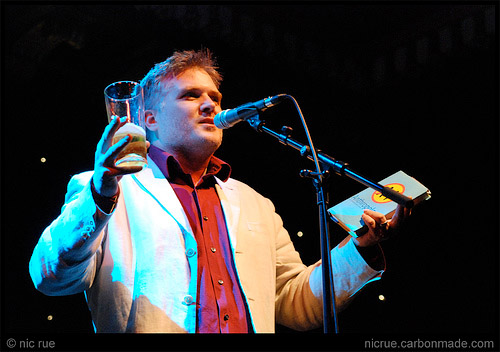 Dan Rhodes read to a crowd that was by now seated at his feet. Dan's Anthropology is a collection of 101 stories about girlfriends, all 101 words long. 'Now that's a book I want to read,' someone next to me shouted – and Dan took random audience calls as cues for which story in the sequence he should perform. My favourite was the one about one girlfriend's three children ('They were horrible.') Or maybe the one about the girlfriend who named their daughter Lesbian. Isn't it about time a new Dan Rhodes book came out?

The band for the evening was the stunning Black Diamond Express: with their gypsy aesthetic and hooks that could get the grinch to dance, this is primal roots rock 'n' roll. It's not often you see so many strings on stage – violin, blues harp and banjo, among others – and the songs are so ahead-of-the-pack good, lyrically, sonically and in terms of the amazing charisma these guys have, they are kept onstage as long as legally possible. Despite their traditional influences and innocent grins, The Express are clearly familiar with the dark side of life and art – making them the perfect partner for the other rock 'n' roll moment of the evening.

myspace.com/theblackdiamondexpress

The lights went down for this bit; Nick Cave has made videos of himself reading passages from his not-yet-published novel, The Death of Bunny Munro, a hellish and madcap story about a salesman in search of a soul. Filmed by acclaimed directors, with custom-made soundtracks (never publicly screened before last Thursday), the projections show Nick in an unfamiliar guise – the novelist, but also the actor. Rolling Stone's comment that 'Nick Cave will obviously live forever, just because the Devil's scared of him' is called to mind – but even so, Bunny went down a storm and mesmerised us into thrilled, open-mouthed glee. It takes a lot to shock IRREGULAR people.

The last dancing opportunity of the night saw the full benefits of the enthralling earlier acts and tequila shots in total evidence. Departure Lounge DJ Mr Zimbabwe, followed by Canongate's Jamie and Francis, set up at the decks for a few happy hours, and when the lights came up, the only consolation at hand was a free copy of Barack Obama's memoir Dreams from My Father handed out at the exit.

Yes, that's right – not only is IRREGULAR pro-hopes, but it supports dreams, too.

(Thanks to Stephanie Gorton at Canongate for providing the synopsis here)

Pictures by Nic Rue.


---

We've finally managed to nail down a date with Glasgow's mighty St Deluxe, the act Oasis svengali Alan McGee recently described as 'a Scottish Nirvana for the 21st Century'. They headline Limbo next week with support from exciting new bands Team Turnip and French Wives, who have more in common with each other than with St Deluxe, per se. But it's twists such as these that can make the Limbo experience so much more exciting than your average gig and there is a common thread of POP running through all three outfits, albeit more scuzzily for St Deluxe. With their celebrity fans multiplying fast, including Spacemen 3's Peter Kember, Teenage Fanclub's Norman Blake and Stuart Braithwaite from Mogwai, not to mention wide-spread acclaim in the media for their glorious debut album, we're expecting a fantastic gig, to say the very least.

If you're on Facebook, tell us that you're coming along here.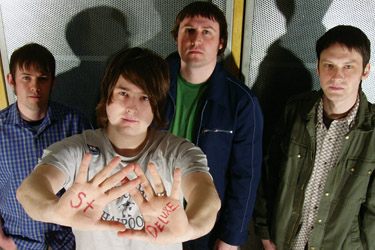 St Deluxe make Glaswegian fuzz-pop with beautiful noise. Fans already include Alan McGee ("St. Deluxe are brilliant, a Scottish Nirvana for the 21st Century"), Teenage Fanclub's Norman Blake ("Scotland's Uber noise/pop merchants. I love 'em!") and Mogwai's Stuart Braithwaite ("Great guitar pop. They have a fine collection of guitar pedals and are not afraid to use them!"). Their self-titled UK debut, out on February 9th through Poppydisc, showcases 11 songs wrapped in dirty guitars, fuzz bass and off-kilter drums. Influenced by noise-oriented indie-rock troublemakers like Sonic Youth, MBV and Jesus and Mary Chain as well as the scuzz-pop of Pavement, Sebadoh and Dinosaur Jr, the visceral rock thrills are perfectly balanced by addictive melodies. 'St Deluxe' was recently released through Star Sign records in Japan to great acclaim and with distribution secured throughout Germany, subsequent tours in both countries are hotly anticipated. Further recordings feature guest producers like Calvin Johnson of K Records/Beat Happening and Stuart Braithwaite and the band have a healthy live reputation thanks to blistering shows across the UK, the recent enthusiastically received German tour and support slots with underground heroes Sonic Boom (Spectrum/Spacemen 3) and Monade (Stereolab).



A CONTENDER for Scotland's hottest new act are this Glasgow band. New single New Wave Stars is a blistering attack of buzzsaw guitars, rib-rattling bass and distorted vocals. It's like Teenage Fanclub with their fingers in a plug socket' (Daily Record)



Classic Scottish guitar rock with a yelping glam twist, St Deluxe's melodious noise is out of the same top drawer as Joe McAlinden's Superstar and the mighty Teenage Fanclub. a big hug of guitar chords that sweeps you off your feet. 4/5' (Scotland on Sunday)



Glasgow four-piece St Deluxe channel the fuzzed-up ghosts of Sebadoh, My Bloody Valentine and early Teenage Fanclub, with their eponymous debut album a sweet blend of plaintive melodies and old-school overdriven antics' (The List)



St Deluxe are utterly essential in the '09. New Wave Stars, it is dipped in the Creation Records legacy of chemical pop imbalance' (Too Cool To Die – Alan McGee's new Blog)



Following on from the release of two sterling early-days singles, the band have this year seen an already buxom fanbase swell through support slots with kindred spirits Lightspeed Champion and Semifinalists' (Drowned in Sound)

myspace.com/stdeluxe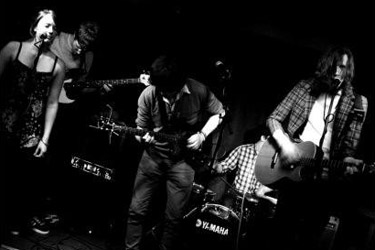 French Wives formed little over a year ago and have already built up a name for themselves on the Glasgow scene. The talented 5 piece produce a unique mixture of instantly likeable pop and folk treats which take influence from acts such as Belle and Sebastian and Sufjan Stevens. The band's popularity, earned by producing well crafted songs combining musicality with powerful lyrics, led to them securing a slot at Connect music festival 2008 within months of their formation. The band continues to pride itself on its use of unusual instrumentation, whilst striving to create new and interesting pop.

myspace.com/thefrenchwives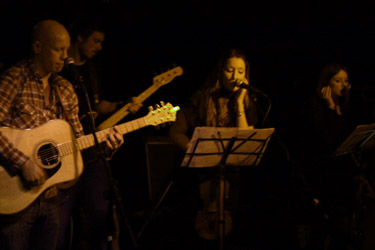 Team Turnip play what they like to call 'sweetly sick sour-pop', dark tales on austere topics like suicide, self-abuse and stalking, cheerfully regaled in an exuberantly oxymoronic fashion. Team Turnip is Russell Kostulin, his sisters and a carousel of friends who help out with live performances.

Musically (inspired principally by acts like The Shins (melodically), Belle & Sebastian (lyrically), The National (percussively) and Sufjan Stevens (in terms of arrangements), the songs vary in style, and are coloured by a relatively wide sonic palette - the aim is simple, however: create alt.pop songs which are catchier than the common cold. No instrument is considered inappropriate.

The name derives from a skate-boarding co-operative which 'ruled the school' during Russell's schooldays in rural Aberdeenshire. The co-op would share equipment, information, know-how, intoxicants and, occasionally, girls*, as is often the way in the pastoral corners of civilisation...

This, ne'er forgotten co-op's name and DIY aesthetic struck a chord with Russell and years later the sobriquet was cribbed. Russell acknowledges that the name inspires a love/hate relationship with those encountering it, but it's considered to encapsulate the music to an extent and, despite its detractors, has survived to fight on. What's in a name, anyhow?

Team Turnip have brought their focused intensity to stages in Edinburgh, Glasgow and London over the last 18 months, including T-Break and Gimme Shelter as well as recently getting airplay from Tom Robinson on a few of his BBC 6 Music shows and podcasts. The band will be embarking on a short tour to support the release of their debut EP: "Pre-Natal Volume 1". This was recorded in Manchester with Robin Housman (producer of Magic Arm, Shady Bard and many others) and will be released during the summer of 2009. Volume 2 is set to be recorded during April and May.

*For the avoidance of doubt, Team Turnip is no way misogynistic and has a healthy respect for female-kind.

myspace.com/teamturnip
MAILING LIST
MARINA & THE DIAMONDS

One for the diary. Check her MySpace here
FACEBOOK/MYSPACE
Come and hang out on Facebook here or say hi to us over here at MySpace
CHEAP DRINKS!

Don't forget you can take advantage of £2 bottles from any of the Voodoo Rooms' three bars by showing your Limbo wrist-band to the bartender.
FOR SALE:
BACKLINE AND PA
1 Peavey TK0115 bass amp
1 Vox Valvetronics AD5OVT
1 Peavey Bandit 112
1 Peavey KB100 amp
1 Trucker Custom Sound Amp
1 Sun SR8300P mixer for PA
1 Carlsboro bass amp
2 150 watt Fender speakers
2 Legacy speaker stands
1 Pearl drum kit (includes 1 tom, 1 snare, 1 kick, 2 cymbal stands, 1 hi hat stand, 1 stool)

Email us for details.
VENUE INFO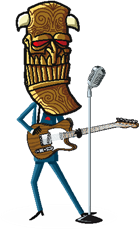 Limbo takes place at The Voodoo Rooms, West Register Street, Edinburgh.

Times: 8.00pm - 1am *
First band 8.30, second band 9.15, third band 10.00

Entrance: £4 *

Ph: 0131 556 7060 (venue) / 0131 477 6916 (promoter)

* except where otherwise advertised
Sponsored Links