As you may have heard, we've had to adjust our door times because of noise complaints. This means that THE FIRST BAND IS ON AT 8.30 SHARP!

Doors: 8pm
First band: 8.30pm
Second band: 9pm
Headliner: 10pm
Live curfew: 11pm
Club closes: 1am

Ross Clark And The Scarfs Go Missing headline Limbo this week and they will be something else, but we're just as pleased to be announcing the live debut of Snide Rhythms in support of quirky Edinburgh lyricist and songsmith Randan Discotheque who is now performing with a full band. You may well have caught Ross Clark supporting Orange Unsigned winner Tommy Reilly's sold out show at Cabaret Voltaire on Sunday. As you can see from the chat below, he's got no shortage of fans in the media and a look at his myspace shows that his tour diary has taken a turn for the exceedingly busy too, with a string of dates supporting Frightened Rabbit on tour. And, no wonder, there's something about the way Ross Clark sings (and what he's singing about) which seems to express all the pain and joy and love and hate of humanity.

Door remains at £4 for the moment.

Also don't forget selected bottles of beer are only £2 with your Limbo wristband.

If you're on Facebook, tell us that you're coming along here.

Check out all of our photography here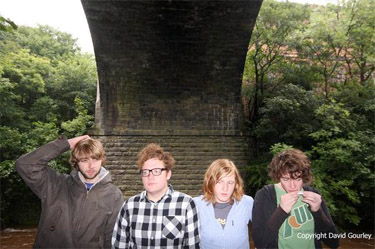 Ross is bringing his full band for the show, so we get the Scarfs as well as Mr Clark for what will surely be a great performance from this man-on-the-make.



Five steps into this eight-story MySpace Trail and a woefully unfit DiS needs to take a breather, so it's lucky for us we've stumbled upon scruffbag singer/songwriter Ross Clark. Now, wistful guitar playing stool-sitters are not normally our bag, but this Glasgow-based troubadour creates wind-blowing acoustic lullabies of such striking beauty it's impossible not to be captivated by his lonesome, fireside mew and choppy fret-picking. Already picking up a plethora of praise in the dog-eared pages of the local press, Ross's stirring nomadic psalms rest steadily in the fissure between James Yorkston and Daniel Johnson. A bright future surely beckons for this charm-oozing romantic. (Drowned in Sound)



Ross Clark is the pick of the current crop of un-amped British one-man bands. 'Anthems In Clams' is absolutely sublime, and Clark, like a perfect amalgam of Jeff Buckley, Antony Hegarty & Devendra Banhart, is completely compelling and unashamedly torchy......' Time for Heroes Magazine



Ross Clark delivered an absolute stormer of a set, ending up in the crowd and receiving a well deserved standing ovation. Great Stuff' -The Herald



Looking like the bastard rockabilly son of a Proclaimer and with a singing voice like a shot of raw Glasgow bluegrass, 20-year-old Ross Clark's exuberant, sweat-drenched live sets have been getting him a reputation. He sings brainy songs about girls and going for a fry-up and his new single 'Silversword' is rollickingly brilliant with a natty litle trumpet solo' Kirstin Innes - The List



To look at bespectacled Glaswegian Ross Clark, you might expect him to be a modest, sensitive, home-spun folkster. But, au contraire, Silversword (4stars, out now) is a raucous, joyous, full-band-with-horns blitzkrieg, taking the populist bent of The Fratellis and filtering out all the bad stuff' Nick Mitchell - The Skinny

myspace.com/electricpolyester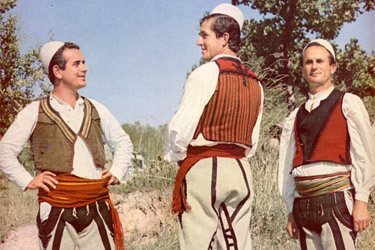 We've been aware of Randan Discotheque for a couple of years now, via gigs at the Wee Red Bar for starters and his part in the Art School Dance film. He's been on the list for a gig at Limbo for months now but - now a trio instead of a soloist - we're especially looking forward to seeing how the new band performs.

Born on the shores of Lago di Como, yards from the scene of Mussolini's death, Randan Discotheque were formed in the summer of 2006. Early gigs consisted of ancient songs of heartache and humour, accompanied by digital projections of heraldic antiquity and forgotten footballers. Band leader Craig Coulthard had been writing songs since Primary 7, but it took 15 years to work up the courage to actually sing them. After a few early gigs, and the self-release of their first album "Randan Discotheque" described by Scottish songwriting legend Michael Marra as 'a very good record indeed' and by The Handsome Family as 'lovely/creepy', there followed some media interest with articles in Dazed & Confused, The Stool Pigeon and the St Andrews Citizen. In 2007, after joining forces with the considerable firepower of fellow Fifekills: artists Rob St John, My Kappa Roots and The Wee Rogue, there followed a short tour of London and an appearance at Fence Records Homegame Festival. In summer 2007 came the release of a second album 'I Am the Singer, You Are the Song', which contained popular hits 'The Prince Must Go to Iraq' and 'I'd Like To Be Alone'.

Since then gigs all over Edinburgh, Glasgow, Athens and Arbroath have come and gone, and in summer 2008, the Randan band was manned with a further two additions, Doug Currier and Olly Ridgewell. Now playing with drums, bass and assorted other things, Randan Discotheque have an expanded sound, capable of rocking the boat and steering it into calmer waters. New recordings are under way, including live favourites "Heather the Weather" and "Daily Record May 18th 1993", the latter to soon be a 7" single release, with additional help from Hugo Paris and Neil Landstrumm.



An emotive and evocative record that displays Craig Coulthard's masterful song-crafting skills' (The Stool Pigeon)



Craig Coulthard combines his lyrical candour with delicate strumming, resulting in a wildly varying tone to this record's many high points' (The List)

myspace.com/randandisco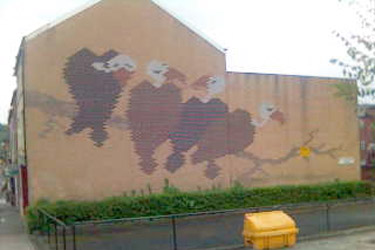 After years of tinkering and bleeping with machines Colvin Cruickshank was asked to reform his first group Nonstopcamels to perform live for The Art School Dance film. All involved were blown away with the end result and a sell out gig followed later that year. Thriving on the buzz of this, Colvin was keen to pursue the project but it was not to be. However, when friend and work colleague Craig Coulthard went for a three month exchange to Dusseldorf, Colvin seized the opportunity to borrow his Randan Discotheque rhythm section (Doug and Ollie). Drafting in the multi-talented Hugo (ex-Minotaur Three) on guitar the new group was now ready to create. This will be their debut gig...

Colvin will be well known to anyone who has ever frequented The Egg, or any other night at the Art School's excellent Wee Red Bar for that matter, since he's been the boss there for a number of years now and has presided over the venue's revival from little-known and oft-maligned space to thriving club and live music hang-out. The Wee Red is now one of the key vertebrae in the ever-growing backbone of the Edinburgh music scene and Colvin is in no small way responsible for that. We're chuffed to bits this week to be promoting the debut live show by Colvin's new band. Anyone who knows him will tell you he's quite a performer. Snide Rhythms sound has elements of surf guitar, glam rock, Iggy Pop and and little bit of The Monochrome Set! Fronted by Colvin, this should be pretty special, and no mistake.

Myspace is now up: myspace.com/sniderhythms



Last week's Limbo was another winner. The Set Up did exactly what they prescribed to do in their name and set the night up perfectly. The Travelling Band made it for the gig in spite of their van blowing a head gasket in Manchester and, with four out of six of the band arriving in a mini instead, played an enchanting acoustic set. And then Withered Hand came on and took it to the next level with a full band in tow, including Neil (banjo, vox) from Meursault and Alan (drums) from The Leg (of Paul Vickers And The Leg fame). It was great.


The Set Up is an old band from Austen George, who has been focussing predominantly on solo material and the acoustic guitar of late but what a bonus for us that the old band were keen to do the gig as they're a great trio, with Murray Briggs (Aberfeldy) on drums and Lewis Rosa on bass. Having not managed to get a proper sound check, they begin with one. Giving all their instruments a good workout to warm up, getting everyone into the room in the process, they then announce to the assembly that 'that was just the sound check so ignore what you heard' ('it was the best sound check i've ever heard' replies someone from the crowd). The Set Up take their musical cues from the likes of Cream and they play fantastically well together but really this band is all about Austen George. Austen is a mean guitarist and a talented song-writer and he has it all out on show tonight, using a slide and then picking away at some incredibly intricate parts. With this Sixties blues-rock sound threatening to make a big come-back this year, it wouldn't be at all surprising if Austen finds himself and his band in high demand come summertime.

myspace.com/setupuk


Next up it's The Travelling Band, who have managed to make it to the show under some duress, after leaving their rhythm section in Manchester and then piling into a mini with all their guitars and a mandolin (easier than you might imagine with four people in such a small car). So, full props to them for making the gig but their vibe is 100% acoustic as a result. However, not only do they have some good guitarists in their ranks, but they are individually all also possessed of some fine vocal chords, which makes for some beautiful close harmonies at times. Apparently The Travelling Band all like to take turns writing songs and so a fair bit of instrument-swapping takes place on stage as a result. They also have some hilarious between-song banter, which consists largely of one of them saying something a bit banal and then Joe, who comes across a bit more like the front-man on stage than any of the others, taking the piss out of what his band-mate has said and invariably raising a laugh from the crowd. This eventually ends up with one of his cohorts calling him 'a nob' on stage, very audibly, in front of the assembly - all quite light-heartedly, mind, but still - to which Joe has some flippant retort and they fire into the next number. It's actually really really funny and serves as a reminder that this bunch of lads are just that and completely bona fide in their musical endeavour. Then Steve announces that they're gonna do an old Mancunican folk song, before explaining that it's actually not really old or a folk song (engendering more cheeky banter) and the band drop a gorgeous cover of The Stone Roses' Waterfall. This is possibly the night's most memorable moment but, not to do a disservice to their own material, only because they perform it so well. Anyway, The Travelling Band are a revelation and we expect to see them again.

myspace.com/thetravellingband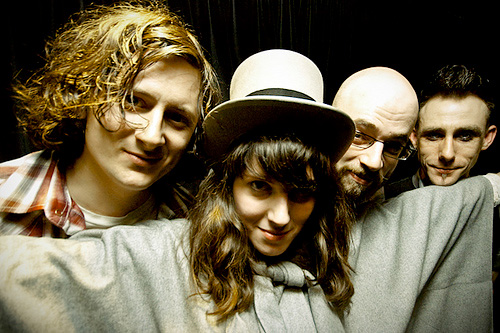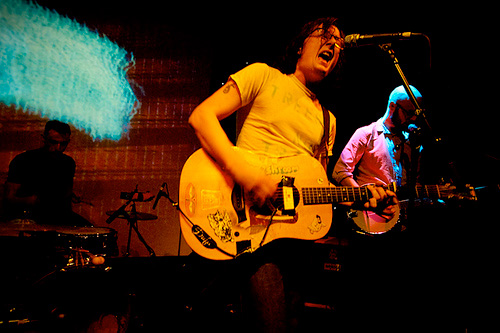 Finally, Withered Hand, alias Dan Willson, takes to the stage and immediately usurps everything and everyone in the room with his eccentric personality and high-pitched voice. Tonight Dan has decided to bring the full outfit with him for the occasion, so we've got cellist, drummer, banjo and backing vox as well as Dan on lead vocals and guitar. Withered Hand is most definitely anti-folk rather than straight folk. Everything about his stance is slightly awkward and suggestive of someone who loathes anything that isn't a little bit alternative, his attitude totally punk as he lightly ribs The Travelling Band ('this is an old folk song, err, no it's not') and then fires into New Dawn - one of his more uptempo, fiery and utterly infectious numbers. This part of the gig alone demonstrates what's wonderful about Dan's style. He's deceptively soft and gentle on the surface. When he comes on stage, he's making fun of himself as much as the band who've been on before and then he tears your head off with the raw brutality and pure honesty of his work. So you get this juxtaposition of musical fluffiness (all acoustic guitar, banjo, cello, light drum beats etc) with lyrical attitude (ouch, he's rapier sharp). So, much like Meursault's contrast of visceral electronic beats and industrial-sounding production with anguished, haunted vocals, Withered Hand is quite disarming and very refreshing. You can see why Neil and Dan are such good pals and will clearly both be riding all the way to the top of the tree, as the rest of the world wakes up to Edinburgh's punk-rocking, anti-folk, musical revolution.

myspace.com/witheredhandmusic

Pictures of Withered Hand, The Travelling Band and The Set Up by David Forcier.


---

Come get a sugar-rush at Limbo's candy-pop special with Unicorn Kid, Sugar Crisis and Ex Lion Tamer. Mind the bubbles! This one's really popping.

If you're on Facebook, tell us that you're coming along here.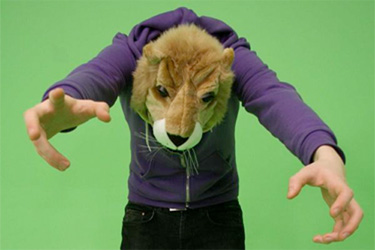 We've been dying to get Unicorn Kid on at Limbo since we first discovered him on myspace early last year. His 8-bit sound, reminiscent of vintage old school arcade game soundtracks and hand-held toys such as the Nintendo Gameboy, is very Eighties and all the rage right now. Expect a riot of colour, club kids and candy-floss sounds.

Oli Sabin a.k.a. Unicorn Kid has been getting plenty of attention from various corners of the media and club goers everywhere. Still in his teens, he's already released his debut single, been played on Radio 1, Featured in NME, had a daily download on NME.com, played the Official Skins Launch Party, played two sold-out London shows, done a sold-out showcase at In The City and recorded a BBC session. His debut single features three tracks, A-Side 'Lion Hat' is a turbo-disco bag of goodness that has knocked the winter blues into 2010. It comes complete with two B-sides in the form of 'Goodbye' and '8 Bytes'. Not only are the three tracks recorded and produced solely by Unicorn Kid he also does all the artwork natty himself. Quite a talent! Oh yes, this Edinburgh-based teenager has everything going for him.

Unicorn Kid originally starting producing music as a hobby at 15, layering different melodies on his Casiotone keyboard. He went on to play about with professional sequencing software on his laptop, integrating various circuit-bent instruments and toys into his music. His first gig was in January 2008 in front of a small group of friends in a tiny city centre bar in Edinburgh. He now has a solid fanbase all over the world, including dedicated music lovers in America, Germany, Japan and Canada. Unicorn Kid admits that he owes his rapid rise in popularity to the promotional power of myspace, receiving regular hits from kids all over the globe. Your browser may not support display of this image.Your browser may not support display of this image.

myspace.com/unicornkid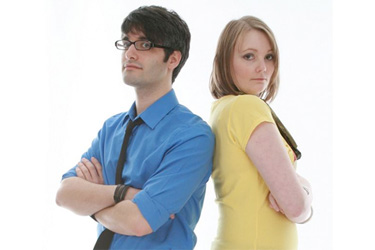 Echoes of The Housemartins in the vocal styles but a synthetic sound more like Erasure makes Sugar Crisis one of the more exciting pop acts we've come across on 'the space' of late. Topics range from the heroic/triumphant (We Are Here To Save You) and more prosaic (Sunshine Kid) to the mundane/workaday (We Are Stuck In Traffic).

THe band say 'Sugar Crisis were formed in continental Europe during the revolts of 1848 and then again in Scotland in 2007 - the second time with armaments. In both incarnations they stand in a complex relationship to their age: both King Frederick William IV and Proudhon accused them of 'poking the squirrel' and today their music reverses medium and message, a tesseract of criticism; judo-hurling the culture industry down onto its dessicant arse. Sugar Crisis insist on major chords and the calcification of carbon footprints 'to whisper a carnival of shaven futures'. They have their 'own reasons' for everything. Their logo allegorises the gynaecogenic _jouissance_ of Circuit Seven psychedelic experience. Only their singing can unzip this biography. Sugar Crisis are Neil Brunton and Lorna Anthony and they are waiting for you at the end of your journey, smiling.'

myspace.com/sugarcrisis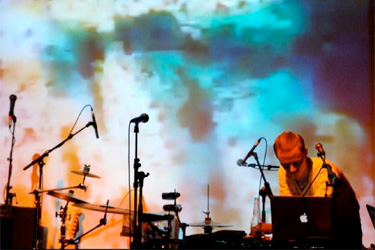 Easily one of our favourite Edinburgh artists, Ex Lion Tamer finally made his Limbo debut at our first birthday party after a few abortive attempts to get him on. Fresh, polished and more pop than almost anything else in Edinburgh right now, he's been a real revelation in the city over the last six months and slotted in particularly well before the final DJ set of the night of November 27th. We're expecting more of this next week. Ex Lion Tamer's music is pure electro-pop, what with all the synthetic vocals/vocoders and naive synth melodies, with an occasional dose of electric guitar. It's got buckets of soul and real depth too, though, as he bares all on vox as well via his trusty vocoder. We're reminded of contemporary artists such as Schneider TM, Matthew Dear, Daft Punk and Vector Lovers but ELT also hails bands such as Yazoo and Erasure, Madonna, Whitney Houston and Cyndi Lauper on his myspace. At last, an Edinburgh act unashamed to wear his gay pop influences on his sleeve! And Ex Lion Tamer really is that POP too. It's a very mature and accomplished sound which we think will find fans all over the globe once word spreads. Which shouldn't be long now; he's recently inked a deal with local music-blog-turned-fledgling-label 17 Seconds, the first fruits of which will be out as a digital download on Monday 9th March. Mind the bubbles! This one's really popping.

myspace.com/xliontamer
MAILING LIST
FACEBOOK/MYSPACE
Come and hang out on Facebook here or say hi to us over here at MySpace
CHEAP DRINKS!

Don't forget you can take advantage of £2 bottles from any of the Voodoo Rooms' three bars by showing your Limbo wrist-band to the bartender.
VENUE INFO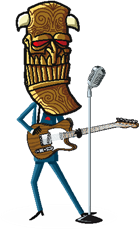 Limbo takes place at The Voodoo Rooms, West Register Street, Edinburgh.

Times: 8.30pm - 1am *
First band 9.00, second band 9.45, third band 10.30

Entrance: £4 *

Ph: 0131 556 7060 (venue) / 0131 477 6916 (promoter)

* except where otherwise advertised
Sponsored Links