PLEASE NOTE LIMBO DOOR TIMES HAVE HAD TO BE CHANGED DUE TO NOISE COMPLAINTS FROM THE VOODOO ROOMS' NEIGHBOURS

Doors: 8pm
First band: 8.30pm
Second band: 9pm
Headliner: 10pm
Live curfew: 11pm
Club closes: 1am

This week, it's Edinburgh's anti-folk gems, WITHERED HAND who are an absolute must see. Dan Willson's song-writing wizardry guarantees exquisite pop melodies and beautiful quirky lyrics that threaten to throw folk music up against the wall and give it a proper thrashing. Dan is backed up by Meursault's songwriting maestro Neil Pennycook on banjo and harmony vocals. Expect an unforgettable evening that will be nothing short of epic.

THE TRAVELLING BAND are doing what is says on the tin and visiting us from Manchester. This six piece band have got fans spreading across the globe at a rate of knots and they promise to light up the Limbo stage in a unique way.

We've had Austen George on at Limbo before with his other band, The Alvas, but for this show he's reigniting former on-stage flames THE SET UP. A formidably talented musician, Austen's built a sizable local following and is guaranteed to get this night off to a flying start.

Financial Armageddon continues and so does our £4 door for the moment.

Also don't forget selected bottles of beer are only £2 with your Limbo wristband.

If you're on Facebook, tell us that you're coming along here.

Check out all of our photography here

REHEARSAL ROOMS: The Black Spring Rooms are still running and available for hire for as little as £7 / hour for block bookings from 5pm until late. Get in touch now for more info: rooms@black-spring.com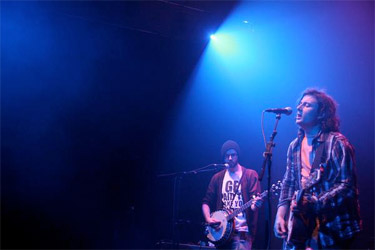 If you've not yet heard of Edinburgh's Withered Hand, alias Dan Willson, then you can be sure you'll be hearing a lot more of him this year, so prolifically do his fans reproduce themselves. And little wonder, too. Listen to his myspace and two things immediately become abundantly clear: 1, Dan Wilson writes great lyrics. 2, Dan Wilson writes great tunes.

Adding these two factors together equals something very special indeed. His recent EP Religious Songs has had the blogosphere raving and his gigs are something to behold. Neil Pennycook from Meursault, produced this debut EP, and unsurprisingly the first run of these sold out in the blink of an eye. No doubt more will be available at this gig, though, featuring illustrations and cover artwork also by Dan Wilson. Get 'em while they're hot!

Whilst Withered Hand is a solo project, his impressive list of collaborators have included Cammy Watt (Les Enfant Bastard), Neil Pennycook (Meursault), Alun Thomas (The Leg), Hannah Shepherd (cello), Dan Mutch (The Leg) and Chris Bryant (also of Meursault) and it's likely that there will be some serious talent on instrumental duty at this gig.



Withered Hand are one of the best bands in the city at the moment, mixing acerbic wit with caustic self-loathing and futile optimism. If anyone embodies Scottish songwriting as I see it then it is Dan, and his band is worth making a considerable trip to see. Brilliant.' Songbytoad.com



....we had the pleasure of witnessing one of the best bands I've seen this tour…damn it…this year! Withered Hand was their name. If you get a chance, purchase their ep Religious Songs.' James Yuill of the uber-hip Moshi Moshi label, online tour diary

myspace.com/witheredhandmusic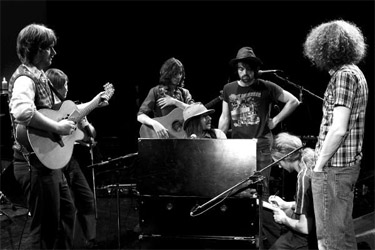 We hadn't heard of the Travelling Band when we were offered them at the tail end of last year but a cursory glance at their myspace reveals them to be a band of no mean calibre and when you factor in just how many other people agree (check the list of classy venues and festivals they're playing on this tour for proof positive of a band on the make, with Glastonbury, Glasgow's Nice N Sleazy and London's auspicious Luminaire all among them), it's fairly obvious that they've got something going on.

Manchester 6 Piece, The Travelling Band take influence from folk, county, psyche and rock before filtering it through their own sunshine-POP sensibility. On their debut album, Under The Pavement, rarely has a British band of recent times sounded this fresh and timeless, here is a band who excel at sounding happy, sad, frustrated, and vulnerable, often at the same time, and their best songs, whether they're fast or slow, feel like they're bursting with energy and wisdom. Winners of the Glastonbury New Talent competition 2008, The Travelling Band's live show is a feel-good tour-de-force. Swapping instruments, inspiring audience participation whilst shifting effortlessly from heartfelt ballads, through psychedelic sing alongs to classic pop tunes, theirs are shows where no-one leaves unconverted.

Listening to their demo again now, it's safe to say we're really looking forward to checking out these Mancunian troubadours as they make their Edinburgh debut at Limbo. Their most obvious touchstone being Crosby, Stills, Nash and Young, we expect them to fit in extremely snugly between The Set Up's own brand of blues and folk-inflected sunshine pop and Withered Hand's more folk-inspired take.

Also, The Travelling Band are running a competition for everyone to enter and will come and perform in the winner's living room! See here for more info.

myspace.com/thetravellingband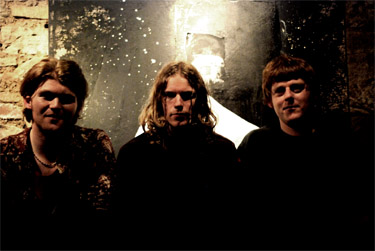 We've had Austen George on at Limbo before with his other band, The Alvas, but for this show he's reigniting former on-stage flames The Set Up. A formidably talented musician, Austen's built a sizable local following and is guaranteed to get this night off to a flying start.

Edinburgh based, 3-piece alternative rock band with blues and folk undertones. Austen George is the singer-songwriter and guitarist. Lewis Rosa is on backing vocal and bass. Murray Briggs on drums. With a focus on signature hooks, memorable riffs and powerful three-part harmony, The Set Up weave electric guitar, acoustic and piano based songs to produce raw, emotive music.

Past credits include radio play on a number of stations including Radio 1 and Radio Scotland amongst others; rave reviews by Vic Galloway on radio and Rick Fulton in the Daily Record; and a live session on BBC Radio Scotland. They were the house band at seminal Edinburgh venue, The Left Bank, were they developed a large following with their flair for clever rock'n'roll and their three-part harmony. They've played some of the finest stages in Scotland, including the Classic Grand and the Arches in Glasgow and the Liquid Rooms and Bongo Club in Edinburgh, plus a whole host of others. Austen has scored music for both BBC and Chanel 4 television as well as supported acts like Supergrass. Murray currently plays for Aberfeldy, The Gin Goblins and Chris Bradley.

myspace.com/setupuk



Last week's Limbo was pretty spectacular really. Night Noise Team made a return visit and came over all retro Eighties indie, Glagow's Babygod also came back to giev us another glimpse of their brilliance and won a bunch of new fans and headliners Findo Gask proved why they are one of the most intriguing and exciting propositions on the Scottish pop landscape right now.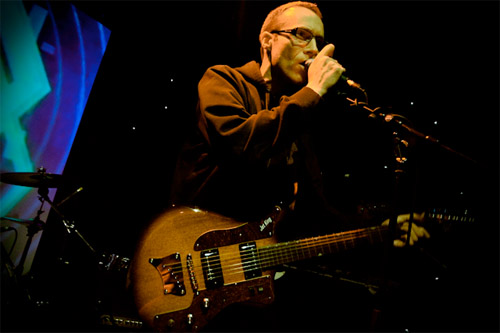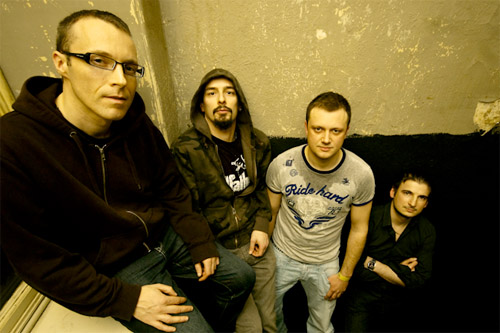 Night Noise Team exhibited heavier shades of the influence of The Smiths than I'd ever perceived before, well, heavier shades of Morrissey in singer Sean's vox before, to be accurate. Which is no bad thing and I'm sure he wouldn't object to such a comparison, particularly from a lyrical perspective. And it's possibly in the lyrical department that Night Noise Team are most rewarding, possibly... And, if singer Sean is NNT's Mozzer, then bassist Fabien is definitely the band's Johnny Marr, with these two forming the core singer-songwriter partnership at the heart of the band. Not to do any disservice to guitarist Marco and drummer Mike, though, both of whom bring their own accomplished musicianship to the table and ensured that Night Noise Team sound and look every bit the band on the make. Sean's confidence has really grown and they are clearly feeling pretty relaxed as they try out a new song, The Gift, on the Limbo crowd and it goes down pretty well. We look forward to hearing more of that new material the next time they play.

myspace.com/nightnoiseteam


babygod, equally, are in fine fettle. It's only been five or six months since their last appearance but six months is a long time in pop music and singer Gerry is feeling chipper following a recent rave review his band received from no lesser critic than Mojo Magazine. They come out with all guns blazing at the start of their set, grabbing everyone's attention, and the pace hardly lets up for half an hour, with only a brief dip mid-set for a coupe of more introspective numbers. But even the slower, more introspective ballads are noticeable. In fact, in the case of Hope it is positively screaming to be noticed by a wider audience, so succinctly and successfully do they express so much of what it feels like to be alive in the Noughties. Other stand-outs Time and Home are just as liable to induce popular hysteria if they were just given the chance. babygod have locked on to something truly sublime in their music and, quite frankly, it will be a shock if they don't go all the way to the top.

myspace.com/babygod


Finally, Findo Gask come on and the music has still got that new wave/electro-pop flavour that Babygod flirt with lightly (albeit with synth as central instrument rather than guitar), but these Glaswegians have ratcheted all the amps up to eleven and bring a distinctly west coast techno take. Then there's singer Gerard's alto, which gives the outfit a distinctly choral edge, and ensures that, if anything, they sound more like Erasure than anyone else we've staged at Limbo. But there the similarity ends. This band is a bigger outfit than Erasure, though, and there's quite a lot more going on in their sound as a result, not least a raft of 8 bit Nintendo-style computer game samples (in itself a sound that's become very fashionable of late). They also exhibit a geekier chic than the afore-mentioned gay pop icons. Findo Gask, as well as having an highly unusual name, have an highly unusual musical style, with Gerard's vox forming a perfect counterpoint to the group's heavier electronic workouts. They get the Limbo crowd into a bit of a sweat for sure and it's like nothing else we've had on before. Expect great things.

myspace.com/findogaskuk

Portraits of Night Noise Team and Findo Gask by David Forcier. David had to run off to get a train so thanks very much to Pete Methven for stepping it at the very last moment and grabbing some great live pics which can be seen here and here.


---

We originally had Eugene McGuinness (Domino) booked for this date, but he cancelled due to press commitments on his French tour, which starts at the weekend. Ross Clark And The Scarfs would have made the perfect foil for Eugene, but we're just as pleased to be announcing the live debut of Snide Rhythms in support of quirky Edinburgh lyricist and songsmith Randan Discotheque who is now performing with a full band, while Ross now moves up into headline position to fill Eugene's shoes. And deservedly so.

If you're on Facebook, tell us that you're coming along here.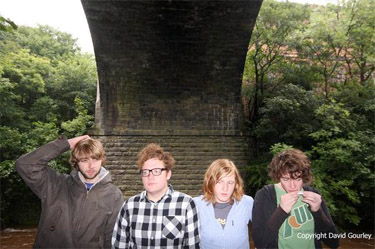 Ross is bringing his full band for the show, so we get the Scarfs as well as Mr Clark for what will surely be a great performance from this man-on-the-make.



Five steps into this eight-story MySpace Trail and a woefully unfit DiS needs to take a breather, so it's lucky for us we've stumbled upon scruffbag singer/songwriter Ross Clark. Now, wistful guitar playing stool-sitters are not normally our bag, but this Glasgow-based troubadour creates wind-blowing acoustic lullabies of such striking beauty it's impossible not to be captivated by his lonesome, fireside mew and choppy fret-picking. Already picking up a plethora of praise in the dog-eared pages of the local press, Ross's stirring nomadic psalms rest steadily in the fissure between James Yorkston and Daniel Johnson. A bright future surely beckons for this charm-oozing romantic. (Drowned in Sound)



Ross Clark is the pick of the current crop of un-amped British one-man bands. 'Anthems In Clams' is absolutely sublime, and Clark, like a perfect amalgam of Jeff Buckley, Antony Hegarty & Devendra Banhart, is completely compelling and unashamedly torchy......' Time for Heroes Magazine



Ross Clark delivered an absolute stormer of a set, ending up in the crowd and receiving a well deserved standing ovation. Great Stuff' - The Herald



Looking like the bastard rockabilly son of a Proclaimer and with a singing voice like a shot of raw Glasgow bluegrass, 20-year-old Ross Clark's exuberant, sweat-drenched live sets have been getting him a reputation. He sings brainy songs about girls and going for a fry-up and his new single 'Silversword' is rollickingly brilliant with a natty litle trumpet solo' Kirstin Innes



To look at bespectacled Glaswegian Ross Clark, you might expect him to be a modest, sensitive, home-spun folkster. But, au contraire, Silversword (4stars, out now) is a raucous, joyous, full-band-with-horns blitzkrieg, taking the populist bent of The Fratellis and filtering out all the bad stuff' Nick Mitchel

myspace.com/electricpolyester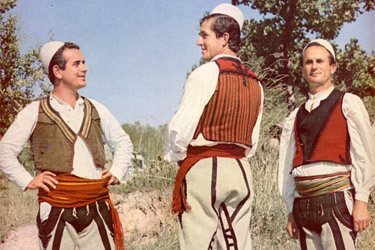 We've been aware of Randan Discotheque for a couple of years now, via gigs at the Wee Red Bar for starters and his part in the Art School Dance film. He's been on the list for a gig at Limbo for months now but - now a trio instead of a soloist - we're especially looking forward to seeing how the new band performs.

Born on the shores of Lago di Como, yards from the scene of Mussolini's death, Randan Discotheque were formed in the summer of 2006. Early gigs consisted of ancient songs of heartache and humour, accompanied by digital projections of heraldic antiquity and forgotten footballers. Band leader Craig Coulthard had been writing songs since Primary 7, but it took 15 years to work up the courage to actually sing them. After a few early gigs, and the self-release of their first album "Randan Discotheque" described by Scottish songwriting legend Michael Marra as 'a very good record indeed' and by The Handsome Family as 'lovely/creepy', there followed some media interest with articles in Dazed & Confused, The Stool Pigeon and the St Andrews Citizen. In 2007, after joining forces with the considerable firepower of fellow Fifekills: artists Rob St John, My Kappa Roots and The Wee Rogue, there followed a short tour of London and an appearance at Fence Records Homegame Festival. In summer 2007 came the release of a second album 'I Am the Singer, You Are the Song', which contained popular hits 'The Prince Must Go to Iraq' and 'I'd Like To Be Alone'.

Since then gigs all over Edinburgh, Glasgow, Athens and Arbroath have come and gone, and in summer 2008, the Randan band was manned with a further two additions, Doug Currier and Olly Ridgewell. Now playing with drums, bass and assorted other things, Randan Discotheque have an expanded sound, capable of rocking the boat and steering it into calmer waters. New recordings are under way, including live favourites "Heather the Weather" and "Daily Record May 18th 1993", the latter to soon be a 7" single release, with additional help from Hugo Paris and Neil Landstrumm.



An emotive and evocative record that displays Craig Coulthard's masterful song-crafting skills' (The Stool Pigeon)



Craig Coulthard combines his lyrical candour with delicate strumming, resulting in a wildly varying tone to this record's many high points' (The List)

myspace.com/randandisco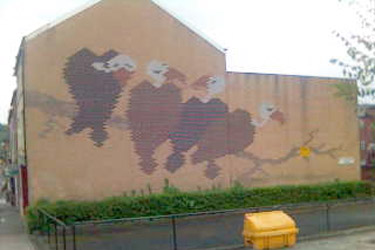 After years of tinkering and bleeping with machines Colvin Cruickshank was asked to reform his first group Nonstopcamels to perform live for The Art School Dance film. All involved were blown away with the end result and a sell out gig followed later that year. Thriving on the buzz of this, Colvin was keen to pursue the project but it was not to be. However, when friend and work colleague Craig Coulthard went for a three month exchange to Dusseldorf, Colvin seized the opportunity to borrow his Randan Discotheque rhythm section (Doug and Ollie). Drafting in the multi-talented Hugo (ex-Minotaur Three) on guitar the new group was now ready to create. This will be their debut gig...

Colvin will be well known to anyone who has ever frequented The Egg, or any other night at the Art School's excellent Wee Red Bar for that matter, since he's been the boss there for a number of years now and has presided over the venue's revival from little-known and oft-maligned space to thriving club and live music hang-out. The Wee Red is now one of the key vertebrae in the ever-growing backbone of the Edinburgh music scene and Colvin is in no small way responsible for that. Having first met him in 1998 and put out a track by his old Think Thank electro project via my music fanzine/fledgling label, underword, i'm chuffed to bits this week to be promoting the debut live show by Colvin's new band. Anyone who knows him will tell you he's quite a performer. No myspace yet but Snide Rhythms have produced a three-track demo, with elements of surf guitar, glam rock, Iggy Pop and more. They're obviously still figuring out their sound but don't want to mine just one genre. Either way, the demo is tight and you can rest assured that the band sound great. Fronted by Colvin, this should be pretty special, and no mistake.

Myspace is now up: myspace.com/sniderhythms
MAILING LIST
FACEBOOK/MYSPACE
Come and hang out on Facebook here or say hi to us over here at MySpace
CHEAP DRINKS!

Don't forget you can take advantage of £2 bottles from any of the Voodoo Rooms' three bars by showing your Limbo wrist-band to the bartender.
REHEARSAL SPACE?

The Black Spring Rooms: competitive prices, friendly service, easy access and no fuss for as little as £7 / hour; free parking on site + six bus routes to service it in Leith. More info here
VENUE INFO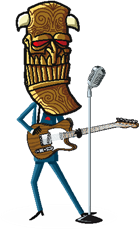 Limbo takes place at The Voodoo Rooms, West Register Street, Edinburgh.

Times: 8.30pm - 1am *
First band 9.00, second band 9.45, third band 10.30

Entrance: £4 *

Ph: 0131 556 7060 (venue) / 0131 477 6916 (promoter)

* except where otherwise advertised
Sponsored Links