This week, we investigate the nature of pop with Findo Gask, Babygod and Night Noise Team. Expect the melody to lead you into ethereal realms via choice Eighties pop sensibility and some French/Irish chanson.

It's hard to find words to express just how accomplished a band BABYGOD are, so bevelled and polished are their songs. FINDO GASK have an equally finished quality but also imbue their material with inspired modern electronic sound effects and production, giving it a 100% contemporary flavour, where Babygod's take has a more classic Eighties feel. NIGHT NOISE TEAM's approach is similarly old skool, with the focus first and foremost on the songwriting.

In view of the current economic crisis and impending financial armageddon, we've decided to keep the Limbo door at £4 flat as much as we can. There will still be the odd night where we may have to charge a bit more to cover the cost of a touring band but Limbo will generally have cheaper admission as long as the four horsemen of the apocalypse are battering at the gates of western capitalism and finance! So expect to pay no more than £4 on arrival at Limbo unless otherwise instructed in one of these missives. And don't forget selected bottles of beer are only £2 at Limbo! DOUBLE BARGAIN!! BEAT THE GRIM RECESSIONARY REAPER!!!

If you're on Facebook, tell us that you're coming along here.

Check out all of our photography here

REHEARSAL ROOMS: The Black Spring Rooms are still running and available for hire for as little as £7 / hour for block bookings from 5pm until late. Get in touch now for more info: rooms@black-spring.com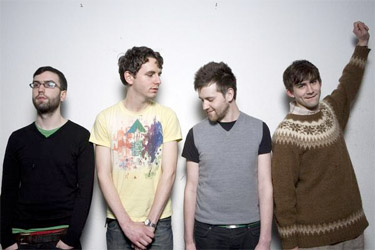 We're very excited by Findo Gask bringing their 'perfect celestial pop' to Limbo. We've been after this Glaswegian quartet for a gig since Limbo began in November '07, such is their reputation, but it's taken this long to get a date nailed.

Gregory and Gerard have been in bands together since they met at school in Fife. Michael was added to the band after meeting Gregory at Fife Youth Orchestra. In 2005, an early incarnation of the band released a split seven inch with Glasgow's soon-to-be-huge Errors (Rock Action) produced by Gavin Thomson (of local band Flying Matchstick Men, who also featured Graeme Ronald, aka Remember Remember). After the demise of Flying Matchstick Men early in 2007, Gavin and his arsenal of electronic gizmos joined the band full-time, and the band took some time out to write new material, the first fruits of which were the critically acclaimed single "Va Va Va" on Glasgow clubbing institution Optimo's OSCarr imprint. Taking a break from gigging for the first half of 2008, they spent their time bolstering their catalogue of songs and notching up remixes for Yoko Ono, Bloc Party, the Long Blondes, Midlake and more. The latter half of 2008 saw a return to playing live, doing shows with Ladytron and The Week That Was, as well as on Optimo's Unknown Pleasures stage at the Connect Festival. New single "One Eight Zero" was released in December 2008 on Leeds/London based Angular Recording Corporation and has been making waves. We're expecting big things for Findo Gask this year.



One of the year's strangest and most sublime singles. A real discovery.' Sunday Times



Check out the extraordinary gossamer falsetto of Glaswegian Gerard Black.' Observer Music Monthly



Perfect celestial pop.' Guardian



Music both sublime and bumping.' Sunday Herald

myspace.com/findogaskuk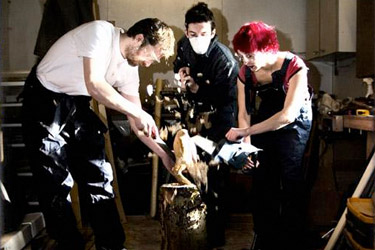 Last time we put babygod on (also their Limbo debut, on 30th October), everyone was so impressed and we liked them so much that we had to get them on again as soon as possible. Well, let's just say that this opportunity will have come round again not a moment too soon. They really are pretty special and you must come and see them.

"Brothers Gerry and Brian Campbell of Babygod met when Gerry was very young and Brian couldn't have been much younger. Later, they met Ruth Mills at high school. She sang, she danced, she played violin. She could back-flip down the corridor. Anyone would want to make friends with a girl like that. She went off to London to study contemporary dance while Gerry went to Glasgow Uni to study French. These two strands are integral to the uniqueness of the group. It's not unusual for them to be heard covering Serge Gainsbourg (a big lyrical influence) or playing their own Machin Truc, a bizarre, out of character piece of Gallic quirk-punk. Ruth's aesthetic sense led her naturally into photography and film making. Often using non-dancers performing simple movements, she choreographs the film in the editing process. These then provide a stunning backdrop for Babygod live shows. Her work is most commonly shown in the kinds of cinemas where Penelope Cruz only ever speaks Spanish. The most recent piece is a pop video for forthcoming single 'Time'. Ruth press-ganged eight contemporary dancers into being drilled militarily for a day. The result is a sharp, angular visual treat.

Gerry's song writing takes on large themes in small doses. Home, Time, Hope, Ideals and Perfection all come into focus under his forensic lens. Their self-promoted Black Cat club nights are as likely to include films or performance poetry as much as old-fashioned rock'n'roll. They're always sold out. As the song says, 'There is no time, no time like now.'" (band's biog)



Time has the jerky quality of early Talking Heads before they discovered funk, while Home has the slow-burning quality of early Blue Nile... They'll do something great" Paul Lester, Band Of The Day, The Guardian



A band this great must not be ignored. Babygod are poise, elegance, subtlety, tunes and originality combined with timeless familiarity" Tim Riley, Wound Magazine

myspace.com/babygod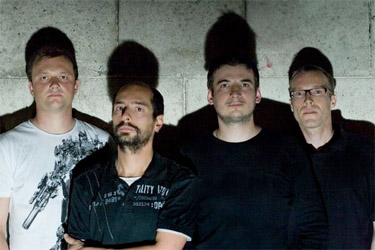 Night Noise Team is a Franco-Italian, Fife-Irish four-headed beat monster.

In the studio, NNT draws on experimentation and lush arrangements informed by chanson, progressive disco, melodic rock, soundtracks and the absurdist spoken word. Live, the sound is a Route One, guitar-led rush of melody and urgency. Enigmatically described as 'bridging a seemingly unassailable gap between Joy Division and the Scissor Sisters' (The Skinny), NNT's first album 'Ronde de Nuit' has been well-received by NME, Is This Music? and The List amongst others.



an effortless pop nous that may induce apoplexy with the puritanical, dour indie crowd' - The Skinny



Another band to add to the growing roster of great Edinburgh bands that are doing something truly exciting.' - Is this music?

myspace.com/nightnoiseteam



We welcomed Glasgow's Vendor Defender and Paper Planes for the first time at Limbo and welcomed back Edinburgh's Thieves In Suits who'd played a bit of a killer for us last year and so had to come back asap.


Paper Planes open with a storming set. With glistening disco rhythms and sonic riffs to make teeth grind plus singer Jen's raw yet engaging vocals enrapturing the entire audience, Paper Planes are reminiscent of the Breeders and early Yeah Yeah Yeahs. They don't waste any time on mid-track chatter and plough through their set to a great response from the crowd. It's Jen's first ever gig in Edinburgh and the whole band haven't been on the go for long either but they've clearly been rehearsing hard. They do a great cover of Nightclubbing, which according to our sources is better than many of Iggy Pop's own live versions of this song and everything about them screams that this is a band to watch. Other reference points include The Strokes, The Smiths, Blondie and a little bit of surf guitar. Great stuff all round and we can't wait to get them back again.

myspace.com/glasgowpaperplanes


Vendor Defender go on next and they're a strong proposition with some great material. They have the air of a band which has been assembled in a very genuine way as opposed to some half-arsed outfit conceived in the pub or manufactured by some pap machine. A minor string malfunction at the end of the set proves only to dishearten the band as the crowd will them on for their last song, with the help of a spare axe from Thieves in Suits' Scott. Minus this hiccup, the rest of the set is flawless and undeniably huge. The sharp, ripping bass riffs pouring from the stage noticeably get heads nodding. A subtle use of distorted vocals tie the songs together beautifully, giving them a great gritty sound that envelops the room. It's very early days still for Vendor Defender but expect to be hearing and seeing more of them this year, there's definitely something interesting going into their coffee/tea/beer/porridge...

myspace.com/vendordefender


Thieves In Suits are headlining tonight and it's another really strong performance from them, with all the band looking the part on stage. It's always a joy to see a group who make such an effort with their on stage appearance. Being a three-piece with their dapper attire, it's easy to make the connection with tubby punkers Young Knives, but Thieves In Suits blast onto the stage in a glorious cacophony of tracks it's impossible to ignore. And tight ain't the word tonight; there's barely a glint of mistakes or missing beats, except when Jake's drum stick explodes mid-song, which he proudly unveils to the crowd. Unfazed, they finish a blinding set in a great finale to another great night.

myspace.com/thievesinsuits

Thanks to Mike from Dead Boy Robotics for all his notes on the band's above and for standing in on DJ duties. He did a great job by all accounts and the tunes before, between and after the bands were all good. Come back and DJ again soon, Mike!. Thanks also due to Vic Galloway for additional feedback.

Paper Planes, Vendor Defender and Thieves In Suits pictures by David Forcier.


---

Next week's Limbo has a sublime folk flavour, laced with a very large dose of sunshine POP, from Manchester, in the form of The Travelling Band (who are touring and play Edinburgh for the first time), as well as Edinburgh, in the shape of the excellent Withered Hand and Austen George's band, The Set Up.

If you're on Facebook, tell us that you're coming along here.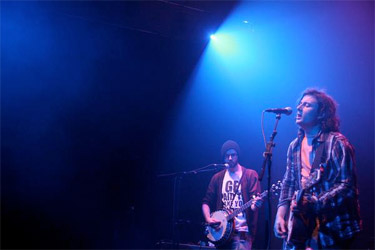 If you've not yet heard of Edinburgh's Withered Hand, alias Dan Willson, then you can be sure you'll be hearing a lot more of him this year, so prolifically do his fans reproduce themselves. And little wonder, too. Listen to his myspace and two things immediately become abundantly clear: 1, Dan Wilson writes great lyrics. 2, Dan Wilson writes great tunes.

Adding these two factors together equals something very special indeed. His recent EP Religious Songs has had the blogosphere raving and his gigs are something to behold. Neil Pennycook from Meursault, produced this debut EP, and unsurprisingly the first run of these sold out in the blink of an eye. No doubt more will be available at this gig, though, featuring illustrations and cover artwork also by Dan Wilson. Get 'em while they're hot!

Whilst Withered Hand is a solo project, his impressive list of collaborators have included Cammy Watt (Les Enfant Bastard), Neil Pennycook (Meursault), Alun Thomas (The Leg), Hannah Shepherd (cello), Dan Mutch (The Leg) and Chris Bryant (also of Meursault) and it's likely that there will be some serious talent on instrumental duty at this gig.



Withered Hand are one of the best bands in the city at the moment, mixing acerbic wit with caustic self-loathing and futile optimism. If anyone embodies Scottish songwriting as I see it then it is Dan, and his band is worth making a considerable trip to see. Brilliant.' Songbytoad.com



....we had the pleasure of witnessing one of the best bands I've seen this tour…damn it…this year! Withered Hand was their name. If you get a chance, purchase their ep Religious Songs.' James Yuill of the uber-hip Moshi Moshi label, online tour diary

myspace.com/witheredhandmusic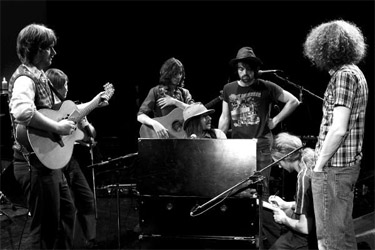 We hadn't heard of the Travelling Band when we were offered them at the tail end of last year but a cursory glance at their myspace reveals them to be a band of no mean calibre and when you factor in just how many other people agree (check the list of classy venues and festivals they're playing on this tour for proof positive of a band on the make, with Glastonbury, Glasgow's Nice N Sleazy and London's auspicious Luminaire all among them), it's fairly obvious that they've got something going on.

Manchester 6 Piece, The Travelling Band take influence from folk, county, psyche and rock before filtering it through their own sunshine-POP sensibility. On their debut album, Under The Pavement, rarely has a British band of recent times sounded this fresh and timeless, here is a band who excel at sounding happy, sad, frustrated, and vulnerable, often at the same time, and their best songs, whether they're fast or slow, feel like they're bursting with energy and wisdom. Winners of the Glastonbury New Talent competition 2008, The Travelling Band's live show is a feel-good tour-de-force. Swapping instruments, inspiring audience participation whilst shifting effortlessly from heartfelt ballads, through psychedelic sing alongs to classic pop tunes, theirs are shows where no-one leaves unconverted.

Listening to their demo again now, it's safe to say we're really looking forward to checking out these Mancunian troubadours as they make their Edinburgh debut at Limbo. Their most obvious touchstone being Crosby, Stills, Nash and Young, we expect them to fit in extremely snugly between The Set Up's own brand of blues and folk-inflected sunshine pop and Withered Hand's more folk-inspired take.

Also, The Travelling Band are running a competition for everyone to enter and will come and perform in the winner's living room! See here for more info.

myspace.com/thetravellingband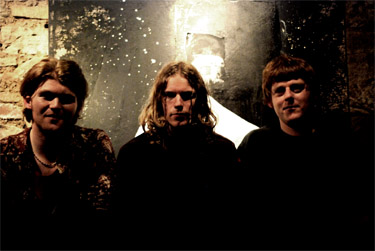 We've had Austen George on at Limbo before with his other band, The Alvas, but for this show he's reigniting former on-stage flames The Set Up. A formidably talented musician, Austen's built a sizable local following and is guaranteed to get this night off to a flying start.

Edinburgh based, 3-piece alternative rock band with blues and folk undertones. Austen George is the singer-songwriter and guitarist. Lewis Rosa is on backing vocal and bass. Murray Briggs on drums. With a focus on signature hooks, memorable riffs and powerful three-part harmony, The Set Up weave electric guitar, acoustic and piano based songs to produce raw, emotive music.

Past credits include radio play on a number of stations including Radio 1 and Radio Scotland amongst others; rave reviews by Vic Galloway on radio and Rick Fulton in the Daily Record; and a live session on BBC Radio Scotland. They were the house band at seminal Edinburgh venue, The Left Bank, were they developed a large following with their flair for clever rock'n'roll and their three-part harmony. They've played some of the finest stages in Scotland, including the Classic Grand and the Arches in Glasgow and the Liquid Rooms and Bongo Club in Edinburgh, plus a whole host of others. Austen has scored music for both BBC and Chanel 4 television as well as supported acts like Supergrass. Murray currently plays for Aberfeldy, The Gin Goblins and Chris Bradley.

myspace.com/setupuk
MAILING LIST
FACEBOOK/MYSPACE
Come and hang out on Facebook here or say hi to us over here at MySpace
CHEAP DRINKS!

Don't forget you can take advantage of £2 bottles from any of the Voodoo Rooms' three bars by showing your Limbo wrist-band to the bartender.
REHEARSAL SPACE?

The Black Spring Rooms: competitive prices, friendly service, easy access and no fuss for as little as £7 / hour; free parking on site + six bus routes to service it in Leith. More info here
VENUE INFO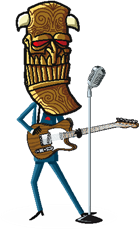 Limbo takes place at The Voodoo Rooms, West Register Street, Edinburgh.

Times: 8.30pm - 1am *
First band 9.00, second band 9.45, third band 10.30

Entrance: £4 *

Ph: 0131 556 7060 (venue) / 0131 477 6916 (promoter)

* except where otherwise advertised
Sponsored Links