This week we welcome the return of the soon-to-be-mighty THIEVES IN SUITS, and add a twist with support from two effervescing new Glasgow bands in the form of VENDOR DEFENDER and PAPER PLANES.

Whilst you might not recognise any of the bands on offer this week, do let us assure you that this is a very serious line-up of some of the most capable bands in Scotland right now. They're all very new but they're all great and making big waves in the Scottish live scene. Go and check out their MySpaces now to hear some truly good music!

Limbo has been rammed with folk for the last few weeks so do come down. It's going to be another memorable event and only £4 entry!

If you're on Facebook, tell us that you're coming along here.

Check out all of our photography here

REHEARSAL ROOMS: The Black Spring Rooms are still running and available for hire for as little as £7 / hour for block bookings from 5pm until late. Get in touch now for more info: rooms@black-spring.com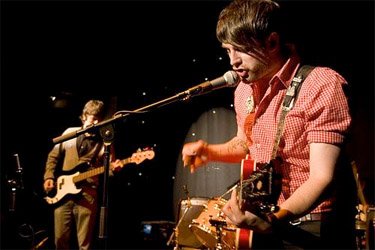 Last time we had THIEVES IN SUITS, they'd barely been going six months, a brand new indie-rock trio (vox/guitars, bass, drums) with the energy of a pack of wolves, a well rehearsed set and some catchy songs to boot. After initially meeting at a house party in Edinburgh, they discovered a mutual love of The Smiths and Motown and decided to go into a practise room to see what happened. The results pleased them and they quickly began working on tracks in various studios in Scotland, but only really started to find their sound when working with Ross MacGowan (responsible for Dannananakyoyd's Sissy Hits EP and We are the Physics' album). They subsequently got national radio airplay from the likes of Steve Lamacq and Tom Robinson at BBC 6music, both Vic Galloway and Jim Gellatly in Scotland, and also internationally in Germany, France and the USA. Since their debut show they have shared stages with The Chapman Family, Coolio, Meursault, Brian Jonestown Massacre, Popup and Attic Lights. They release their debut EP later this month, followed by an album later in the year, also produced by Ross MacGowan (at Chime studios in the bowels of Shettleston, Glasgow). Featuring Jake Miller on drums, whose brother you may remember from The Magnicifents and who was the metronomic backbone to renegade pop punks The Very, Thieves In Suits haven't stopped gigging since they last played Limbo and are building up a loyal local fan-base hungry for their popping sound. A Mini English tour begins in March.

myspace.com/thievesinsuits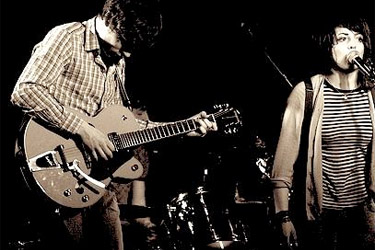 Paper Planes formed in January 2008 after Christopher, Craig and Fraser found New Jersey girl Jen. The songs quickly came together and with art, surf-punk sounds and a variety of tastes in music as inspiration, the Planes had created their own noise: "We came to be mesmerised by the psychedelic drone of The Black Angels and were instead charmed by Paper Planes. The Glasgow quartet supporting the US headliners were appropriate partners, except that they were rather too good for the slot. There is a rarity value to Paper Planes's appearances, occasioned by the lengthy disappearances of vocalist Jennifer Paley back home to New Jersey. It is understandable that her three bandmates are prepared to wait for her to show up, because she is rather special, a diminutive vocal powerhouse who spices her Debbie Harry pop tunefulness with Siouxsie Sioux yelps but has the studied cool of Nico. Great hair, too. Behind her, Craig, Fraser and Christopher provide colourful punk rock'n'roll, with highly melodic use of the bass and effects-laden guitar. This was possibly their first appearance since Hallowe'en and you'll have to wait until February to catch them at King Tut's, but you should." - Keith Bruce, The Herald

myspace.com/glasgowpaperplanes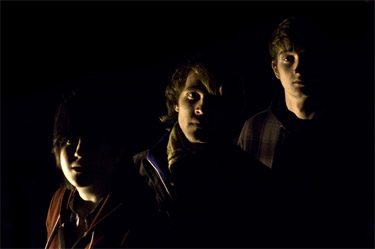 VENDOR DEFENDER got in touch with us recently on myspace, having also been recommended by a friend. We liked their demo immediately.

They formed in Glasgow in early 2008 with Zak, Fraser and Suse creating their infectious Bowie inspired pop/rock. The band are currently concentrating on honing their already intense live performances, having recently played such Glasgow venues as Barrowlands2, Barfly, Nice n Sleazy. They have recently supported We Have Band (Kitsune) on their recent UK tour alongside Micachu and the Shapes, as well as playing with Glasgow favourites The French Wives and Edinburgh's SXSW bound Come on Gang.

It's far from an obvious mix of sounds and ideas, which they describe as Spanish Pop/New Wave on myspace. This is actually a really apt description. Lead track Justin combines a catchy, sparse guitar melody and simple three-chord progression with a jaunty ska-like rhythm and pacy drum-beats. It sounds like to a hit to our ears. And, the best part is, their other songs sound great too, while developing a style which will sound familiar to fans of new wave but still demonstrates an unusual modern twist that gives it an edge. Vendor Defender are a breath of fresh air. We can't wait to see them perform live.

myspace.com/vendordefender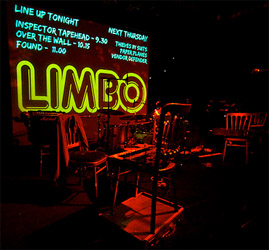 Last week was another glorious Limbo. The venue was packed with people from the start due to Born to Be Wide running in the ballroom before we kicked off and the crowds just got bigger and bigger all night. All three bands gave extremely strong performances that segued particularly well together and left everyone very impressed.

A massive thanks goes to Sarah Tanat-Jones (Come On Gang!) who ably looked after the decks all night and played some perfect tunes. We will be having her back!

We're lacking in notes this week about the individual performances but enjoy David Forcier's great pictures and know that it was good!


Inspector Tapehead kicked off proceedings with a quietly confident set that showed them to be a band with a very promising outlook. Their folky-bluesy-pop tunes build slowly until the electronics kick in and they're maybe sounding a bit like early Beta Band. They've got a very special sound and some great lyrics... the live version of 'I am Your Pedigree' is certainly a revelation in this respect. Cock-a-doodle-do indeed! We will be having them back at Limbo as soon as we can.

myspace.com/inspectortapehead


Over the Wall are a multi-instrumental duo who, as well as being the friendliest guys in pop, capably play more instruments than you can shake a stick at. From a scientific perspective, this means that they pack a serious punch with their excellent ratio of persons to instrumental delivery (something that the current raft of gigantically-crewed Scottish bands might take note of). Anyway... bent over the two keyboards facing each other centre stage, Gav and Ben bang out joyful and powerful pop tunes like some strange machine whose muscles work together in antagonistic harmony. Their usual habit is to offer up lots of great in-between-tune banter but after hearing the recording of their last performance at Limbo, they unwisely decided to do away with it. That notion didn't last long though which is a good thing! Over The Wall are always very well dressed but The Scotsman unkindly suggested that they were wearing the only clean clothes they could find. However, a certain man from Manchester would have more than appreciated Ben's "frankly vulgar red pullover". It was a storming performance that was euphoric at times - particularly Thurso with Ben's joyous trumpet solo - and this set brought them many new fans (thanks to Andy Brown for the some of better comments here!).

myspace.com/overthewall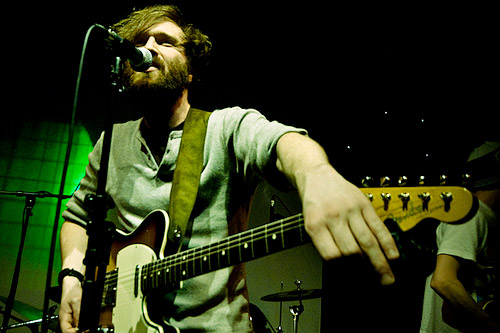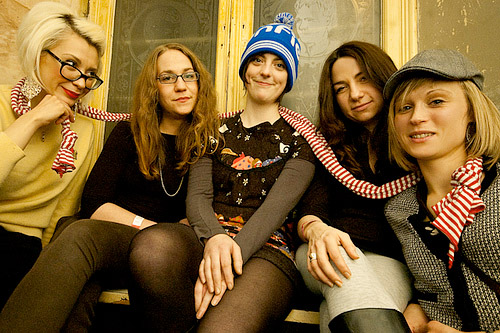 Found didn't want their picture taken because they were too busy drinking pints so these five ladies stepped into the frame instead.

myspace.com/foundtheband

Found, Over The Wall and Inspector Tapehead pictures by David Forcier.


---

Next week we investigate the nature of pop with Findo Gask, Babygod and Night Noise Team. Expect the melody to lead you into ethereal realms via choice eighties pop sensibility and by way of some French/Irish chanson.

If you're on Facebook, tell us that you're coming along here.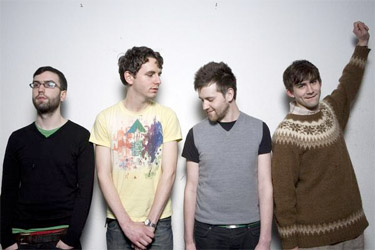 For the moment we're just going to say that we've very excited by Findo Gask bringing their 'perfect celestial pop' to Limbo. This is from their LastFM biog: 'Gregory and Gerard have been in bands together since they met at St Andrew's High School, Kirkcaldy, Fife. Gregory and Michael went to Fife Youth Orchestra together (all the band also have some classical training.) In 2005, an early incarnation of the band released a split seven inch with Errors (currently recording for Mogwai's Rock Action label), produced by Gavin Thomson (of local band Flying Matchstick Men, who also featured Graeme Ronald, aka Remember Remember).

The band spent a year practicing in Gerard's bedroom above notorious local indie dive Nice n Sleazy's, but it wasn't until 2006 (when Flying Matchstick Men split up) that Gavin joined, bringing with him a wealth of electronic equipment, and everything was turned on its head. The band took nine months out to write new material, the first fruits of which are the tracks available on the OSCarr release'.



[Va Va Va is] one of the year's strangest and most sublime singles." - The Sunday Times



Check out the extraordinary gossamer falsetto of Glaswegian Gerard Black." - Observer Music Monthly



Perfect celestial pop." - Guardian



Music both sublime and bumping." - Sunday Herald



Absolutely brilliant... that is staggeringly good!" - Radcliffe & Maconie (Radio 2)

myspace.com/findogaskuk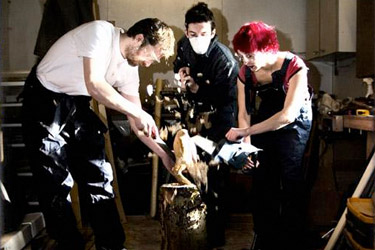 Last time we put babygod on (also their Limbo debut, on 30th October), everyone was so impressed and we liked them so much that we had to get them on again as soon as possible. Well, let's just say that this opportunity will have come round again not a moment too soon. They really are pretty special and you must come and see them.

"Brothers Gerry and Brian Campbell of Babygod met when Gerry was very young and Brian couldn't have been much younger. Later, they met Ruth Mills at high school. She sang, she danced, she played violin. She could back-flip down the corridor. Anyone would want to make friends with a girl like that. She went off to London to study contemporary dance while Gerry went to Glasgow Uni to study French. These two strands are integral to the uniqueness of the group. It's not unusual for them to be heard covering Serge Gainsbourg (a big lyrical influence) or playing their own Machin Truc, a bizarre, out of character piece of Gallic quirk-punk. Ruth's aesthetic sense led her naturally into photography and film making. Often using non-dancers performing simple movements, she choreographs the film in the editing process. These then provide a stunning backdrop for Babygod live shows. Her work is most commonly shown in the kinds of cinemas where Penelope Cruz only ever speaks Spanish. The most recent piece is a pop video for forthcoming single 'Time'. Ruth press-ganged eight contemporary dancers into being drilled militarily for a day. The result is a sharp, angular visual treat.

Gerry's song writing takes on large themes in small doses. Home, Time, Hope, Ideals and Perfection all come into focus under his forensic lens. Their self-promoted Black Cat club nights are as likely to include films or performance poetry as much as old-fashioned rock'n'roll. They're always sold out. As the song says, 'There is no time, no time like now.'" (band's biog)



Time has the jerky quality of early Talking Heads before they discovered funk, while Home has the slow-burning quality of early Blue Nile... They'll do something great" Paul Lester, Band Of The Day, The Guardian



A band this great must not be ignored. Babygod are poise, elegance, subtlety, tunes and originality combined with timeless familiarity" Tim Riley, Wound Magazine

myspace.com/babygod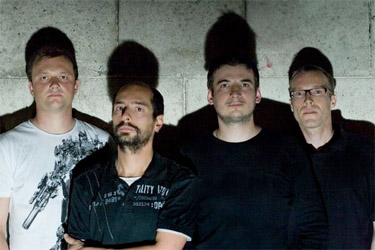 Night Noise Team is a Franco-Italian, Fife-Irish four-headed beat monster.

In the studio, NNT draws on experimentation and lush arrangements informed by chanson, progressive disco, melodic rock, soundtracks and the absurdist spoken word. Live, the sound is a Route One, guitar-led rush of melody and urgency. Enigmatically described as 'bridging a seemingly unassailable gap between Joy Division and the Scissor Sisters' (The Skinny), NNT's first album 'Ronde de Nuit' has been well-received by NME, Is This Music? and The List amongst others.



an effortless pop nous that may induce apoplexy with the puritanical, dour indie crowd' - The Skinny



Another band to add to the growing roster of great Edinburgh bands that are doing something truly exciting.' - Is this music?

myspace.com/nightnoiseteam
MAILING LIST
FACEBOOK/MYSPACE
Come and hang out on Facebook here or say hi to us over here at MySpace
CHEAP DRINKS!

Don't forget you can take advantage of £2 bottles from any of the Voodoo Rooms' three bars by showing your Limbo wrist-band to the bartender.
REHEARSAL SPACE?

The Black Spring Rooms: competitive prices, friendly service, easy access and no fuss for as little as £7 / hour; free parking on site + six bus routes to service it in Leith. More info here
VENUE INFO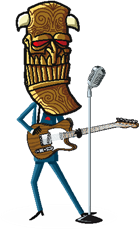 Limbo takes place at The Voodoo Rooms, West Register Street, Edinburgh.

Times: 8.30pm - 1am *
First band 9.00, second band 9.45, third band 10.30

Entrance: £5/£4 *

Ph: 0131 556 7060 (venue) / 0131 477 6916 (promoter)

* except where otherwise advertised
Sponsored Links