After last week's outstanding Limbo, we're coming right back at you with another incredible, must see line-up.

The mighty FOUND are off to Austin, Texas for industry hoe-down South By South West (aka SXSW), in March, so we've invited them to come back for a festival warm-up gig. If you don't already know Found (have you been sleeping?!), they are one of the most successful and critically acclaimed Edinburgh bands on the circuit right now and they have - for some time now - been adding international live dates to a diary that's already brimming with shows up and down the UK.

Who better to support Found than one of our favourite Scottish bands? OVER THE WALL are one of the most entertaining bands you'll ever see gracing a stage and they are guaranteed to fill your soul with joy and make you happy to be alive!

The rear-guard action is supplied by a new Glasgow band called INSPECTOR TAPEHEAD, who are great. Check out the songs on their MySpace to verify that fact. They also feature Jonnie Common (from Down The Tiny Steps) in their line-up

So, there you have it. All the signs are that this will be another mind-bogglingly good Limbo triple bill with two of the best bands in Scotland plus another really exciting, brand new band making their debut. It's unmissable!

Our January sale ended last week but, in view of the current economic crisis and impending financial armageddon, we've decided to keep the Limbo door at £4 flat as much as we can. There will still be the odd night where we may have to charge a bit more to cover the cost of a touring band but, for the time being at least, expect to pay no more than £4. And don't forget selected bottles of beer are only £2 at Limbo! DOUBLE BARGAIN!!

If you're on Facebook, tell us that you're coming along here.

Check out all of our photography here

REHEARSAL ROOMS: The Black Spring Rooms are still running and available for hire for as little as £7 / hour for block bookings from 5pm until late. Get in touch now for more info: rooms@black-spring.com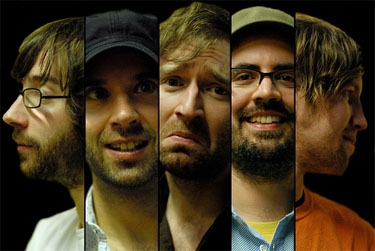 Found's sound is difficult to pin down, mainly because they don't want to be pinned down! Originally a trio who met at art school and formed a group in 2002, Found have a thirst for exploring the outer sonic reaches of the (pop) musical galaxy while making your head nod and, often (as their new EP, especially lead track Let Fidelity Break, demonstrates), your feet shuffle. So, while their first and second albums saw the band tagged as 'nu folk' by the press, they're as likely to hit you with some healthy beats and rock out on stage. Ultimately, though, they have a unique charm, which could only be the result of these five musicians working together: Ziggy Campbell (lead vox, guitar), Tommy Perman (bass guitar, synth), Kev Sim (sampler, melodica), Alan Stockdale (drums, percussion) and Gav Sutherland (keys, backing vox). If you've never seen Found play before, this will be a really good opportunity to catch them while they're still doing small shows and bristling with the anticipation of a band on the way up.

Exclusive Found download album:

Found have put together a special album to try and raise some money towards the cost of taking the band over to play at SXSW in Austin, Texas. 'snarebrained' is a download album featuring a collection of exclusive remixes and songs previously only available on limited edition vinyl. It features collaborations and remixes from Lisa Lindley Jones, De Rosa, Jonnie Common (Down The Tiny Steps) and Akira Kiteshi.

As is the fashion these days, Found have devised an unconventional payment method – the album has five different prices so that the music buyer can decide how much to give Found towards their campaign to conquering the US. Price options range from £2.50 to £49.

You can listen to all the tracks and download the album here

Found are also releasing a brand-new record, called 'The Fidelities EP' coming out on Aufgeladen Und Bereit / Fence Records in March. It will feature 8 new tracks across two formats – 12" vinyl and CD. You can hear the lead track, Let Fidelity Break, on our myspace page now:

myspace.com/foundtheband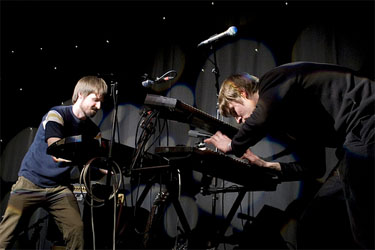 OVER THE WALL have come a massive distance since we first caught them at a T Break heat in August 2007 and thought they were one of the stand-out acts on the bill that night, having recently signed a publishing deal for their music and just been tipped by The Skinny as one of their bands to watch in 2009. Over The Wall have a fantastic attitude to making and playing music (and this seems to be borne out by the ebullient duo's attitude to life in general, as they are two of the nicest people we have met and worked with since starting Limbo) and both look and sound like they're having the time of their lives when they are up on stage, cracking a number of jokes at their own expense last time they played, getting everyone in the room smiling and then going on to wow the crwod and get their unanimous approval at the end. Musically, they plough a rich new wave rock/pop seam, using guitars, synths, a laptop and trumpet, which pays homage to bands such as The Cure and New Order but does't really sound like either of them. No, no, these guys just sound like Over The Wall and that's another reason we like them so much. And, trust us, you will be very impressed too!

myspace.com/overthewall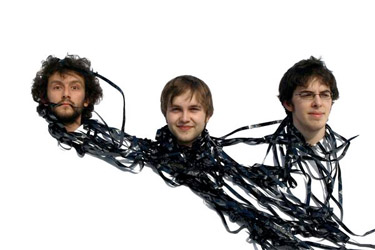 We originally called up Jonnie Common to book his band, Down The Tiny Steps, for a return appearance at Limbo. It had been ages since they'd last played and they'd gone a bit quiet. Jonnie explained that DTTS were unavailable but mentioned his 'other band', Inspector Tapehead, who we'd heard of before from Ewan (The Kays Lavelle), who promoted them at his fine Tramploine night at the Wee Red Bar.

'Fusing older folk and blues guitar styles and melodies, with modern party rhythms, mucky synth licks and an uplifting pop sensibility, Inspector Tapehead is a recording project and stripped-back live experience, engineered to move hearts and hinds. The group brings together former Adam Beattie's Consultants Chris Croasdale (guitar) and Roy Shearer (drums/percussion), with Jonnie Common of Down the Tiny Steps (keyboards). Between meteing out melodic justice in venues across central Scotland, the good Inspector is also recording a first album, which should be released (if it keeps its nose clean) some time around summer 2008.'

We liked the music immediately and knew they'd work really well with Found and Over The Wall. Needless to say Jonnie's excited to be coming back to Limbo to support such a great pair of bands and we've every expectation that the new band involving this very talented fellow will be just as good as the other one he is in.

myspace.com/inspectortapehead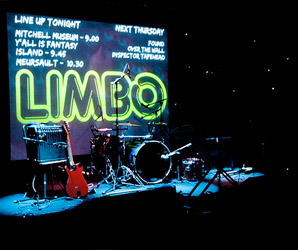 Last week was an absolute belter, and a huge crowd turned up to check out another glorious triple. It was a bout of quite epic proportions as three of the finest live acts on the Scottish circuit did battle for supremacy with a left hook - Mitchell Museum, a right hook - Y'all Is Fantaasy Island, and finally a quite devastating upper cut - Meursault (thanks to JP for the great metaphor). It was one of those occasions when the room seemed to fill up as soon as the doors opened and people just kept flowing in as the night progressed. It was great to see lots of our Limbo stalwarts and regulars there plus many, unfamiliar new faces.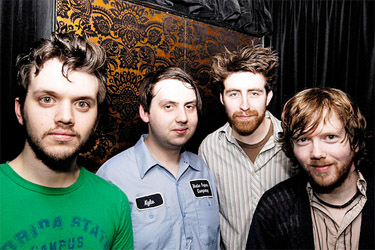 Mitchell Museum are first on and they really seem to know how to enjoy themselves on stage. Their banter is quite hilariously unscripted, to say the least. They don't seem to take themselves at all seriously, with that characteristically Glaswegian, self-deprecting sense of humour colouring much of the interim 'skits' and an absence of any kind of artifice adding up to what's actually some quite clever stage-craft really, as they segue eccentrically between songs - the bad jokes and clowning ingratiating them very quickly to the crowd and helping everyone to relax. They've got some great songs, too. We probably say this quite a lot, but it's honestly not that often that we get a band on whose songs seep into your unconsciousness quite as effectively as the 'ear worms' (that's what they call hits in Germany, by the way) produced by this lot. The music Mitchell Museum make is riotously fun-loving - a lysergic jaunt down richly orchestrated paths, coloured by jubilant fanfares - and they go down very well.
| | |
| --- | --- |
| | |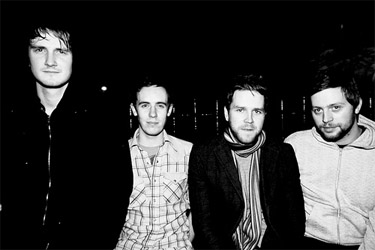 There's a short interval, while Y'all Is Fantasy Island get tuned up. Once they get going, they ignite in a quite epic fashion (actually, the big Eighties rock motifs they launch into at the start suddenly remind me of U2, but I'm not sure they'd thank me for saying that), the projector screen behind them lighting up simultaneously, as DC launches some vintage eastern European animations. YIFI then go a bit a proggy, with occasional flourishes provided by those Eighties riffs, and then drop what's surely Adam Stafford's homage to Kurt Cobain, Punk Rock Disco, with its chorus (we're all selling out, we're all selling out). This also sounds like a bit of a hit and, hey, we're just about due a grunge revival so why not? The Nirvana front-man doesn't stick around for long, but while there's obviously a debt owed to the Nineties legend, Stafford's lyrics are just as affecting and his band are such a tight outfit these days. They mine a rich seam of their own seam via the dead singer's heritage which will surely lead them to stand up on their own merits as their audience swells and confidence grows accordingly.
| | |
| --- | --- |
| | |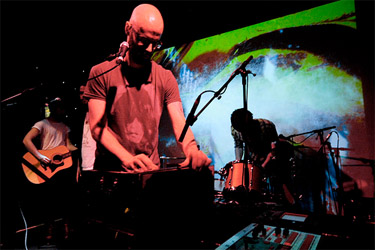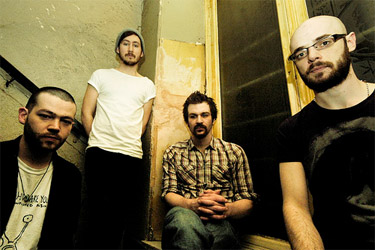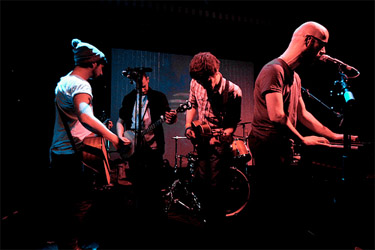 The biggest reception of the evening is reserved for Edinburgh headliners Meursault, however, who later seem quite bowled over by the reaction they have engendered in this well-lubricated crowd. The announcement of every song's title gets a resounding, lairy cheer from the audience, which makes it very obvious just how many people have already bought the CD and think it's great. The band consequently soars and swoops for their half hour on stage, from all-out assaults on banjo, ukelele, laptop and cahon, to a quieter moment where Fraser, Chris and Calum all provide backing vox and hand-clap accompaniment to singer-songwriter Neil Pennycook's lead on banjo. Neil also unveils his beautiful, new harmonium and there's a new song too. But, with all the tuning up both supports have required, time has run away with us slightly and Meursault deliver a slightly shorter set than they might have planned. When Neil politely asks if they've got time for one more, with an inquiring look to the booth at the back of the room, the rest of the room answers his question for us, which great, because they've almost forgotten to play their peice de resistance, the title track from their debut album, Pissing On Bonfires/Kissing With Tongues. We get a very particular live rendition of this, with a funny break in the middle, as Neil tells Fraser to stop the sampler (and for a minute i think he's going to tell him to 'rewind, my selectah'). But, actually, they just kick off again and everyone cheers. It's a great cap to the night and demonstrates just how far Meursault have come in this last year or so. Good luck to all of them on their debut UK tour.

myspace.com/meursaulta701

Meursault, Y'all Is Fantasy Island and Mitchell Museum pictures by David Forcier.


---

Next week we welcome the return of the soon-to-be-mighty THIEVES IN SUITS, add a twist with support from two effervescing new Glasgow bands in the form of VENDOR DEFENDER, whose myspace has some really great songs on it, and PAPER PLANES, who're we're also very excited to see at Limbo.

If you're on Facebook, tell us that you're coming along here.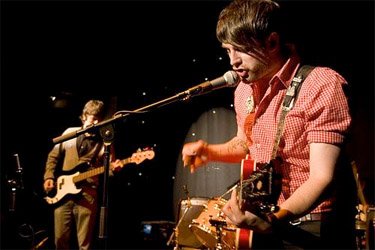 Last time we had THIEVES IN SUITS, they'd barely been going six months, a brand new indie-rock trio (vox/guitars, bass, drums) with the energy of a pack of wolves, a well rehearsed set and some catchy songs to boot. After initially meeting at a house party in Edinburgh, they discovered a mutual love of The Smiths and Motown and decided to go into a practise room to see what happened. The results pleased them and they quickly began working on tracks in various studios in Scotland, but only really started to find their sound when working with Ross MacGowan (responsible for Dannananakyoyd's Sissy Hits EP and We are the Physics' album). They subsequently got national radio airplay from the likes of Steve Lamacq and Tom Robinson at BBC 6music, both Vic Galloway and Jim Gellatly in Scotland, and also internationally in Germany, France and the USA. Since their debut show they have shared stages with The Chapman Family, Coolio, Meursault, Brian Jonestown Massacre, Popup and Attic Lights. They release their debut EP later this month, followed by an album later in the year, also produced by Ross MacGowan (at Chime studios in the bowels of Shettleston, Glasgow). Featuring Jake Miller on drums, whose brother you may remember from The Magnicifents and who was the metronomic backbone to renegade pop punks The Very, Thieves In Suits haven't stopped gigging since they last played Limbo and are building up a loyal local fan-base hungry for their popping sound. A Mini English tour begins in March.

myspace.com/thievesinsuits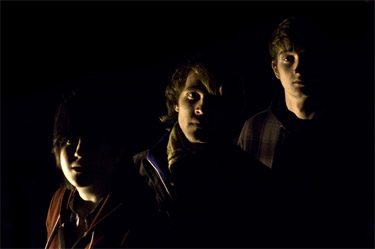 VENDOR DEFENDER got in touch with us recently on myspace, having also been recommended by a friend. We liked their demo immediately.

They formed in Glasgow in early 2008 with Zak, Fraser and Suse creating their infectious Bowie inspired pop/rock. The band are currently concentrating on honing their already intense live performances, having recently played such Glasgow venues as Barrowlands2, Barfly, Nice n Sleazy. They have recently supported We Have Band (Kitsune) on their recent UK tour alongside Micachu and the Shapes, as well as playing with Glasgow favourites The French Wives and Edinburgh's SXSW bound Come on Gang.

It's far from an obvious mix of sounds and ideas, which they describe as Spanish Pop/New Wave on myspace. This is actually a really apt description. Lead track Justin combines a catchy, sparse guitar melody and simple three-chord progression with a jaunty ska-like rhythm and pacy drum-beats. It sounds like to a hit to our ears. And, the best part is, their other songs sound great too, while developing a style which will sound familiar to fans of new wave but still demonstrates an unusual modern twist that gives it an edge. Vendor Defender are a breath of fresh air. We can't wait to see them perform live.

myspace.com/vendordefender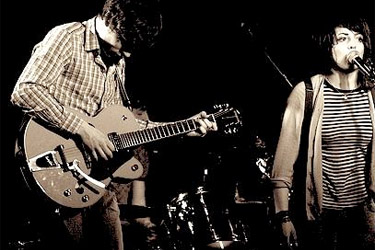 "We came to be mesmerised by the psychedelic drone of The Black Angels and were instead charmed by Paper Planes. The Glasgow quartet supporting the US headliners were appropriate partners, except that they were rather too good for the slot. There is a rarity value to Paper Planes's appearances, occasioned by the lengthy disappearances of vocalist Jennifer Paley back home to New Jersey. It is understandable that her three bandmates are prepared to wait for her to show up, because she is rather special, a diminutive vocal powerhouse who spices her Debbie Harry pop tunefulness with Siouxsie Sioux yelps but has the studied cool of Nico. Great hair, too. Behind her, Craig, Fraser and Christopher provide colourful punk rock'n'roll, with highly melodic use of the bass and effects-laden guitar. This was possibly their first appearance since Hallowe'en and you'll have to wait until February to catch them at King Tut's, but you should." -Keith Bruce, The Herald

myspace.com/glasgowpaperplanes
MAILING LIST
FACEBOOK/MYSPACE
Come and hang out on Facebook here or say hi to us over here at MySpace
CHEAP DRINKS!

Don't forget you can take advantage of £2 bottles from any of the Voodoo Rooms' three bars by showing your Limbo wrist-band to the bartender.
REHEARSAL SPACE?

The Black Spring Rooms: competitive prices, friendly service, easy access and no fuss for as little as £7 / hour; free parking on site + six bus routes to service it in Leith. More info here
VENUE INFO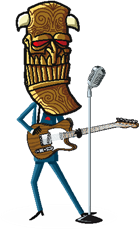 Limbo takes place at The Voodoo Rooms, West Register Street, Edinburgh.

Times: 8.30pm - 1am *
First band 9.00, second band 9.45, third band 10.30

Entrance: £5/£4 *

Ph: 0131 556 7060 (venue) / 0131 477 6916 (promoter)

* except where otherwise advertised
Sponsored Links