This week's Limbo is actually Limbo's first birthday but for various eccentric reasons (well, we did have a week off the other day for a start), we are actually officially celebrating it a week late, that's next Thursday 27th, instead. But, why not come and help us behave like the Queen and celebrate twice? After all, this week will be equally decent, if it's quality live entertainment you're after. Widely-acclaimed Glasgow trump-cards ZOEY VAN GOEY make their Limbo debut (also their first east coast gig in aeons) as the headliners, with old favourites OVER THE WALL, also from Glasgow, supporting alongside sugary-sweet-and-harmonious Edinburgh newcomers CALLEL, also making their Limbo debut. We know the weejies have got the juice (actually Zoey van Goey aren't really weejies at all but merely all found themselves living there - see more info below on that score) and, aside from the glorious songs on their myspace, we're reliably informed (by a number of sources) that Callel have got what it takes to go all the way, too...

If you're on Facebook, tell us that you're coming along here.

LIMBO'S FIRST BIRTHDAY PARTY - 27TH NOVEMBER!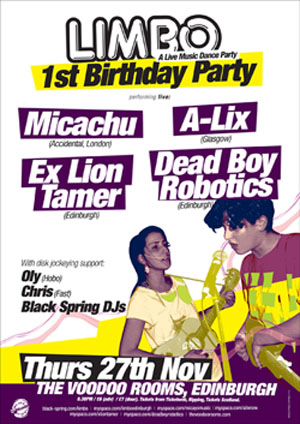 November brings our first birthday which we will be celebrating with a big party on the 27th. Expect a completely different format to the night as we celebrate this important milestone with a raft of special guests. The focus is going to be on partying and the guests will provide the music for dancing. MICACHU is visiting us from London, A-LIX come over from Glasgow and Edinburgh's own DEAD BOY ROBOTICS and EX LION TAMER are suppported by Oly from Hobo and Chris from FAST who provide DJ support.

If you know what's good for you, you will buy your ticket for this from TicketWeb now (£5 advance / £6 on the door) so you can be sure of joining us for what will surely be one of the true highlights of the club's first 12 months and a veritable milestone to boot.

MICACHU (Accidental, London) myspace.com/micayomusic
A-LIX (Glasgow) myspace.com/alixnow
EX LION TAMER (Edinburgh) myspace.com/xliontamer
DEAD BOY ROBOTICS (Edinburgh) myspace.com/deadboyrobotics

Check out our forthcoming bands here

Check out all of our photography here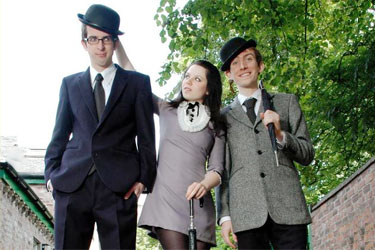 Hailing from Canada, Ireland, and England respectively, Zoey Van Goey met in Glasgow, Scotland, and started making music together in 2006. In 2007, Stuart Murdoch of Belle and Sebastian produced the band's debut single, "Foxtrot Vandals." In 2008, the band did more shows and recently released another single, "Sweethearts In Disguise," which was produced by Paul Savage (formerly of the Delgados) and featured Mr. Bob Kildea of Belle and Sebastian, who laid down a mean bass line. They're massively respected in their home-town and the good word about them has spread far and wide, thanks to some stirling live performances on the club and festival circuit, rapturously received by press and public alike.



The Glasgow-based, internationally sourced, three-piece are ridiculously talented: they swap instruments, play violin and have Kim Moore's stunning vocals. Like the Postal Service with a sense of humour, they cover romance, imminent apocalypse and baked beans, all in the course of one song." - The Skinny (Laura Paterson)



Glasgow trio Zoey Van Goey make exquisite indie folk-pop.' (Metro)



Bookish folk-cellar pop with electronic elements, the subject matter covering everything from impending apocalypse to teaching English in Japan." - The Independent (James McNair)



Mixing frothy folk-pop tunes with a slight electronic edge and some weird percussion, while swapping instruments like swingers at a musical orgy, the Van Goeys certainly leave their mark. From the experimental soundscape of 'The City Is Exploding' to the more carnal pleasures of 'I Want To Jump Your Bones', they manage to engage both head and feet with alarming regularity. Definitely one to watch." - Is This Music? (Dan Coxon)

myspace.com/zoeyvangoey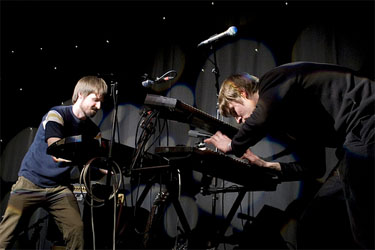 Ben Hillman and Gav Prentice make wonky electronic pop that will make you dance but which belies a punk-rock spirit. The duo made the T Break finals at last year's TITP and in a glorious act of defiance took the mickey out of the sponsor's product in a video they then posted on youtube and myspace. Unsurprisingly, said sponsor issued the tiny band with a 'warning' unless the video was removed from the net so - quite hilariously (and magnificently) - they've posted an 'edited' version alongside it, in which they've dubbed over their own speech with a 'more positive' spin in favour of the sponsor's product. With the public now able to view both videos together, side by side, it's comedy gold. We love their sense of humour, we admire their spirit and we think their tunes - a mix of laptop beats, keyboards and, in the finest tradition of the Cure's seminal Close To Me smash, a wee bit of trumpet too, not forgetting both of them on vocal duties - are great, too.

myspace.com/overthewall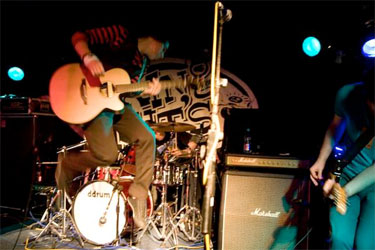 A Voodoo Rooms insider was the first to turn us on to the charms of Callel some several moons ago, and with good reason....

'Born on opposite sides of the world, Callel's melodies have enraptured the critics and left their audience of millions- perhaps billions- spellbound. They have recently supported Paolo Nutini, US stars Rooney (successfully chosen by the NME), Parka, Asobi Seksu and The Bluetones. They have been getting lots of airplay and sessions on Radio 1, BBC 6 Music, Radio Scotland, Forth One and XFM, and were crowned best band at Dundee's Ultimate Chill Festival.' (band's biog)



Phenomenal- I urge you to see this band live' (Vic Galloway, BBC Radio 1)

...will be a fantastic addition to Scotland's roster of world-class acts' (Edinburgh Evening News)

myspace.com/callelmusic



We were quite awed once again by the unique style of Glasgow's Punch And The Apostles, mesmerised once again by Haight Ashbury and experienced another bout of mild hypnosis during the performance by newcomers No Pasaran.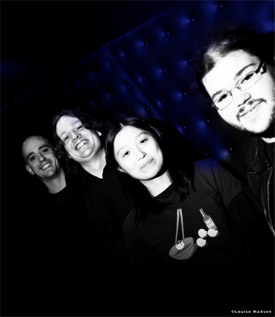 No Pasaran are a quiet quartet, who have a very no-nonsense approach to live performance and have only played one gig in the capital before (and, with one member living in Inverness, this seems likely to be the standard for a while) but also boast great potential. It's the quality of their song-writing and singers Malcolm and Jess's plaintive vocals. Malcolm sounds a bit like Harvest-era Neil Young, which can only be a good thing. Like a number of exciting new bands kicking around just now, their line-up includes mandolin, banjo and harmonica (this is also a good thing but may become an issue if too may other bands start doing the same) and, combined with their soft, gentle songs, these work well but actually the band's strongest moment thus far is probably Landing Light, which harnesses a more traditional format - electric guitar and full drum kit - and is really quite captivating. Keep an eye and an ear out for this band.

| | |
| --- | --- |
| | |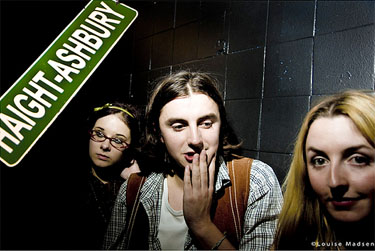 Haight Ashbury's Jen and Kirsty sing beautiful songs, the one beating out a very simple rhythm with a footstomp, tambourine and shaker, while the other strums the chords on an electric guitar and Jen' s brother, Scott, plays the lead guitar part, the instrument fed through a distortion pedal to give it a nice, rough edge, plus another effects pedal for some occasional delay. Jen and Kirsty take turns doing the lead vocals on some songs and these are good, but it's when they sing in harmony that they really enchant. There's an eeriness about the two of them together, which pervades the lyrics as well as the tone of their melodies. It's a bittersweet quality which suggests a darker heart beats beneath their more sugary surface and it gives them a real edge. Again, we'll not be at all surprised when more people fall in love with this band and start pronouncing them the next big thing. Check out live highlight Moondogs for an example of this trio at their beguiling best.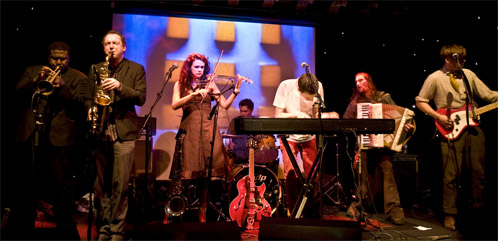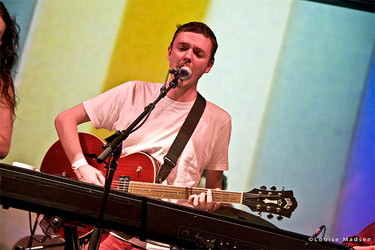 Punch And The Apostles are definitely the loudest band we've had on at Limbo, when all seven of them are, err, rocking out in their mind-bogglingly original, vaudevillian way. They're not really a rock band at all, you see, boasting a full brass section and a somewhat crazed lead singer, Paul, who jams out unsettling melodies with weird time signatures on a piano, while vocally tearing the place asunder with soul-searching lyrics, rousingly complemented by the rest of the band, which also includes an electric violin and an accordion in the mix, by the way. They've blown us away twice now and will no doubt do so again as we stand back and watch them rise, once word spreads about their live show. Check out new single I'm A Hobo / Can Of Beans for a lesson in their no wave, gyspy-punk style.

myspace.com/punchandtheapostles

Punch & The Apostles, Haight Ashbury and No Pasaran pictures by Louise Madsen


---




Having staged over 100 of the best acts on the circuit over the course of the last twelve months, Limbo reaches its first major milestone with a first birthday party to rival anything happening anywhere on the UK live music and club scene right now. Expect a riot of colour, attitude, fantastic music and wicked people, as we mark our first anniversary with these special guests: Michachu (Accidental), plus killer support from Glasgow-based, Argentine-French death disco innovators A-Lix, Edinburgh electro-popstrel Ex Lion Tamer, Edinburgh electro-punks Dead Boy Robotics ++ guest DJs Oly (Hobo) and Chris (Fast) alongside the Black Spring DJs.

If you're on Facebook, tell us that you're coming along here.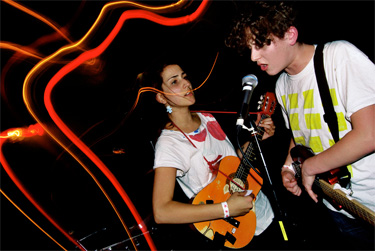 Micachu is a young lady from London who performs live with two friends on drums, percussion, keys, electronics and backing vox. Her music is raw, edgy, energetic and experimental (but in an accessible, pop way), with a humourous lyrical aspect giving it additional character. There's a lot of hype currently building around Micachu and her live shows are primarily responsible but, with such original material on her myspace and early signs from the debut album (due in early 2009) sounding so good, it's with good reason.

Micachu Pic by Rebecca Rumble

myspace.com/micayomusic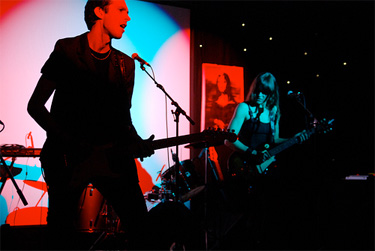 A-LIX duo Vincent (guitars, vox, machines), from Paris, and Argentinian Lorena (guitars, vox, machines), have developed something which would more readily be called disco-punk (or punk-disco, perhaps?). Actually, there's often a more than passing resemblance to the classic work of singer Robert Smith and The Cure in terms of some the riffs A-Lix use and in the way Vincent sings. Their energy and enthusiasm is also immediately affecting. A-lix have already self-released their debut album, Never Grow, and toured extensively in Europe, having first met some five years ago in Barcelona, before moving to Glasgow a couple of years back, and the act of playing together apparently came about quite by accident....

A-lix Pic by Nic Rue

myspace.com/alixland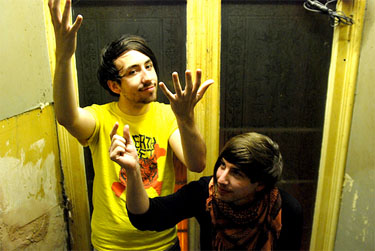 DEAD BOY ROBOTICS are one of the most exciting acts to have emerged in Edinburgh in the last twelve months. Undoubtedly bound for a bright, sparkly future, they mix the electronic/dance style of acts such as Nathan Fake and James Holden (Border Community) with the avant-punk aesthetic of Liars and sound like no one else in Scotland, let alone the UK, right now. Alongside Micachu, A-lix and Ex Lion Tamer, they will bring an undeniable ENERGY to the Limbo first birthday party and ensure the people in the room don't stop spinning until the records do, at the very end of the night.

myspace.com/deadboyrobotics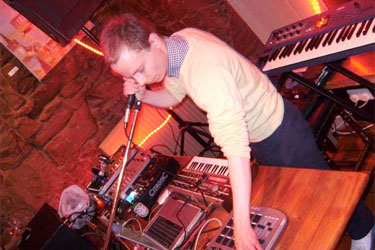 EX LION TAMER is fresh, polished and more pop than almost anything else in Edinburgh right now. He sounds a bit like Vector Lovers and Daft Punk plus (early) Eighties electro pop such as Gina X, Dominatrix, Chris And Cosey* etc, what with all the synthetic vocals/vocoders and child-like synth melodies. And then he actually hails bands such as Yazoo and Erasure, Madonna, Whitney Houston and Cyndi Lauper on his myspace. At last, an Edinburgh act unashamed to wear his gay pop influences on his sleeve! And Ex Lion Tamer really is that POP too. He also likes odd-looking pedigree dogs. We can't wait.

* check out Andrew Weatherall's awesome Nine O'Clock Drop compilation (Nuphonic) of seminal early Eighties music if you don't know what we're talking about.

myspace.com/xliontamer

AND LAST BUT NOT LEAST, with Hobo (weekly Sundays for some two and a half years) and Fast (monthly Fridays - originally fortnightly Thursdays - for five years) two of Edinburgh's most established nights for a punky disco rock n roll shaped hoe-down at the capital's Bongo Club, plus support from Limbo stalwarts the Black Spring DJs, you just know you'll be in good hands when it comes to making the floor burn. Get your CONS out, coz this one's got ROCK just as much as it ROLLS! Mike from Dead Boy Robotics will also be spinning a wee dj set at the club on this night...
MAILING LIST
LIMBO/FRESH AIR
The Black Spring DJs talked to Fresh Air Student Radio's Tallah Brash and HP for a Limbo feature to be broadcast by the station next Monday night, 9-11pm: freshair.org.uk
FACEBOOK/MYSPACE
Limbo has active Facebook and Myspace pages. Join our Facebook group here or befriend us over here at MySpace
ALSO COMING UP
Also coming up at Limbo: Pumajaw, Sparrow & The Workshop, Eaglewowl, Come on Gang!, Kid Canaveral, Super Adventure Club plus loads of other buzzing brand new acts.

Check out all our forthcoming bands here
CHEAP DRINKS!

Don't forget you can take advantage of £2 bottles from any of the Voodoo Rooms' three bars by showing your Limbo wrist-band to the bartender.
REHEARSAL SPACE?

The Black Spring Rooms: competitive prices, friendly service, easy access and no fuss for as little as £7 / hour; free parking on site + six bus routes to service it in Leith. More info here
VENUE INFO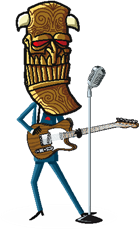 Limbo takes place at The Voodoo Rooms, West Register Street, Edinburgh.

Times: 8.30pm - 1am *
First band 9.00, second band 9.45, third band 10.30

Entrance: £5/£4 *

Ph: 0131 556 7060 (venue) / 0131 477 6916 (promoter)

* except where otherwise advertised
Sponsored Links