After out first ever week off, we're returning with another great Limbo as we welcome back Glasgow's Punch And The Apostles and Haight Ashbury, both of whom blew us away the first time we had them on. We're also welcoming Aberdeen/Inverness/Edinburgh newcomers No Pasaran for the first time, on warm-up duties.

Impossible-to-categorise, devastating septet Punch And The Apostles are, hands down, one of the of the most exciting live acts in Scotland right now and, combined with the glorious 'nu psyche' pop harmonies of Haight Ashbury and 'alt country' strains of No Pasaran, this is sure to be another eventful night.

If you're on Facebook, tell us that you're coming along here.

LIMBO'S FIRST BIRTHDAY PARTY - 27TH NOVEMBER!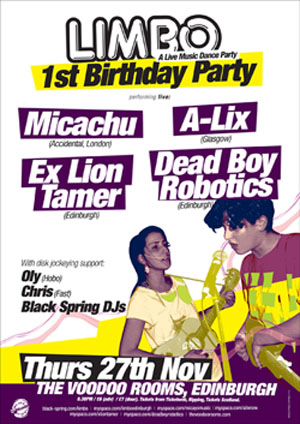 November brings our first birthday which we will be celebrating with a big party on the 27th. Expect a completely different format to the night as we celebrate this important milestone with a raft of special guests. The focus is going to be on partying and the guests will provide the music for dancing. MICACHU is visiting us from London, A-LIX come over from Glasgow and Edinburgh's own DEAD BOY ROBOTICS and EX LION TAMER are suppported by Oly from Hobo and Chris from FAST who provide DJ support.

If you know what's good for you, you will buy your ticket for this from TicketWeb now (£5 advance / £6 on the door) so you can be sure of joining us for what will surely be one of the true highlights of the club's first 12 months and a veritable milestone to boot.

MICACHU (Accidental, London) myspace.com/micayomusic
A-LIX (Glasgow) myspace.com/alixnow
EX LION TAMER (Edinburgh) myspace.com/xliontamer
DEAD BOY ROBOTICS (Edinburgh) myspace.com/deadboyrobotics

Check out our forthcoming bands here

Check out all of our photography here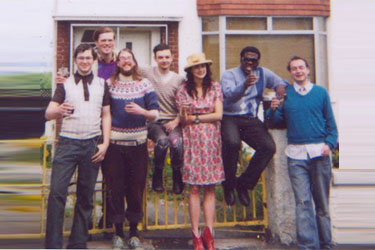 Inventive Glaswegian septet taking a little bit of a Sergio Leone soundtrack and a lot of that Balkan gypsy thing - brass, fiddle, squeeze-box and all - and ramming it to the gills with all the energy of a pack of wolves on speed but howling in a more harmonious fashion.

'A cast of characters largely from Scotland, Punch and the Apostles are a riotous seven-piece, with accordions and horns to the fore, led by the wild creativity of Paul Napier. Using traditional styles of music and exhibiting their luminescent, deathless forms through a cross-pollination with jazz, blues and punk, their songs are brilliantly rousing, gloriously anarchic and totally absorbing. Having already blasted a niche for themselves with outstanding live performances, (a vaudeville inspired delivery of waltzes, tarantellas, polkas and klezmer music, peppered with poetry and perfectly orchestrated chaos) this band are highly accomplished, genuinely exciting and truly provocative.' (Band's biog)

Read the review of their last appearance at Limbo here



The most exciting and provocative band in Scotland' Rick Fulton (Daily Record)



Someone sign them up now' (Is This Music ?)

myspace.com/punchandtheapostles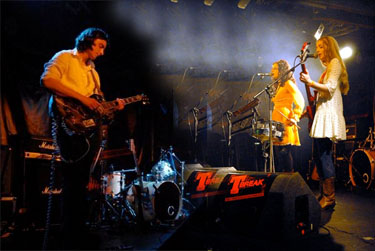 Haight Ashbury's Jen and Kirsty were previously in a band signed by labels in London and Japan, supporting acts such as the Sugarbabes, no less, in massive arenas when they were just seventeen. With their beautiful close harmonies and simple percussion, plus Kirsty's brother Scot laying down honeydew melodies on guitar, Haight Ashbury enchanted everyone last time they played Limbo and captivated T Break earlier this year. It's a mesmeric take on classic West Coast American sounds, as you might imagine for a group who take their name from the San Francisco district which formed the original hub of the psychedelic revolution in the late Sixties. Another chance to catch the next big thing at Limbo before anyone else has even cottoned on to the fact that it is, in fact, the next big thing.



Evoking the summer of love with excellent close harmonies' (The Herald)



poptastic Americana with a twist' (Daily Record)

myspace.com/haightashburyuk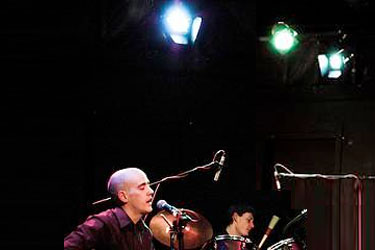 'Formed to give four bookish misanthropes something to look forward to, No Pasaran would like to break your heart, but gently. Having played across Scotland with likes of Alasdair Roberts, Mary Hampton, Meursault and Withered Hand, No Pasaran are delighted to bring their melancholic, tightly wound alt.folk to Limbo. For fans of Iron & Wine, Calexico, Bonnie 'Prince' Billy and long, intractable civil wars.' (band's biog)



...a dynamism which is sadly all too-lacking in most folk outfits.... With songs like 'Villages' they display an uncanny ability to write what can best described as quiet, elegiac, and angelic acoustic pop songs.... They may not be 'Americana' or 'Country', but I can tell you that there's gold in them there mountains.' (Is This Music)

myspace.com/nopasaran1



Last week was actually TWO weeks ago where we had stirling performances all round as Clint made their Limbo debut, followed by Glasgow's best-kept-secret Babygod and Edinburgh's own aces in the hole, Cancel the Astronauts!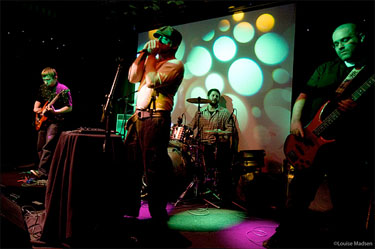 Edinburgh band Clint have got a curious thing going on, paying homage to bands such as Rage Against The Machine and The Red Hot Chili Peppers. It's a little bit hip hop, a little bit funk and a little bit rocking in quite a metallic way. Clearly very well rehearsed, they certainly don't lack for tightness, particularly the rhythm section. Singer/rapper Cal uses a Kaoss pad in quite an original way, which, with its in-built loop function, has a similar effect on his voice to the loop pedal used by KT Tunstall and Edinburgh's own experimental folk troubadour, Wounded Knee, among others, and he applies some echo effects, which give his vocals a trippy feel. The best moments are when the band hit a good groove, though, and they do quite a fun cover of Kool And The Gang's Jungle Boogie. Limbo is only Clint's third gig, but they've got some good ideas and don't sound much like any other band in Scotland right now.

| | |
| --- | --- |
| | |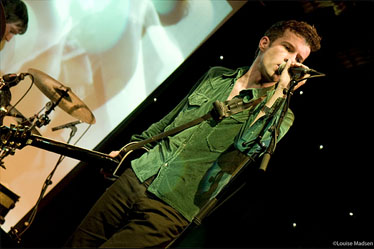 Babygod are a different breed entirely and have hardly started their set before most of the audience is hooked.

Singer Gerry is very much the front-man, cutting a rather flamboyant dash in a bottle-green velvet shirt and eye-liner. There's a bit of confusion initially as Ruby realises she's lost the power to her synth but it makes just as much sense when this instrument finally comes in. Songs such as Time, Home and (especially) Hope and Throw It On The Fire contain hooks that will remain with you for some time after you've first heard them and that alone is a great starting point. But also, they perform these songs really well. Lyrically, Babygod are one of the most sophisticated bands we've had on since Limbo began and they are also more musically affecting than many. And they play a solid set, too. We'll be keeping our eyes on these guys for the foreseeable future and you can expect to see them play Limbo again in 2009. Check out Ruby's video for new single Time on Myspace and/or Youtube.

| | |
| --- | --- |
| | |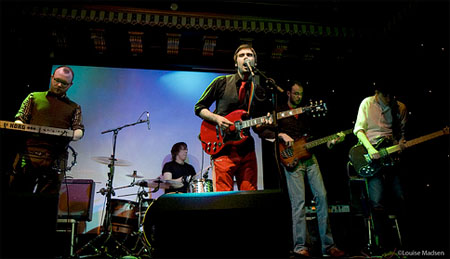 Finally, Cancel The Astronauts take the stage. It's only their second appearance at Limbo but it feels like their third or fourth, so familiar have these faces become at the club. And they seem to feel right at home, too, with singer Michael at one point casually mentioning that 'this next song usually gets the Limbo audience singing along.' Which is nice. They've not been gigging as much in Edinburgh of late, as they focus on recording their debut single, but the audience that turns out in their support suggest their fanbase has multiplied rapidly since they first played for us six months ago, and they deliver a fine set of catchy numbers with quirky lyrics (we're not the only ones who think that I Am The President Of Your Fanclub is a great title for a song). Following the more serious, universal themes of Babygod, the Astronauts are light-hearted, fluffy and as much fun as the illustrations on their myspace. It's a great contrast and one that appears to split the crowd a bit, with the more heavyweight artists in one corner and the bubble-gum pop fraternity in the other. But we love it when this happens: it creates an interesting melting pot and supplies ample material for some excellent post-gig polemic and banter in the bar. Expect to see much more of Cancel the Astronauts in 2009.

| | |
| --- | --- |
| | |
myspace.com/canceltheastronauts

Cancel The Astronauts, Babygod and Clint pictures by Louise Madsen


---



Next week's Limbo sees Glasgow's widely-acclaimed Zoey van Goey make their Limbo debut, plus old favourites Over The Wall, also from Glasgow, plus sugary-sweet-and-harmonious Edinburgh newcomers Callel, also making their Limbo debut. We know the weejies have got the juice and, aside from the glorious songs on their myspace, we're reliably informed (by a number of sources) that Callel have got what it takes to go all the way, too...

If you're on Facebook, tell us that you're coming along here.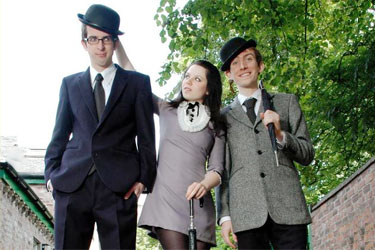 Hailing from Canada, Ireland, and England respectively, Zoey Van Goey met in Glasgow, Scotland, and started making music together in 2006. In 2007, Stuart Murdoch of Belle and Sebastian produced the band's debut single, "Foxtrot Vandals." In 2008, the band did more shows and recently released another single, "Sweethearts In Disguise," which was produced by Paul Savage (formerly of the Delgados) and featured Mr. Bob Kildea of Belle and Sebastian, who laid down a mean bass line.



The Glasgow-based, internationally sourced, three-piece are ridiculously talented: they swap instruments, play violin and have Kim Moore's stunning vocals. Like the Postal Service with a sense of humour, they cover romance, imminent apocalypse and baked beans, all in the course of one song." - The Skinny (Laura Paterson)



Glasgow trio Zoey Van Goey make exquisite indie folk-pop.' (Metro)



Bookish folk-cellar pop with electronic elements, the subject matter covering everything from impending apocalypse to teaching English in Japan." - The Independent (James McNair)



Mixing frothy folk-pop tunes with a slight electronic edge and some weird percussion, while swapping instruments like swingers at a musical orgy, the Van Goeys certainly leave their mark. From the experimental soundscape of 'The City Is Exploding' to the more carnal pleasures of 'I Want To Jump Your Bones', they manage to engage both head and feet with alarming regularity. Definitely one to watch." - Is This Music? (Dan Coxon)

myspace.com/zoeyvangoey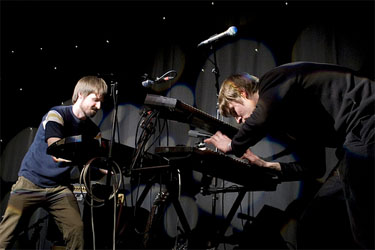 Ben Hillman and Gav Prentice make wonky electronic pop that will make you dance but which belies a punk-rock spirit. The duo made the T Break finals at last year's TITP and in a glorious act of defiance took the mickey out of the sponsor's product in a video they then posted on youtube and myspace. Unsurprisingly, said sponsor issued the tiny band with a 'warning' unless the video was removed from the net so - quite hilariously (and magnificently) - they've posted an 'edited' version alongside it, in which they've dubbed over their own speech with a 'more positive' spin in favour of the sponsor's product. With the public now able to view both videos together, side by side, it's comedy gold. We love their sense of humour, we admire their spirit and we think their tunes - a mix of laptop beats, keyboards and, in the finest tradition of the Cure's seminal Close To Me smash, a wee bit of trumpet too, not forgetting both of them on vocal duties - are great, too.

myspace.com/overthewall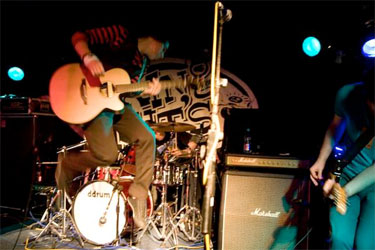 A Voodoo Rooms insider was the first to turn us on to the charms of Callel some several moons ago, and with good reason....

'Born on opposite sides of the world, Callel's melodies have enraptured the critics and left their audience of millions- perhaps billions- spellbound. They have recently supported Paolo Nutini, US stars Rooney (successfully chosen by the NME), Parka, Asobi Seksu and The Bluetones. They have been getting lots of airplay and sessions on Radio 1, BBC 6 Music, Radio Scotland, Forth One and XFM, and were crowned best band at Dundee's Ultimate Chill Festival.' (band's biog)



Phenomenal- I urge you to see this band live' (Vic Galloway, BBC Radio 1)

...will be a fantastic addition to Scotland's roster of world-class acts' (Edinburgh Evening News)

myspace.com/callelmusic
MAILING LIST
FACEBOOK/MYSPACE
Limbo has active Facebook and Myspace pages. Join our Facebook group here or befriend us over here at MySpace
ALSO COMING UP
Also coming up at Limbo: Zoey Van Goey, Over The Wall, Callel, Pumajaw, Sparrow & The Workshop, Easglewowl, Come on Gang!, Kid Canaveral plus loads of other buzzing brand new acts.

Check out all our forthcoming bands here
CHEAP DRINKS!

Don't forget you can take advantage of £2 bottles from any of the Voodoo Rooms' three bars by showing your Limbo wrist-band to the bartender.
REHEARSAL SPACE?

The Black Spring Rooms: competitive prices, friendly service, easy access and no fuss for as little as £7 / hour; free parking on site + six bus routes to service it in Leith. More info here
VENUE INFO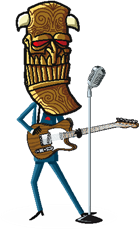 Limbo takes place at The Voodoo Rooms, West Register Street, Edinburgh.

Times: 8.30pm - 1am *
First band 9.00, second band 9.45, third band 10.30

Entrance: £5/£4 *

Ph: 0131 556 7060 (venue) / 0131 477 6916 (promoter)

* except where otherwise advertised
Sponsored Links