This Limbo will be buzzing with youthful energy as we welcome back one of Edinburgh's most exciting new outfits, Cancel The Astronauts, alongside Glasgow's Babygod and Edinburgh's Clint, both playing Limbo for the first time. You may not have heard of any of these bands before but, trust us, they've all got something special going on and are well worth checking out.

CANCEL THE ASTRONAUTS really dazzled us when they made their Limbo debut in April, suffice to say they're one of our favourite bands in Edinburgh and definitely one of the best outfits the city has to offer right now, with their new wave pop style.

BABYGOD hail from the west coast and are still something of a closely-guarded secret but seem destined to break out in a big way when word gets out. They remind us a lot of the Blue Nile but that's only the thin end of the wedge where the classic influences are concerned (see below for more details).

CLINT are newcomers to the Edinburgh scene who also cite a raft of influences and show heaps of promise, with quirky use of a Kaoss effects pad on the vocals giving them an edge over many of their contemporaries.

If you're on Facebook, tell us that you're coming along here.
Check out our forthcoming bands here

Check out all of our photography here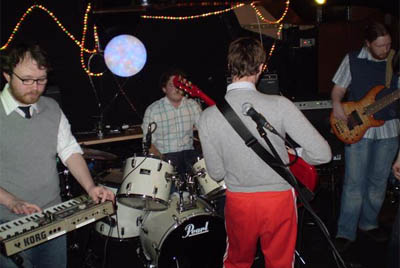 Edinburgh quintet Cancel the Astronauts have been beavering away recording their new single since we last welcomed them at Limbo. They write instantly affecting, bittersweet songs about love, death and disco dancing - you know, important things like that. It's jaunty, fun, gimmick-free indie-pop with crate-loads of energy, utilising that classic new wave line-up: drums, guitar, synth, bass. We think they've got talent by the bucket-load, are reliably informed that their singer is a bit of a dish and find their energy utterly infectious. They were also included on the recent Breakout Scotland CD. There's something immediately arresting and accessible about Cancel The Astronauts. Check out their mini-LP for proof that they've got what it takes to go all the way.

myspace.com/canceltheastronauts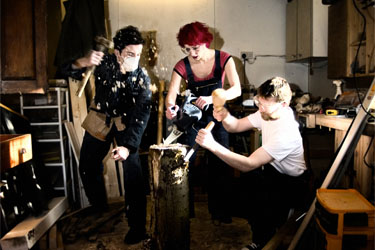 "Brothers Gerry and Brian Campbell of Babygod met when Gerry was very young and Brian couldn't have been much younger. Later, they met Ruth Mills at high school. She sang, she danced, she played violin. She could back-flip down the corridor. Anyone would want to make friends with a girl like that. She went off to London to study contemporary dance while Gerry went to Glasgow Uni to study French. These two strands are integral to the uniqueness of the group. It's not unusual for them to be heard covering Serge Gainsbourg (a big lyrical influence) or playing their own Machin Truc, a bizarre, out of character piece of Gallic quirk-punk. Ruth's aesthetic sense led her naturally into photography and film making. Often using non-dancers performing simple movements, she choreographs the film in the editing process. These then provide a stunning backdrop for Babygod live shows. Her work is most commonly shown in the kinds of cinemas where Penelope Cruz only ever speaks Spanish. The most recent piece is a pop video for forthcoming single 'Time'. Ruth press-ganged eight contemporary dancers into being drilled militarily for a day. The result is a sharp, angular visual treat.

Gerry's song writing takes on large themes in small doses. Home, Time, Hope, Ideals and Perfection all come into focus under his forensic lens. Their self-promoted Black Cat club nights are as likely to include films or performance poetry as much as old-fashioned rock'n'roll. They're always sold out. As the song says, 'There is no time, no time like now.'" (band's biog)



Time has the jerky quality of early Talking Heads before they discovered funk, while Home has the slow-burning quality of early Blue Nile... They'll do something great" Paul Lester, Band Of The Day, The Guardian



A band this great must not be ignored. Babygod are poise, elegance, subtlety, tunes and originality combined with timeless familiarity" Tim Riley, Wound Magazine



The songs are rigid in their beauty. A hunch says their sound could have filled one of the bigger stages at Hydro Connect and that everyone there would have been better off for it" Paul Dalgarno, The Sunday Herald



Their brittle pop sound is suitably idiosyncratic with Wire, Orange Juice and the Divine Comedy all being vague reference points." Mark Robertson, The List

myspace.com/babygod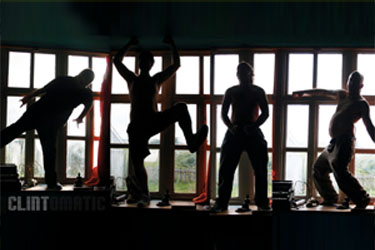 'I started the band because I love music, I had been in bands with Steve, Cal and Rod before but never all together. The band is constantly evolving, the last live gig being at Henry's Cellar Bar. The previous gig (first ever Clint gig) was also at Henry's Cellar Bar. We're looking to branch out... This is now our phase where we've got the demo, we've got the set and are right into gigging regularly. Our myspace is now getting a decent amount of hits a day, most folk either love the tunes or respect them or both. We're happy to be all things to all men. I think we're a band that non-musical folk like as much as musos like, we can't really be pinned down to a genre but without the tedious all-over-the-place aspect that that direction (or lack of) can often entail. We want to make you laugh, dance, smile and cry (in a good way). The most important thing, to me, is that I get someone coming up to me saying genuinely with a big smile on their face, 'I f***ing loved that'. That's all it's about for me.' (Kris, Clint)

myspace.com/clintomatic



We had a Glasgow triple bill at Limbo, with the return of Popup and Isosceles in a head-to-head fight for supremacy and a first appearance from impressive newcomers Woodenbox With A Fistful Of Fivers. Afterwards, we all trucked down to Cabaret Voltaire, where we DJed for an hour and then spent the rest of the night shaking, shimmying and generally making whoopee with the Fresh Air crew at their Indie Club Together fund-raiser. It was a lotta fun.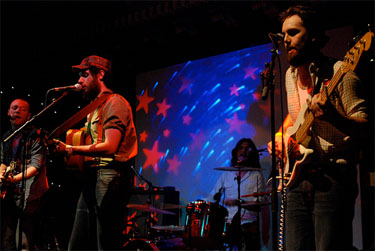 Woodenbox are quite something and sound unlike any other band we've had at Limbo before. Originally singer Ali Downer's solo project, the outfit has quickly expanded and now features six musicians in total, including an impressive brass section. In fact, the brass section is the newest addition, as Ali makes clear when he tells the audience that the new they haven't yet played the next song all together before, except for a very brief rehearsal in the green room tonight. They do a fine job, though. Woodenbox have a straw-chewing, hay-bale stomping, occasional line-dancing kinda vibe, featuring an equally healthy quota of lumberjack shirts and facial hair. And, gosh-darn, they do it very well too, with new single Twisted Mile a particular highlight. There's also a genuine modesty about this band, which immediately endears them to everyone at Limbo. We're sure to have them back again soon.


| | |
| --- | --- |
| | |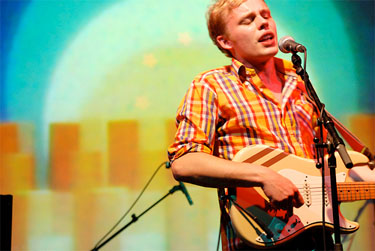 Isosceles then take to the stage for another dose of their tight-as repertoire. Isosceles have played Limbo three times now and they have never disappointed us. And they're starting to feel very much at home on our stage, as singer Jack Valentine demonstrates when they open their set with a bit of jest as DC plays one of their songs from a CD and they all start miming. It's especially comical since the band have no problem at all tearing through the rest of their set, treating us to some great new material as well as old favourites Kitsch Bitch, Get Your Hands Off, I Go and Watertight. There really aren't any fillers in Isosceles's live show. We've said it before and we'll say it again, keep your eye on this band, they have a bright future ahead (and are currently looking for new management, as it happens...).


| | |
| --- | --- |
| | |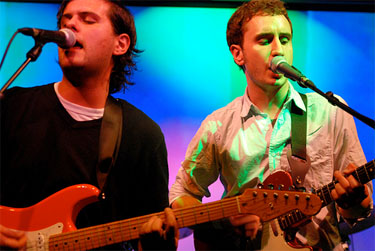 Popup and Isosceles are good pals. Which is why we wanted them to share the bill so much and also why it seemed so much fun to posit the two of them at loggerheads. There was a lot of humourous banter between both bands during their sound check about who's better and who pulls a better crowd in which town, as the two of them are due to share another bill for the 'home-game' in Glasgow on Halloween. When it comes to the crunch, though, Popup's lyrical brand of rock is just as affecting once they get going and Chinese Burn, Lucy What You Trying To Say and new set-closer Glasgow Glam all stand out in the memory after the lights have dimmed.


myspace.com/popuptheband



Woodenbox With A Fistful of Fiver, Isosceles and Popup pictures by Nic Rue


---



There will be NO LIMBO NEXT WEEK (6th November) due to the arrival of Guru's Jazzmattazz. Last time they played it was a road-block two nights on the trot so the venue's expecting a buzz for this date too. Limbo returns on Thursday 13th November.

If you're on Facebook, tell us that you're coming along here.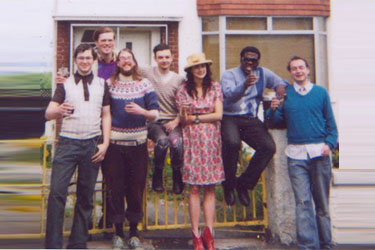 Inventive Glaswegian septet taking a little bit of a Sergio Leone soundtrack and a lot of that Balkan gypsy thing - brass, fiddle, squeeze-box and all - and ramming it to the gills with all the energy of a pack of wolves on speed but howling in a more harmonious fashion.

'A cast of characters largely from Scotland, Punch and the Apostles are a riotous seven-piece, with accordions and horns to the fore, led by the wild creativity of Paul Napier. Using traditional styles of music and exhibiting their luminescent, deathless forms through a cross-pollination with jazz, blues and punk, their songs are brilliantly rousing, gloriously anarchic and totally absorbing. Having already blasted a niche for themselves with outstanding live performances, (a vaudeville inspired delivery of waltzes, tarantellas, polkas and klezmer music, peppered with poetry and perfectly orchestrated chaos) this band are highly accomplished, genuinely exciting and truly provocative.' (Band's biog)

Read the review of their last appearance at Limbo here



The most exciting and provocative band in Scotland' Rick Fulton (Daily Record)



Someone sign them up now' (Is This Music ?)

myspace.com/punchandtheapostles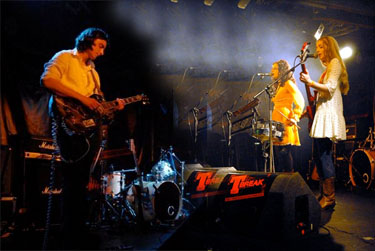 Haight Ashbury's Jen and Kirsty were previously in a band signed by labels in London and Japan, supporting acts such as the Sugarbabes, no less, in massive arenas when they were just seventeen. With their beautiful close harmonies and simple percussion, plus Kirsty's brother Scot laying down honeydew melodies on guitar, Haight Ashbury enchanted everyone last time they played Limbo and captivated T Break earlier this year. It's a mesmeric take on classic West Coast American sounds, as you might imagine for a group who take their name from the San Francisco district which formed the original hub of the psychedelic revolution in the late Sixties. Another chance to catch the next big thing at Limbo before anyone else has even cottoned on to the fact that it is, in fact, the next big thing.



Evoking the summer of love with excellent close harmonies' (The Herald)



poptastic Americana with a twist' (Daily Record)

myspace.com/haightashburyuk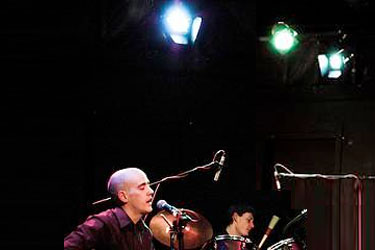 'Formed to give four bookish misanthropes something to look forward to, No Pasaran would like to break your heart, but gently. Having played across Scotland with likes of Alasdair Roberts, Mary Hampton, Meursault and Withered Hand, No Pasaran are delighted to bring their melancholic, tightly wound alt.folk to Limbo. For fans of Iron & Wine, Calexico, Bonnie 'Prince' Billy and long, intractable civil wars.' (band's biog)



...a dynamism which is sadly all too-lacking in most folk outfits.... With songs like 'Villages' they display an uncanny ability to write what can best described as quiet, elegiac, and angelic acoustic pop songs.... They may not be 'Americana' or 'Country', but I can tell you that there's gold in them there mountains.' (Is This Music)

myspace.com/nopasaran1
MAILING LIST
FACEBOOK/MYSPACE
Limbo has active Facebook and Myspace pages. Join our Facebook group here or befriend us over here at MySpace
ALSO COMING UP
Also coming up at Limbo: Punch & The Apostles, Haight Ashbury No Pasaran, Zoey Van Goey, Over The Wall, Callel, Pumajaw, Sparrow & The Workshop, Easglewowl, Come on Gang!, Kid Canaveral plus loads of other buzzing brand new acts.

Check out all our forthcoming bands here
CHEAP DRINKS!

Don't forget you can take advantage of £2 bottles from any of the Voodoo Rooms' three bars by showing your Limbo wrist-band to the bartender.
REHEARSAL SPACE?

The Black Spring Rooms: competitive prices, friendly service, easy access and no fuss for as little as £7 / hour; free parking on site + six bus routes to service it in Leith. More info here
VENUE INFO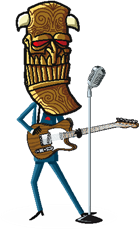 Limbo takes place at The Voodoo Rooms, West Register Street, Edinburgh.

Times: 8.30pm - 1am *
First band 9.00, second band 9.45, third band 10.30

Entrance: £5/£4 *

Ph: 0131 556 7060 (venue) / 0131 477 6916 (promoter)

* except where otherwise advertised
Sponsored Links