This week at Limbo it's Glasgow electro-punks FANGS, Edinburgh electro-punks DEAD BOY ROBOTICS and Edinburgh post-punks YOUR LOYAL SUBJECTS, in other words a highly-charged triple bill!. Fangs are one of the edgiest and most exciting live acts in Scotland right now and right out on the vanguard of the contemporary pop landscape, as recent support slots for Sons & Daughters and Santogold and countless foreign dates attest. Dead Boy Robotics are one of the edgiest and most exciting live acts in Edinburgh and Your Loyal Subjects are a sure-fire bet for an equally fierce rearguard action.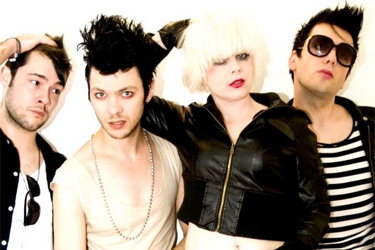 Fangs also played Limbo at the start of the year and what a year it's been for them! We've been chasing them for a return date ever since but it's been nigh on impossible to pin them down. They'd already played support slots for Justice on MTV's Gonzo tour and been voted XFM and Levis Jeans' Ones to Watch for 2008 when we first had them. Then there was the support slot on the Sons And Daughters tour. Then there was that awesome show at the TITP T Break tent in July, then there was the even bigger support slot for the sold-out Santogold show at the Edge Festival in August. And then are all the foreign dates. Fangs are away touring Germany throughout September (with fellow Limbo favourites Babybones in support) and will no doubt return even more fiery and visceral than they were when they left.

myspace.com/fangsfangsfangs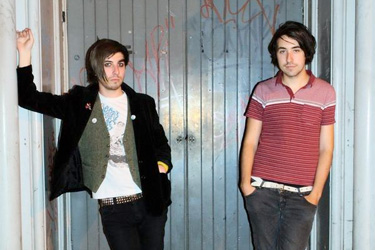 Dead Boy Robotics talk about acts such as Crystal Castles, Best Fwends and Xiu Xiu on their space but omit to mention their love of British dance/electronica acts such as James Holden and Nathan Fake (Border Community) and US experimental punks The Liars. While the myspace offers only a few, albeit teasing, hints as to this outfit's sound, these aforementioned influences really come to the fore when you see them play live. Facing one another, at right angles to the audience, with their synths in front of them and angular hair-cuts also forming a natty mirror image (with Greg's fringe combed one way and Mike's the other), Dead Boy Robotics cut a fine dash on stage. They've just got back into playing live together after a year-long hiatus and their recent support for US aces Ratatat was their first gig in about a year, so we're not expecting the tightest performance. But there's a certain charm and naive honesty about Dead Boy Robotics which comes across when they play and, combined with their genre-crunching fusion of punk and dance sounds (such a fashionable style just now), suggests they've got what it takes to go all the way. We're looking forward to working with Dead Boy Robotics a lot more in the future and watching their progress. Keep your eyes peeled for an album forthcoming on Neil 'Meursault' Pennycook's Bear Scotland label.

myspace.com/deadboyrobotics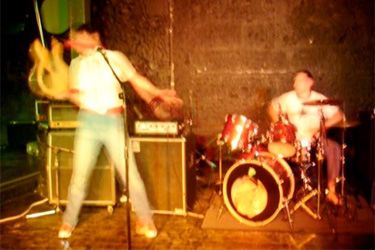 Your Loyal Subjects = Doug and Rob MacDonald. They cite Led Zeppelin, Sex Pistols, Gang of Four, Nirvana, Shellac and YeahYeahYeahs on myspace.



Your Loyal Subjects make use of some spazzy noises and Shellac style scratchy guitar sound all topped off with Pixies style screeches. They have a loose and fierce style which sound expertly captured here. Very Oxes, very good indeed!' Pete Stanley, The Plastic Ashtray (review of PRE2)



…flying the flag high as some of Scotland's finest purveyors of raw, unconstrained and non contrived attitude…' Dave Kerr, The Skinny (review of PRE2)

myspace.com/yourloyalsubjects


Check out our forthcoming bands here

Check out all of our photography here

Born To Be Wide is happening down in the Speakeasy this Thursday, presenting a How To Get A Gig seminar, and Andy will be there to represent Limbo, spraff about the trials and tribulations about booking (and promoting) a band and maybe even divulge a few useful tips for anyone keen to get a slot at Limbo. He's joined by fellow bookers Solen Collet (Cabaret Voltaire, Edinburgh), Tam Coyle (Barfly,Glasgow), Jonathan Dawson (The Doghouse, Dundee) and David Lawson (Henry's Cellar Bar and The Ark, Edinburgh).

The seminar runs 7.30-9pm, dovetailing nicely into Limbo, and is followed by self-indulgent DJing in the Speakeasy from the rest of the panel. (Andy will be indulging his extensive record collection between the bands, upstairs, with Dave as the Black Spring DJs).

Born To Be Wide is free but please email your name to this address to guarantee a seat: borntobe_wide@yahoo.com

http://www.myspace.com/borntobewide



Last week's Limbo featured impressive Glaswegian newcomers Be A Familiar supporting equally impressive Edinburgh newcomers Jesus H Foxx. it was the first time we'd had Be A Familiar, but a second appearance from the Foxx.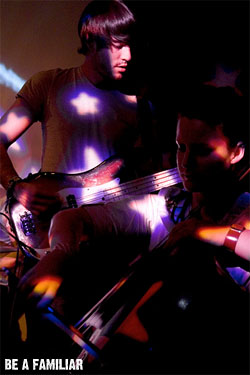 Be A Familiar's sound is familiar indeed if you're au fait with current indie-rock/pop trends. With a full line-up of guitars, drum and vox, plus trumpet, cello and piano, they wouldn't sound out of place at all on the airwaves of any local or national radio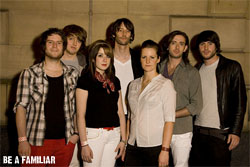 station playing mainstream pop and rock, or one of the bigger stages of that big festival in Balado, for that matter... (In fact, some of the songs sound so radio-friendly you can almost already hear the traffic report being introduced over their dying strains). They're a really tight outfit too. The line-up features two girls and five boys and the tunes have got an instantly hummable quality. So, yup, something for everyone here and a promising act all round. Best of luck to Be A Familiar on the release of debut single Pain In The Heart (Broken Friend).

myspace.com/beafamiliar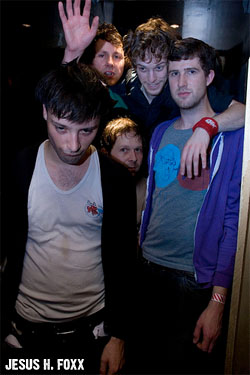 Jesus H Foxx's sound is a more challenging proposition and certainly not for everyone, but that's probably why we like it even more. Probably best described as art-rock, they wear their influences quite proudly on their sleeves and while Talking Heads is an obvious touchstone, so is Pavement - highly auspicious influences, then!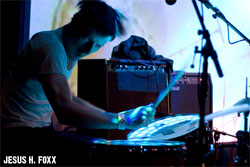 It's a jagged, stuttering style which jars a bit against the more mellifluous sound of Be A Familiar but makes Jesus H Foxx stand out more. Equally uneasy is the band while on-stage. And yet, awkwardness offers its own brand of charisma (Boyfriend/Girlfriend were incredibly awkward on-stage but utterly compelling) and this seems to work in their favour. So, when certain band-members start wondering aloud why the spot-light is shining on them, it lends a skewed, dry sense of humour to the proceedings which enhances their kooky charm. They have a lacksadaisical air about them, too, an insouciance which some might read as arrogance but is really just an unfussy confidence in their material. However, they're also self-critical to the point of obsessiveness and when they suddenly finish their set, somewhat humbly and unceremoniously, it takes a wee prompt but they are more than happy to play an encore.

There's definitely something interesting going on with Jesus H Foxx and we expect to see more of them in future. Did we mention they also have two drummers? Rocking!

myspace.com/jesushfoxx

Be A FAmiliar and Jesus H. Foxx pictures by Sarah-Jane Duncan


---



It's James Pants! And Found!! And Penpushers!!! Uber-triple-bill!!!!

This will be far and away one of the best and most exciting Limbos since the night began last November. Not only do we have US innovator James Pants playing one of only three UK dates (that's right, people, just three: London, Bristol and Edinburgh!) - Pants is touring Europe for the first time with a full live band (four-piece) to promote his debut album, Welcome (Stones Throw) - we also have Edinburgh hotshots Found and Penpushers.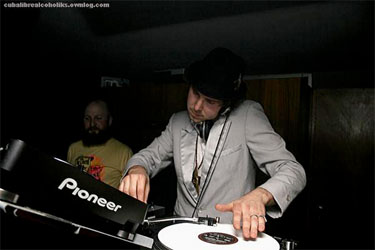 Pants is promoting boundary-melting debut album Welcome (Stones Throw), a record which mixes early Eighties electro, rap and boogie with new wave rock and weird soul and has seen epithets such as 'the Madlib of dance music' (Flyglobalmusic dot com) posted on his account.

myspace.com/jamespants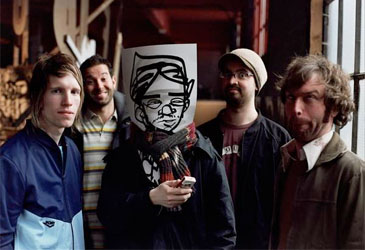 Edinburgh's own boundary-melting innovators Found recently released their second album, This Mess We Keep Reshaping (Fence/Surface Pressure) and it has seen the quintet hailed as 'nu folk' heroes, with loads more critical praise all OVER the shop. They mix psychedelic rock with found sounds and weird instruments and occasionally sound a bit like early/Syd Barrett-era Pink Floyd (but different).

myspace.com/foundtheband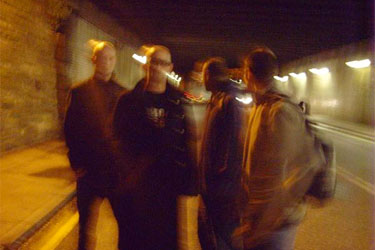 Penpushers have been lying very low since they released their own, second, full-length album, Poltergeeks (Incorporeal/KFM), in 2006, and will make this date their first live outing since April. They combine weird soundscapes and abstract instrumentals with the stream-of-consciousness spoken-word narratives of their two MCs - imagine the woozy atmospherics of downbeat electronica groups such as Boards Of Canada mixed with avant hip hop outfits such as Anti-Pop Consortium and then consider a load of other acts on pioneering labels such as Warp and Lex and you're on the right track but, actually, still only half way there, really.

myspace.com/penpushers

The omnipresent Black Spring DJs will also be on hand to plug the gaps and join the dots between these outstanding live talents on the ones and twos. So, three very exciting live acts plus great DJs all under one roof for one very special night.

N.B. Tickets for this show will cost £7 (on the door) / £6 (in advance): available from Ripping, TicketWeb and Tickets Scotland
MAILING LIST
BE OUR FRIEND!
Limbo has active Facebook and Myspace pages. Join our Facebook group here or befriend us over here at MySpace
JAMES PANTS
Mr Pants comes to Limbo on 9th October. Get your tickets here. Feeling lucky? you can try and win them over at Radio Magnetic
ALSO COMING UP
Also coming up at Limbo: The Fusiliers, Autosafari, Myshkin, James Pants, Found, Penpushers, Popup, Isosceles, Cancel The Astronauts, Babygod, Punch & The Apostles, Pumajaw, Sparrow & The Workshop, Come on Gang!, Kid Canaveral plus loads of other buzzing brand new acts.

Check out all our forthcoming bands here
CHEAP DRINKS!

Don't forget you can take advantage of £2 bottles from any of the Voodoo Rooms' three bars by showing your Limbo wrist-band to the bartender.
REHEARSAL SPACE?

The Black Spring Rooms: competitive prices, friendly service, easy access and no fuss for as little as £7 / hour; free parking on site + six bus routes to service it in Leith. More info here
VENUE INFO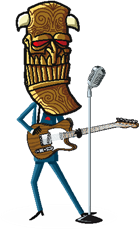 Limbo takes place at The Voodoo Rooms, West Register Street, Edinburgh.

Times: 8.30pm - 1am *
First band 9.00, second band 9.45, third band 10.30

Entrance: £5/£4 *

Ph: 0131 556 7060 (venue) / 0131 477 6916 (promoter)

* except where otherwise advertised
Sponsored Links