It's a double bill with Edinburgh-based indie-rock/art-poppers JESUS H FOXX and Glasgow-based indie-rock/art-poppers BE A FAMILIAR at Limbo this week. Jesus H. Foxx have two drummers. Jesus H. Foxx play glockenspiels. Jesus H. Foxx are better, cooler and more 1994 than any of you. Born in the summer of 2007 - a summer unlike those summers you remember as a kid - from the wreckage of several other bands you've probably never heard, Jesus H. Foxx have gone on to impress musos all over the country with their Pavement-tinged take on real indie that sounds like the bastard child of one of Stephen Malkmus's more pleasant daydreams and Field Music's northern wonk pop. Jesus H. Foxx may just be able to get away with being your most favourite of favourite new bands of the year and Be A Familiar are like their long-lost west-coast cousins. Together they promise to provide the stuff of indie kids' dreams.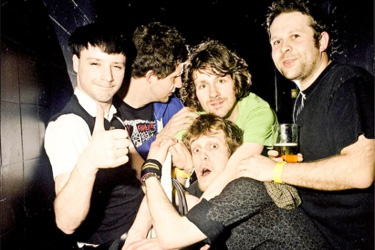 Jesus H Foxx last played Limbo back in January, as support of Found, offering their own brand of lyrical-musical genius. They boast myriad influences (talking heads, pavement, deerhoof, paul simon, yo la tengo, dfa, wilco, silver jews, animal collective, panda bear, jim o'rourke, richard thompson, arthur russell, the beach boys, neil young, pixies, early r.e.m., jens lekman...) all distilled in a gloriously lyrical way with some unusual instruments in the mix - an idiosyncratic take on rock 'n' roll. They released a single (Broken Friend Records) earlier this year which had the critics salivating but such are the demands of their high grade aesthetic, nothing has thus far survived the cull from consequent recording sessions.



This spectacularly monikered quintet reels together a blizzard of dueling percussion, prickly guitar skewers and nocturnally lit bass lines that amalgamates The Modern Lovers' apathetic composure with the rhythmic deviancy of Pavement' (Drowned In Sound)



Describing themselves as a 'poor man's Talking Heads' they are both modest and wrong: their drawled vocals and meandering guitar lines are rich in melodies and rhythm' (The List)

myspace.com/jesushfoxx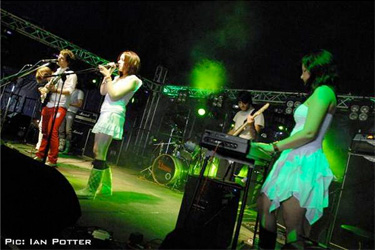 Be A Familiar have literally just released their debut single, Pain In the Heart / Tiptoe (also on Broken Friend Records), and are currently touring all over the shop to promote it. They are a rather large seven-piece, including cello, trumpet and piano alongside the drums, bass, vox and guitars, and cite acts such as Mercury Music prize Winners Elbow ...And you will know us by the trail of dead, Broken Social Scene, Sufjan Stevens, Blonde Redhead, Idlewild, Radiohead, Bella Union, Fence Collective, Fatcat Records, Mogwai and the Beatles as influences. So, as you can imagine, their music is lyrical, brassy and upbeat but not without a hint of melancholy too - a most affecting combination then.

myspace.com/beafamiliar


Check out our forthcoming bands here

Check out all of our photography here



We were triple-wowed by The Gussets, A-Lix and The Foundling Wheel, each of whom brought something slightly different to the stage.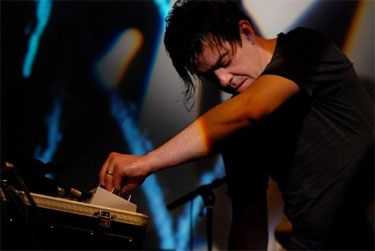 The Foundling Wheel, aka San Franciscan native Ted Koterwas is first up on stage. He's plays guitar, uses his voice and then triggers a load of pre-recorded drum samples and other noises using a nifty set of sample pads attached to an even niftier bank of effects pedals. It's an impressive set-up but even more impressive is how deftly Koterwas employs it all.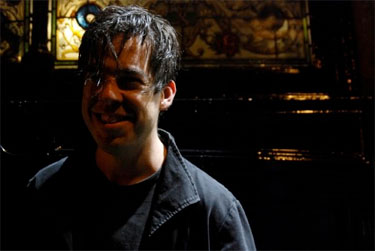 He really is a one-man band and the sounds he's coming out with betray an equally ambitious take on contemporary music. It could be described as experimental/electronic/indie-punk and the fact that he name-checks a string of US indie-punks (Xiu Xiu, Deerhoof, EX Models, Q And Not U, Unwound, The Mae Shi) as well as Joy Division bears testament to where his artistic heart lies. The Foundling Wheel is an acquired taste and certainly not for everyone but we thought it was great, offering Limbo and Edinburgh something genuinely fresh, exciting and original - certainly in terms of the current Scottish scene and to a large extent the wider UK one, too.

myspace.com/thefoundlingwheel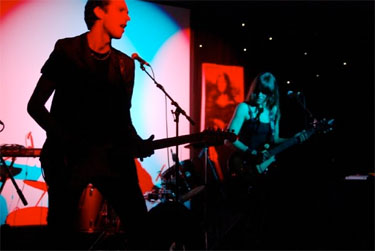 A-Lix duo Vincent (guitars, vox, machines), from Paris, and Argentinian Lorena (guitars, vox, machines), have developed something which would more readily be called disco-punk (or punk-disco, perhaps?).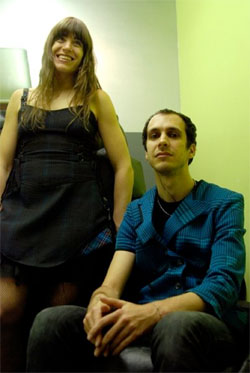 Actually, there's often a more than passing resemblance to the classic work of singer Robert Smith and The Cure in terms of some the riffs A-Lix use and in the way Vincent sings. It's even clearer when you listen more closely to his lyrics that he's doffing his cap in more ways than one to the aforementioned Eighties pop legends. Their energy and enthusiasm is also immediately affecting and when Vincent runs off stage and starts jumping around at the front of the crowd, punching the air exuberantly, it generates a fair few whoops.

A-lix have already self-released their debut album, Never Grow, and toured extensively in Europe, having first met some five years ago in Barcelona, before moving to Glasgow a couple of years back, and the act of playing together seems to have come about quite by accident, but we're confident we'll be seeing more of them in the future, and not just at Limbo.

myspace.com/alixland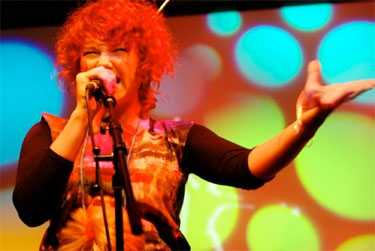 We've been waiting to have headliners The Gussets grace our stage since Limbo began, so much have their various, select performances around the capital descended into local folklore over the two or three years since their inception and this evening's show definitely sees them performing at the peak of their game thus far. The thing that a lot of people don't realise - or don't appreciate - about The Gussets is that they are punk in the original, 1976 sense of the word. So, it's not really about the band all being great musicians, it's about the performance. Front-woman and main vocalist Heather understands this well and watching them is a bit like attending some strange dadaist performance art jamboree, where audience participation is welcome and the costumes (some very fetching, paint-spattered, artisan-style aprons) are as lively as the performers sporting them. Heather's hair seems to be pinned together with a paint-brush and the rest of the band look equally eccentric, as do the weird posters they have pinned to the walls earlier.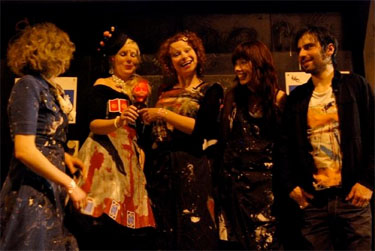 The Gussets are reinforced announces one large one in a child-like graffiti scrawl, while others exhibit images of Gusset icons. There are also two bassists and no lead guitar, for no other apparent reason than that they just prefer it that way. There's also a fair bit of amusing banter back-and-forth between (mainly) Heather and one or two members of the audience and it would be interesting to see how they manage a less familiar crowd but with a captive audience such as this one at their mercy they really are like nothing else around right now. Look out for debut single Gortex Erotique / What You Want 7" (on Chris Fast's fledgling Golden Eagle label) out now.

myspace.com/gussets

The Foundling Wheel, A-lix and The Gussets pictures by Nic Rue.


---



It's Glasgow electro-punks Fangs, Edinburgh electro-punks Dead Boy Robotics and Edinburgh post-punks Your Loyal Subjects.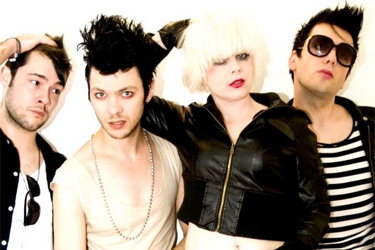 Fangs also played Limbo at the start of the year and what a year it's been for them! We've been chasing them for a return date ever since but it's been nigh on impossible to pin them down. They'd already played support slots for Justice on MTV's Gonzo tour and been voted XFM and Levis Jeans' Ones to Watch for 2008 when we first had them. Then there was the support slot on the Sons And Daughters tour. Then there was that awesome show at the TITP T Break tent in July, then there was the even bigger support slot for the sold-out Santogold show at the Edge Festival in August. And then are all the foreign dates. Fangs are away touring Germany throughout September (with fellow Limbo favourites Babybones in support) and will no doubt return even more fiery and visceral than they were when they left.

myspace.com/fangsfangsfangs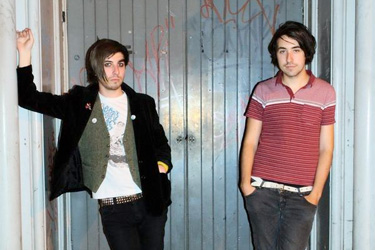 Dead Boy Robotics talk about acts such as Crystal Castles, Best Fwends and Xiu Xiu on their space but omit to mention their love of British dance/electronica acts such as James Holden and Nathan Fake (Border Community) and US experimental punks The Liars. While the myspace offers only a few, albeit teasing, hints as to this outfit's sound, these aforementioned influences really come to the fore when you see them play live. Facing one another, at right angles to the audience, with their synths in front of them and angular hair-cuts also forming a natty mirror image (with Greg's fringe combed one way and Mike's the other), Dead Boy Robotics cut a fine dash on stage. They've just got back into playing live together after a year-long hiatus and their recent support for US aces Ratatat was their first gig in about a year, so we're not expecting the tightest performance. But there's a certain charm and naive honesty about Dead Boy Robotics which comes across when they play and, combined with their genre-crunching fusion of punk and dance sounds (such a fashionable style just now), suggests they've got what it takes to go all the way. We're looking forward to working with Dead Boy Robotics a lot more in the future and watching their progress. Keep your eyes peeled for an album forthcoming on Neil 'Meursault' Pennycook's Bear Scotland label.

myspace.com/deadboyrobotics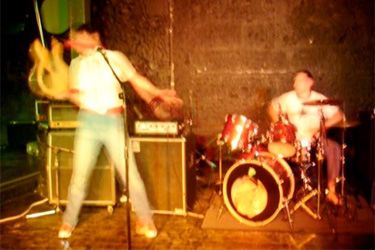 Your Loyal Subjects = Doug and Rob MacDonald. They cite Led Zeppelin, Sex Pistols, Gang of Four, Nirvana, Shellac and YeahYeahYeahs on myspace.



Your Loyal Subjects make use of some spazzy noises and Shellac style scratchy guitar sound all topped off with Pixies style screeches. They have a loose and fierce style which sound expertly captured here. Very Oxes, very good indeed!' Pete Stanley, The Plastic Ashtray (review of PRE2)



…flying the flag high as some of Scotland's finest purveyors of raw, unconstrained and non contrived attitude…' Dave Kerr, The Skinny (review of PRE2)

myspace.com/yourloyalsubjects
MAILING LIST
JAMES PANTS
Mr Pants comes to Limbo on 9th October. Get your tickets here. Feeling lucky? you can try and win them over at Radio Magnetic
ALSO COMING UP
Also coming up at Limbo: Fangs, Dead Boy Robotics, Your Loyal Subjects, James Pants, Found, Penpushers, Punch & The Apostles, Come on Gang!, Kid Canaveral plus loads of other buzzing brand new acts.

Check out all our forthcoming bands here
CHEAP DRINKS!

Don't forget you can take advantage of £2 bottles from any of the Voodoo Rooms' three bars by showing your Limbo wrist-band to the bartender.
REHEARSAL SPACE?

The Black Spring Rooms: competitive prices, friendly service, easy access and no fuss for as little as £7 / hour; free parking on site + six bus routes to service it in Leith. More info here
VENUE INFO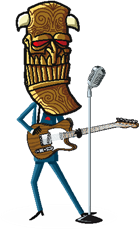 Limbo takes place at The Voodoo Rooms, West Register Street, Edinburgh.

Times: 8.30pm - 1am *
First band 9.00, second band 9.45, third band 10.30

Entrance: £5/£4 *

Ph: 0131 556 7060 (venue) / 0131 477 6916 (promoter)

* except where otherwise advertised
Sponsored Links