At Limbo this week, we welcome for the first time Bathgate duo THE FIRE AND I, who bring their raucous power-pop/rock style to Limbo, a sound which has seen them develop an impressive reputation in an equally impressive matter of months, with Jim Gellatly (XFM) proclaiming their song, Revenge to the Bloody Angel, his 'favourite unsigned track of 2007', among myriad similar accolades, crashing through to the T Break finals this year, playing gigs all over Scotland and now embarking on a national tour. In support this week, but no doubt tussling for pole position on the night, Edinburgh four-piece LITTLE DOSES also make their Limbo debut with their own energetic style. It's all about singer Kirsten Ross's smoky, bluesy voice and the band's primal rock sound - a devastating combination. Check out The Fall And Angel on their myspace for a fine demonstration of the band at their peak thus far.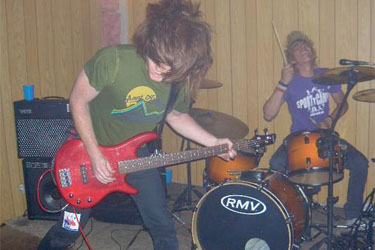 "The Fire and I are an energetic two-piece from Scotland. Formed in January 2007, Gordon and Hooligan have molded a very distinctive and powerful sound, often difficult to comprehend from their two members. Mostly performing in central Scotland, The Fire and I have also enjoyed a tour of Mexico City in March/April 2007. Now, with over 12 months of gigs under their belt, highlights include: Glasgow Barrowland, supporting Amy Macdonald; Selling out King Tuts with We are the Physics; Supporting The Dykeenies and The Young Knives. The Fire and I have received much acclaim for their high energy performances and need to be seen live." (band's MySpace)



This was rock n roll in its purest form! These two are going to be gods!' (Sharon Oakley, Radio Clyde 1)



They have massive energy and look fantastic. What a huge sound for just two guys! I kept looking around to see where the rest of the band was.' (John McLaughlin, X-Phonics Records)



Revenge to the Bloody Angel is my favourite unsigned track of 2007. It just blew me away' (Jim Gellatly, Xfm Scotland)

myspace.com/thefireandi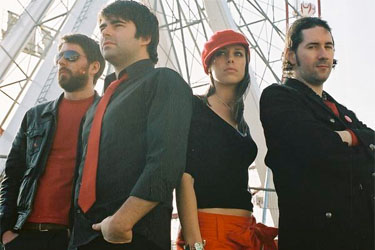 Raucous Edinburgh four-piece with influences ranging from Super Furry Animals and The Pixies to David Bowie, Blondie and Stevie Wonder. It's all about singer Kirsten Ross' smoky, bluesy voice and the band's primal rock sound - a devastating combination. Check out The Fall And Angel on their myspace for a demonstration of the band at their peak thus far.



Bass lines are fat and distorted, drums are hard and funky, and singer Kirsten Ross (think Catwoman meets Cristina Martinez from 90s garage rockers Boss Hog) can screech and croon with equally devastating effect' (The Daily Record)



A wall of no-frills rock n' roll that commands full attention immediately, with catchy seventies-styled guitar-licks' (The Skinny)

myspace.com/littledoses


Check out our forthcoming bands here




Last week Meursault returned to charm us once again with the equally wonderful Sparrow And The Workshop who were making their Limbo debut and only their second ever appearance in Edinburgh but sure not to be their last. The Red Well offered their support, while inter-band visual/film intermissions were provided by New Media Scotland with the screening of Spam The Musical (in three parts).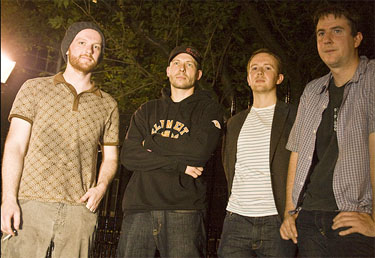 The Red Well are first on stage. Not long out of the starting blocks, they already count gigs at Cabaret Voltaire and Henry's Cellar Bar as well as the legendary Fence Home Games under their belt. Songs such as Down A Path, Broken Eyes and Before The Dark range from slow-paced to mid-tempo rock with some thoughtful lyrics, while Embers In September hints at a more ferocious soul hiding beneath the surface.

myspace.com/theredwell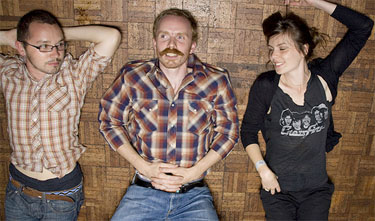 Sparrow And The Workshop then come on, a bit like a cross between Holly Golightly and Bonnie Prince Billy, what with the mid-western US accent of singer Jill, the very fetching, large moustache and accompanying hillbilly style of drummer Gregor (that wouldn't have looked out of place on the upper lip of an American soldier in the 1860s), plus Nick's occasional slide 'geetar' (also on bass). What a captivating front-woman, though. Jill faces Nick rather than the crowd, addressing the latter between songs without turning to face the audience head on, instead hiding coyly behind her fringe with occasional sideways glances at the screen. And what great banter, too.The band turned up with amazing visuals that they'd rapidly put together, 'I hope y'all like the visuals,' she drawls. 'I can assure you the boys spent an awful lot of time making them.' Later, a ballerina pirouettes mid-frame and Jill claims, 'I can dance like that too, you know, I just don't feel like doing so right now...' Everyone in the room falls under her spell and the band's songs and music are no less affecting. In fact, the complete package is so impressive, it's no wonder Sparrow And The Workshop are currently being courted by some half dozen labels, managers, promoters etc all sending keen offers their way...

myspace.com/sparrowandtheworkshop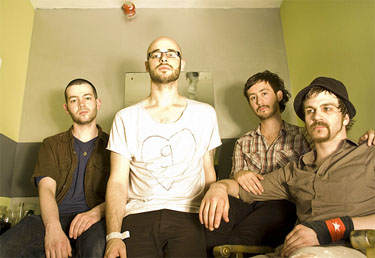 As the buzz also increases and momentum gathers around Edinburgh quartet Meursault, there can be little doubt that they too will be entertaining much bigger audiences in the next eighteen months. So, what a treat still to be able to witness them in such an intimate setting. Last time we saw them, they were short of a laptop and half of their melodies, and still they wowed us. This time, it's the full four-piece including apple mac and the only short-coming is the difficulty involved in engineering the computer's sound alongside the group's voices, ukelele, banjo, guitar and cajon . Ultimately, though, this is a small complaint in an otherwise outstanding set. Meursault cannot remain a closely guarded secret for much longer...

myspace.com/meursaulta701

The Red Well, Sparrow & The Workshop and Meursault pictures by Sarah-Jane Duncan.

At this point we must say many many thanks to Sarah-Jane Duncan for her stirling work over the last eight weeks as the Limbo photographer intern. At the same time we welcome along Nic Rue who will now take over for the next eight weeks. Thanks girls! We really appreciate what you do.


---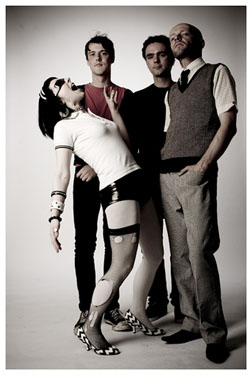 vikisellotape was last seen at Limbo when she very gracefully stood in for us on the decks in support of The Black Diamond Express and Sara And The Snakes. Prior to that Viki debuted a new line-up with her Sellotape band - inspired largely by the sound of bands around the Ladbroke Grove area of London c. 1978, early releases from that same area's seminal Rough Trade label, Edinburgh's own legendary Postcard label (The Fire Engines et al) and all their post-punk ilk - back in February in support of Glaswegian hot-shots Correcto (Domino). Viki has made a virtue of re-capturing the style of acts such as The Slits, Delta 5 and co, not least because she's a highly spirited, independent woman in an industry dominated by men but also in terms of the nature of the sound, often dissonant and occasionally locating itself in some infectious hooks. And, while this same style has undergone a massive re-appraisal and revival over the last five years, there's something about Viki's sass, style and sheer pluck which is utterly unique and really quite compelling. Quite simply, she's a one-off and, what's more, she's put a decent band together to support the endeavour. She's also got a bit of a thing for Radiohead, which is more obvious when Sellotape perform live than from their myspace. Seeing, as they say, is believing. Pic by www.flickr.com/loujauss.

myspace.com/sellotapemusic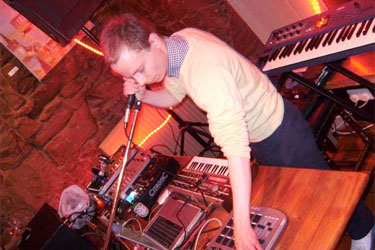 We'd already heard about the Ex Lion Tamer via the notoriously buzzing Edinburgh grape-vine when Viki suggested him as support for her next date. In fact, we worked with the man once before, when we staged his earlier incarnation, Tony Tiger (which was actually a duo, also featuring the original drummer from Limbo favourites XVECTORS), at Limbo fore-runner Dfrnt Drum. Anyway, what's REALLY EXCITING about this new project is how far Tony's come on since then. Tony Tiger was raw and somewhat untamed. Ex Lion Tamer is fresh, polished and more pop than almost anything else in Edinburgh right now. He sounds a bit like Vector Lovers and Daft Punk plus (early) Eighties electro pop such as Gina X, Dominatrix, Chris And Cosey* etc, what with all the synthetic vocals/vocoders and child-like synth melodies. And then he actually hails bands such as Yazoo and Erasure, Madonna, Whitney Houston and Cyndi Lauper on his myspace. At last, an Edinburgh act unashamed to wear his gay pop influences on his sleeve! And Ex Lion Tamer really is that POP too. He also likes odd-looking pedigree dogs. We can't wait.

* check out Andrew Weatherall's awesome Nine O'Clock Drop compilation (Nuphonic) of seminal early Eighties music if you don't know what i'm talking about.

myspace.com/xliontamer
MAILING LIST
NEW FLYER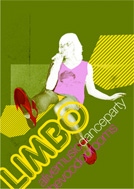 Here's our new new flyer which features photography of Miss Le Bomb at Limbo by Stephen Edgar (RIP).
ALSO COMING UP
Also coming up at Limbo: Sellotape, Ex Lion Tamer, The Gussets, Baby Bones, Jesus H. Foxx, Be a Familiar, Fangs, Dead Boy Robotics, Your Loyal Subjects, James Pants, Found, Penpushers plus loads of other buzzing brand new acts.

Check out all our forthcoming bands here
CHEAP DRINKS!

Don't forget you can take advantage of £2 bottles from any of the Voodoo Rooms' three bars by showing your Limbo wrist-band to the bartender.
REHEARSAL SPACE?

The Black Spring Rooms: competitive prices, friendly service, easy access and no fuss for as little as £7 / hour; free parking on site + six bus routes to service it in Leith. More info here
VENUE INFO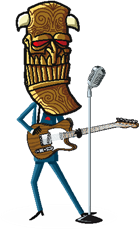 Limbo takes place at The Voodoo Rooms, West Register Street, Edinburgh.

Times: 8.30pm - 1am *
First band 9.00, second band 9.45, third band 10.30

Entrance: £5/£4 *

Ph: 0131 556 7060 (venue) / 0131 477 6916 (promoter)

* except where otherwise advertised
Sponsored Links