This week's Limbo is ANOTHER triple bill. Triple woop! Headlining are Glasgow's POPUP, who we have also been haranguing to play Limbo since last year, they're that good. After an intense two-year graft, they are now on the brink of a major crossover. Catch them while they're HOT! KARTTA make their Limbo debut at the end of a national tour which should see them break out of their native Aberdeen for good. They cite Canadian indie legends Broken Social Scene as a BIG influence and we're feeling it. TIE FOR JACK bring up the rearguard for Edinburgh, also at the tail end of a national tour, boasting as many fans, an equally current indie-rock sound and some infectious songs to boot.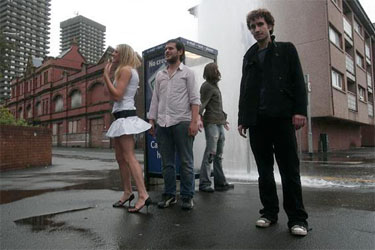 One of the finest bands on the Scottish circuit just now, Popup have been keeping a pretty low profile this year, having put the finishing touches to their debut album and then immediately started work on their sophmore output without pausing for breath. Bar a headline spot at the recent Dunstaffanage festival and a few foreign jaunts, it's been all (studio-bound) work work work with very few live outings.

We first came into contact with the band two years ago, when they invited Black Spring Recordings debutant Clean George IV to play a show at their (then-regular) night at Glasgow's Barfly. The admiration was mutual and the two bands struck up a friendship via myspace (but that's another tale). In any case, we've been chasing them for a gig at Limbo since the night began last November, so we're all the more excited now to be able to stage them exclusively before they embark on a UK tour to promote their debut.

With singer-songwriter Damian Gilhooly's distinctive west-coast accent it would be easy (but lazy!) to bracket them with current media darlings The Twilight Sad, Frightened Rabbit et al. However, Popup's irreverent sense of humour and witty lyricism sets them apart from angst-ridden Scots miserablists such as these, and listening to jaunty, break-out early singles Lucy What You Trying To Say and Chinese Burn it's clear there's much funk in this group's swagger, as Damo's childhood passion for Prince (in addition to Deacon Blue, Nirvana and The Fall) quite clearly attests.



This scruffy Glaswegian quartet – three boys with guitars, one girl with drums – make some of the best melodic post-punk around in Scotland.' (Scotland On Sunday - read full article here)



Popup are probably the most exciting band in Glasgow at the moment, and it sounds like they're only getting better.' (Is This Music Review of Love Triangle)



..Some nice haircuts' (The List)

myspace.com/popuptheband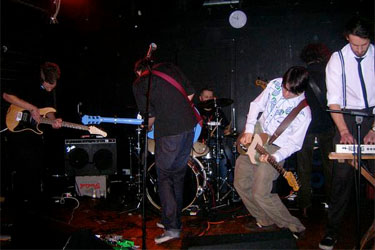 The Kartta tour stops in Edinburgh, as they threaten to break out of their native Aberdeen for good. There's an over-riding sense of American indie-rock about this quintet who currently have a deal with a Japanese label (Hiramika Records). They cite Broken Social Scene as an influence. They have an ear for a good melody and use unlikely instruments such as glockenspiel, jingle bells, melodica, miniature accordian and a Korg keyboard to create a sound that's quite different from the generic indie-rock morass. They also have quite a fine lyrical style. Something with some substance then.

myspace.com/karttamusic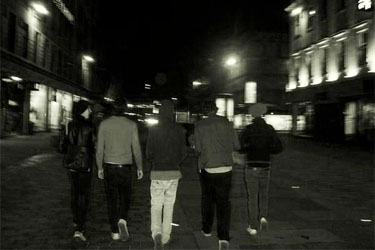 Tie For Jack are a young Edinburgh six-piece who write energetic, rocking indie-pop. Here's what they told us:



Tie for Jack are due to return to their hometown for the finale of their first tour, having spent the last couple of weeks chugging around the country in their bright orange tour bus eating chips in Brighton, breaking down at Asda and doing a maximum speed of 50mph, dedicated to playing blinding gigs across the UK. These fresh-faced youngsters bring an energetic mix of indie punk rock and aim to get people dancing. They cite their influences as The Libertines, Cajun Dance Party and The Kooks, not to mention sunny days, Irn-Bru and even Mean Girls (yes, the movie!). These guys love to have fun, but that doesn't mean they don't take their music seriously. They've been spending a lot of time in the studio recently and have just finished their debut EP 'Chapter One', due for release in the autumn'

myspace.com/tieforjack

Check out our forthcoming bands here




Last week was special. We saw Dead Boy Robotics for the first time and it felt like the start of something pretty exciting. They supported Miss The Occupier who managed to provide the goods without any sound-check at all. Another great gig.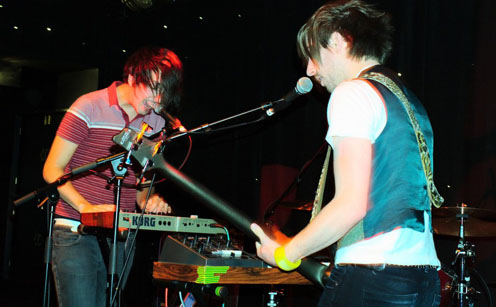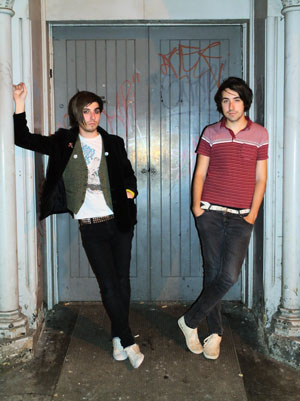 Dead Boy Robotics talk about acts such as Crystal Castles, Best Fwends and Xiu Xiu on their space but omit to mention their love of British dance/electronica acts such as James Holden and Nathan Fake (Border Community) and US experimental punks The Liars. While the myspace offers only a few, albeit teasing, hints as to this outfit's sound, these aforementioned influences really come to the fore when you see them play live. Facing one another, at right angles to the audience, with their synths in front of them and angular hair-cuts also forming a natty mirror image (with Gregor's fringe combed one way and Mike's the other), Dead Boy Robotics cut a fine dash on stage. They've just got back into playing live together after a year-long hiatus and their recent support for US aces Ratatat was their first gig in about a year, so we're not expecting the tightest performance. But there's a certain charm and naive honesty about Dead Boy Robotics which comes across when they play and, combined with their genre-crunching fusion of punk and dance sounds (such a fashionable style just now), suggests they've got what it takes to go all the way. We're looking forward to working with Dead Boy Robotics a lot more in the future and watching their progress. Keep your eyes peeled for an album forthcoming on Neil 'Meursault' Pennycook's Bear Scotland label.

myspace.com/deadboyrobotics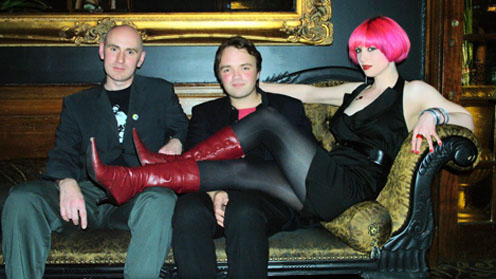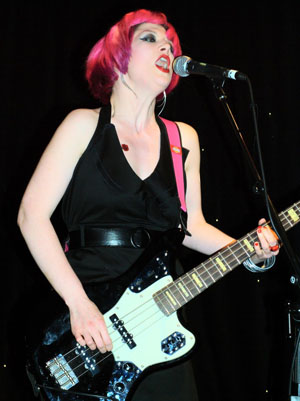 Miss The Occupier plough a more traditional sonic furrow but they do so while usurping some of those traditions with aplomb, especially lead singer Roz, who embodies that classic juxtaposition of outward innocence and frailty with inner sassiness and strength as only a front-woman can. Roz is quite clearly the star of Miss The Occupier. Everything about her, from the shocking pink bob to the tattoo of a rose hovering delicately above her chest region to the way she plays her bass guitar, suggests Roz knows exactly what makes an audience tick. Having been unable to get a sound check at all, it takes a while for the band to find their stride and they're obviously having difficulty hearing themselves on stage. So it's as much a testament also to the skill of drummer Ione and guitarist Magnus as the quality of their songs that once they crack into stand-out tracks All Night and Girlfriend So Crazy the room temperature goes up and we remember the reason we booked them. As the late, great John Peel would have said: Excellent stuff!

myspace.com/misstheoccupier

Dead Boy Robotics and Miss The Occupier pictures by Terence Chan. Terence stepped in at very short notice because Sarah-Jane Duncan had all of her camera equipment (including two new lenses) and Apple Powerbook (laptop computer) stolen just a few hours before the gig. If anyone can shed any light on this theft or the whereabouts of SJ's equipment, please get in touch.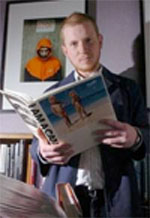 Also, we were extremely shocked and saddened to hear the tragic news that Stephen Edgar (another regular photographer at Limbo) died very suddenly last week. Stephen managed the band My Electric Love Affair, who we put on at least a couple of times back in the day at Limbo's fore-runner night, Dfrnt Drum. He was always a very lively, colourful and cheery character, who helped us out on a number of occasions and whose work was recently the subject of an exhibition at Edinburgh City Library on George IV Bridge. RIP Stephen, you will be missed. Should anyone wish to pay their respects, we understand there is a funeral this week. Our thoughts our with his family and friends.


---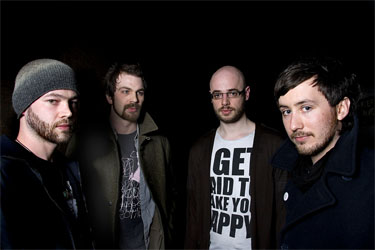 Far and away one of our favourite live acts to have emerged in Edinburgh in the last year, Meursault take their name from the work of French existentialist philosopher Albert Camus but the bleak images singer-songwriter Neil Pennycock conjures with his plaintive voice belie a much broader palette of emotions than Camus' eponymous monochrome protagonist ever exhibits in The Outsider. And with the genius addition of laptop electronica, accordion, mandolin and ukelele, the wealth of colour, light and joy he adds to his songs makes them each a thing of singular beauty. Imagine The Aphex Twin duelling with Thom Yorke (which actually ought to happen, given the debt owed to the former by the latter, post Ok Computer, but that's another yarn). The Drowned In Sound review of their Limbo debut in March was no less complimentary. Read it in full here

myspace.com/meursaulta701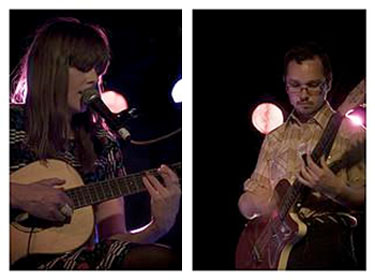 'Hi, we are Sparrow and the Workshop, and we've been going since about January 2008. We are three: Jill O'Sullivan from somewhere in the midwest of America, Gregor Donaldson from somewhere in the midwest of Scotland and Nicholas Packer from southwest Wales. Gregor once played drums to the Star Wars theme on the Blue Peter TV show! Blue Peter!!! Jill has also been on TV too. She was once interviewed by WGN Channel 9 on her sledding abilities. The hill was glorious and so was her sled. Nick has never had a TV, so he's unaware of any potential 10 seconds of fame.' (band's myspace)

myspace.com/sparrowandtheworkshop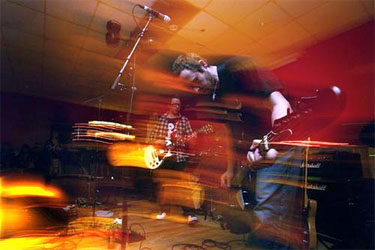 'The Red Well are a band that play songs by a man called The Red Well. The band are signed to a small record label called Fence Records. The Red Well have based themselves in Edinburgh, the capital of Scotland.' (band's myspace)



There's little scope to fault them in terms of rocking out. This band gives Edinburgh a good name." (The Bluesbunny-Independent Music Reviews)



The Red Well took tradition and ripped it to pieces with a dirty grungey set which built to a climax that would have put many 'proper' rock bands to shame." (Is This Music? Live Review)

myspace.com/theredwell


MAILING LIST
ALSO COMING UP
Also coming up at Limbo: Popup, Sparrow & The Workshop, Meursault, The Red Well plus loads of other buzzing brand new acts.

Check out all our forthcoming bands here
CHEAP DRINKS!

Don't forget you can take advantage of £2 bottles from any of the Voodoo Rooms' three bars by showing your Limbo wrist-band to the bartender.
REHEARSAL SPACE?

The Black Spring Rooms: competitive prices, friendly service, easy access and no fuss for as little as £7 / hour; free parking on site + six bus routes to service it in Leith. More info here
VENUE INFO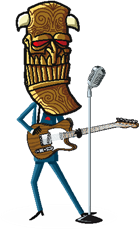 Limbo takes place at The Voodoo Rooms, West Register Street, Edinburgh.

Times: 8.30pm - 1am *
First band 9.00, second band 9.45, third band 10.30

Entrance: £5/£4 *

Ph: 0131 556 7060 (venue) / 0131 477 6916 (promoter)

* except where otherwise advertised
Sponsored Links